Roland SYSTEM-8 Plug-Out Synthesizer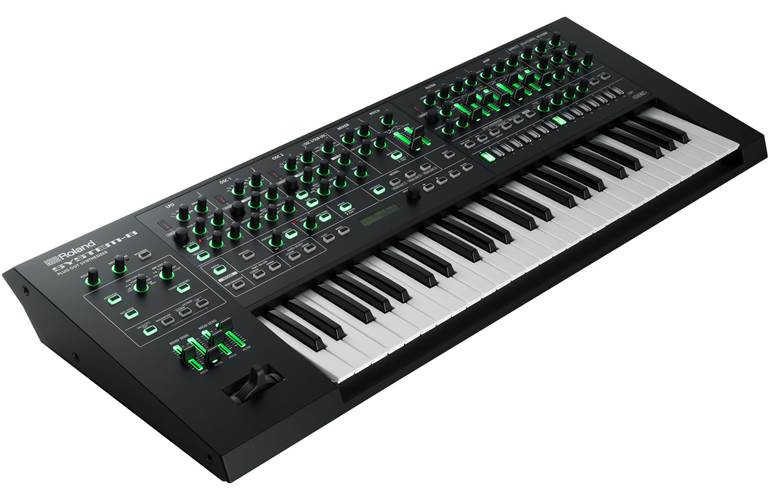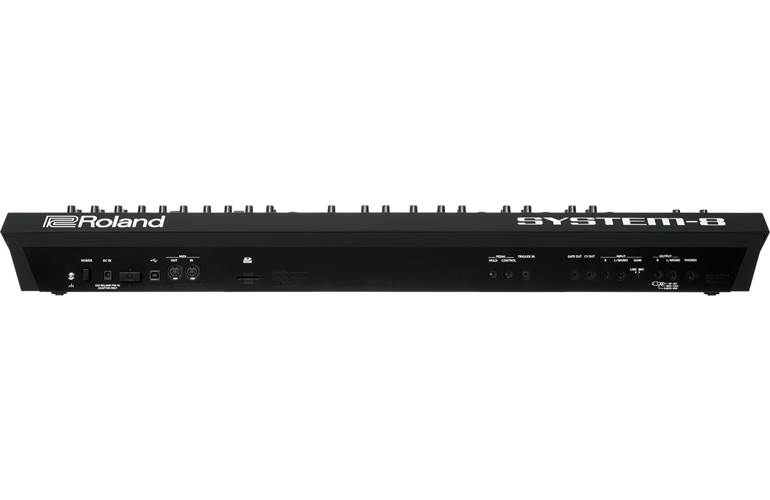 Was
£1,499.00
Save £200.00
£1,299.00
Available to Order
Place your order today and we will email you when we have an estimated delivery date.
Recommended Bundles
Manufacturer's ID: SYSTEM-8
What we say:
At A Glance:
Roland's System-8 is an unbelievably flexible synthesizer. Featuring 8-Voice polyphony and Roland's ACB technology, the sounds from the System-8 are incredible. Not only does it sound great as is, it features Plug-Out technology. This gives you full recreations of classic Roland synths such as the Juno-106 and Jupiter-8. Combine this with some high-resolution backlit controls and a sturdy construction, and we have a true mammoth of a synthesizer.
Features We Love:
Plug-Out
The System-8 features Plug-Out, which is one of Roland's coolest ideas to date. Just like you would run plug-in VSTs on a computer, you can load emulations of various Roland synths like the Juno-106 and Jupiter-8 into the System-8. From there you can take them away from the computer and use them anywhere. Juno-106, Jupiter-8 and JX-3P are already installed for you to use right away.
Great Sound
While the plug-out feature is fantastic, the System-8 is a powerful 8-voice synthesizer in it's own right. Using the base sound engine will allow you to create some really unique and interesting tones. From there, there are a bunch of great FX you can add to sweeten up or fatten the sound.
Control
The System-8 features tons of high-resolution back-lit controls. Providing a hands on experience with great visual feedback for dark stages, the System-8 won't leave you short.
Highlights:
High quality synthesizer
Plug-Out capabilities
Juno-106, JX-3P and Jupiter-8 Plug-Outs included
Tons of hands on control
Solid build for touring
What's Included:
System-8 Plug-Out Synthesizer
Owner's manual
AC adaptor
Power cord
Specification
| | |
| --- | --- |
| Keyboard | 49 keys (with velocity) |
| Models | SYSTEM-8, PLUG-OUT1, PLUG-OUT2, PLUG-OUT3 |
| Maximum Polyphony | 8 voices (MODEL: SYSTEM-8) |
|   | (MODEL: PLUG-OUT1, 2 and 3 are depend on PLUG-OUT software) |
| User Memory | Patch: 64 (8 memories x 8 banks, per one model) |
|   | Performance: 64 (8 memories x 8 banks) |
| Structure Elements | MODEL: SYSTEM-8 is as follows |
|   | (MODEL: PLUG-OUT 1, 2 and 3 are depend on PLUG-OUT software) |
| LFO Section | Variation: 1 (Single LFO), 2 (Dual LFO), 3 (Resonanced Pulse LFO) |
|   | Waveform: |
|   | VARIATION 1: SINE, TRIANGLE, SAW, SQUARE, Sample&Hold, Random |
|   | VARIATION 2: 6 types |
|   | VARIATION 3: 6 types |
|   | Knobs: FADE TIME, RATE, PITCH, FILTER, AMP |
|   | Controllers: KEY TRIGGER, TRIGGER ENVELOPE |
| Oscillator 1 Section | Variation: 1, 2 |
|   | Waveform: |
|   | VARIATION 1: SAW, SQUARE, TRIANGLE, SAW2, SQUARE2, TRIANGLE2 |
|   | VARIATION 2: 6 types |
|   | Knobs: COLOR, MODULATION Source (MANUAL, LFO, P.ENV, F.ENV, A.ENV, OSC 3), OCTAVE (64, 32, 16, 8, 4, 2), COARSE TUNE, FINE TUNE |
|   | Modulation: CROSS Modulator |
| Oscillator 2 Section | Variation: 1, 2 |
|   | Waveform: |
|   | VARIATION 1: SAW, SQUARE, TRIANGLE, SAW2, SQUARE2, TRIANGLE2 |
|   | VARIATION 2: 6 types |
|   | Knobs: COLOR, MODULATION Source (MANUAL, LFO, P.ENV, F.ENV, A.ENV, OSC 3), OCTAVE (64, 32, 16, 8, 4, 2), COARSE TUNE, FINE TUNE |
|   | Modulation: RING Modulator, Oscillator SYNC |
| Oscillator 3/Sub Oscillator Section | Variation: 1, 2 |
|   | Waveform: SINE (-2 octave), SINE (-1 octave), SINE, TRIANGLE、TRIANGLE (-1 octave)、TRIANGLE (-2 octave) |
|   | Knobs: COLOR, TUNE |
| Mixer Section | Level: OSC 1, OSC 2, OSC 3/SUB OSC, NOISE |
|   | Noise: WHITE Noise/PINK Noise |
| Pitch Section | Knob: ENVELOPE Depth |
|   | Envelope: ATTACK Time, DECAY Time |
| Filter Section | Variation: 1, 2 |
|   | Filter Type: |
|   | VARIATION 1: LPF (-24 dB), LPF (-18 dB), LPF (-12 dB), HPF (-12 dB), HPF (-18 dB), HPF (-24 dB) |
|   | VARIATION 2: 6 types |
|   | Knobs: CUTOFF, RESONANCE, VELOCITY SENS, ENVELOPE Depth, KEY Follow, HPF CUTOFF |
|   | Envelope: ATTACK Time, DECAY Time, SUSTAIN LEVEL, RELEASE Time |
| Amplifier Section | Knobs: VELOCITY SENS, TONE, LEVEL |
|   | Envelope: ATTACK Time, DECAY Time, SUSTAIN LEVEL, RELEASE Time |
| Effect Section | Type: OVER DRIVE, DISTORTION, METAL, FUZZ, CRUSHER, PHASER |
|   | Knobs: TONE, DEPTH |
| Delay/Chorus Section | Type: DELAY, PANNING DELAY, CHORUS 1, CHORUS 2, FLANGER, DELAY + CHORUS |
|   | Knobs: TIME, LEVEL |
| Reverb Section | Type: AMBIENCE, ROOM, HALL 1, HALL 2, PLATE, MODULATION |
|   | Knobs: TIME, LEVEL |
| Other Section | Knobs: PORTAMENTO, TEMPO |
|   | Controller: LEGATO, TEMPO SYNC |
|   | Key Mode: MONO/UNISON/POLY |
| Step Sequencer | Track |
|   | 1 per Patch (step pattern is saved as a patch) |
| Step | 1 - 64 steps |
| Recording Method | Step recording, Realtime recording |
| Controllers | SCALE, PLAY MODE, GATE, SHUFFLE, FIRST STEP, LAST STEP |
| OTHER | VOLUME, INPUT volume, ARPEGGIO, CHORD MEMORY, VOCODER, KEYHOLD, VELOCITY OFF, TRANSPOSE, OCTAVE |
| CONTROLLERS | Pitch bend and modulation lever, BEND SENS PITCH, BEND SENS FILTER, MOD SENS PITCH, MOD SENS FILTER |
| DISPLAY | 16 characters 2 line LCD |
| EXTERNAL STORAGE | SD Card (SDHC supported) for backup/restore function |
| CONNECTORS | PHONES jack: Stereo 1/4-inch phone type |
|   | OUTPUT (L/MONO, R) jacks: 1/4-inch TRS phone type |
|   | INPUT (L/MONO, R) jacks: 1/4-inch phone type |
|   | CV/GATE OUTPUT jacks: Miniature phone type |
|   | (CV: This jack supports OCT/V (Hz/V is not supported). GATE: This jack outputs +10 V.) |
|   | TRIGGER IN jack: Miniature phone type |
|   | PEDAL (HOLD, CONTROL) jacks: 1/4-inch phone type |
|   | MIDI (IN, OUT) connectors |
|   | USB port: USB type B (Audio/MIDI) |
|   | DC IN jack |
| Width | 881 mm / 34-11/16 inches |
| Depth | 364 mm / 14-3/8 inches |
| Height | 109 mm / 4-5/16 inches |
| Weight | 5.9 kg / 13 lbs 1 oz |