Hercules GSP38WB Plus Wood Block Wall Hanger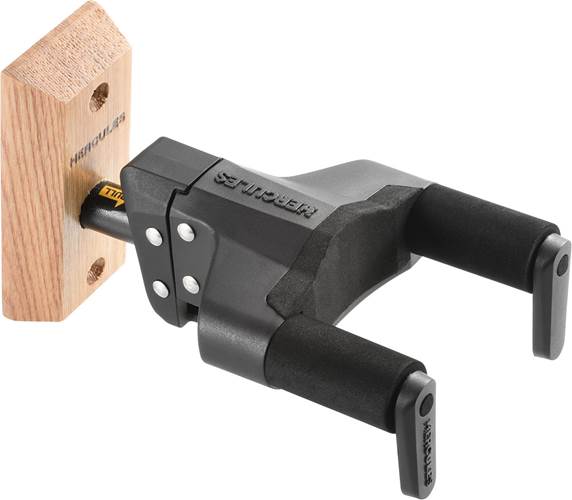 £14.99
Order before 3PM for Delivery Tomorrow
Delivery Tomorrow
With 1 hour Delivery slot
---
Click & Collect
Live Stock levels from all our stores.
Store
Availability
Edinburgh
In Stock, Collect Today
Glasgow
In Stock, Collect Today
Newcastle
In Stock, Collect Today
Birmingham
In Stock, Collect Today
Epsom
In Stock, Collect Today
Camden
In Stock, Collect Today
Frequently Bought Together
Manufacturer's ID: GSP38WBPLUS
The HERCULES Auto-Swivel Yoke Hanger GSP38WB PLUS rotates automatically to accommodate different shaped guitars or basses vertically and safely. It features an attractive wood base for home or studio use.
Specification
The Auto-Swivel AGS Yoke allows for multi-angle adjustments while safely locking instrument in place. It can accommodate a wider range of instrument neck sizes from 40 mm – 52 mm (1.57" – 2.05") including classic, acoustic, electric and bass guitars.
The attached N.I.N.A. (Narrow Instrument Neck Adjustment, HA301) are specially designed to increase the thickness of AGS arms to accommodate narrow neck instruments from min. 28 mm (1.10") like banjos and mandolins.
Attractive wood base.
Arm Length: 105 mm (4.1")
Load Capacity: 7 kg (15.4 Ibs)
Accessory: 1 pair N.I.N.A.
Customer reviews
Overall Rating 4.9 (

50

reviews)
graet product, sturdy and folds up small enough to stick in a guitar case.
Seems to work and keeps my instrument in l Place
Bartlomiej T. - 19/3/2021
looks great, easy to install - easy to use
Does what it says on the tin.
Very good, can't complain
Tidy and have since seen them on the wall at Joe Wickes house so highly recommended!
Solid as it should be and has contributed to a showpiece feature in my room
This is a new version of the excellent wall hanger. The Plus refers to the fact it comes with foam collars to allow the hangar to be used with narrower neck instruments such as banjo or mandolin. This the fifth GSP38WB I have purchased. Mine are fitted to a plasterboard wall so I used my own screws and heavy duty plasterboard plugs to fix rather than use supplied fixings. The hangers are solid, dependable (with appropriate fixing), auto arms operate really well and protect guitar, and the woodblock looks really good if cosmetics matter to you. I have 5 different electric guitars mounted on these hangers and am very confident they are safe and secure. Excellent product.
Good guitar hanger. Very sturdy
Great product - strong and sturdy. Guitars looks great on the wall and the soft hangers don't damage the headstock
Easy to fix to the wall and holds my guitar fine. Nice rubber pads to stop any scratches
Christopher S. - 10/9/2020
just right for hanging the guitar from the wall
Ellectric or accoustic they hold,
Christopher B. - 18/6/2020
Guitar hangers for hanging guitars. It?s a guitar hanger. It hangs guitars. It?ll hang as well as you hang it. Hang it well and it?ll hang forever.
Great product and fast delivery
Very well made and sound excellent, just make sure you unplug cable from guitar when not in use as it will drain the batterys fitted in the amp
Great to use guitar wall hooks.
Well made, easy to fit and entirely fit for purpose
Nice bit of kit and keeps the guitar safe from the cats!
Great product and easy to install.
Nice quality. Confident that this hanger will not fail.
Neat, stylish, secure - does the job. I bought one for my 6-string - then another one for my 12-string
Does the job nicely, solid
Look great and easy to mount on the wall
Show more reviews
You might also be interested in...
Keep up with our latest offers, news & events