£799.00
Order now for Delivery on Saturday
Make 3 payments of £266.33

No fees.
Learn more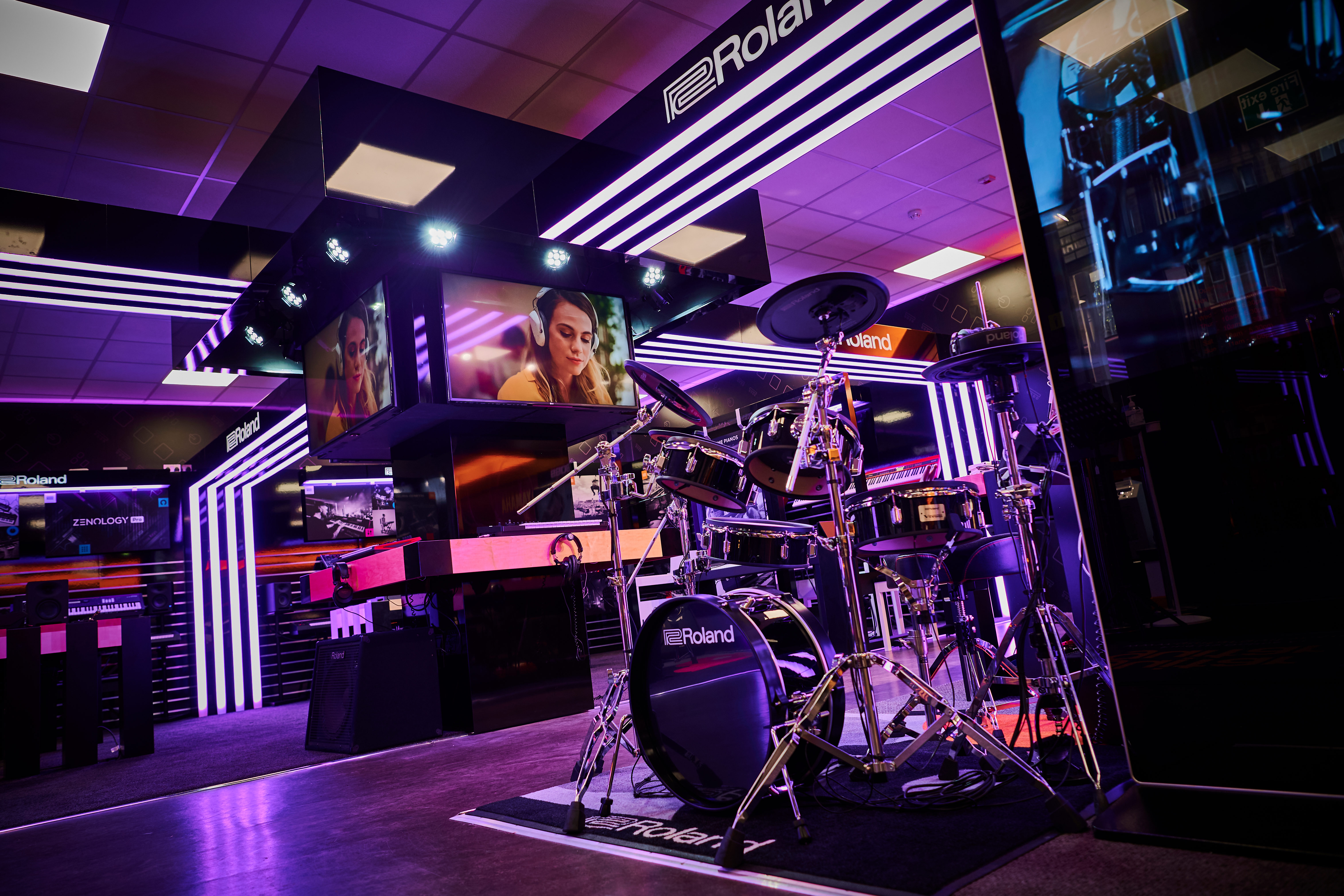 Try it now in our Glasgow Roland Store
This item is set up and ready to try at the only Roland Store in Scotland. Based in our Glasgow premises, you will find a huge selection of Roland and Boss gear that's ready to demo. Plus, you can get the expert advice you need from our in house Roland Senior Product Specialist.
Manufacturer's ID: MC-707
What we say:
At A Glance:
The MC-707 Groovebox is the ultimate standalone music production studio. An excellent writing tool and a dream for performing live.
Easily create and perform electronic music on the fly. Record audio and MIDI in the moment and tweak and remix instantly. Effortlessly create the music you want to make, without having to use a computer.
Features We Love:
Hands On
The MC-707 is all about giving you control. With a big selection of knobs, faders and pads, the 707 gives you instant control over its 8 tracks. Create and remix, drop beats and create melodies. The music is at your fingers.
Great Sounds
The MC-707 features Roland's latest sound engine. Closely related to the AX-Edge in terms of sheer synth potency. The 707 gives you the power to craft new and unique sounds. MC-707 is also a powerful sampler and contains the sounds of many iconic drum machines, including the TR-909 and TR-808. Plus there's a massive selection of loops and other sounds to chose from. And if that's not enough, you can record in your own sounds and loops. Create whatever you want to hear. The potential is limitless!
Computer Enhanced
While the key to what makes the MC-707 great is it allows your to perform sans computer. It will happily integrate with your DAW setup. Using the 707 as your audio interface. Record your 8 parts from the 707 into your DAW. Or alternatively sample your production from your DAW directly into the 707. Ready for standalone live performance.
Pros:
Perform without a computer
Powerful production studio
Massive range of sounds
Intuitive interface
What's Included:
MC-707 Groovebox
Power Supply
User Manual
SD Card (installed in the product when shipped from the factory)
SD Card Protector (installed in the product when shipped from the factory)
Specification
| | |
| --- | --- |
| Sound Generator | ZEN-Core (Tone,Drum Kit) |
| Track Type | Tone, Drum Kit, Looper (Audio Loop) |
| Maximum Polyphony | ZEN-Core:128 voices (varies according to the sound generator load) LOOPER:8 (varies according to the available number of Looper track) |
| Tracks | 8 |
| Clips | 239 Clips (16 clips per track) |
| Tones | Preset Tone: 3,000 or greater Preset Drum Kit: 80 or greater User Sample (as a Tone or Drum Kit): available by importing form SD CARD Looper Sample (as a clip of Looper track): available by importing from SD CARD, recording via EXT IN/Tracks |
| Effects | Track Multi-Effects: 90 types Track EQ Chorus/Delay: 9 types Reverb: 7 types Master Effects: 90 types Master Compressor Master EQ |
| Step Sequencer | Maximum 128 Steps |
| Looper | Time Stretch, Pitch Shift |
| External Storage | SD Card (SDHC supported) for saving Project Data and Audio Data |
| Connectors | PHONES jack: Stereo 1/4-inch phone type MIX OUT(L/MONO, R) jacks: 1/4-inch phone type ASSIGNABLE OUT(L,R) jacks: 1/4-inch phone type SEND/RETURN(L/MONO, R) jacks: 1/4-inch phone type EXT IN(L/MONO/MIC, R) jacks: 1/4-inch phone type (it works as 1/4-inch TRS phone type when using MIC) MIDI (IN, OUT1, OUT2) connectors USB port: USB B type (Audio, MIDI) DC IN jack |
| Dimensions | 426 (W) x 263 (D) x 60 (H) mm 16-13/16 (W) x 10-3/8 (D) x 2-3/8 (H) inches |
| Weights | 2.1 kg 4 lbs 11 oz |
Firmware Update Ver.1.72 introduces the following features
Scene Chain Function Added
Count-In Function Added
Added Functions to the Chord Designer
Added Function to the Audio Insert
Added Function to the Looper Track
Delay/Reverb Send Added to EXT IN and PC IN
Added Functions to the SCATTER
Added Function to the Metronome Position
Arpeggiator Function Added
USB-Related Functions Added (Generic Driver Function)
RANDOM TONE DESIGNER Function Added
SCATTER Functions Added
Sound Pack/SVZ Drum Import Function Added
Functions Added to the Total Effect Compressor
Sequencer Edit Functions Added
Installation of Sound Pack distributed through Roland Cloud is supported.

Sound Pack is sound content usable on products equipped with the ZEN-Core Synthesis System.
Some Sound Packs include Drum Kit, but Drum Kit cannot be imported into the MC-707.

Sound Pack / SVZ File Import Functions Added
Added Number of Scenes
Parameter Added to MIDI Input/Output Function
Added Shortcuts
Clip Chain Function Added
MIDI Input/Output Functions Added
Auto Channel Function Added
Audio Insert Function Added
Note Repeat Function Added
SMF Import Function Added
Display Method Added for Clip Mode
Sample Edit Function Added
Function Added to Edit WAV File Before Loading
Step LFO Editor Added
Note Utility Functions Added
Motion Drawing Function Added
Sampling Function Added
Chord Designer Function Added
Scale Performance Function Added
Sample Browser Function Added
Clip Line Load Function Added
Looper Track Functions Added
MIDI Input/Output Functions Added
Pad Sensitivity Adjustment Function Added
Metronome Sound Output Destination Selection Function Added
Quantize Timing Adjustment Function Added
A CUE function was added.
A TONE STEP EDIT function was added.
Waveforms were added to Motion Designer.
A SCATTER function was added.
A Metronome function was added.
A Step Loop Mode was added.
An automatic setting function for LOOPER clips was added.
Added Shortcuts