New Arrival: Music Man Cutlass & Stingray
Published on 19 January 2018
If one of your New Year's Resolutions was something like "This year I will get myself an amazing, premium quality, USA made guitar that feels and sounds better than anything I've ever had", we may just be able to help you... In fact, you can even achieve your goals early this year by choosing from this special selection of wonderful Ernie Ball Music Man guitars; all heavily discounted in a special, not-to-be-repeated deal!
Seriously: these guitars, all built in San Luis Obispo, California with a high level of hand-building and finishing, are simply exceptional. Compare them with any other brand or model out there and you'll find the workmanship, feel (particularly the incredible necks), sound and playability to be among the greatest you've ever laid hands, eyes and ears on. We LOVE Music Man guitars here at guitarguitar and we're really excited to be able to offer you these few select models and finishes, all at extremely reasonable prices!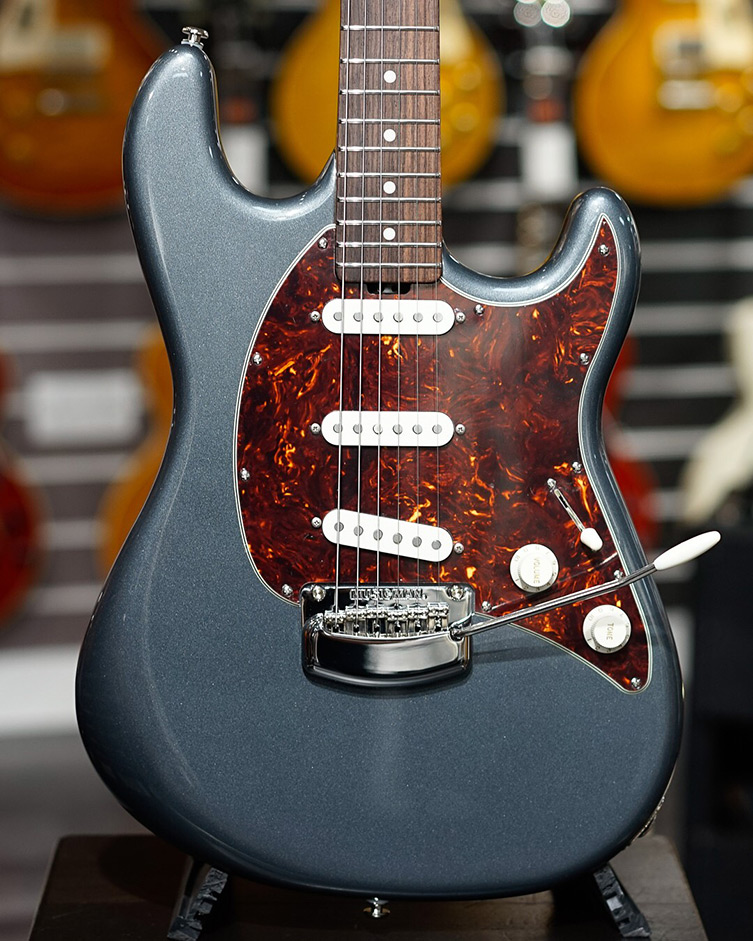 The models we have are the Stingray, each with a choice of finishes. Let's look at the Cutlass first. It's based on that familiar bolt-on guitar from the fifties and has a really special vibe that's present as soon as you pick it up. Anybody looking for that classic single coil twang needs to give the Cutlass some serious attention; not only does it do that in spades, it has a neck profile to die for and a tremolo system that's super smooth with just the right amount of weight to it. This is one of those guitars that has 'quality' written all over it: the neck join with 5 bolts is perfect, the stainless steel frets are masterfully inserted by hand into the fingerboard…mostly, though, the experience of simply playing it is what really sells it to you. The chimey, bell-like pickups make use of Music Man's 'Silent Circuit' to vastly reduce single coil hum but retain the full amount of tone. This is a player's masterpiece of an instrument. We also have some HSS Cutlass models in this special deal, too which have a custom-voiced ceramic humbucker in the bridge position to complement the single coils and open out the sound palette for even greater diversity. It's tough to pick a favourite, but the Charcoal Frost model with the Tortoiseshell pickguard has to be up there!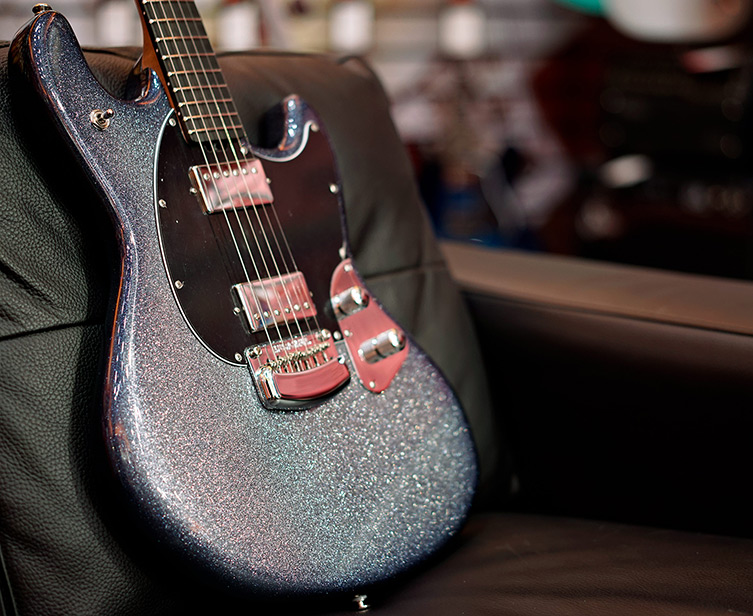 The other Ernie Ball Music Man model in this special deal is the StingRay. The StingRay (which shares its name with the company's most famous bass), has an excellent modern-retro vibe with its original offset body shape and wealth of chrome on the tremolo, control plate and pickup covers. Speaking of which, the pickups on the StingRay are a pair of Alnico 5-powered humbuckers which deliver a cool classic crunch with some nice bite, but not too much output. We are most definitely in tone connoisseur territory here!
The tremolo is Music Man's own design Modern Tremolo, this time with vintage bent steel saddles. This unit will give you a good degree of movement and even some pretty dramatic dive-bombs. As long as you don't go 'full-Van Halen', your tuning will remain intact!
All things considered, this is a delicious guitar which just purrs whether you're holding down smooth rhythms or going for broke with an epic solo. Again, a range of finishes are available and we particularly like the limited edition Starry Night look. Take this beauty on stage with you and you're guaranteed to own the show!
Features that are relative to both of these guitars include vintage tinted necks, locking tuners, hand-soldered wiring, hand sprayed and finished bodies and a full pro set up prior to the guitar being cased and boxed. These guitars all come with a hard case which makes this even more of a bargain.
Whichever model you choose, we think you'll find an instrument to cherish: a guitar that will feel like an old friend and one that will also up your game as a player. Time to find a new New Year's Resolution…