5 Cool Guitars You May Not Have Checked Out
Published on 26 April 2019
For this blog about 5 cool guitars you may not have checked out, I've tried to bring together a gang of high quality, high-charisma guitars that fall outside of the established S-type, T-type and LP-type electrics. It's easy, when you are not only obsessed by guitars but also surrounded by them every day, to fall guilty of not seeing the wood for the trees! We get caught up on those few classic models and quite often let some less famous but equally awesome instruments slip past us.
Today is about finding excellent alternatives to these well-loved guitars. That immortal trio of Strat, Tele and Les Paul have stuck around for 60+ years for good reason, let's not kid around! They are undeniable, iconic classics and we love them dearly. But we also feel like the world is a vast, exciting place with lots to offer us and we want to see more!
It can be very difficult for 'other' guitar designs to gain traction and staying power in this industry: for every PRS Custom 24 that finds success in the market, there is a Maverick that sinks into the sea, never to be seen again. Even famous designs like the Parker Fly are not currently in production at the moment. Is this because of overtly conservative tastes among guitarists? The lack of famous player association? We aren't entirely sure but what we do know is, there are a whole bunch of interesting guitars out there, both traditional and outlandish, that are not only excellent instruments, but great 'statement pieces' too. I've picked out 5 for your perusal today, with no real governing principles in place other than they can't be an 'S', 'T' or 'LP-type' guitar. Let's see what's out there...
Kauer Banshee
First up is this Custom-made Banshee from Kauer guitars in California. This thing is a work of art! There is obviously a strong Firebird inspiration here but Kauer have added enough of their own design nous to make this stand on its own. We ordered four of these Kauer Banshees and I could have picked any for inclusion here since they are all incredible! Instead I'll focus on the Candy Apple Red one but display some pics of the other models for context.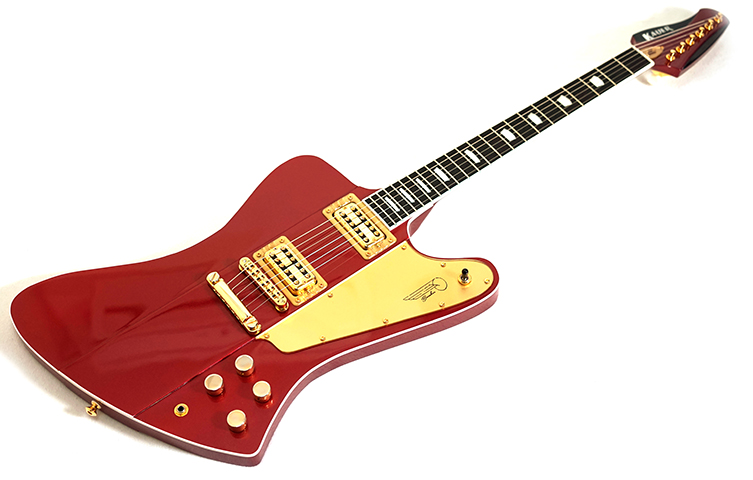 So, all Kauer guitars are hand-made from hand selected timbers. In this case, we have a body and neck of Spanish Mahogany, which is actually from Honduras (must be a 'Conquest' thing...) and has been picked by Doug Kauer and his small team for its tonal relation to Mahogany and its comparatively light weight. The Banshee is a large guitar, but it is not a heavy one. Models like the delicious Lemon Burst Banshee Deluxe you'll see here have a Flamed Maple top, too.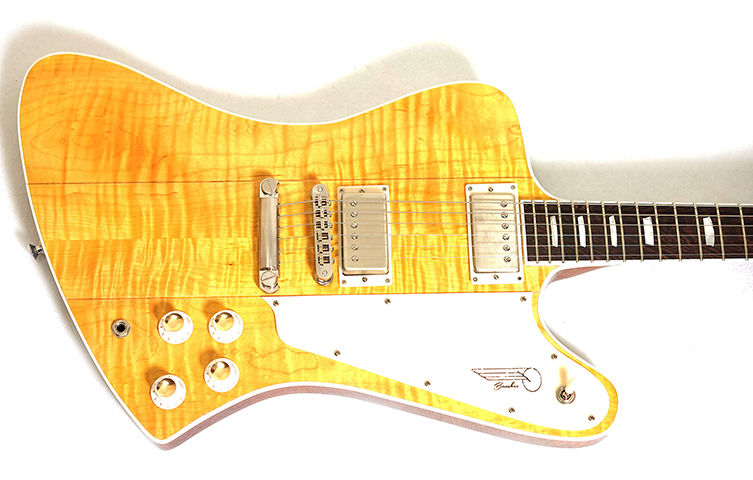 A set of TV Jones pickups (on the Candy Apple Red Banshee) will bring a smile to the faces of those in the know: these pickups are a perfect choice to achieve that low output bite and sustain that actually gives you more tone. We think low output pickups and good Mahogany (or similar woods of course) are the keys to outstanding tone. Even these Powertron units are low in output compared with modern high gain pickups and that works great for us! You'll get sustain AND articulation with the Banshee. Other Banshee models have different specs, like Wolftone KB pickups, which are drool-worthy hand-made PAF style humbuckers. These guitars are champagne. The Kauer Banshee is a pleasure to play and looks like some Royal relic from a Sc-fi movie! If you haven't played one of these, you simply must.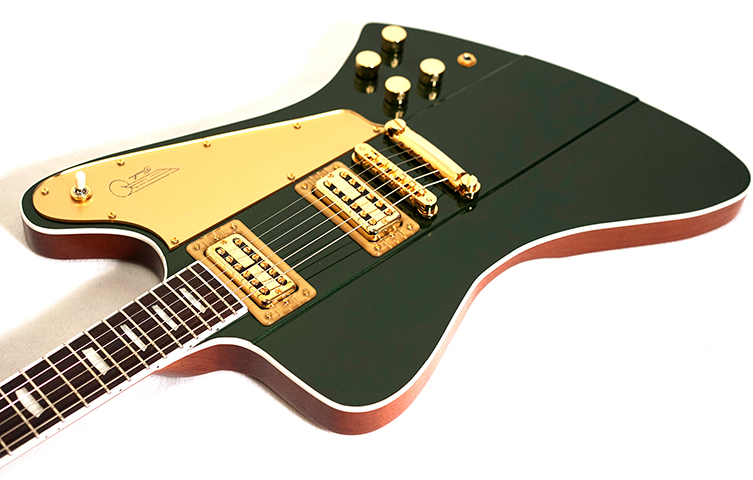 Supro David Bowie 1961 Dual Tone Arctic White
Next up is a tasteful yet idiosyncratic guitar made in honour of one of the greatest musicians ever.
During the sessions for what became his 'Reality' album and ensuing tour, David Bowie took a shine to some old white Supro guitars he found whilst browsing on eBay. Buying two, he quickly assessed their condition and sent them to NYC luthier Flip Scipio to drastically upgrade frets, electronics and other factors in order to get them up to a pro-spec. These are the guitars he very visibly used throughout his final world tour. A master of iconography, Bowie and his white Supro (he did use both but how many people really noticed?) become another in a long line of instantly recognisable looks for Ziggy/Aladdin Sane/Think White Duke/Jareth the Goblin King to adopt into his visual repertoire.
The old Supro guitars from the 60s were never originally intended to be used extensively on professional tours: they were inexpensive catalogue guitars, designed with 'Space Age' looks to entice fledgling players to choose them over innumerable Tiescos, Univoxes and other Department-store Specials available at the time. David Bowie could, quite clearly, play any guitar he fancied but he just liked these. His luthier carried out some major work to get them up to scratch, and it is these post-modded Supros that have been resurrected in honour of the great man today.
The important things that need to remain have remained: the shape, styling, switching and overall aesthetic. What has changed are all of the spec elements that today would be unacceptable: the bridge is improved, the fretwork is excellent, the nut is 'proper' and so on. Like other retro-futuristic guitars that you can buy today, these look like catalogue guitars from the 50s and 60s but play and feel like modern guitars. Perfect!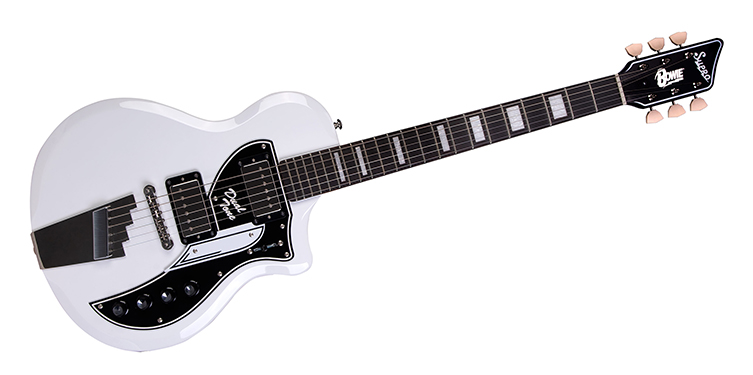 So, this modern age Supro is a decidedly agreeable guitar to play on. We're talking about a Mahogany body, set Maple neck and a Pau Ferro board with a 24.75" scale and a 12" radius. In other words: a lead guitar player's dream! The pickups are a recreation of Supro's Vistatone models, each with a separate volume and tone control. These pickups somewhat echo the choices made by Kauer as we learned earlier: these are crisp sounding humbuckers with space and depth but not too much output. Vintage tone-hounds will love these, as will Garage-rock, Indie-rock and Classic-rock players!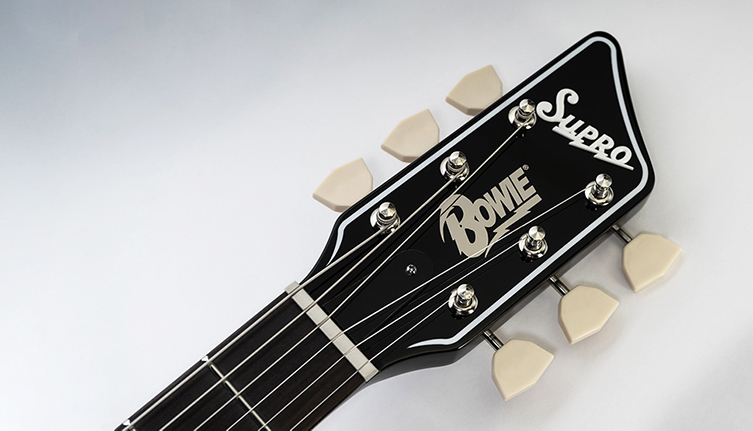 The Supro Dual Tone has a special mirrored inlay on the headstock proudly bearing David's logo, and each guitar is not only individually numbered, it also comes with a certificate of authenticity! We are happy to see this tribute to the Great Man has been done properly and is still accessible to most players. This Supro, like all modern Supros, adds presence to any stage.
Yamaha AES1500BBL
This exceptional hollow body from Yamaha deserves more love. High on the charisma chart, the AES1500BBL will suit fans of Chet Atkins and Robert Smith equally. This model sits in the middle of the traditional/modern divide, but it a way that is subtle and satisfying.
This set-neck beauty has a Maple neck, back and sides with an arched Sycamore top. Two DiMarzio pickups keep up the high standard throughout this blog for quality pickups! A gold Bigsby tremolo sets off that Black finish perfectly and gives this large bodied instrument a distinguished, high end look.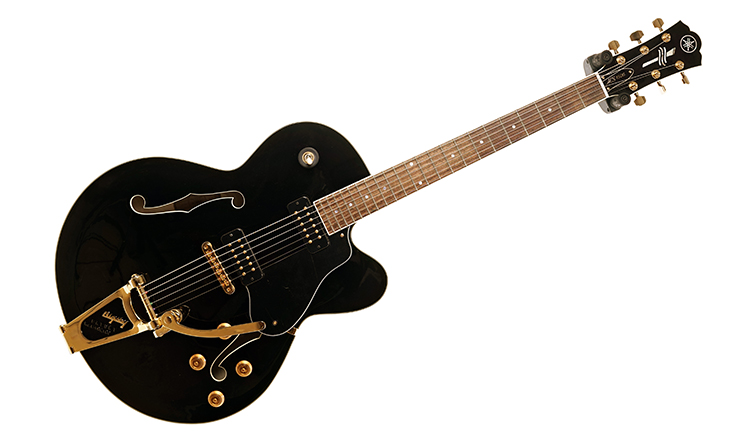 Guitar fans already know that Yamaha's quality control is super-high so it's no surprise to report that the AES1500 is put together extremely tightly and cleanly. Country pickers will be able to use the push/pull controls to twang themselves into oblivion, whilst goth-rockers can induce some great mournful feedback by misbehaving with the AES1500's semi-hollow body. Those DiMarzios are pretty high-gain for a guitar of this type, an unexpected but very rewarding (and fun) choice! They have a sound rather like a P90 actually and bring out a wealth of very addictive tones. Grab this dark horse to make great visual and sonic statements!
Hagstrom H-II Aged Sky Blue
Hagstrom are one of those brands that everybody agrees makes really cool guitars, though not enough people play them! Every Hagstrom I've ever picked up has been really comfortable, responsive and exciting to play: perhaps it's time for them to grab a little of that market share eaten up buy the Big Two?

Though any of the Hagstroms would be welcome here, I've opted for the H-II in Aged Sky Blue. Of all Hagstrom models, this one is the most 'other' and encapsulates the brand's aesthetic really well. Like the Supro we looked at earlier, this H-II has something of the 'pawn shop' guitar about its retro-tastic style, and also like the Supro, this has been given a modern spec to make sure it plays in line with what guitarists require these days.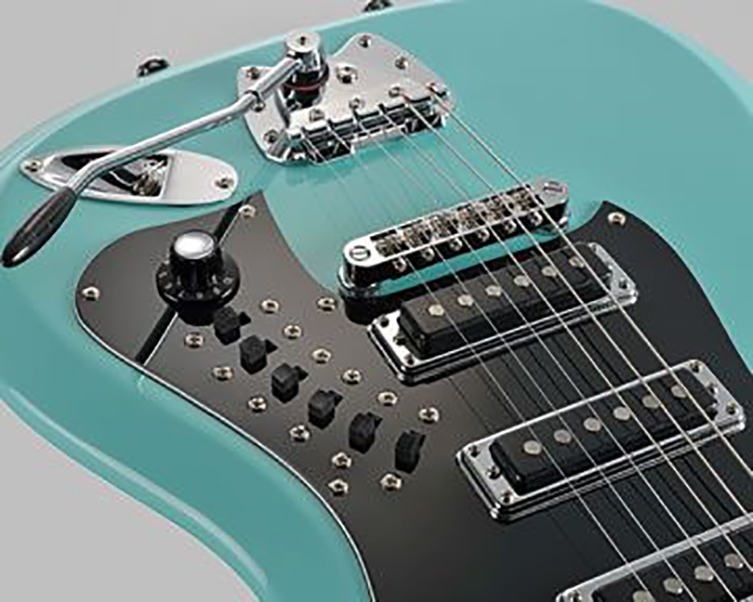 The Hagstrom H-II is today's take on a design from 1965. A Canadian Maple neck is bolted to American Alder body and there are a host of cool gadgets and controls to play with! These include a kill switch, a unique 'Tremar' tremolo, individual volume and tone switches for each of the ceramic C-Spin single coil pickups and an 'RC' circuit in the volume control that retains your treble frequencies as you turn back the volume. Lots and lots for the creative guitarist to get busy with, and with an exceptionally cool 'Tarantino'-look going for it, there is a lot to love here!
Ibanez PS120-BK
The last guitar in this roundup has, in my opinion, one of the best original shapes around! Currently, Ibanez make this instrument as a Paul Stanley signature guitar only, but fans of White Zombie, System of a Down and other iconoclastic bands will quickly identify this as the Iceman, one of Ibanez's first (and finest) original designs. Back in the days before the RG and the Jem, Ibanez were known as a high quality Japanese maker of...well, copies, really. Their guitars were decidedly 'Gibson-like' and in fact earned themselves some heat from The Law due to their difficult-to-ignore quality and barely-concealable 'inspiration'. Out of this trouble came a run of instruments with silhouettes that were entirely their own. The Iceman was one such, bringing the set-neck Mahogany sustain and growl of a Les Paul to an entirely different design. The Iceman has lasted as a design form the Seventies unrtil the present day, though Ibanez are somewhat inconsistent with their inclusion of the design in their catalogue from year to year. It's a shame too, since it's one of the few non-Fender or Gibson guitar designs that is a bona fide classic.
Never the less, here we have a prime example of the splendiferousness that is the Iceman, in, as we mentioned, it's KISS makeup. You don't necessarily have to be a fan of the Star Child to love this guitar: apart from his name on the truss rod cover (an easy substitute to a plain black one will not cost you much if you don't feel like representing) and his name on the 21st fret inlay (it's pretty small) , there isn't anything to single this out overtly as a signature guitar. There is, however, tons of style and, surprisingly for the singer of KISS, a relatively subtle amount of toned-down bling on here. The PS120 comes across classy like a Les Paul Custom, rather than garish like...certain other Hard Rock guitars...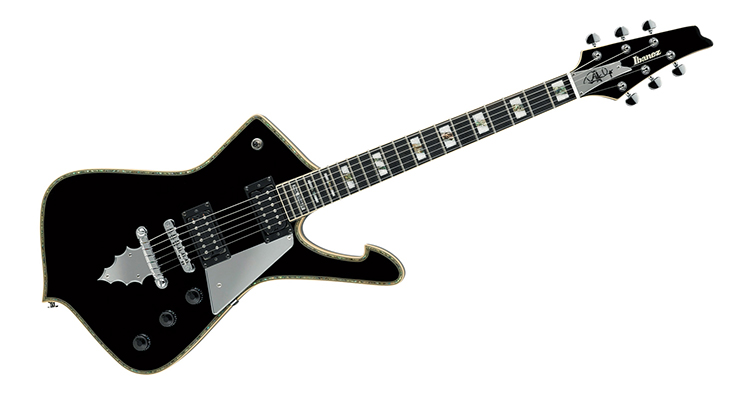 Ibanez have done the right thing, construction-wise. This is a set neck guitar with Mahogany used for both body and neck, with a top of plain Maple. There is binding on the body, fingerboard and headstock with abalone purfling on the body. It's not too much either, it's just right and goes with the Abalone and Acrylic block inlays on the dark Ebony fingerboard.
It gets better!
Those two black open-coil pickups are actually premium Seymour Duncan units: a Custom 5 at the bridge and a '59 at the neck. Our track record for quality pickups on this blog has not dipped! The Custom 5 sits somewhere further on the classic PAF but is not full-on mayhem. In other words, you'll get a sweet singing voice with plenty of girth and chunk from the bridge. The Duncan '59 is slightly more-restrained and has a throaty, classic sound.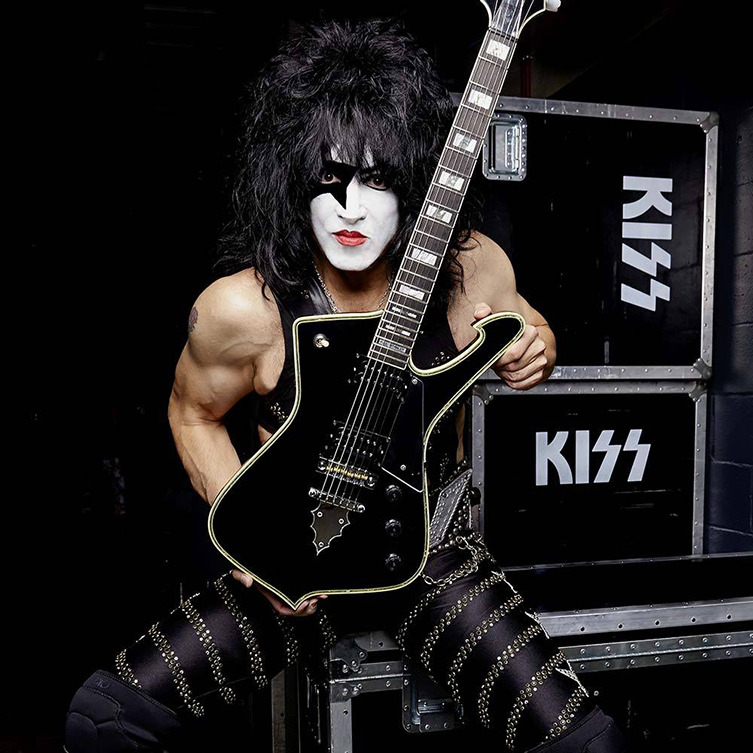 This guitar is all about Rock. It sounds wonderful and feels very familiar and comfortable. You may need to be of a slightly bolder personality to pull this shape off but is that not what Rock 'n' Roll is all about? Look and sound world class in any Rock context with this stunning iteration of the Iceman.
Final Thoughts
As this blog draws to a close, I think over my years in guitarguitar, and all of the weird and wonderful guitar shapes that I've encountered. The Minarik Inferno, anyone? Back when I started, Dean were hugely popular with Razorbacks, even though it had been some years since the death of Dimebag Darrell. One of our walls was filled with BC Rich guitars, a brand sorely lacking from today's blog since they are currently languishing in production limbo.
Overwhelmingly, guitars these days are made to service very conservative tastes. Is this because guitars themselves are not currently in pop music as much as they were? The reign of hip-hop and R'n'B will inevitably come to an end and guitars will come to dominance again, as they eventually always do. It matters little to those who love the instrument, but as I finish this blog, I do wonder: where have all the shapes gone? Are we lost in a sea of three-tone sunburst? Will the age of 'shape' guitar return? And if so, what will we see? If we had space for one more guitar, we'd have surely included St Vincent's magnificent Music Man guitar : perhaps a modern classic? Time will tell, but I want one NOW!
Hopefully, this blog has supplied proof that, though there are currently no Dean Dime Slimes or Parker Fly Deluxes to show you, there are a myriad of other, less obvious guitar designs out there. They are as good, if not better, than the usual suspects and they have a degree of uniqueness and individuality too, something that is needed now more than ever. Be bold, friends! And carry on playing!
Ray McClelland