These are the New Les Pauls: Introducing the Original and Modern Collections
Published on 20 November 2019
Guitar fans, welcome!
Today, we are going to check out what Gibson have done with their most precious design. Recently, Gibson rolled out their 'New Collection', a re-think of their instruments and entire ethos. The idea is that the madness of the recent past has gone, replaced by a brace of electric guitars and basses that represent what actual guitar players actually want Gibson to be making. Sounds good? We think so.
But it gets sliiiightly more complicated from there. The New Collection is divided into two camps: the Original Collection and the Modern Collection. To illustrate the types of difference in ethos, we thought it would make sense to compare to relatively alike models, one from each collection.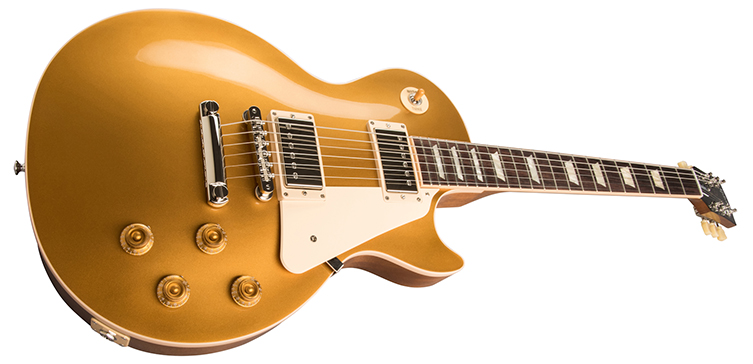 Now, we all know what a Gibson Les Paul is, but, for many years, there has been quite the plethora of models available. This hasn't changed with the New collection: depending on which road you go down (Original or Modern), you'll find Studios, Juniors, 50s Standards, 60s Standards, Classics and Tributes.
Phew!
So, in the interests of illustrating comparative features, we are going to look at the 50s Les Paul Standard from the Original Collection against the Les Paul Modern from the Modern Collection. To highlight the differences, we will pick out areas like the neck, the pickups and so on, and see how these two models differ. Thus, we'll arrive at a pretty good understanding of how to navigate Gibson's New Collection in general.
Sound good?
Let's do it!
Body and Finishes
Weight has always been an issue for the Les Paul. Some people can't take the heft of the solid Mahogany body: other people don't think it's a Les Paul unless it weighs a ton! Gibson often get around this issue by offering 'weight-relieved' models. On this occasion, both sensibilities are catered for!

Both of our Les Pauls here are made with Mahogany bodies and necks, and both have Maple tops. So far, so good! Now, as you may already have guessed, the 50s model has no weight relief at all, whereas the Modern LP has Ultra weight relief, meaning that fairly sizeable chunks of Mahogany are removed from the body before the Maple top goes on. This, according to Gibson, does not alter the tone, and certainly makes for a more comfortable shoulder experience!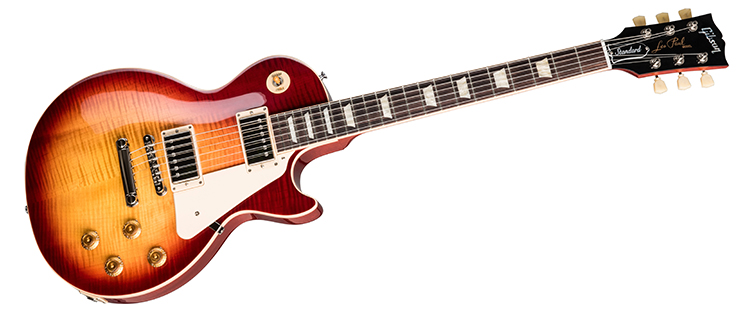 In terms of finishes, both models have gloss nitrocellulose, as time-honoured tradition dictates. Each Les Paul model has its own choice of colours, though. Since people tend to listen with their eyes, it's worth knowing which colours are attached to which model!
The Les Paul Standard 50s is available in Gold Top, Heritage Sunburst and Tobacco Burst. These are great choices, especially when you factor in a nice level of flaming on the tops of both burst finishes.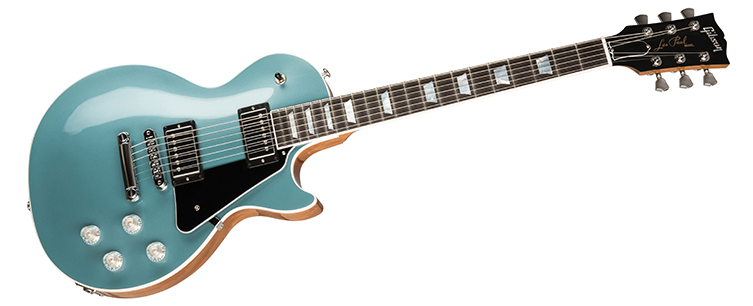 The Les Paul Modern, on the other hand, has quite a singular look, visually. The three finishes – Faded Pelham Blue, Sparkling Burgundy and Graphite – are applied to the top only, with a natural-finished back. The Burgundy and Graphite finishes are metallic, too, and look frankly fantastic. These finishes are both bold and safe: they still look very specifically 'Les Paul', whilst offering a fresh new take on the classic. We like!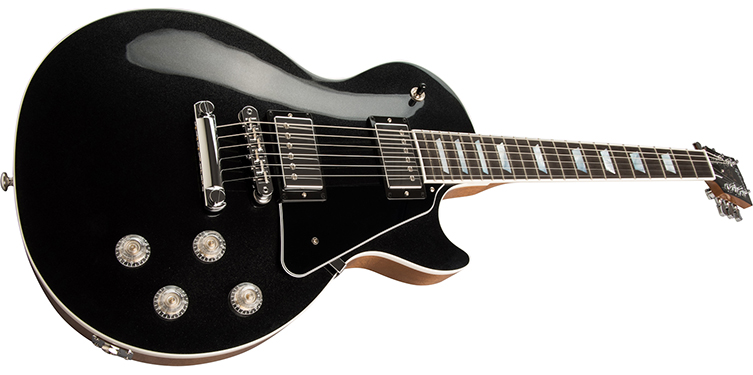 Neck
The neck is the primary point of interaction between player and instrument. It's absurdly important that this bit works for you, or you'll never really get on with a guitar. The two necks on these guitars are really quite different, so we'll take each in turn.
First up, we have the Standard 50s neck. This is the type of neck that vintage aficionados go nuts for! It's a thick, rounded profile with plenty of heft. For players weaned on 'speed necks' (the term really means nothing when you think about it, but you know the necks we mean), these more substantial profiles will come as a bit of a surprise. For those who've used them before, they are a most welcome feature!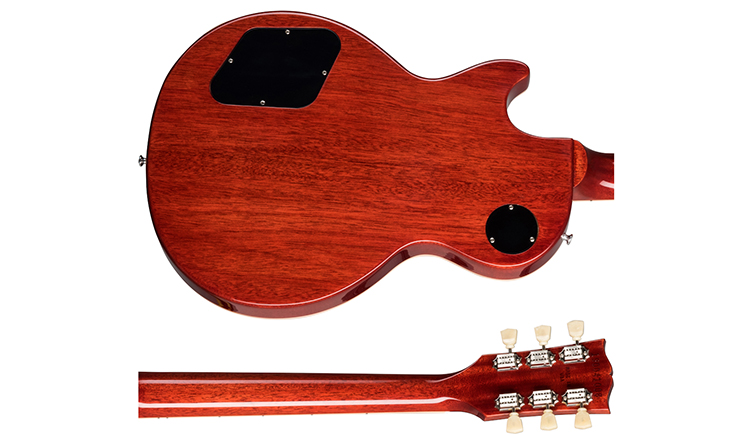 The 50s neck uses Gibson's company standard 12" radius fingerboard and has acrylic trapezoid inlays on its Rosewood board. Scale length on both is Gibson-standard 24.75", and the nut width is the same 43.05mm on both guitars, too.
The Les Paul Modern goes for an 'Asymmetrical Slim Taper' neck. This means the profile shape changes slightly as you head up the neck. To us, it feels like it flattens out slightly, which is just what you want for soloing! The profile is carved to better match your hand's dimensions, so it isn't a 'C' or 'D'. It feels great and is quite significantly different to the 50s model.
The fingerboard is Ebony, and has a compound radius so that it, too, flattens as it heads towards the 'nosebleed area'. Many contemporary electric guitars feature compound radius fingerboards, so it's a timely move from Gibson. The trapezoid inlays here are made from Mother of Pearl, for a high contrast. Also, check out that neck heel! It has been liberally carved away to allow for easier shredding.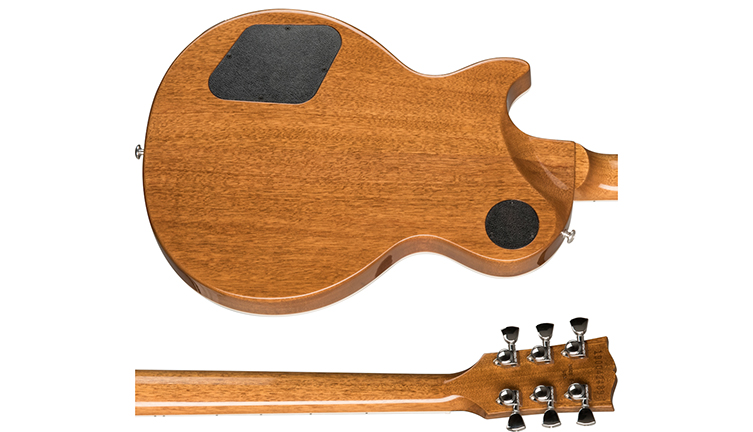 Pickups
The engine room! Pickups make a huge difference, so it makes sense to offer options here. The Standard 50s has two Burstbucker models, the 1 & 2. Getting past Gibson's somewhere vague titles, these are both Alnico II magnet pickups, with the bridge unit wound slightly hotter than the neck. They are PAF-style units, but with an ever-so-slightly more sparkly sound. This is perfect for what most Gibson fans expect from a vintage-voiced guitar, with enough clarity for other styles, too. Top quality Orange Drop capacitors under the hood of the 50s Standard impress also.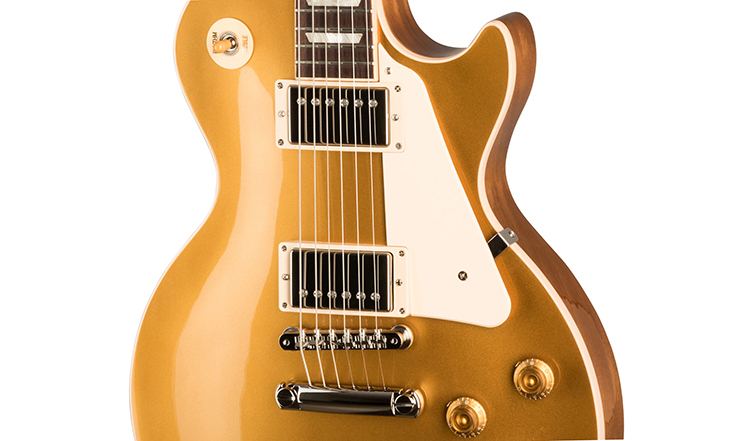 The Les Paul Modern uses a set of Burstbucker Pro humbuckers. These swap out the Alnico II magnets for Alnico V variants, which bring with them a brighter, slightly more scooped sound. Unlike the Standard 50s, the Modern has four push/pull functions, one for every knob. Two are coil taps, one is a phase invertor, and another is a 'Pure-Bypass', which takes the pickup's signal and sends it straight to the guitar's output. By doing this, the signal dodges the tone circuit, giving you a hotter, louder tone. He selection of tones available with this Les Paul are considerable. No, we wouldn't say they were particularly vintage, but isn't that the entire point? That's why there are a bunch of models! Modern Rockers and Metal players will love the power and versatility available here.

Closing Thoughts
What we've just covered represents the most significant differences between these two 'schools of thought'. Remember, there are a good few other Les Pauls available, too: you may prefer the slimmer necked Les Paul Standard 60s, with it's 61R & T Burstbukcers! These flavours are all available so that you can really zero in on the Les Paul you want and need. They are all very much the real deal, they are just made to cater to different requirements.
Which version is best? That's very much up to you! You may play Modern Rock but prefer a more vintage spec. You may be the opposite: a real old-school Blues fan who loves the idea of a metallic-finish, weight-relieved Les Paul! More power to you!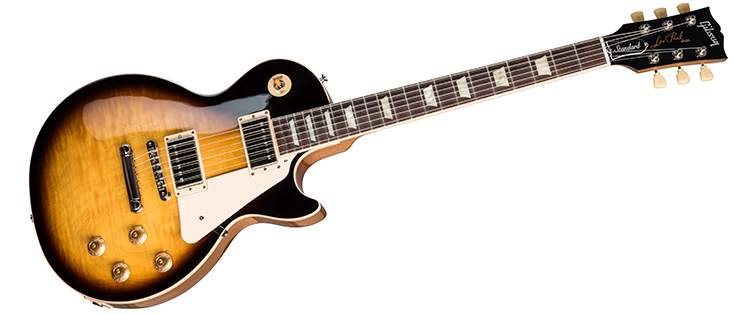 We have personally found that, no matter what any manufacturer says, all guitars are at least a little bit different, even two of the same exact model. This is as true of £2000+ guitars as it is of £200 guitars. Please do use the knowledge from this blog to assist and inform your choices, but realise that your experience alone will dictate how you feel about these or any other guitars. Being open minded enough to try a selection of things will always befit you as a player.
The important thing is, all of these Les Pauls are smashing it out of the park. They all deserve your attention. Please have a luxurious swoon through our Gibson guitars on the site and visit us to try them out in person! Now, more than ever, there is a Les Paul for YOU!