A Closer Look: Fender Acoustasonic Exotic Wood
Published on 18 December 2019
So: have you checked out the Fender Acoustasonic yet?
We bet you have.
This, along with the PRS Silver Sky has, without doubt, been the most headline-grabbing guitar of 2019. Interestingly, both guitars base themselves on Fender's most significant heritage models, and both then go in wildly different directions.
We'll leave the Silver Sky for another occasion and focus today on the Acoustasonic. In particular, we're going to check out a trio of fabulous looking new models, made with exotic wood!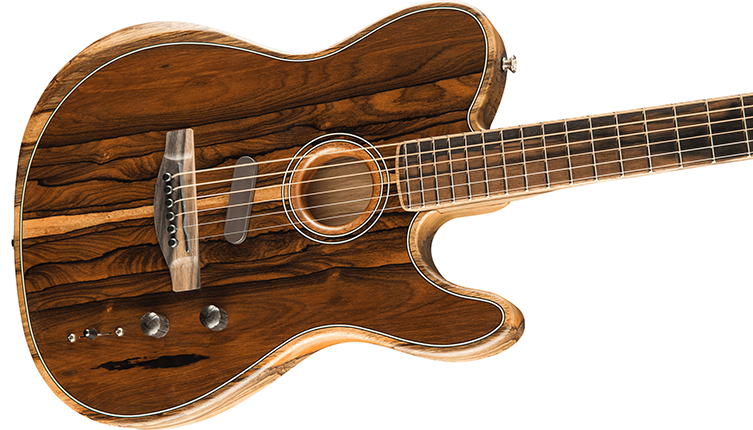 Before we get there, though, let's delve a little deeper into the Acoustasonic concept in general.
Acoustasonic
We first saw the Fender Acoustasonic guitars at last year's Winter NAMM in California. The concept itself – a Telecaster shaped acoustic guitar with hybrid technology for electric tones – is something that Fender have explored before, but not at this professional market level. This is a fully American made guitar.
The idea behind the Acoustasonic is to provide players with a guitar that is easy to play on stage and gives a range of convincing tones, both acoustic and electric. The dimensions are more 'chunky Telecaster' than full-on acoustic, in order to make the guitar as ergonomic as possible without sacrificing tone.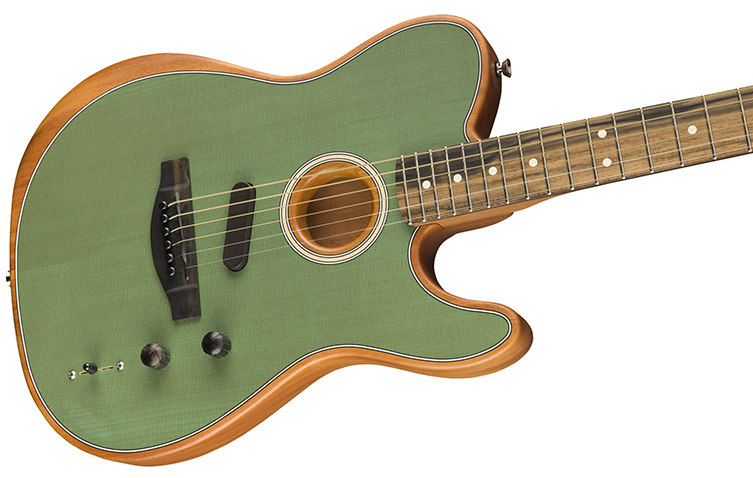 As a concept, guitarists are normally a little hesitant to move away from what they know. Hybrid guitars is territory that can go either way in terms of public acceptance: this type of thing is normally something of a gamble for companies to produce, and this is true of big guys like Fender, too! Happily, it seems that they've got the balance correct: the American Acoustasonic has bene one of Fender's biggest sellers of 2019!
The aim with the Acoustasonic Telecaster is to give the player a variety of quality acoustic sounds from one instrument, with additional electric tones in there too. To achieve this, Fender have collaborated with Fishman to produce the Acoustic Engine, a brand-new preamp design (found exclusively in these guitars) that brings you ten distinct acoustic tones to play with! Think of this as modelling different acoustic body shapes and tonewood combinations. It's not just modelling with the Acoustasonic though: You also get a Fishman under-saddle pickup and an internal body sensor to add real time reaction and realism to your sounds. At work here is a blend of the most cutting-edge acoustic technology available, all working together to give you a natural, versatile set of tones that excel in a realistic, live way.
In addition to all this, the Fender Acoustasonic is fitted with a Fender Noiseless single coil pickup in the Bridge position. It also means you can have a crunchy, overdriven electric tone when plugged into a guitar amp, or an authentic clean Tele sound (along with all of the acoustic tones) when plugged into a PA system. The possibilities are endless, especially if you run the guitar into an A/B box and use both amp and PA!

All of this is controlled directly on the guitar via a simple panel of Master Volume, 'Mod' knob and 5-way selector switch. The Mod switch lets you blend between two different acoustic models, so you can find new 'in-between' settings of two different sounding acoustics! Easy! The guitar comes fitted with 11-gauge Phosphor Bronze acoustic strings and has a C shaped electric guitar-style neck for a true 'hybrid' experience. You are playing acoustic music with a guitar that feels like an acoustic and is as easy to handle as an electric guitar.
It's worth noting that the Acoustasonic works well unplugged, too. It is an actual acoustic guitar, albeit a relatively quieter one, so you can still sit on the couch with it and play away. It's a great 'go-to' guitar for songwriters and constant players!
Exotic Woods
So, this new group of Acoustasonics, then! We love how beautiful they look with their exotic timbers on display! There are three models, each with their own selection of Tone-woods and resultingly different tones. The general design and layout are the same as the 'regular' models, so let's have a little look at the woods on offer...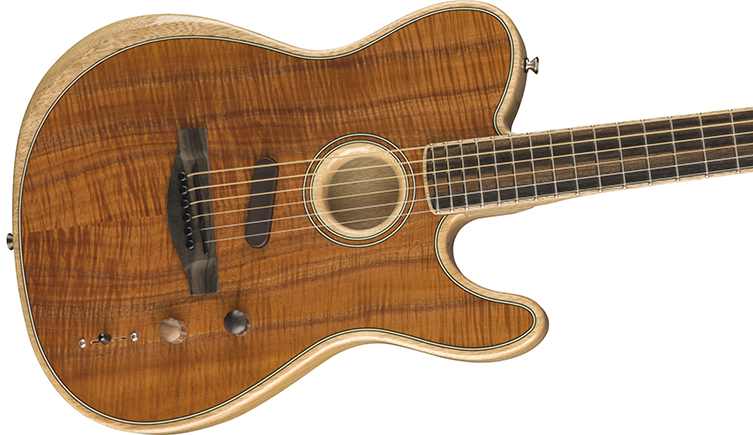 Ziricote
The Ziricote model brings a deeper bass sound and clearer treble tones, along with a darkly dramatic wood grain with fleck of lighter colouring. It's a head turner for sure! Found in Central America, nothing else looks quite like Ziricote. It is used for the guitar's top, with Black Limba bringing a yellowish gold look and plenty of solid midrange to the sound. Black Limba is related to Korina but has a more striking grain. This guitar has an Ebony fingerboard and an open pore satin finish.
Cocobolo
Cocobolo is a tropical wood from Central America. It can appear in a variety of colours, with Fender opting for a gorgeous reddish choice for these guitars. It's colourful and gorgeous, particularly when paired up with golden-coloured Korina for the back and sides. An Ebony board is used here too, with a 12" radius.
Fender have used Ebony for the tuner buttons too, for an extra layer of luxury!

Koa
Koa may be more familiar to you than the other woods. Found in Hawaii, Koa is often used in guitar making to make special, visually arresting instruments. It's a spectacular looking wood, often with looks of colour within the rings of grain. Wild figuring is relatively normal for Koa, too, and the overall look is rich and vivid.
Tonally, Koa is similar to Mahogany, so there is an added thickness and warmth to this Acoustasonic, making it sound different from the normal models. As with other Exotic Acoustasonics, this guitar has a Korina back & sides, an Ebony fingerboard and Ebony tuners. Unlike the others, this model has a full gloss finish, which helps the natural beauty of the woods really pop out.
Final Thoughts
Whichever one you prefer, these new Exotic Acoustasonic guitars from Fender all demand special attention. They are stunning to look at, extremely playable (wherever you happen to be) and use the most cutting-edge technology (hidden away out of view), to make them sound exceptional. Have a look at the Fender Acoustasonic collection today on our site or visit us for a personal demo.
Thanks for reading!