NAMM 2020: Epiphone Roundup
Published on 16 January 2020
It's going to be a big year for Epiphone.
There's a new headstock in town.
Yes, the rumours are true. Epiphone are shaking up their entire range, and the headstock re-design is just the beginning!
Indeed, Epiphone's plan is to align themselves more clearly with the current Gibson collections of guitars, so it's a case of 'everything changes, and mostly stays pretty similar'. Confused? You won't be. Let's have a look!
The Headstock
So, the new headstock design applies to all guitars based on Gibson classics (apart from Explorers and so on, as you'd expect). Epiphone are evoking their heritage mythology by naming this new headstock shape the 'Kalamazoo' headstock. You'll see this on all Les Pauls, SGs and such.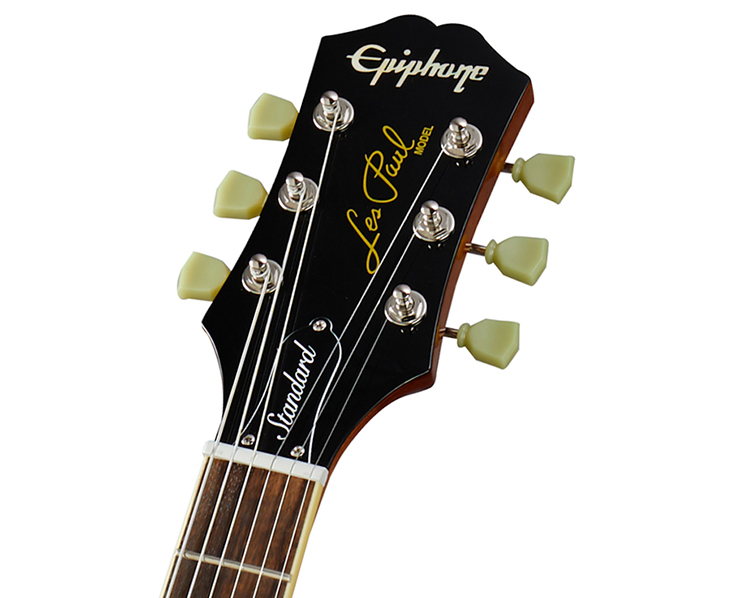 USA Casino
The other big news is the return of select Epiphone models being made in America! You'll find news about Texan acoustic a little further down, but for now, here are a few entirely exclusive shots of the Casino!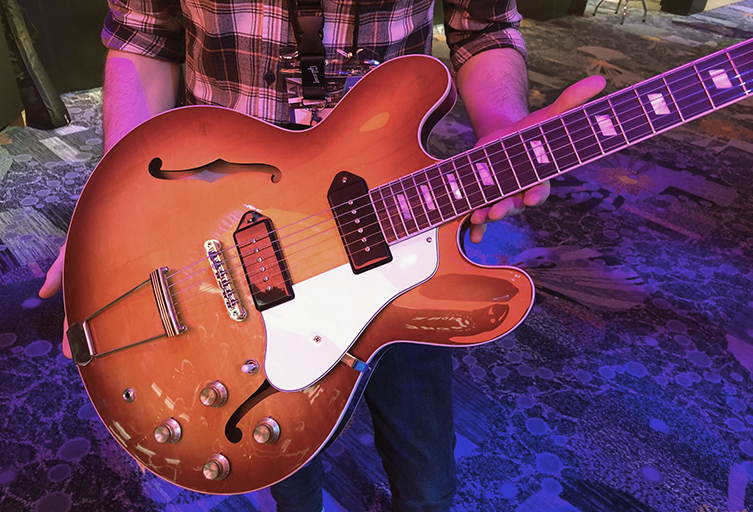 THis is the first time in decades that Epiphone have been made on US soil. We expect them to be high quality pieces!
Inspired By Gibson
The 'Inspired by Gibson' range includes the Epiphone Original Collection and the Epiphone Modern Collection. Much like you find with Gibson, Epiphone's Original Collection is made up of Les Paul Standards, SG's, Jnrs and the 'Designer' models: the Flying V, the Explorer and the Firebird.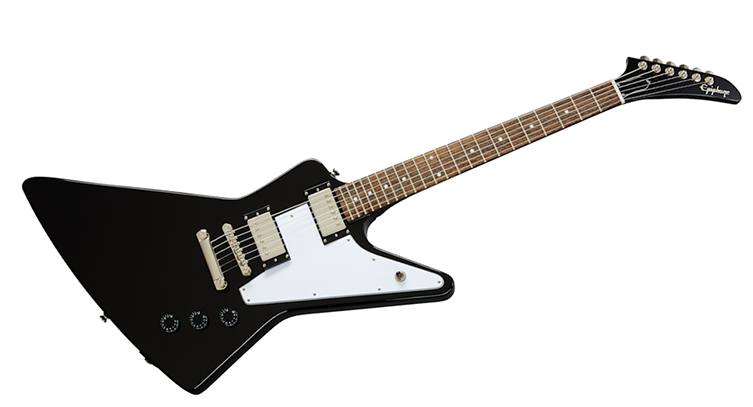 Les Paul Standard
The Les Paul Standard is now available in 50s and 60s iterations, with different specs and finishes for each. For example, the 50s LP Standard has a slightly chunkier '59 style neck and can be had as a gold top, as below...

...as well as two lovely burst finishes. The 60s model, with a slimmer neck carve, loses the Gold in favour of Ebony, and the bursts are slightly different: it's Bourbon Burst and Iced Tea for this model. Both styles have AA Flame tops, Grover tuners and ProBucker pickups. CTS pots under the hood are a serious level-up, too!

SG
The Epiphone SG is available is a pretty kickass Standard model with a full 'batwing' pickguard and the three finishes you actually want an SG in: Cherry, Ebony and, excellently, White! Great idea! Alnico Pro humbuckers have been chosen here, which is fantastic: we've seen these on previous Epiphones and they more than deliver.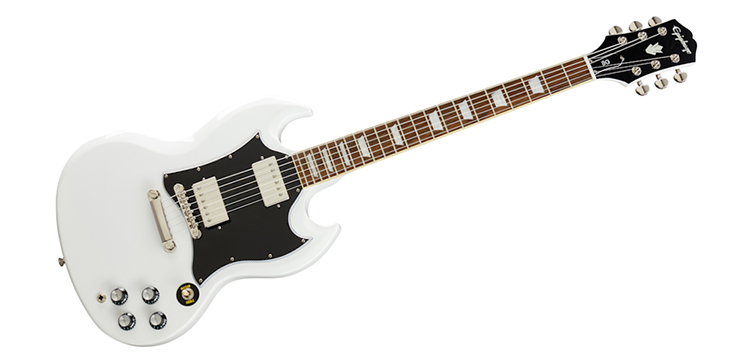 There is also a very tempting 61-style SG with a Maestro tremolo! Accurate styling and vintage voiced ProBucker pickups work together to conjure a historic vibe. Doors fans, you're guitar has arrived...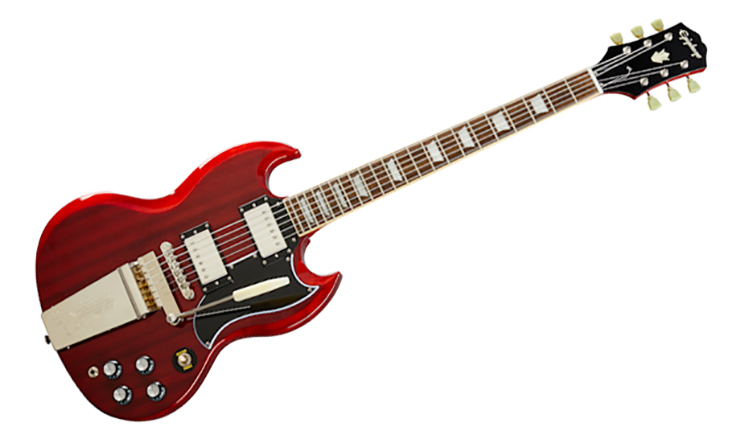 SG Custom
Is this the coolest of the whole lot? Maybe! Wow! The SG really suits being given the 'Custom' treatment: Ebony and Gold, block inlays, split diamond headstock inlay...this is flat-out great. Alnico Classic Pro humbuckers and CTS electronics bring quality to accompany those handsome looks, and a genuine Ebony fingerboard seals the deal.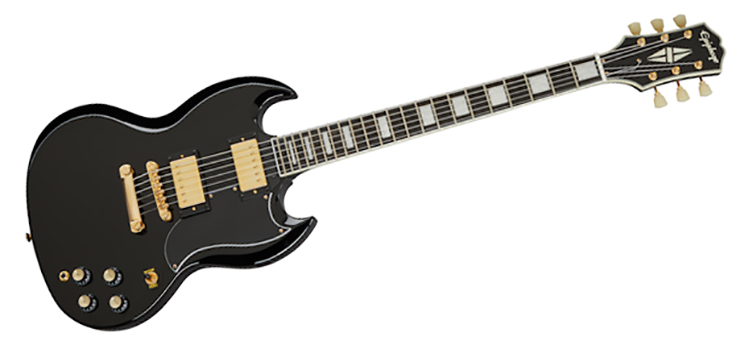 Juniors/ Specials
Epiphone have a single pickup Les Paul Junior (single cut) for you, in Vintage Sunburst AND a two pickup Special in TV Yellow! CTS electronics definitely add to the vaue here.There is also a fantastic two pickup SG Special, available with a bound neck and two brilliant metallic finishes like the Faded Pelham Blue below.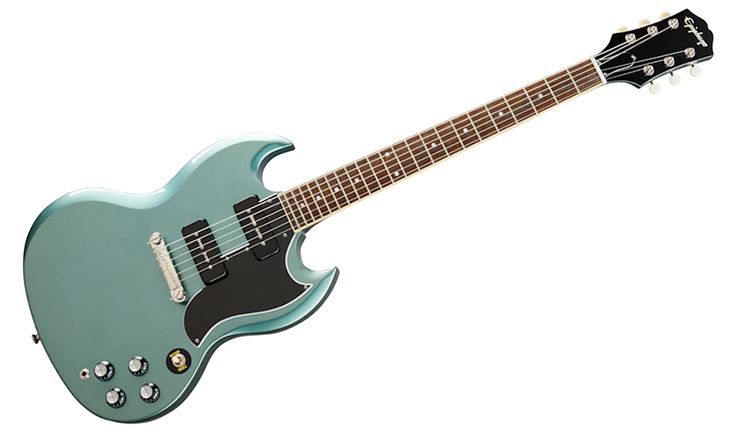 Our intrepid team with their 'boots on the ground' in Anaheim have managed to get their greasy hands on a particularly tasty Les Paul Junior in TV Yellow. Iconic? Definitely.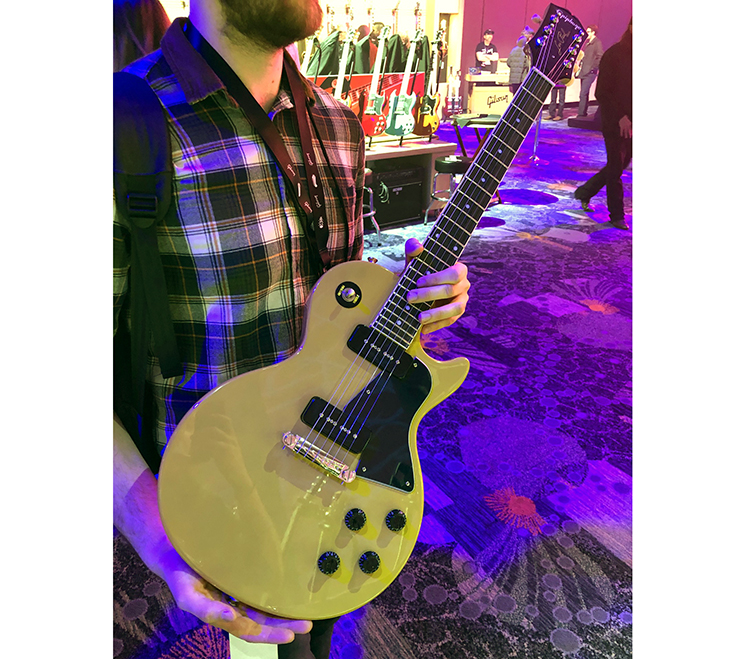 Modern Collection
The Epiphone Modern collection is home to less overtly traditional models. You'll see some beautiful Les Pauls that bear more than a slight resemblance to the Gibson models of the same name...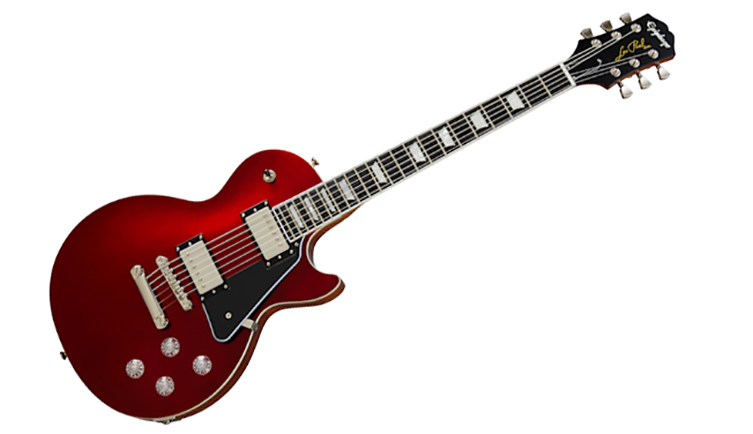 The Les Paul Modern is weight relieved and features coil-splits, treble bleed and phase circuitry as well as ProBuckers and an Ebony fingerboard. Goodness!
The Les Paul Studio is also a part of the Modern Collection. It's looking good, with Alnico Classic humbuckers and the same great finishes (including Smokehouse Burst) as the Gibson model. Grover machineheads and no binding make this a Les Paul built for the trenches.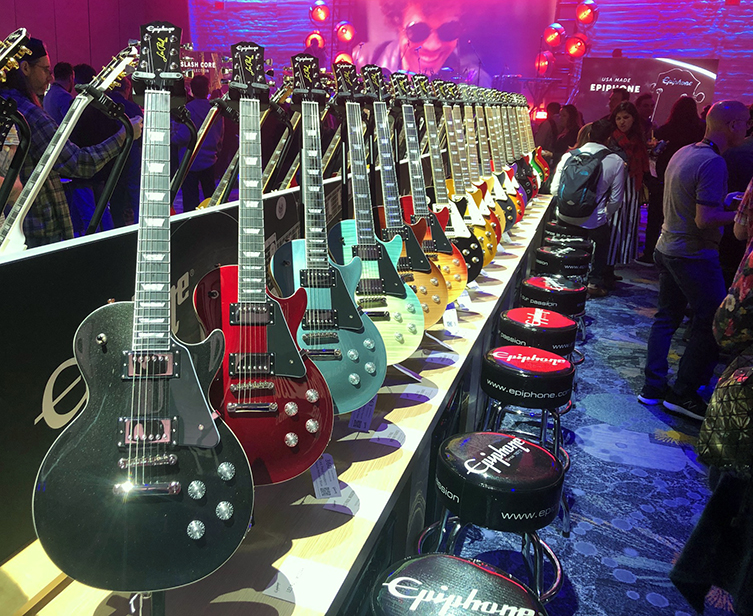 Classic & Worn
The Epiphone Les Paul Classic is available in new satin 'worn' finishes, like the gorgeous Worn Metallic Gold and the excellently bold Worn Purple! Alnico Classic Pro pickups feature, as does a slim C neck profile.
The SG Classic Worn P90 is exactly what the title says, with an open grain finish that's available in Cherry or Inverness Green. A pair of P90 Pro pickups deliver an original and satisfying voice to this instrument, which looks like us to be a real player's guitar!

Les Paul and SG Muse
The Muse range is completely new, and is designed to be lightweight, versatile and eye-catching. Both the Les Paul (it's weight-relieved) and the SG are included, and both feature coil splitting, phase switches and metallic colours that reach far beyond 'standard': check out Wanderlust Green or Purple Passion Metallic to get a fresh eyeful of 'new'! These are bold, beautiful and we love them!

ES Models
News of the Semis are coming as to us so we'll get more soon, but for now, here's a sneaky peek from Epiphone's stand at the show...
Tommy Thayer Signature
This Kiss lead guitarist continues his association with Epiphone, this time bringing us a none-more-sparkly Blue Les Paul. It is one handsome guitar for sure! Mirrored hardware and Seymour Duncan pickups make this one for the brightest of stages!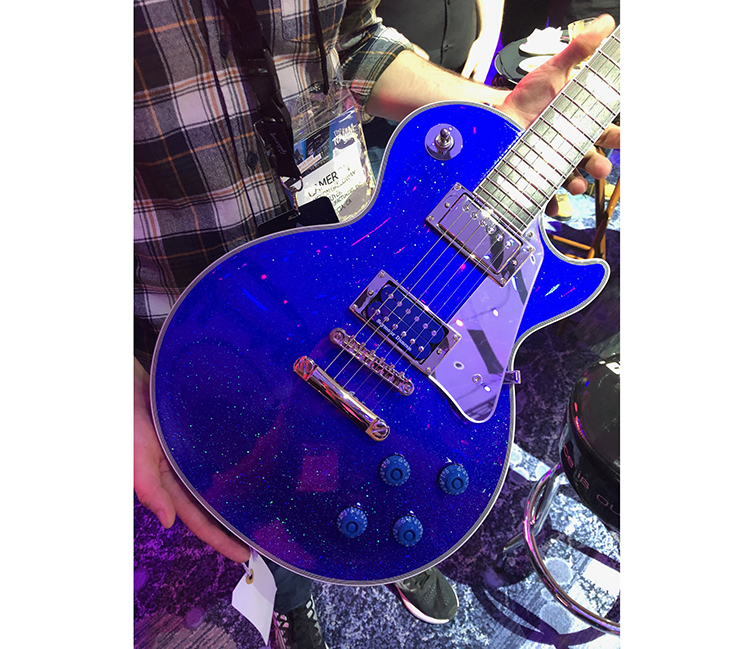 USA Acoustics
Yes indeed! Epiphone, originally an American company of course, are starting up limited runs of US-made instruments! The first we've seen are a brace of acoustics, based on the famous Texan. These will be made in Montana, by Gibson's acoustic guitar makers. It's quite a coup for Epiphone and is a respectful nod to their own significant heritage.

The Texan is available in Natural, as shown above, and also a rich Vintage Sunburst. The Texan has a solid Spruce top and a nitrocellulose finish, along with nice details like parallelogram inlays and an under saddle LR Baggs VTC pickups system. We look forward to seeing this and more coming from Epiphone's US runs!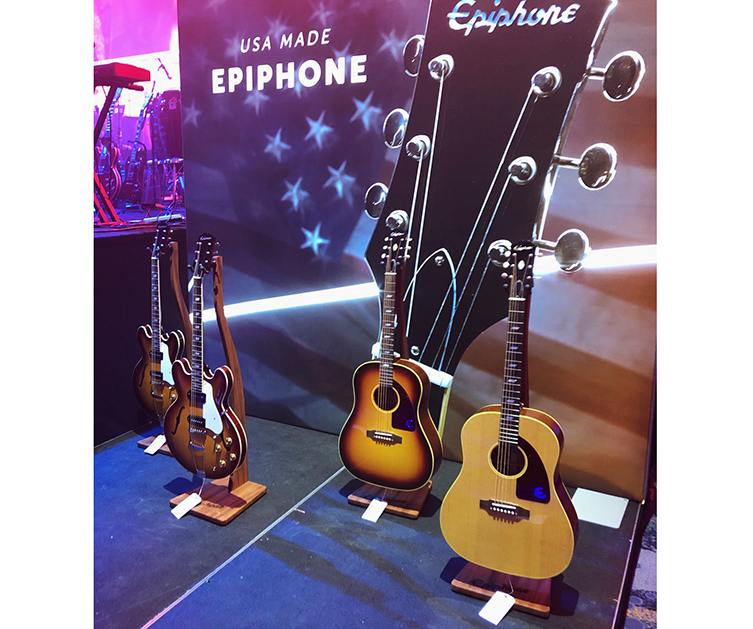 Roundup
So, there's plenty to get excited about with Epiphone this year! This is just some of the guitars that have been revealed: there are more being announced all the time, and other phases to the Epiphone 'reboot' that have not even been spoken about yet, so keep an eye on our site for more news as and when it happens!
Until then
Ray McClelland