NAMM 2020: Gretsch Roundup
Published on 17 January 2020
Gretsch have brought their iconoclastic A-game to NAMM this year. We have sparkles, we have baritones, we have downsized Broadkasters and we have a bunch of amazing (and affordable) models in the Streamliner range. They're smashing it out of the park, and we cannot wait to get our 'twang' on with them when they hit these shores!
In no particular order, here are some of the ones that caught our eye...
G5410T Electromatic Rat Rod
This new Rat Rod range riffs on the automobile sub-culture that revolves around basically relic'ing cool old cars and then hot-rodding the inside for performance. It's a vibe! Gretsches like this G5410T Rat Rod model pay tribute with a combination of matte finishes and warmer-sounding Black Top Filter'Tron humbuckers. Cool red details pay homage to the 'bitsa' nature of the Rat Rod style. We like!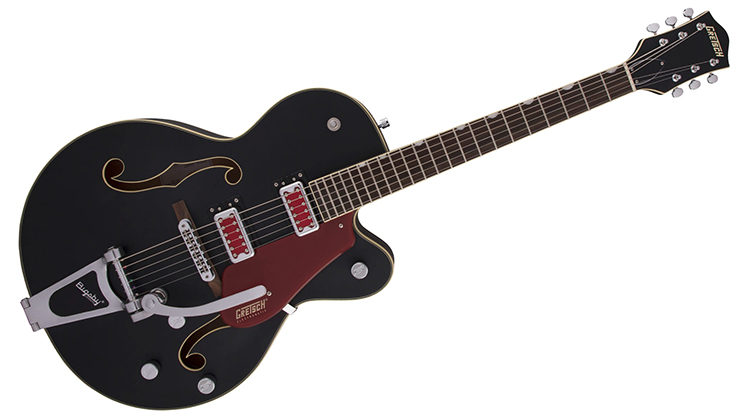 G6659T Broadkaster Junior 2 Tone Smoke Green
Whilst we think that, when it comes to Gretsch bigger is better, not everyone agrees. Therefore, this new 'Junior' sized G6659T Broadkaster ticks a much-needed box. It's gorgeous and is every inch the Gretsch Broadkaster: you get the centre block and Full'Tron pickups to get that bolder sound, plus a set of locking Grover tuners to help with the inevitable 'Bigsby-slip'. Very cool.
G5222 Double Jet
Cheap Malcolm Young? Hell yes! Go for the Natural finish and you're away. It's also available in Jade Grey Metallic and a bunch of other colours, but we reckon the visual association to Acca-Dakka will seal the deal for most.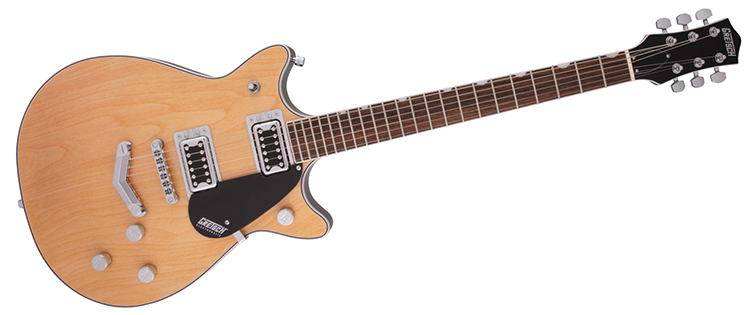 G5260 Electromatic Baritone
Nothing else sounds like a Gretsch: true. Nothing else sounds quite like a Gretsch Baritone: truer! Whether it's the Cramps, Duane Eddy or Twin Peaks that floats your boat, this is the sound you wanted! Available with and without Bigsby tremolo, the Gretsch G5260 may prove itself to be the secret weapon in your guitar army! We like the Dark Cherry Metallic model.

G2210 Streamliner Junior

Fully stripped back for no-nonsense action, these affordable and full-of attitude Gretsches are super-cool. Wraparound bridges, minimal controls and no binding make these completely bling-free beauties. You still get them in cool colours though, since this is Gretsch. We like the Gold and the Vintage White, but that's just us.
G6129T Players Edition
It's the coolest guitar you've seen all day: just admit it. Happily, these models play superbly and inhabit that unique tonal midway point between Fender and Gibson. High Sensitive Filter'Tron pickups are humbuckers, but still give plenty of chime and twang. Talk about charisma? The Gretsch G6129T in Red Sparkle is positively dripping with it...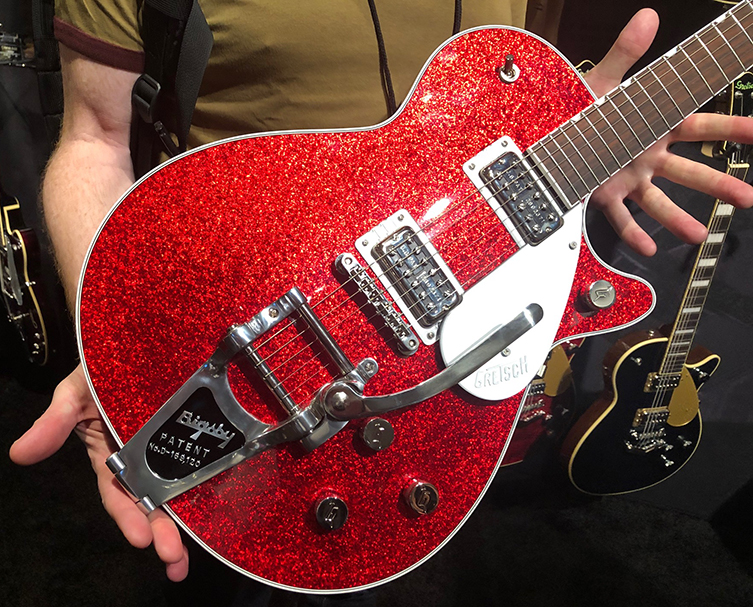 In addition to this indecently nice Red Sparkle, you can also have the G6129T in Round Up Orange.

Conclusion
These are but a few of the great new Gretsches currently parading at NAMM. We'll get more info as it comes, and if these are anything to go by, it'll be a vintage year for Gretsch!
Keep checking in with us, and thanks for reading!