A Closer Look: Schecter Nick Johnston Traditional Atomic Orange Limited Edition!
Published on 18 June 2020
Winter NAMM is a time for viewing new guitars and seeing what the industry has to unveil. All of the big names (and many of the not-so-big names) mark out their turf in Anaheim and spend a long weekend showing you their plans for the year ahead. It's an exciting, heady time for our buying team, as they see what will be on offer to the guitar community in the near future.
It's also a time for hatching exciting new plans...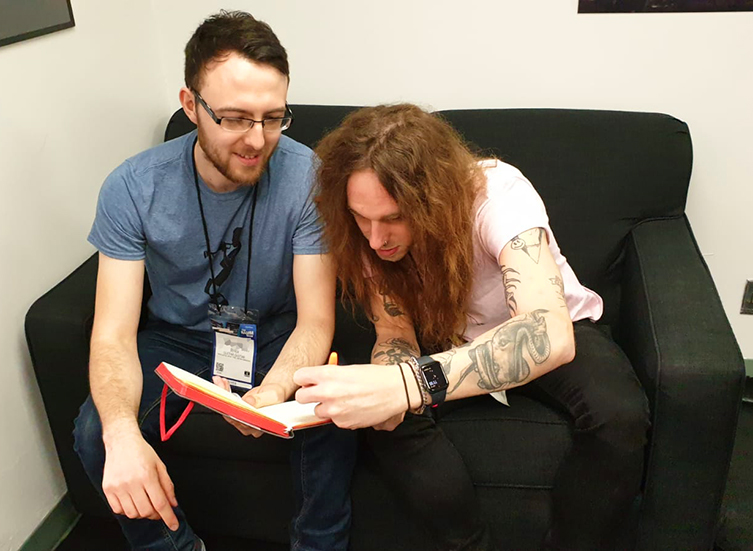 For us, it meant approaching Schecter, one of our favourite brands, and seeing if we could create something special together. On this occasion, we were allowed some privileged time and access to one of Schecter's top artists, Nick Johnston. One of the most tasteful, melodic and expressive guitarists on the planet, Nick is no stranger to fantastic tone. After seeing and loving his USA Schecter Custom Shop guitar in a beautiful bold shade of Orange, we knew we needed something like that in our lives!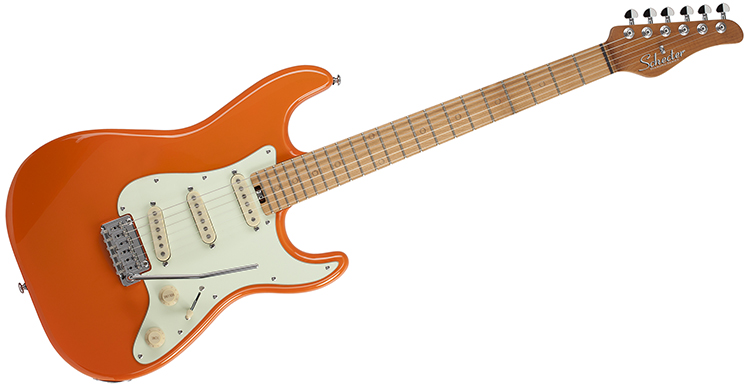 Our guys sat down with Nick in a quiet corner, away from the madness of the NAMM show, and discussed possibilities. The result is an exclusive, very limited run of Nick's signature Schecter model, in Atomic Orange, and available from the affordable Diamond Series!
We are the only people on the planet with this lovely guitar, and stocks are limited.
Schecter Diamond Series
So, what is meant by 'Diamond Series' Schecters? Well, Schecter started out many years ago as a boutique Californian Custom Shop, which is still very much is. The 'Diamond Series' is the huge range of non-customisable (in other words, production model) guitars built in the Far East. These are the Schecters that most of us know and love! Schecter use a few factories across the world, though a large percentage are built in South Korea and Indonesia.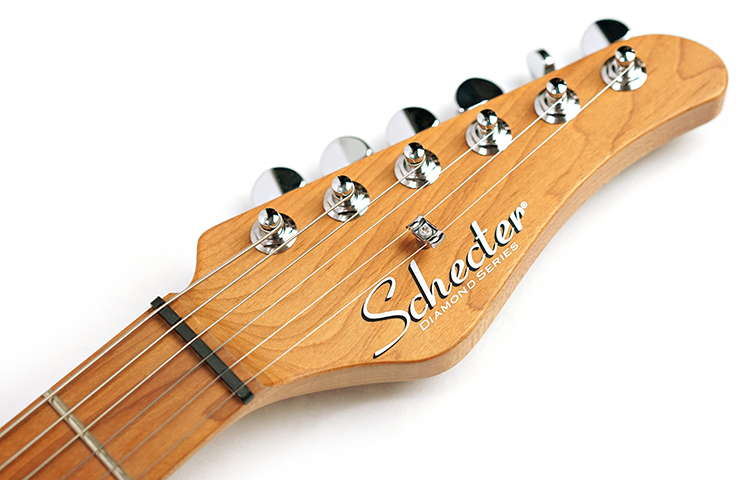 The Diamond Series guitars range from very affordable to well over a grand in price, so a large sector of the market is catered to. Higher priced instruments include more specialised hardware and finishes, along with higher grade timbers. This limited-edition Nick Johnston Traditional model sits around the middle of this wide price range and includes plenty of special features.
Custom Colour
First off, this custom Atomic Orange colour rocks! It's gorgeous, and as we said earlier, we took it directly from the USA-made model. This colour is available nowhere else in the world on a Diamond Series guitar. It's called 'Atomic Orange', which is about right in descriptive terms! This shade really pops! It's gloriously intense, and weirdly tasteful! The colour is complemented well by a vintage-coloured pickguard and matching control knobs. It's one exceedingly pretty guitar, and there's yet another special feature which not only improves the look, but is also a world exclusive!

Roasted Maple neck and Fingerboard
Roasted necks are very much a thing right now. The act of torrefaction, by which the process is otherwise known, involves drying out the timber in a smoke-free atmosphere, thereby removing all moisture and changing the molecular structure of the wood itself! The result for players is a stronger neck that's much more stable and less susceptible to warping and so on.
So far, so good, but this was already on the regular Nick Johnston Traditional guitar. What makes this one special? The fingerboard is torrefied also! Schecter agreed to use a Maple fingerboard instead of the Ebony normally used on a Nick Johnson model, and so the whole neck is roasted Maple! No other Schecter guitar has this! It's super resonant, silky to the touch and gorgeous to look at. It complements the Atomic Orange finish brilliantly, too.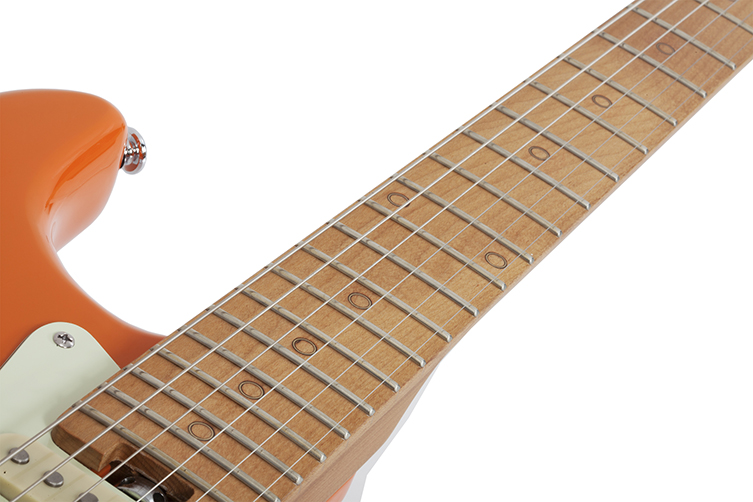 Talking about the neck, the other specs are excellent: here we have a nice flat 14" radius fingerboard with 22 X-Jumbo frets and a truss rod adjustment wheel at the neck's heel. This will delight every player who enjoys indulging in a fair amount of lead playing, but who also wants a great all-rounder. As an excellent touch, the fingerboard position markers are brass circle inlays.
Nick Johnson Pickups
Nick's choice of single coil pickups here are timeless and classic, befitting such an instrument. These units are wound to his specs and are bright sounding with clean tones, articulate with a little crunch and handle heavier gain really well. They respond excellently to volume control changes, making this a guitar full of sparkling, adaptable tone. Listen to Nick's music and see how much mileage he can get from this time-honoured setup.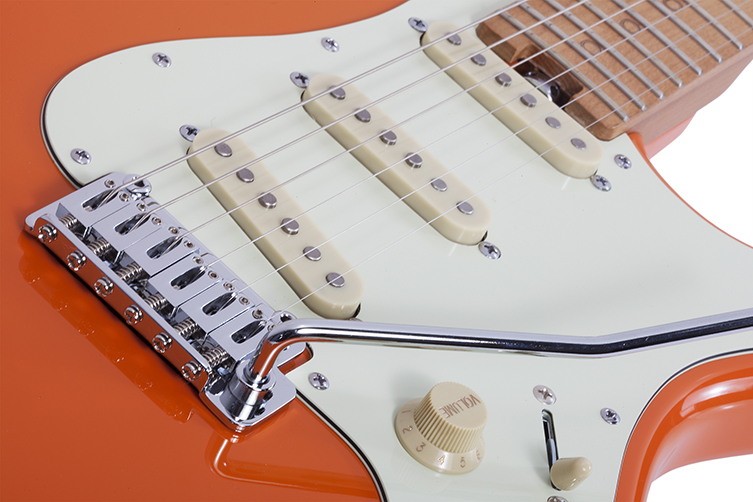 Other Cool Features
This Schecter Nick Johnston model has an eye for details. Check out the locking tuners, or the Diamond Vintage trem, which operates like a standard 2-point trem but holds tuning much better than 'standard' tremolos.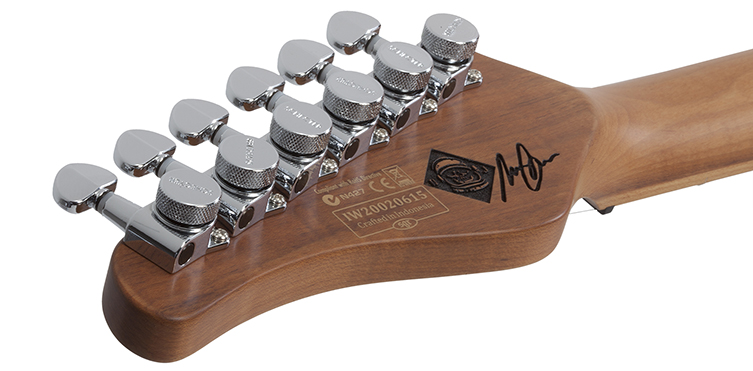 Also, we love details like the input jack being moved to the side of the Alder body, instead of right on the top, as you'd normally find on an S-type like this.
Another nice detail is the streamlines control knobs: there are only two, a volume and a tone. How many guitarists use two tone controls? Well, Nick Johnston doesn't anyway, so one of them is ditched! We think it makes the instrument a little cleaner and more functional.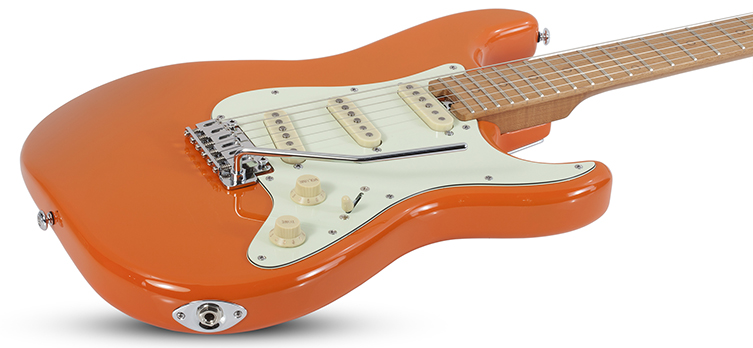 Final Thoughts
This guitar is all about the little things; the details that players notice they need after years of playing. These refinements all play their part in improving the experience for the player. We don't think any guitar design is so perfect that it can never be made a little better, and that seems to be both Schecter and Nick Johnston's opinion also!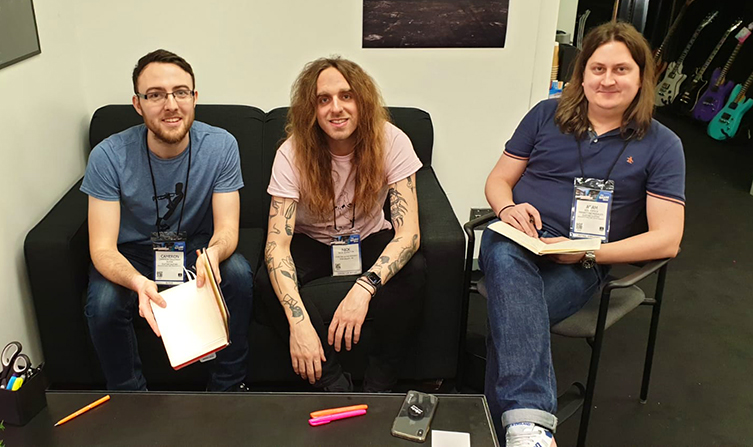 We're were honoured and privileged to have worked with Nick on this special design. We think some of you are really going to love this guitar! It's available in limited numbers, it's an exceptional guitar in an amazing colour, for a great price, and it is currently available from here on the site!