A Closer Look: Gibson Original Collection Acoustics
Published on 26 June 2020
Gibson are hitting home runs at the moment.
Across the board, from their electric guitars to their acoustics and through to their Epiphone licensed instruments, there is a real buzz and energy to what they are currently putting out into the world.
Why?
Well, they seem to have really clicked back in with their world-famous heritage, and focused directly on those elements of the brand that everyone wants to see: classic designs, largely untampered with, and available in the recognisable guises we know and love.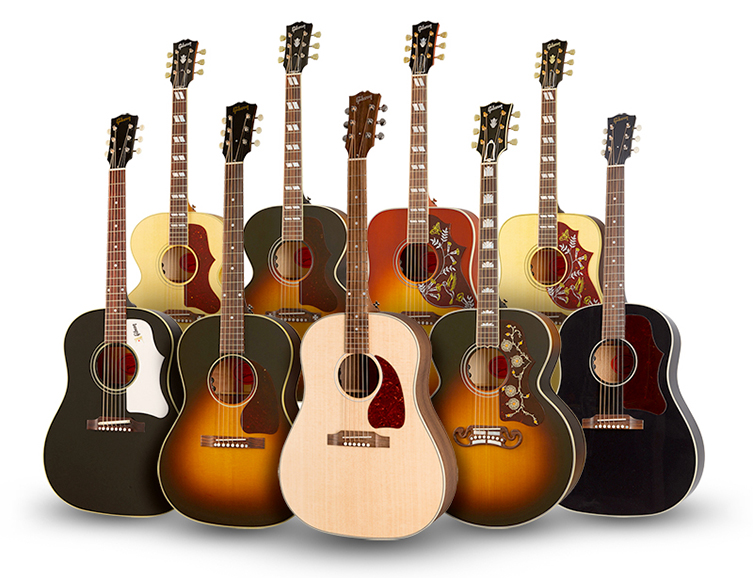 Generally speaking, Gibson's 'Standard' range is divided into two distinct ranges: the Original Collection and the Modern Collection. Each collection makes full use of Gibson's famous guitar designs, but the Modern Collection adds extra player-centric features and contemporary finish options, whilst the Original Collection sticks much closer to the historic models. It's this collection we'll be looking at today, and we're choosing to focus on some of the acoustic guitar models.
Original Collection
Name a famous Gibson acoustic guitar, and it's very likely that the first five that come to mind will all be represented in the Original Collection! Gibson know the worth of their history, and guitars like the Hummingbird and the J-45 carry decades and decades of magic by association to the artists who've played them.
These models will often appear in the Modern Collection too, though in a deliberately less 'vintage' guise. This is sensible, because they can then cater more specifically to different players, rather than hoping or expecting everybody to want the same few models. We see this as being a great move on Gibson's part.
These Original Collection guitars stick close to the historical path, and feature many of the same material/construction from model to model across the range. For example, the top of each model is made from select Sitka Spruce, and the bodies that are mainly built with solid Mahogany. Certain models, like the J-185 and the SJ-200, use Flame maple for the bodies, in keeping with historicity.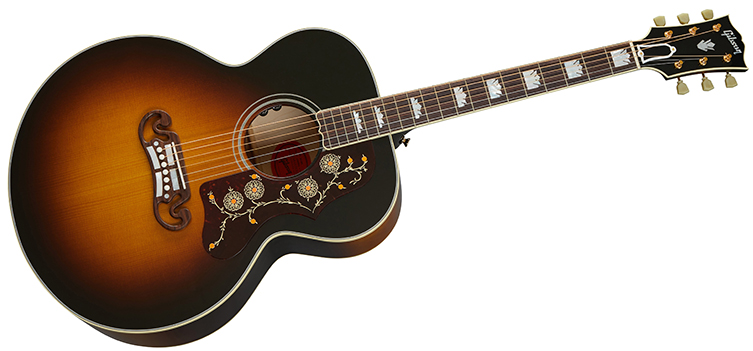 Nitrocellulose lacquer finishes are used on every Gibson Original Collection guitar, along with 'antique' binding, and hand-scalloped X-bracing on the inside. All guitars also feature a compound Dovetail neck joint, ensuring that the built process is as high quality as possible for these professional-level guitars.
Many (though not entirely all, as we'll see) of the models come fitted with top quality, discreet LR Baggs pickup systems. This is obviously a nod to modernity, but Gibson have been clever about it: they know that players will want to take these instruments out to use at gigs, but they also don't want massive control panels spoiling the look of their vintage-style guitars! The LR Baggs VTC system's controls, therefore, are tucked into the underside of the sound hole where they can hardly be seen be the casual eye. This is perfect, because it means that you have direct access to volume and tone controls right where you need them, without sacrificing the special look, aura and prestige of your Gibson Original Collection acoustic guitar. Good idea.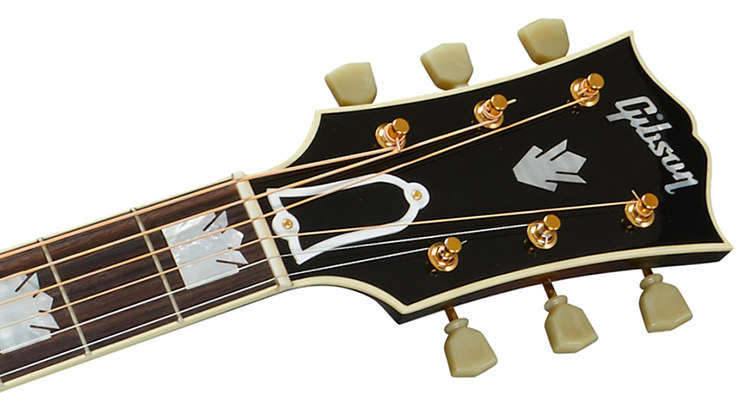 Let's take a second and look at a selected few of our favourite models from the Gibson Original Collection...
L-00 Original
This compact beauty is from waaay back, to an age before time. Before the Rolling Stones. Before Johnny Cash, even! The L-00 is from Gibson's 1934 line of smaller bodied acoustic guitars, and was designed to be more 'home-friendly', not unlike parlour guitars of the time. This is a very appealing design, with narrow hips and an outline that's relatively unique for Gibson. The shape gives the guitar a sound that is perfect for fingerpickers and acoustic Blues players: it's relatively mid-friendly and excels when used to pick out particular notes, though strumming's hardly a problem either!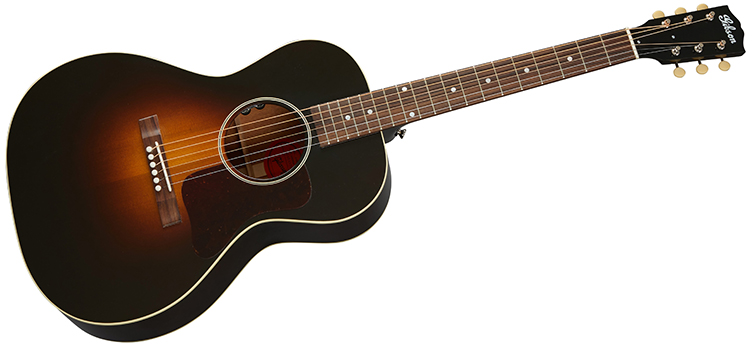 The Gibson L-00 Original has lovely period details like a script headstock logo and 'Golden Age' tuners made from nickel. It's available in Ebony and Vintage Sunburst, with the black of the sunburst coming in further across the guitar's top, in a move that very much echoes historical L-00 guitars. This lovely Gibson is a fabulous companion for finding inspiration with.

J-45 Original 50s and 60s
Gibson's most well-regarded 'slope-shouldered' dreadnought is easily the J-45. Known as the Workhorse, the J-45 is a defining instrument for acoustic players who want to get their music down without any nonsense. Fingerpickers love it, strummers do too, and there's a beautiful range of tones available for all styles from Folk to Country and Rock.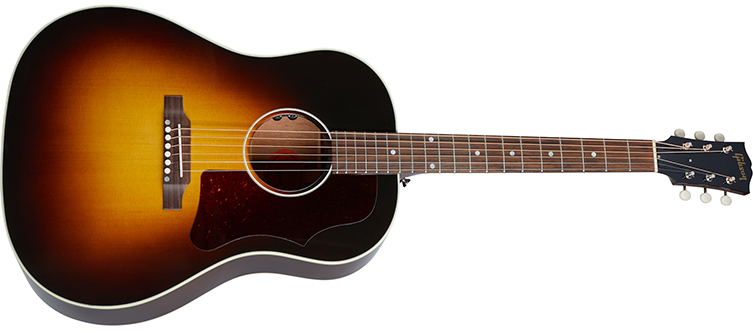 Gibson have included two versions of the J-45 in the Original collection. Whilst they are superficially similar, there are some significant differences, too. Construction is the same, as are the Sitka Spruce & Mahogany tone woods and hand-scalloped x-bracing. The fifties model, however, has a wider neck than the 60s, which do make both models feel pretty different in practice.
Also, it's worth noting that the 50s model is equipped with the LR Baggs VTC pickup, but the 60s model does not. Instead, it has an adjustable bridge saddle and a period-correct logo detail stamped onto the pickguard.
Each version of the J-45 is available in a different set of finishes, including Ebony, Wine Red and Vintage Sunburst, depending on the model.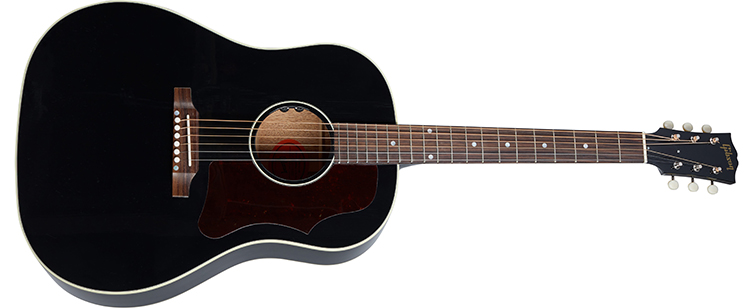 Hummingbird Original
For many guitar fans, the Hummingbird is the first guitar they think of when it comes to Gibson acoustics. This square shouldered dreadnought guitar has a lot of personality! Its highly decorative look sums up much of the 'Gibson style', with its detailed pickguard, split parallelogram inlays and gold hardware. It's a work of art, and is universally loved.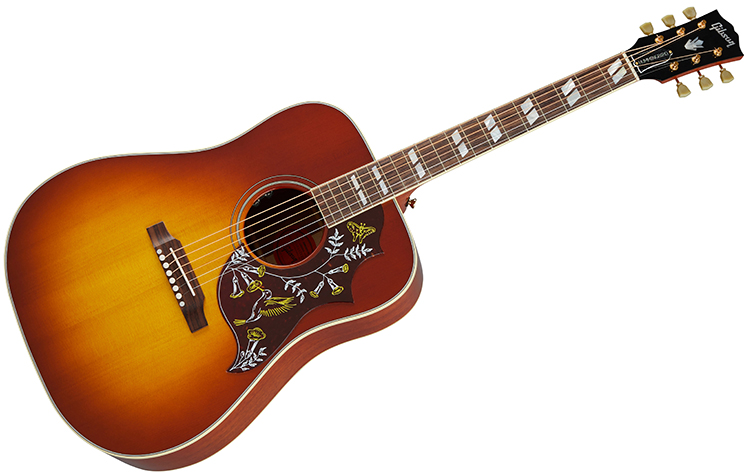 Thankfully, all of this prestige has been accurately recreated here for the Gibson Hummingbird Original. You can have either Antique Natural or Heritage Cherry Sunburst, and both look like a million bucks! The antique binding adds a nicely subtle touch: the creaminess of the binding works very well with the finishing and goes with the retro Gotoh tuners to help really sell the glory of this guitar. It's a classic, it's a masterpiece and it will be the proud centrepiece for any guitarist who chooses it.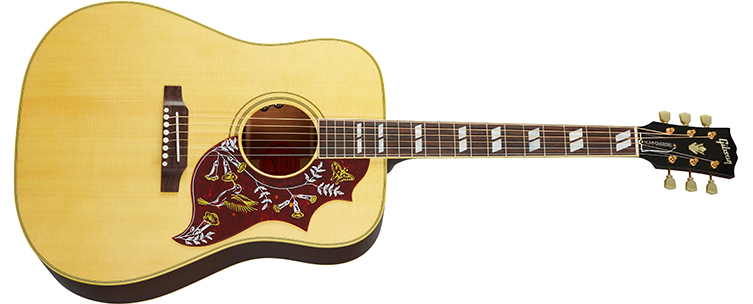 J-185 Original
We have to say, we are very fond of the Gibson J-185. In many ways, this is like the ultimate Gibson acoustic, in that it's beautiful, ornate and produces a wonderful voice, but it's also smaller and more manageable than the SJ-200 (which is also available in the Original collection, with all the glory you'd hope for and expect!), which is sometimes a little too large for some people.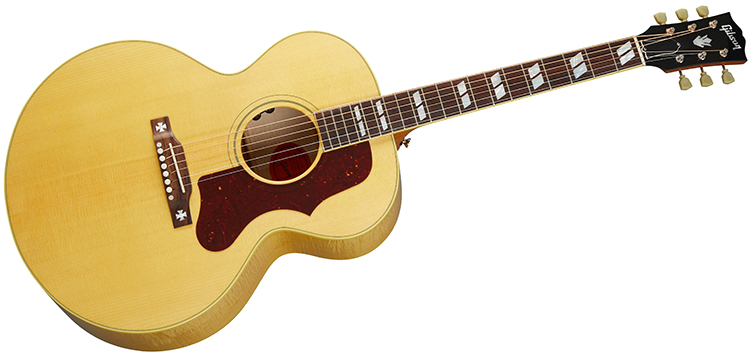 The body size of the J-185 is just perfect, in our eyes. Also, the use of Flame Maple for the back and sides is inspired: together with the (still pretty large) body size and the Spruce top, there's loads of bright, percussive projection to go along with the depth and great resonance of the body's dimensions. It's a brilliantly balanced sound, and one that singers will love to work with. The 'secret weapon' of Gibson acoustics? We think so!

Final Thoughts
It's clear to us that Gibson have taken stock of what's loved and revered within their stable, and focused their energies clearly on that. The Modern Collection features lots of modern twist on these classic designs, but the Original collection have kept things the way we'd want them to be, with only tiny touches like the pickups etc to remind you that we're in 2020, not 1960!
There's a wide range of styles to choose from here, and they all deserve your attention. We all have our favourite Gibson acoustics, but it's worth casting an eye and an ear to the other guitars in Original Collection: you never know what a change in body size might do for your playing!
From one of the most iconic acoustic guitar builders on the planet, comes a line of guitars that definitely lives up to its reputation. There is tone, style and playability here in spades. See for yourself!