A Closer Look: Yamaha BB and TRBX basses
Published on 11 August 2020
Who plays a Yamaha bass?
Well, quite a few of the best bassists in the world, actually! You'll see Yamaha basses in the hands of these players: Billy Sheehan (Mr Big, Steve Vai), Peter Hook (Joy Division, New Order), Glenn Hughes (Deep Purple), Jack Gibson (Exodus), Nathan East (session legend who plays on everything) and Tony Kanal (No Doubt), to grab a selected few at random.
That's quite a list!
Yamaha basses have been a professional go-to for well over 40 years, and some of their styles have now become iconic. In particular, we'd look to the BB and the TRB styles as being their most well-known and renowned. In a world where it sometimes seems like there are only 4 designs available ('P', 'J', 'Sting' and 'Ricky', much as we love them...), it does us good to remind ourselves of the other amazing instruments out there for players who like putting their own stamp on things.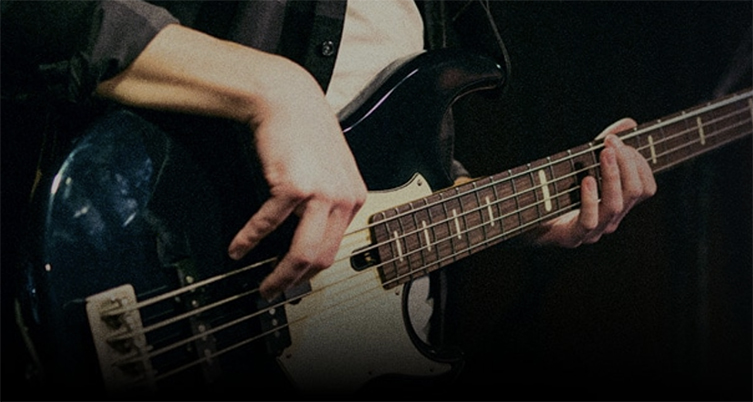 Today, we have picked out 4 bass models to show you: two each from the TRB and BB ranges. We think they deserve a bit of love!
Yamaha TRB
The TRB design is one for all bassists. With a long upper horn and excellent high fret access, the TRB is as practical is it is attractive. The design is available in a wide variety of specifications and price points, which come with increasingly more contoured bodies, decorative elements and upmarket circuitry.
We are actually going to look at two of the most affordable TRB basses today, because we feel it's important to hammer home just how much quality can be had from this range for very little expenditure. First up is the TRBX174.

Yamaha TRBX174
Wait a minute: TRBX? What about TRB? That's what you were talking about!
Yes, I was. It's fine, calm down! The 'X' part alludes to this style being an amalgamation of the TRB and the older RBX style. In reality, the TRBX shape is that of the TRB, and the only difference here is the TRBX models have a more normal 34" scale length compared with the longer (and relatively unusual) 35" scale of the TRB models.
Okay, now that we've addressed the 'X', let's check out the TRBX174! It's super affordable, and by that we mean it isn't much more costly than some entry level beginner basses! Now, this is not an indication of compromise as much as it is of value. Guitarists will be well aware that Yamaha's Pacifica range of six-stringers are both entry-level in price and gig-ready in quality, so keep that in mind! We'd happily fire through a full set with one of these basses! Yamaha don't make 'bad' anything, remember?

The TRBX174 brings you a full 2 octaves worth of frets on a 10" radius fingerboard with the aforementioned 34" scale length. It's a great neck, slim but with enough space between the strings to be able to feel free. The neck is bolted to a Mahogany body, a good choice for solid, thick tones. The bolt-on Maple of the neck will balance this with a little bit of snap, so it's a clever combination.
This bass, and in fact all of the models we're checking out today, use what we refer to as a 'PJ' configuration for the pickups. This is a reference to Fender's Precision and Jazz basses, who each use different pickup types. A PJ configuration, therefore, gives you a single coil pickup in the bridge position ('P') and a split-coil pickup in the middle position ('J'). It's basically having the best of both worlds, really, as you can dial in how much of one (or both) you want to hear. The TRBX174 gives you a volume control for each pickup and a master tone, so getting your desired tone balance is kid's stuff.
We think this bass is a perfect choice for bassists on a budget, seasoned players looking for a dependable backup and also guitarists who want to have an effective and inexpensive bass for writing and recording.
Yamaha TRBX204II
Going up very slightly in price, but still staying in a very affordable place, brings us some real upgrades.
The Yamaha TRBX204II shares many of the specifications of the 174 model, but changes the body material and, significantly, adds active circuitry. Yamaha state that the body for the TRBX204II is 'either Alder or Basswood', presumably because the bass may be made in two separate locations. Yamaha are a pretty huge company, after all! Either way, these are the two most popular timbers for making bolt-on bodies, so we are on safe ground. It'll mean that, even with the same pickups as the other bass, the resulting sound will be fundamentally different. That's before we get to the electronics! Alder and Basswood are less dense than Mahogany and have a different resonance, so you can expect more upper mids in the signal and a slightly faster attack.

The electronics allow some powerful tone shaping. Using a 9v battery as a power source, you can use the 2 band EQ to drastically boost or cut pre-determined treble and bass frequencies to your liking. This is a great feature to have, particularly in a live situation where your bass will sound a little different from venue to venue. The ability to tweak can make all the difference!
In bang-for-buck terms, the TRBX204II is a very impressive instrument and a very astute purchase.
Yamaha BB Basses
The BB is another iconic bass design for Yamaha. This style has been going strong for over 40 years, and was initially made as a solid, dependable bass for hard-gigging musicians. With a well-balanced body shape and a super-strong 6 screw neck join, the BB certainly means business! A powerful and clear sound is what attracts players to this style, apart from the built-in toughness of course! We recently spoke to a couple of top pro bassists about their gear and they both enthused about their BB basses. You can read more by clicking through to our Jack Gibson interview and our Peter Hook interview.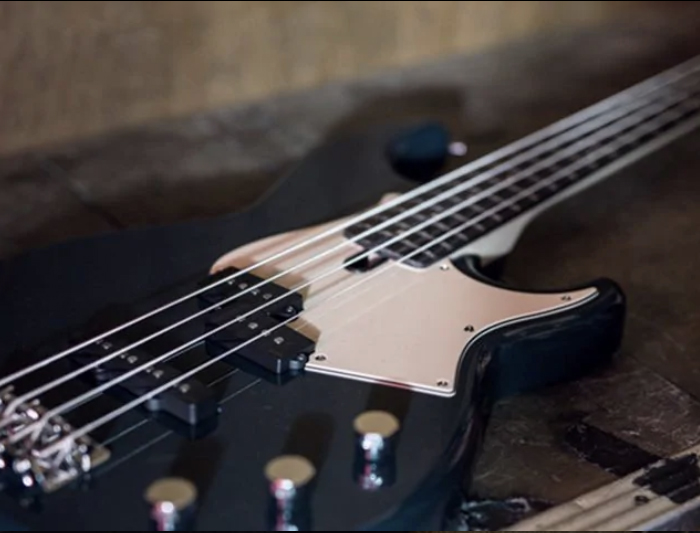 Coming back to the basses themselves, we have two BB models to share with you today. Let's first check out the BB434.
Yamaha BB434
The Yamaha BB434 sits in the mid-level, price wise. It's a proper performer, with an excellent feel and a very cool look that straddles 'utility' and 'decoration' perfectly. It's another great neck here from Yamaha, again with a 34" scale length but this time going for a more classic 21 fret count instead of the TRBX's 24. That's all good to us, since we tend to stay somewhat further down the neck with our bass playing, but the choice is there via both styles.

The six-bolt neck includes two bolts that are angled in order to secure the neck ever more closely. It's very clever, in a 'why doesn't everyone do that?' way. Another cool innovation is with the bridge design. The strings sit at a 45-degree angle as they come through the body, instead of at a sharp right angle, as they tend to do on most through-body bridges. Having a softer angle puts less pressure on the strings and more contact with the body, so you'll get more resonance and less breakages. Excellent!
The pickups on the BB434 is 'Custom V5' units. As you may surmise, these are specially wound alnico V pickups, with a rich sound that's full of body and clarity. Again, the 'PJ' configuration is used in order to get the biggest range of tones from the instrument. It's a fantastic gigging choice, with tone, feel and attitude to spare, and we particularly like the ones finished in Black and Teal!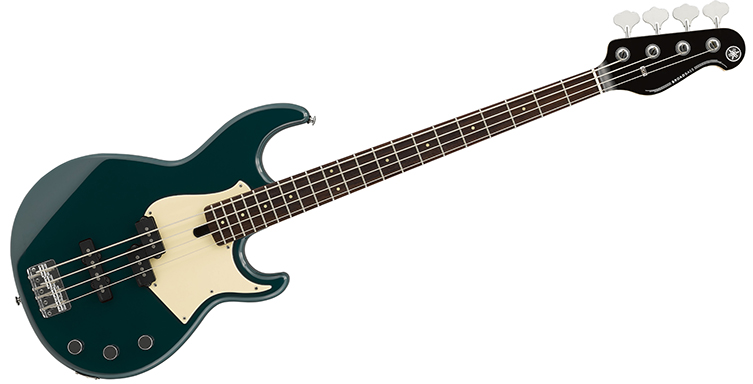 Yamaha BB734
Our most expensive choice today is the Yamaha BB734, shown here in Dark Coffee Burst. Coming in just over £700, it's still a very reasonable price for any serious player out there. And we think the extra features more than justify the cost.
So, many of the upgrades with this BB model are integral to the construction itself. Take the body, for example: this has been carved from a strong and tone-some sandwich of Alder/Maple/Alder, which brings strength and sustain to the mix without being laboriously heavy, too. It's a good start! The neck is now a 5-piece construction of Maple and Mahogany, made for the same reasons. This bass is one that sounds massive but weighs relatively little, meaning you can easily handle 2+ hour sets without tapping out and falling over into an exhausted and regrettable heap on the floor. This is most definitely a player's bass!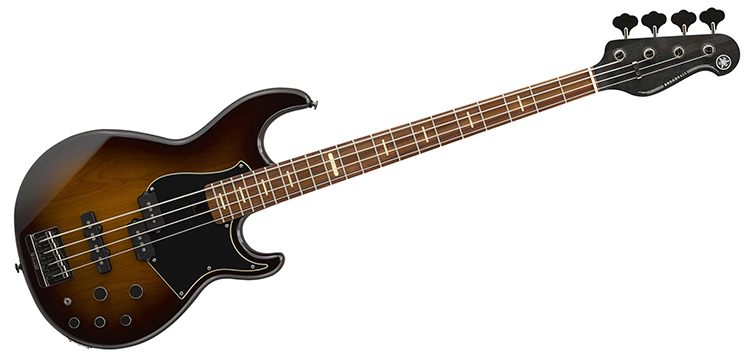 Again, we have the alnico V PJ pickups, accompanied now with an active 3 band EQ circuit. Decorative fingerboard inlays mark this out as a bass of fine social standing, whilst the Dark Coffee Burst finish is elegant and classy. You'll be able to fit into any session jam, or performance with this bass without any issues. Are you the type of bassist who prefers to stick to a single instrument? If so, we think you'd have to spend a large chunk more to get a bass that out-performs this one.
Final Thoughts
Yamaha are a brand who do their thing with quiet confidence, knowing that those who know, know. Their designs, as we've seen today, have lasted since the 70s, and have many loyal professional fans who'll use nothing else. Whether you are shopping around for your first bass, a solid backup, an additional style or your next main squeeze, we think you'll find goldmines of delight with Yamaha's TRB and BB ranges. Check out our Yamaha basses on the site or visit us in one of our stores to play a couple of your favourites today! Our stores are set up for social distancing and our staff are ready to help you as usual!
Thanks for reading
Ray McClelland