Best Digital Pianos & Keyboards For Beginners (Updated for December 2022)
Published on 29 November 2022
Playing the piano is like musical freedom.
Using both hands, you can play rhythms, accompaniment chords and lead melodies, all at the same time, with octaves worth of notes literally at your fingertips.
As much as we are obviously guitar people, we love pianos, too.
Have you ever thought of trying to learn the piano?
Maybe you're a parent of school-age kids, and conversations are beginning to be made about your children learning and you're interested in learning about pianos for beginners.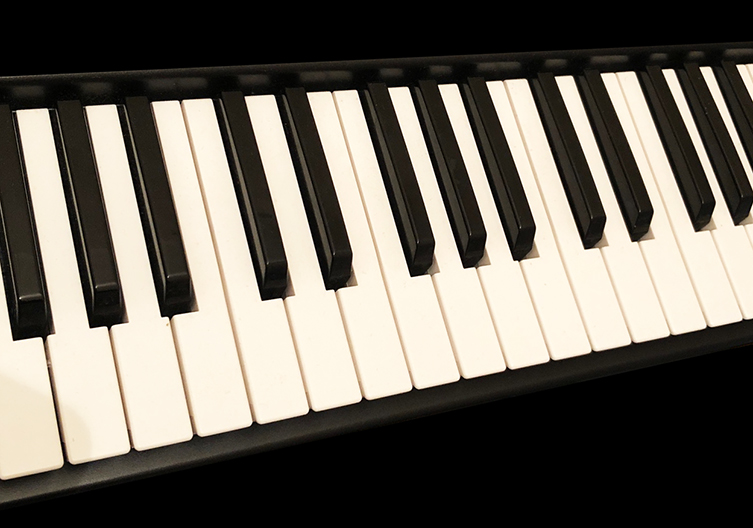 Perhaps you're an accomplished guitarist already, and dipped your toe in the world of keyboards a while ago? Do you want to go back and improve? Fill in gaps with your musical theory or just play familiar chords in unfamiliar ways? There's no time like the present!
It's an exciting time, for sure! The piano is a perfect instrument for understanding how music 'works', for want of a better term: harmony and melody can be laid out in an easy to understand way, particularly if you have the right type of instrument to play on.
Now, it's a fact that you can play on any keyboard, but some are more suited to certain applications than others. Factors like number of keys, type of keys and other functions can make significant differences to your experience. We want your piano experience to be the right one for you, or indeed your child. Today, we've lined up three extremely affordable keyboards and pianos, to help explain the different angles and approaches to this timeless and beautiful instrument.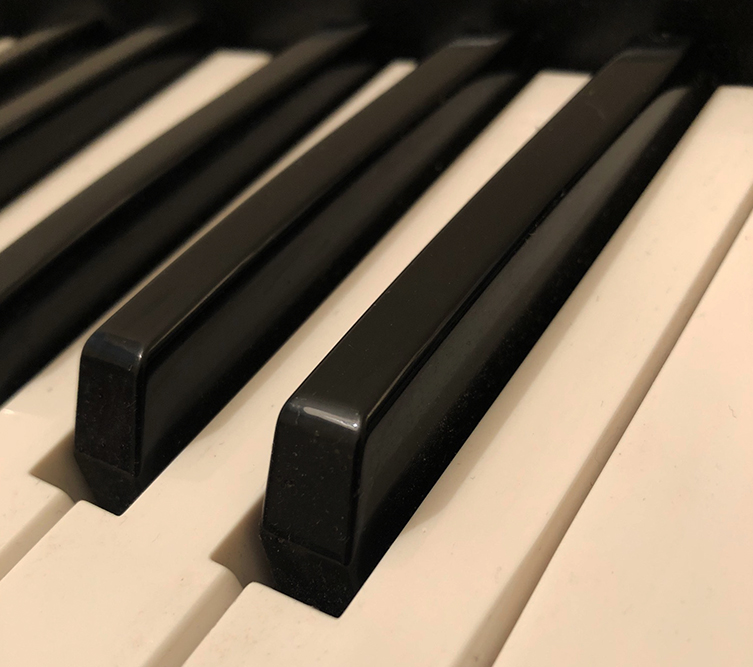 Piano or Keyboard
Piano or keyboard indeed: good question! What's even the difference? Well, in the context of our instruments today, there are a few distinctions. It's true to say that both rely on digital sounds and use a traditional piano-style keybed on black and white keys in order to sound the notes. What, in our opinion, distinguishes a digital keyboard from a digital piano is the use of a full set of keys (88 in total) for a digital piano, with the keys being 'weighted', too. Weighted keys simulate the feel of an acoustic piano, so they are a little heavier under the fingers. This is a good thing, since it allows you a degree of control over dynamics: the harder you press the key, the louder the note will sound, just like a 'real' piano.
In contrast, a 'keyboard', in this context, will normally have less than 88 keys and will not have weighted keys. These instruments are generally filled with lots of sounds, rhythms and so on, too. They are typically smaller and more portable, making perfect first choice buys for the bedroom, since they are also generally less expensive. Today, we'll show you one like this, and two that we'd categorise as 'digital pianos'. First up, here is a very affordable digital keyboard.
Alesis Harmony 61 MKII
For instant fun and high levels of bang-for-buck, a general purpose keyboard is a great first stop. You want something easy to operate, fun to play and you'll want a wide selection of sounds and rhythms to play with. There are lots of contenders in this category, but the one we think hits the most marks is the Alesis Harmony 61 MKII.

Alesis have a long, strong track record for delivering quality musical hardware at good prices, and this entry level keyboard does not disappoint. The front panel is easy to navigate, so selecting one of the 300 onboard sounds is easy. Pair it up with one of the 300 automatic rhythms or play along to 40 demo songs, and listen via the built-in speakers or through headphones.
61 keys is more than enough to play most songs, and these keys have a light touch, so you don't need to press down hard to play notes. In the future, you may want to develop this, but for a start, this is comfortable and encouraging.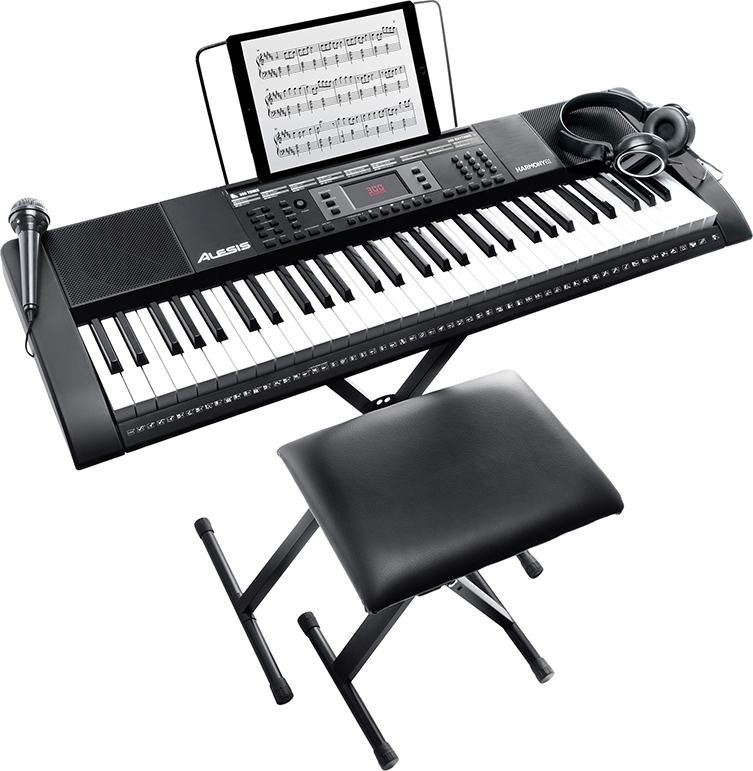 We want your first steps to be as enjoyable and straightforward as possible, so we've put together an excellent beginner pack this year. It features the Alesis Harmony 61 MKII keyboard plus the following accessories:
Piano stand
Stool
Headphones
Microphone
Music Rest
Power Adaptor
Our special pack has everything you need to get started the right way!
Yamaha NP12
Next up is a portable and stylish effort from Yamaha. As we know, Yamaha keyboards are among the industry's big giants, so there's a certain expectation of quality here. Thankfully, our expectations are roundly met: this is a good, fun, nice sounding halfway point between a keyboard and a 'proper' piano.
The Yamaha NP12 is part of their Piaggero series, which are designed to serve as easy transition instruments for those making progress towards a piano. This light, compact instrument features 61 velocity sensitive keys, so they are still light to the touch (therefore easy to play) but offer a stronger sonic response when played slightly harder - use more pressure and you'll get a fuller sound, just like with weighted keys, but without the weight itself. This is good for developing a dynamic touch to playing, an essential part of expression for any pianist.

The NP12 is also very space-efficient, so it's a valuable choice for those looking to get some practice in anywhere they can. It can run on either mains power or batteries (you'll get up to 16 hours on alkaline batteries) and there are built-in speakers here too. Ten voices are available and there's even a USB port to connect your NP12 to a computer. All of this in a nice, simple, cost-effective package that sounds good and is easy to play? We call that a good buy.
Yamaha P-45
Onto a full-sized keyboard for our last choice today. The Yamaha P-45 is a perennially popular digital piano which features a full complement of 88 full-sized keys. These are fully-weighted, hammer action keys, so this piano feels just like a 'real' acoustic piano. Players looking to take the next step will need weighted keys eventually, so this is a great starting point.
The Yamaha P45 within the Yamaha P Series has ten sounds built in, including an exquisitely realistic piano sound. There are four different types of reverb available too, so you can add a little dash of ambience to your playing for extra depth.

This piano is slim and light for a fell-sized digital piano. It contains built-in speakers and has a USB connection as well as a sustain pedal for advanced piano techniques. For those looking to learn classical repertoire or learn through the musical grades, this is an assured choice indeed.
Final Thoughts
As you've been able to see today, digital pianos and their keyboard siblings may all look similar, but there's quite a level of difference to be measured between models. We'd say that these three Casios all cater to slightly different markets, from the first-time bedroom user, to the beginner/intermediate player looking to learn techniques fundamental to classical repertoire, to the musician of all capabilities who wants performance and quality to coincide with great value.
Whether you are buying for yourself or someone else, we believe that these three examples are great indicators of what to go for.
Thanks for reading
View Our Digital Pianos and Keyboards