A Closer Look: Gibson Les Paul Standards 50s & 60s
Published on 13 August 2020
Looking for a new Gibson Les Paul?
Now's a good time!
As you may know, Gibson have recently overhauled their entire line. Listening to what guitar players have been asking for, they have divided their instrument range into two major collections, The Original Collection and the Modern Collection. We love this, because there will always be musicians who want the classic choice and spec, and others who want contemporary takes on classics. Why not offer both? There's no need to compromise at all!
The New Old Les Paul
Such is the case with the Les Paul. Gibson's iconic mascot is the jewel in the company's crown, so getting it right is paramount. Thankfully, Gibson have offered up a range of Les Paul models that straddle both Collections. Today, we'd like to show you the Original Collection Les Paul Standards, as well as telling you a little about how we show them to you online.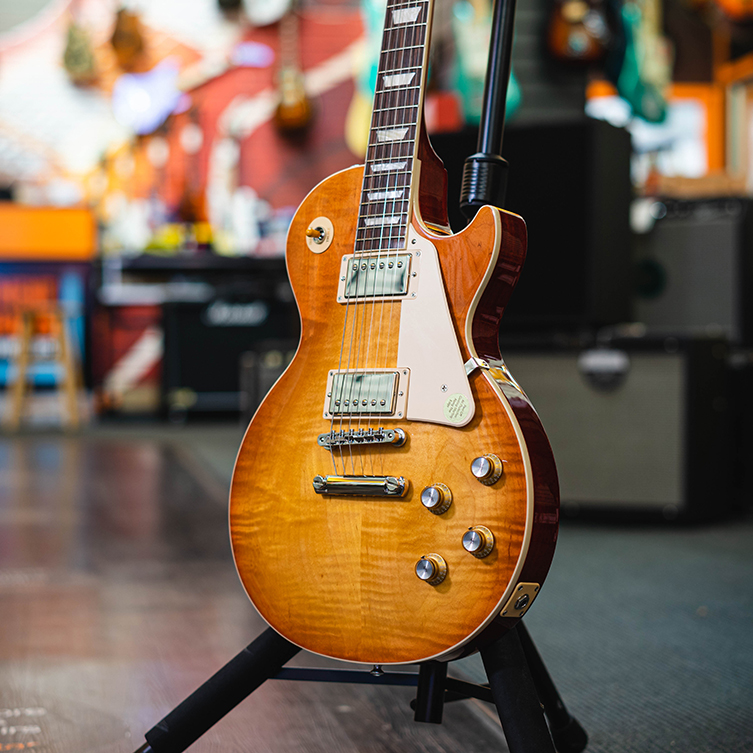 The Gibson Original Collection has Les Paul Standard models subdivided into 50s and 60s versions, with certain specific differences to each. Before we get to those, it's probably prudent to talk about what's the same across both variants...
Individually Photographed at guitarguitar
First off, it's Mahogany for the body and neck, with a Maple cap. Perfect, just as history dictates. Apart from the 50s Gold Top guitars, these all have AA Figured Maple tops. As you know, no two pieces of figured Maple are the same: all have their own flame width, intensity and dimension. It's part of what makes every Gibson Les Paul a unique instrument. To that end, at guitarguitar, we individually photograph each one of our figured-top Les Paul Standards, and put them up on our site as individually serialised items. This ensures that the very Les Paul that catches your eye is the very one you can click on buy. Makes sense to us! Why worry that the top on the guitar you receive will be lacklustre in real life compared with some image on a website? Choose the one you want from us and get that guitar!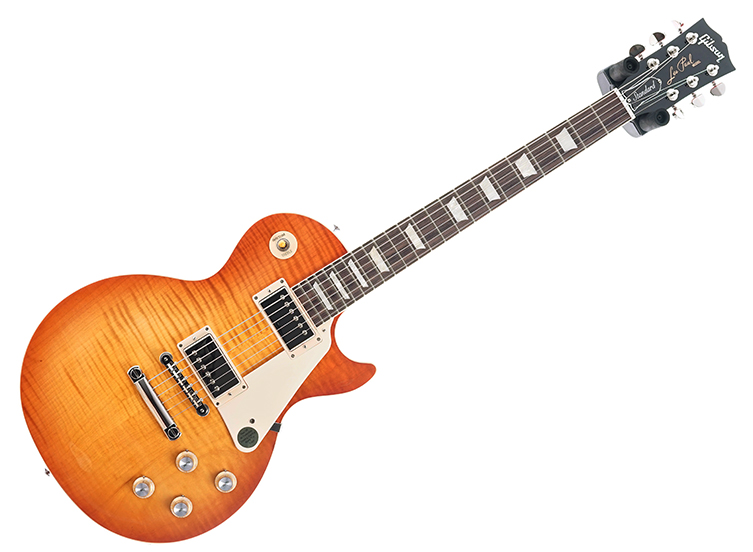 Going back to the shared features, we're talking classic LP stuff here: Rosewood boards with 12" radii, Medium Jumbo frets and all of the classic control layouts and appointments you'd expect like binding, trapezoid inlays and so on. This much is expected, but it's still good to see: why mess with a potent recipe?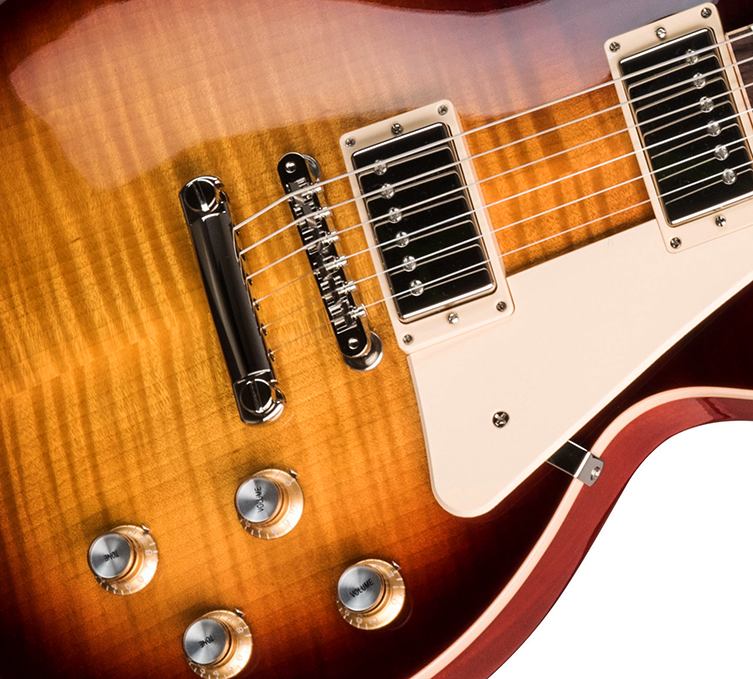 Out of sight in the underside circuit area are good quality audio taper pots (volume controls that actually do something for once, basically) and Orange Drop capacitors, in order to get the most out of the guitar's full tone. Significantly, those Mahogany bodies we mentioned have no weight relief in them. No tone chambering or anything else. This factor is quite divisive amongst Les Paul aficionados, with some belying the very notion of weight relief (normally just a few drill holes in the body to take out a bit of heft before the Maple cap goes on), and others believing that it makes no difference. We're keeping out of that particular debate, but rest assured, these Les Pauls are 'full fat'! If you need a Les Paul with less weight, that's what the Modern Collection is for. We love them both for different reasons.
Alright, so superficially, these Les Pauls are all quite similar (with the exception of the 50s P90 Les Paul model of course) but the differences will definitely matter to you! Let's step in and see.

Gibson Les Paul Standard 50s
It's probably worth making it clear that these Original Collection Les Pauls are not slavish vintage reissues. Gibson's Custom Shop will service those needs, happily and fastidiously. The models in the Gibson Original Collection are intended to draw from historical instruments, incorporating elements into new guitars. These are aimed at serious players who want serious quality at an achievable price. They are vintage-inspired, and they're pretty great.
The 50s Les Paul has the more substantial neck of the two models. Gibson don't really do 'skinny' necks at all, so even the 'Slim Taper' neck of the 60s has substance, but this 50s neck has an excellent grab-feel! As you probably know, late 50s Les Paul necks are arguably the most revered in history, and the profile of this neck definitely takes its cue from such carves. Those who think that chunky necks are counterproductive to fast playing basically need to try one out! These necks feel wonderful.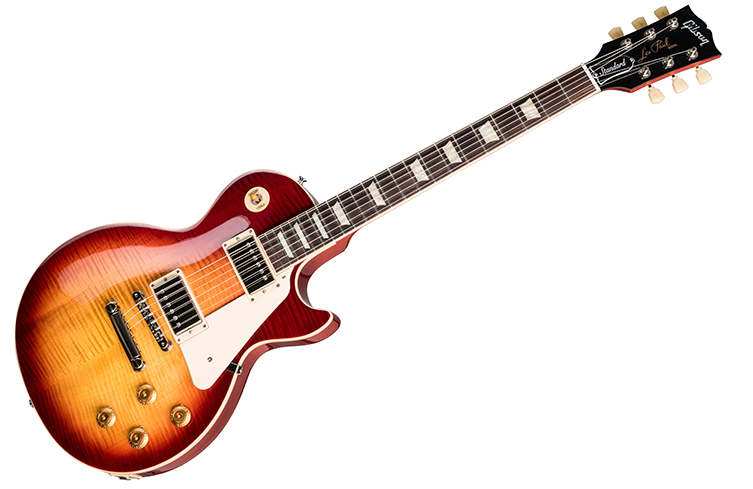 Pickups are the next major difference. Now, the 50s model actually comes with a choice of either humbuckers or a Goldtop Les Paul with P90s (You can have the Gold with humbuckers too), which we think is a great shout on Gibson's part. P90-equipped Les Pauls are tonal nirvana for those who know, so we like the fact that these are being put squarely in front of another generation of Les Paul buyers. The easiest way to figure out if you like P90s is to simply try them, but since you are currently reading this on a phone or computer, let us describe them by saying that P90s sound heavy when they need to and jangly when they need to. They occupy a very useful middle point in terms of attack, sustain and character. In the right hands, they are deadly!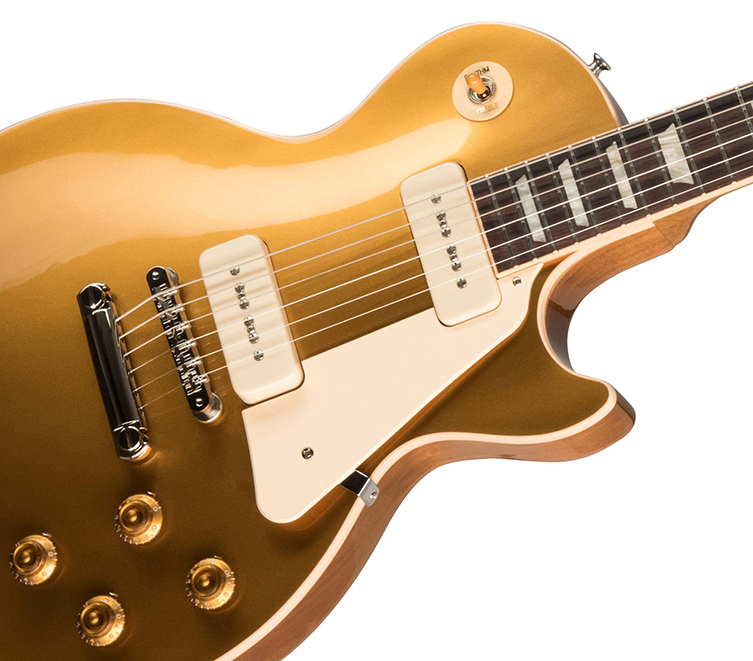 As for the humbuckers, Gibson have used Burstbucker pickups here: a model 1 for the neck and a 2 for the bridge. These both use Alnico II magnets and give a good, clear vintage humbucker tone without too much wool or output. 50s-era guitars shouldn't be too overpowered since that gets in the way of desired PAF-style tone goals. These pickups are pitched just right, and are combined with those high quality 'under the hood' parts we mentioned earlier to provide an excellent overall package.
The Gibson Original Collection Les Paul 50s is available in three finishes: Gold, Heritage Cherry Sunburst and Tobacco Burst. The P90 model is available in Gold only.

Gibson Les Paul Standard 60s
And so to the 60s model. As we've noted, most of the basics are the same between the 50s and 60s model, in terms of woods, scale length, frets and all the rest. The finishes are different, and we also have a different neck carve and pickup choice, too.
'Slim Taper' is how Gibson talk about neck carves that are roughly based on slimmer 1960s designs. They are not narrower, to be clear: the nut is 43.05mm on all of these Les Pauls. It's the profile that's different, and whilst we'd happily take either, the Slim Taper may well be more accommodating to most players. As we noted, it's not slim in the way that an Ibanez or Jackson neck is slim, not even by Fender standards, but there is a definite difference in feel between the 50s and 60s carves. Gibson's necks are hand carved and the ensuing result is always a delight. Gibson guitars, for a number of reasons, are very easy and rewarding to play so be aware of the differences but don't be too strict about it when you're making your shortlist: you'll likely get on with both.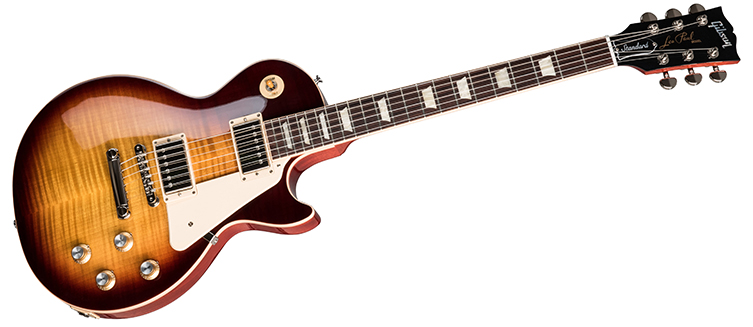 Now for the pickups. We have no P90 model here, since Gibson never made such Les Pauls in the 60s! Whilst these are not reissues, that type of logic still applies and we're glad of the distinction! So, it's humbuckers only here, and this time out it's a pair of Alnico V Burstbucker 61 units. There is an R and T difference (Rhythm and Treble, how Gibson talk about neck and bridge), so the windings will differ slightly, but both give an excellent voice with kick, grunt and a little dose of bloom in there. It's not a major difference, but these are a bit hotter, which you may prefer. All Gibson Les Pauls take to distortion like a duck to water, though, so rocking hard is an easily achievable delight on both varieties.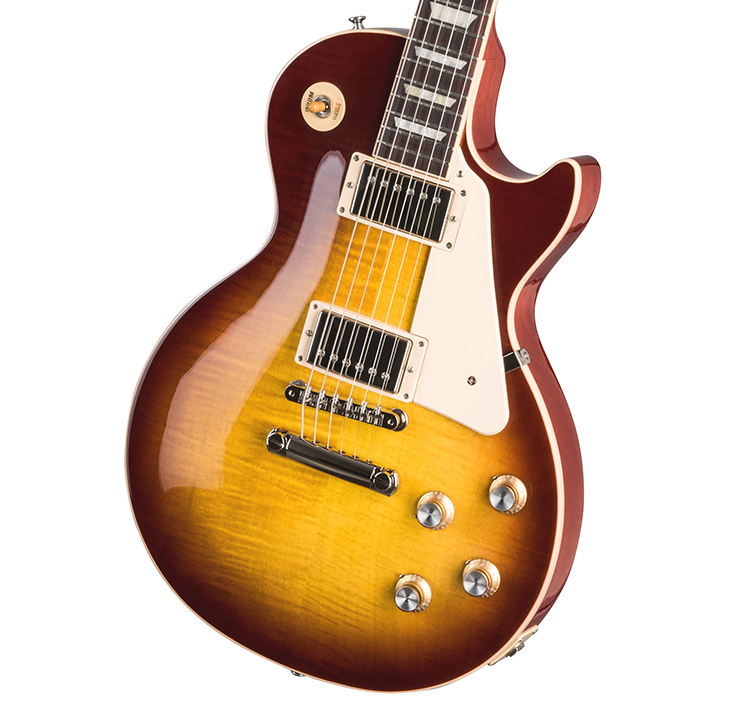 In terms of finishes, your choices here are a trio of lovely bursts: Iced Tea, Bourbon Burst and Unburst. It's all pretty iconic, heroic stuff, frankly. There are some further minor differences to note, too. The tuners on this 60s LP are Grover Rotomatics with kidney buttons, whilst those on the 50s model are vintage deluxe tuners with keystone tuners. The control knobs are ever-so-slightly different, too. Both have gold 'top hat' knobs, but the 60s model was silver reflective tops. As we say, not exactly deal-breaking stuff but it does illustrate the level of thought that's gone into the details. In our experience, guitar makers who sweat the small stuff invariably have done so with the big stuff too, so it's a good little sign of overall quality.

Final Thoughts
If you are someone who picks their guitars based mainly on how they look, you've won a watch here because they are all gorgeous. The good news is, whichever one you opt for, you can rest assured it's also a great playing, great sounding professional instrument, as well as being a looker.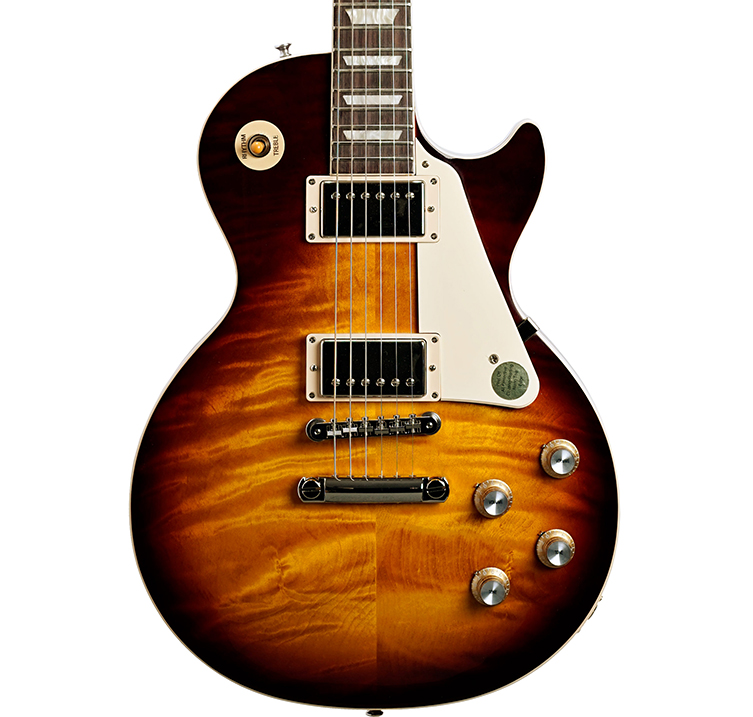 If you care more for the details, Gibson are looking after you with a range that respects the player and understands their needs. You'll be able to fine tune your choice for an instrument that particularly suits you. Either way, by buying one of these Les Pauls, you're buying a significant guitar with tons of tone, classic beauty and bona fide heritage. If you buy from us, you'll be able to pick the exact model you like best, based on proper photographs of the actual guitar and a serial number to check it against. We want you to love your new Les Paul, and we're confident that you will.
Thanks for reading
Ray McClelland