Just Announced: NEW Taylor GT Grand Theater!
Published on 01 October 2020
Did you like the Taylor GS Mini?
It was something of a revelation, wasn't it?
When it first arrived, every curious guitarist who picked one up was flabbergasted by the mature, detailed tone that came from such an unassuming, fun-looking guitar! It's no wonder the GS Mini design has become one of the most popular Taylor styles in the company's history.
In fact, The GS Mini sparked off a trend for smaller bodied acoustic guitars that continues to this day. Whether Ed Sheeran helped or not (we expect he did), people nowadays really want to play on smaller acoustic guitars, and they want them to sound amazing.
Of course they do!
Taylor changed the game with the GS Mini and are gearing up to change the game once again with the brand-new, just released Taylor GT.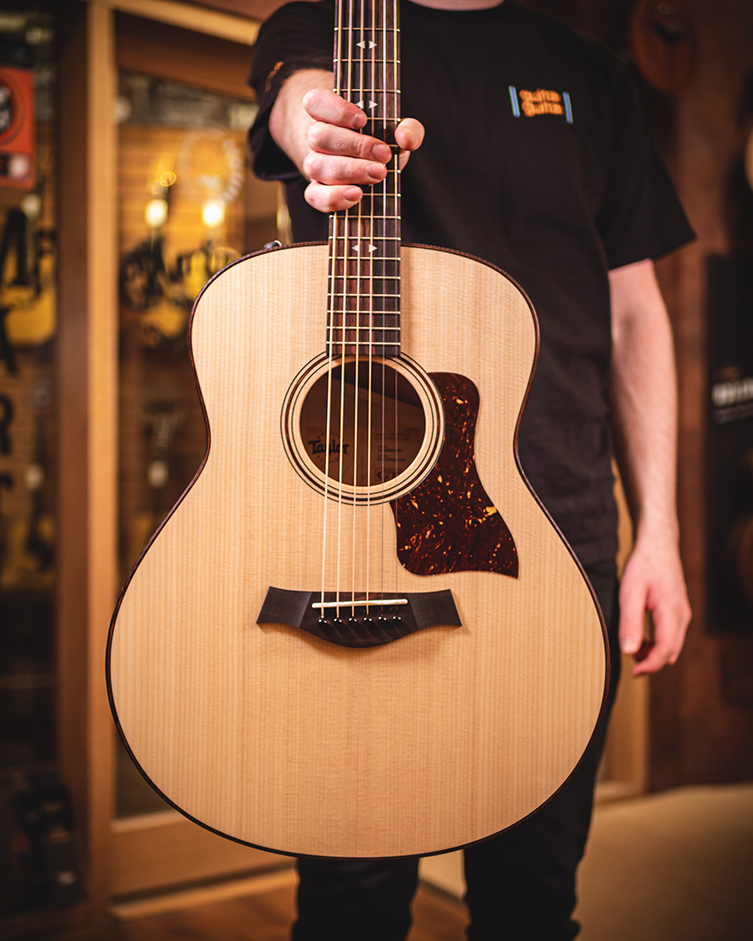 Grand Theater
The Taylor GT is a fresh design concept that builds a few new Taylor innovations into a never-before-seen model. The GT, which stands for Grand Theater, is a little larger than a GS Mini and a little smaller than a Taylor Grand Concert (you could say '12' series), Taylor's smallest full-size acoustic.
The idea with the GT is to offer something that appeals to modern acoustic guitarists: people who are looking for all of the tone, volume and performance of a Taylor acoustic, but who are used to smaller bodied instruments. It is designed by Andy Powers, Taylor's master guitar designer and the man responsible for the GS Mini and other Taylor innovations.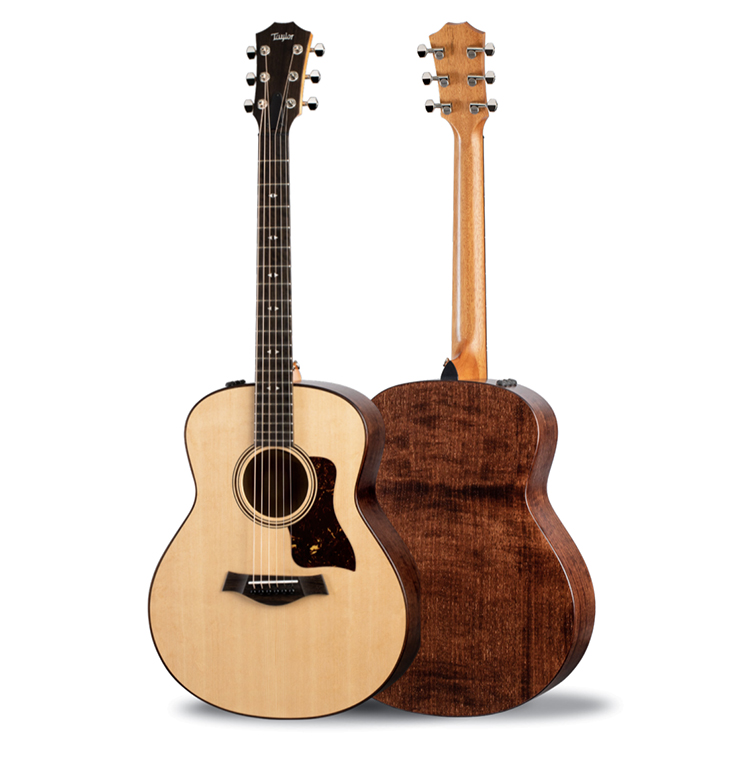 The actual shape itself is taken from Taylor's 18 series, otherwise known as the Grand Orchestra. This means that the Taylor GT is like a downsized version of their biggest body size!
Dimensions and Bracing
Everything here is a little slinkier and snugger than with a typical acoustic guitar, and that is absolutely by design. Taylor learned a lot about what players want when they made the GS Mini, and these perspectives have helped shape the design of the GT. For instance, the scale length is 24 1/8", again more than the GS Mini (23 ½") and a touch less than Taylor's standard spec of 24 7/8". This leads to a nice, easy-playing instrument with a little less tension on the strings. Fingerboard navigation is also nice and easy, due to the reconsidered neck dimensions. These little changes make for an instrument that is very satisfying to play.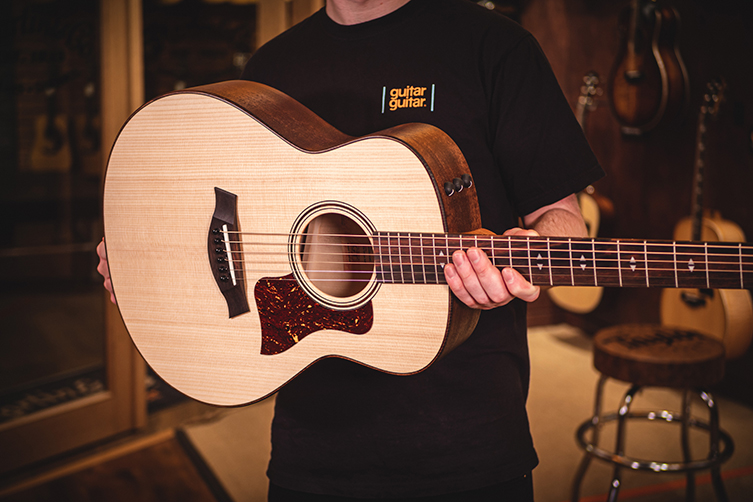 There are innovations occurring under the hood, too. New C-Class bracing ('C' for 'cantilevered') rests asymmetrically under the body's top, accentuating the low-end response and aiding stability, flexibility and stiffness. These things are all required by a guitar in order for it to resonate and respond in an agreeable way. Andy Powers' exhaustive design work and testing prove this admirably: this is a loud, sustaining guitar with plenty of tone!
All-solid, USA-made
The Taylor GT is made in Taylor's California facility. It is built using all-solid timbers for an entirely uncompromised performance and sound. In addition to the clever bracing, the use of solid Spruce and solid Urban Ash helps the instrument to sound full and confident, with lots of clarity and balance.
Urban Ash is Taylor's term for wood sourced and recovered from urban areas – generally municipal areas like car parks and so on – that are taken responsibly from city areas in Southern California. It's a fantastic, progressive idea for sure, but the wood also sounds great, which is the whole point, really! Shamel Ash is what's used here, and it has lots of tonal properties similar to Mahogany.
The fingerboard is made from Eucalyptus, another responsibly sourced timber. It's comparable to Ebony, so is a perfect material for playing surfaces and decorative areas like the headstock overlay.
We are super-excited about this wonderful new Taylor guitar! The Taylor GT is available as the true acoustic GT Urban Ash and the electro GTe Urban Ash (fitted with Taylor's famous ES2 pickup system). Both variants come complete with a fantastic brown Aero hard case, too, making this one special package indeed. The Taylor GT sounds like a full-sized guitar and plays with wonderful ease. Try one today!