Analog Alien Facebook Live Stream
Published on 10 March 2022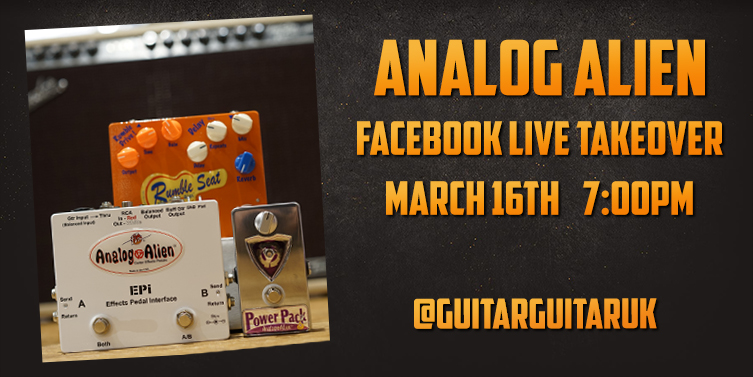 It's time to sound different!
Who likes finding cool new pedal brands? We do! Here at guitarguitar we're always searching for exciting brands to get stuck into and so we are hyped to announce that we are now stocking pedals from Analog Alien!
Hailing from a planet in a galaxy far away (well, across the pond in Long Island, New York to be exact), Analog Alien is a boutique brand founded by two brothers, Jack and Joe Napoli. The pair started making effects pedals as a result of experimenting with sounds at their recording studio, Cloud 9. Focusing on reproducing classic sounds of the '60s and '70s, these stompboxes are powerful, super quirky and REALLY impressive sounding. Each pedal from the brand has its own unique look with distinct graphics and bold colours, bringing some character and flair to your pedalboard.
We've only recently started stocking their pedals and have had a blast experimenting with them so far. From fuzz pedals, a Joe Walsh signature and everything in between, we want all of you to have a chance to get to know these pedals too so make sure you check out our Facebook Live Stream where you can get well acquainted and hear them in action.
How to Watch
On 16th March at 7:00 PM, Jack and Joe from Analog Alien will be live on our Facebook page chatting to us all about what makes their pedals so awesome. We're super excited to get an in-depth look at these with the brains behind the brand, so if you're as much of a pedal head as we are, make sure you don't miss it. Jack and Joe's passion and enthusiasm for what they do is really admirable. They're super down to earth, funny guys so we can't wait to spend an evening with them. Seriously, if these guys decide to move on from the pedal game, they could easily make it as a stand up comedy duo! We're stoked for this one - tune in!
Click HERE to visit our Facebook Page
Can't wait until then? Check the guys out below!