ESP/LTD Guitars - A Run Down
Published on 09 February 2022
Which guitar comes to mind when you think of metal music?
Since the rise in popularity of the "super strat" in the 80's, guitarists who required a little bit more aggression from their instrument have looked outside of the well known brands such as Fender or Gibson.
One of these brands we believe does this, is ESP, and their more budget friendly LTD line.
Today, we are going to take a look at a few of the key models and see what they bring to the table:
Horizon - H
One of the "S" shapes in the ESP catalogue, this model has a slightly arched top to it which really highlights some of the super cool colours they can come in. The Horizon guitars tend to have 24 frets and are available in a 7 string and earth shatteringly low 8 string baritone scale lengths.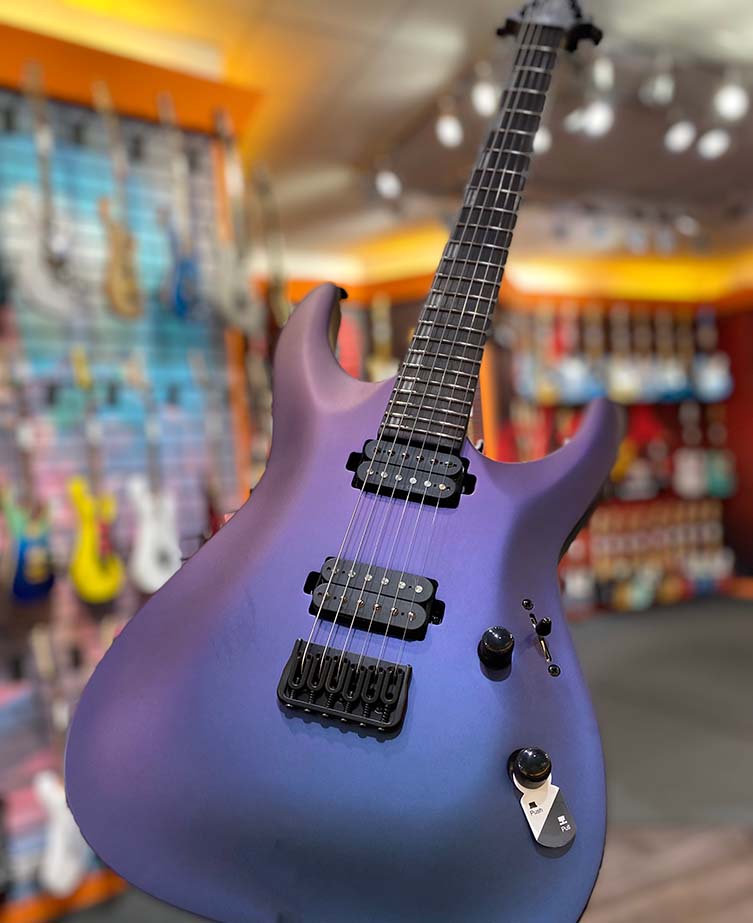 A recurring theme of each model of guitar this blog will run down is that they can come with a variety of hardware and electronics, for example, in this years line up there are Horizon's loaded with Fishman active pickups, passive Seymour Duncan pickups, Floyd Rose's, Evertunes, fixed bridges…you name it! There is really something for everyone!
Mirage - M
Another double cut "S" type model in the line up, this time with a flat top, reverse headstock and usually with a bolt on neck, unlike most of the other LTD line that have neck-thru construction.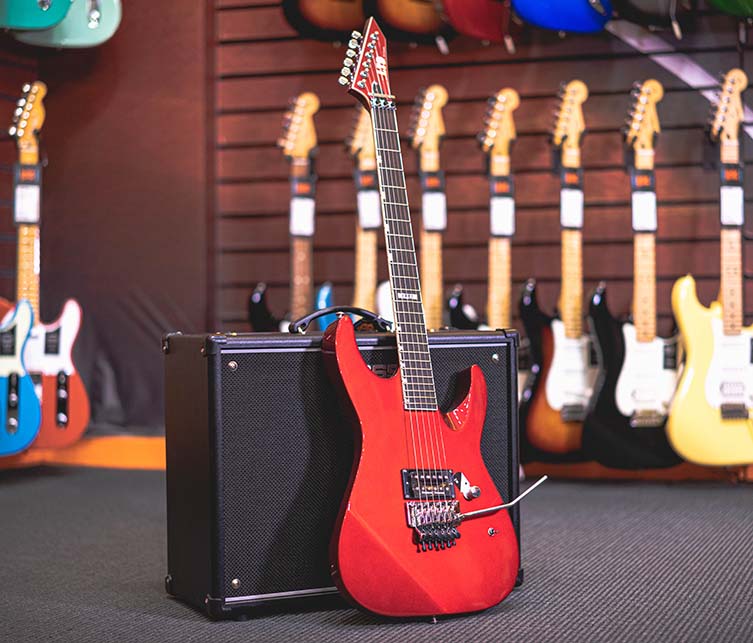 Along with the wealth of options ESP offer with their models, there is another line called the "87 Series" which brings the flair of some of the original 80's models of ESP to the modern market with some up to date tweaks done to handle the needs of today's players, like coil splits and an in built boost switch for when you want to kick your solo into overdrive. This bold red M-1 is one of our standouts from the range, combining mega shred power with a suitably bright '80s finish.
Eclipse - EC
The Eclipse grew in popularity with metal guitarists who were looking for a single cutaway guitar due to it's thinner neck, higher output pickups as stock and the fact it's body is considerably thinner and lighter than the other famous single cutaway guitar we all know and love.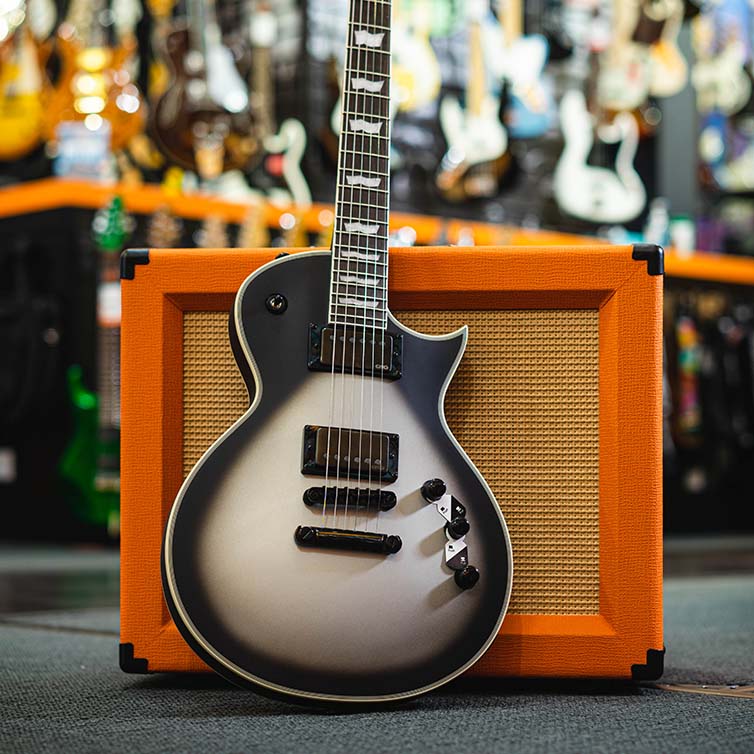 For those who miss the thickness and shoulder straining weight of a full bodied single cut, ESP also make a more traditional style that some guitarists will be more familiar with, but of course provide models with high output active pickups and locking tuners.
For the southpaws out there too, the EC range has a great selection of models and colours not usually seen for the left handed players.
Arrow
Moving into slightly more sharp material, we have ESP's take on the iconic Flying V shape. With a slightly offset body, which allows for a much more comfy sitting down experience, but still retaining the killer looks of a Flying V.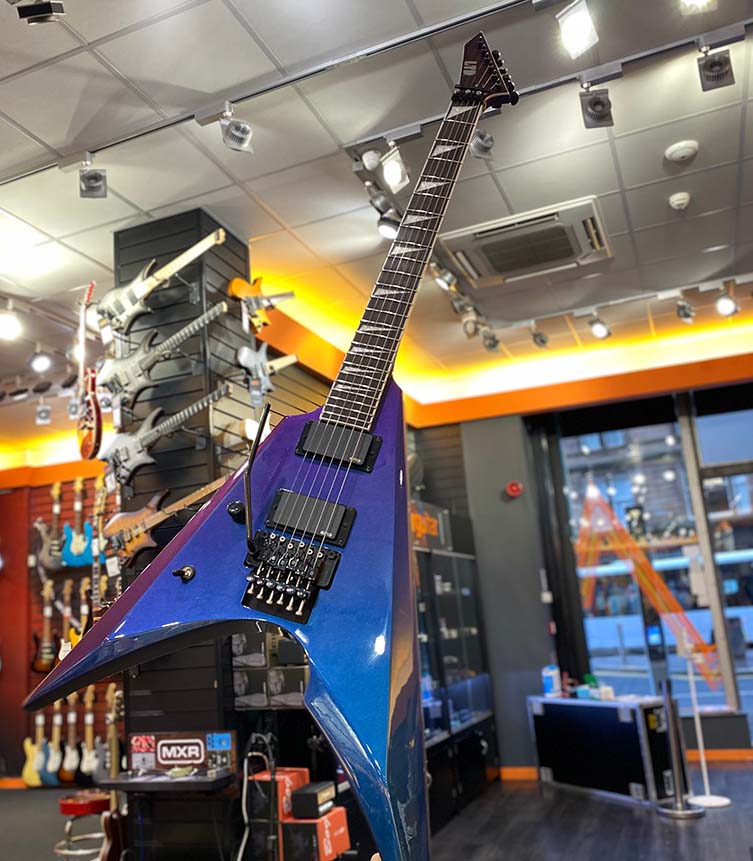 Not that you couldn't play other genres on a V, but let's be honest, you most likely won't be playing jazz on this kind of guitar…ESP have thought the same and are loading these models with active EMG's and Fishman pickups. Gnarly. Our pick of the litter here has to be the Violet Andromeda model, cause Purple guitars can be vicious too, y'know?
Signature Models
For many years, ESP have had an incredibly strong artist roster of iconic and instantly recognisable names and guitarists. One of the best things in our opinion that they do with the signature series, is provide not only incredibly high spec versions that are identical to the one the artist plays on stage, but also entry level models so more people can get their hands on their hero's guitar without breaking the bank.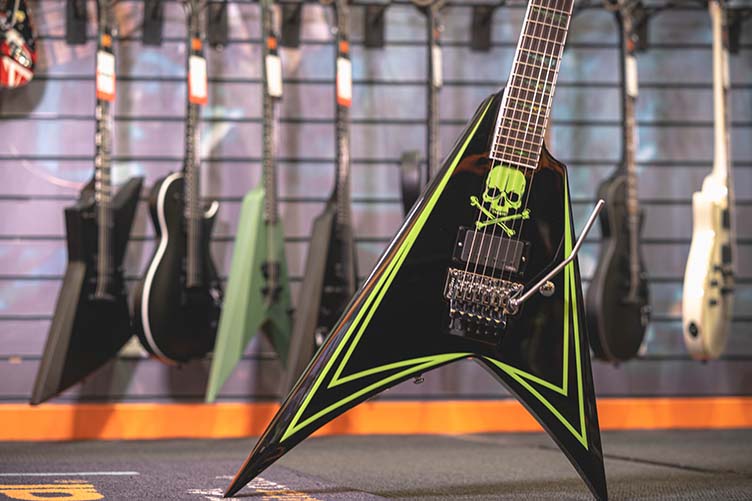 Notable names on the roster include:
What is your favourite model of ESP? Is anyone out there a die hard ESP fan?
Let us know on our Facebook, Instagram or Twitter pages now!