Jimi Hendrix Signature Guitars
Published on 25 April 2022
So you quite like Jimi Hendrix?
It's a reasonable assumption, not only because you've found your way to this article, but also because he's still the most loved, respected and admired practitioner of the electric guitar there ever was. We believe it's safe to say that, whatever your musical preferences may be, you've spent at least a little time worshipping at the temple of Jimi. No guitarist hasn't studied this legend (what a useless word for such a human being!) at some point in their path, because his music and appeal transcends many boundaries. He was and is unlike any musician/writer/composer/performer/sonic architect before and since, and rightly remains on the throne in the kingdom of guitar heroes.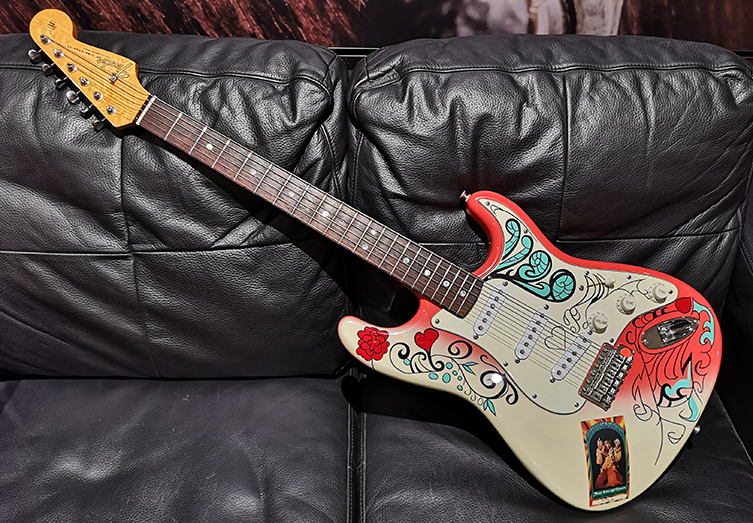 Hendrix Signature Guitars
As guitar 'lifers', we know how influential guitarists can be on their fellow musical brethren. We love artist signature models, and today almost all self-respecting pros have their own signature axe available to the Faithful who want to get as close as they can to those hallowed tones. From today's blues greats (Bonamassa and Mayer have several each) to the endless metal legions (there are too many to list, but we're talking Iron Maiden to Slipknot, Metallica to Periphery), artist signature instruments are a large part of our world.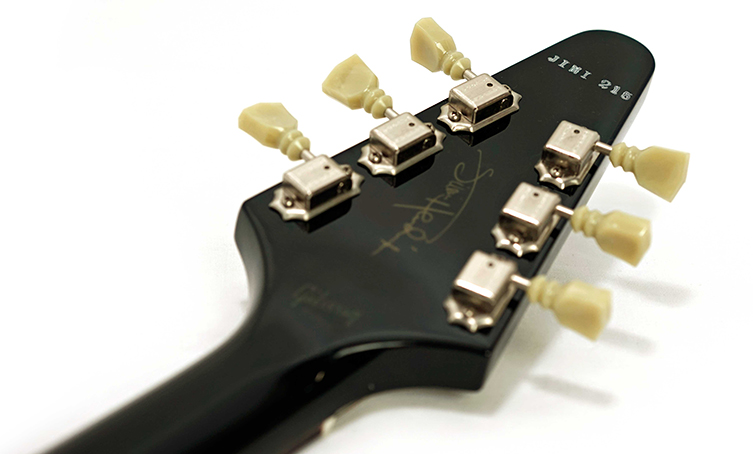 Though he'd passed on long before signature instruments were a thing, Jimi Hendrix has posthumously been treated to perhaps more signature guitars than any other artist. In fact, Fender created a somewhat unofficial Hendrix Woodstock tribute a good six years before their first official artist signature guitars for Eric Clapton and Yngwie Malmsteen. This initial Hendrix model is almost an urban legend, so few were the numbers made, and it certainly never made it to full production. Nevertheless, Jimi-related guitars have appeared in many guises in the years since, from not only Fender but Gibson, too. He may be the ultimate Strat player, but he was by no means a monogamous guitar player, as we'll see in this special guide!
Rare Hendrix Models
Indeed, today's blog aims to highlight some of the more interesting and rare Hendrix models that have appeared over the years. We'll include Fender's current Hendrix Strat, of course, but we'll also show some incredible tributes and reproductions, some of which we actually have (at time of writing) for sale! This is a celebration of the great man, and a look into the whole world of the 'artist signature guitar', from the perspective of the most famous player of all-time.
Gibson Hall of Fame Flying V
Our first special Hendrix guitar is not, perhaps surprisingly, a Strat! We'll see plenty of those soon, but this rare axe here is a wonderful place to begin.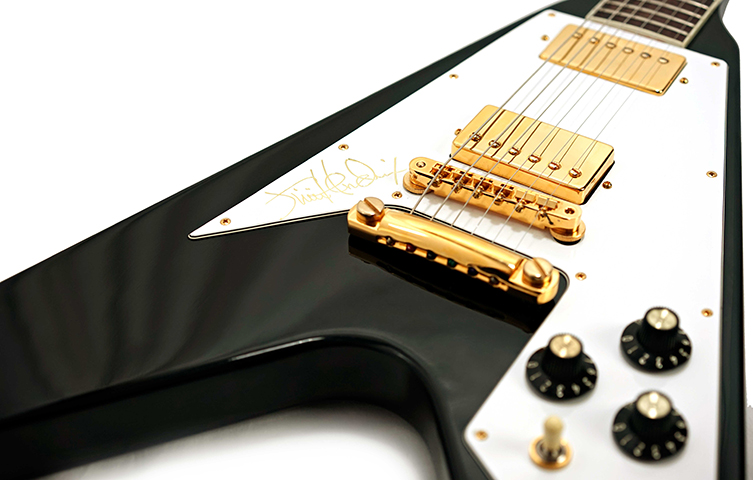 Aside from his Strats, a Gibson Flying V is perhaps the guitar most associated with Jimi. It suits his flamboyance and stage presence perfectly. This Gibson 'Hall of Fame' Flying V dates from 1991-93, and is based on a custom order that Hendrix himself placed at the height of his stardom in 1969. If our sources are correct, Jimi's custom V was the first ever custom-made Flying V, since they were all production models up until that point. Jimi's was of course based on the 1967 Flying V, with its larger pickguard. Jimi added some expected class by requesting gold hardware and Trini Lopez-style split triangle fingerboard inlays. It's a beautiful design and one that's strongly associated with the great man himself.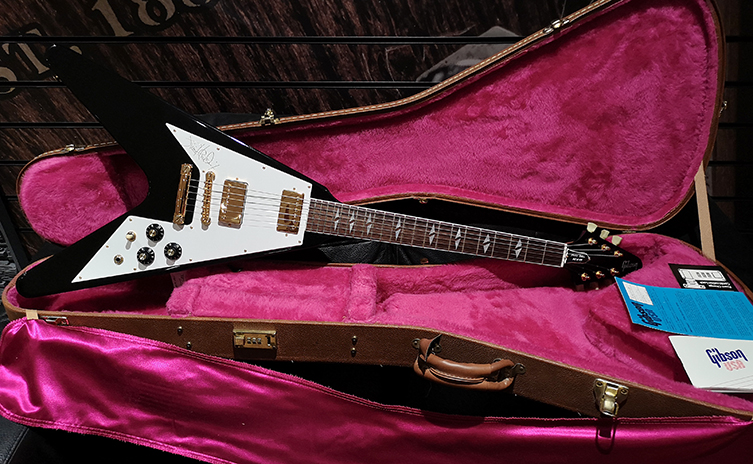 There were only 400 of these 90s-made Hall of Fame V's made by Gibson, who added Jimi's famous signature to a corner of the pickguard. Other details include a numbered truss rod cover and a 'Hall of Fame' inlay on the rear of the headstock. Obviously, Jimi's original custom order was left handed, but this one - like the majority of Hendrix signature guitars - was built right handed for a broader appeal. Hey, lefties can always turn it upside down, right?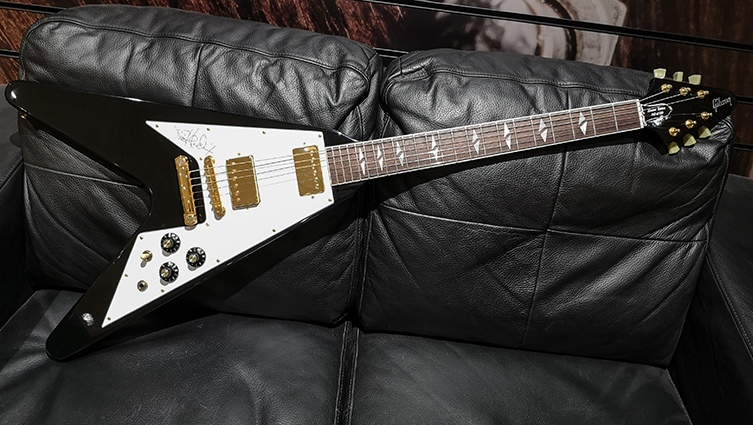 Fender Custom Shop Jimi Hendrix Tribute Stratocaster
For most guitarists, even a casual glance at a white Stratocaster evokes instant images of Hendrix laying down the truth at Woodstock. It's one of the most indelible cultural images we have: it's a totem of expression and freedom. Naturally, whenever you or I pick up a white Strat, we secretly want to summon similar levels of musical lightning bolts, and whilst that's unlikely (don't be hard on yourself: there was only ever one Jimi Hendrix, right?), a guitar like this is probably as close as we can get to that particular vibe.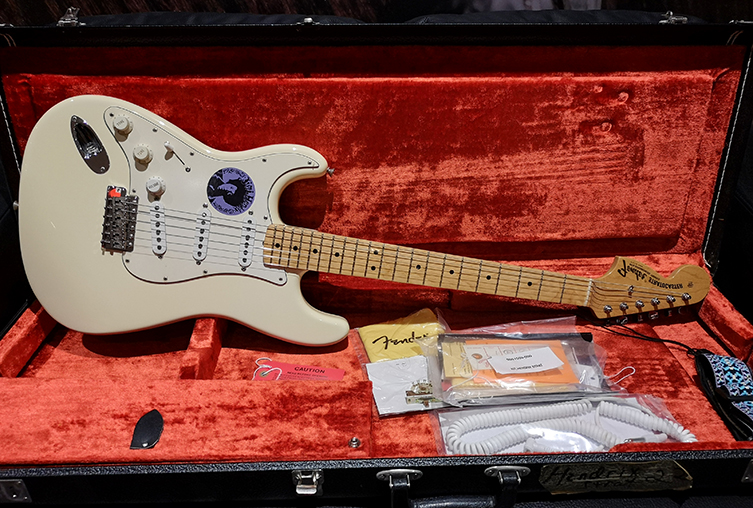 This is the Jimi Hendrix Tribute Stratocaster from the Fender Custom Shop. The first thing you'll notice is the mirror image logo on the headstock! This gives you a little indication of what's going on here, but a closer inspection of the strings will provide the final clue: it's an 'upside down' strat, built to give the right-handed player the same type of playing experience that Jimi would've had! Yes, the controls and tremolo now all sit under your right hand, the pickups sit in a reversed manner (think about how that affects the bridge pickup sound…) and the tension of the lowest and highest strings will also be altered.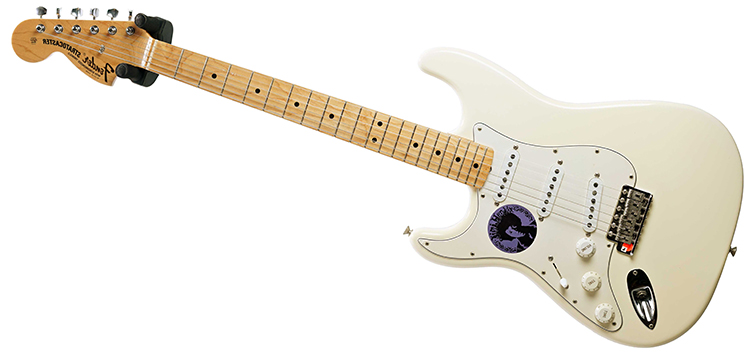 Also, let's not pretend, it gives us that correct, and quite inimitable, backwards-wrong-way-round look that just screams 'Jimi' at us! The case candy included a recreation of Jimi's Woodstock strap and, most crucially, a white curly cable! There's no headband included, sadly, but otherwise, this Tribute Strat provides a deeply immersive experience.
Gibson Custom Shop 'Inspired By' Jimi Hendrix Psychedelic Flying V
Now, is this the Flying V you expected to see? Jimi clearly couldn't leave his guitars alone, and why not? His painted guitars are charismatic examples of the man's artistry, and this recreation of his stunning Psychedelic V is one of the best!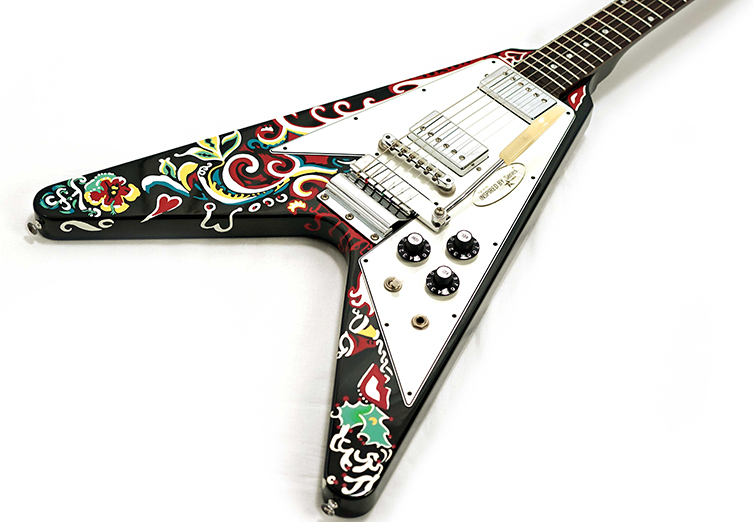 The actual guitar Jimi owned was missing for many years, until accidentally discovered by Prefab Sprout guitarist Dave Brewis, who bought it from a dealer thinking it was just a Black Flying V. Extensive study of photos showed that the pickguard wood - and indeed dot inlays - were a perfect match to Jimi's lost axe. A quick unscrewing of the pickguard revealed traces of coloured paint along the edges, where the previous owner had painted beautiful flowers. It was an obvious match, and this Gibson Custom Shop instrument from 2006 is a handsome tribute indeed.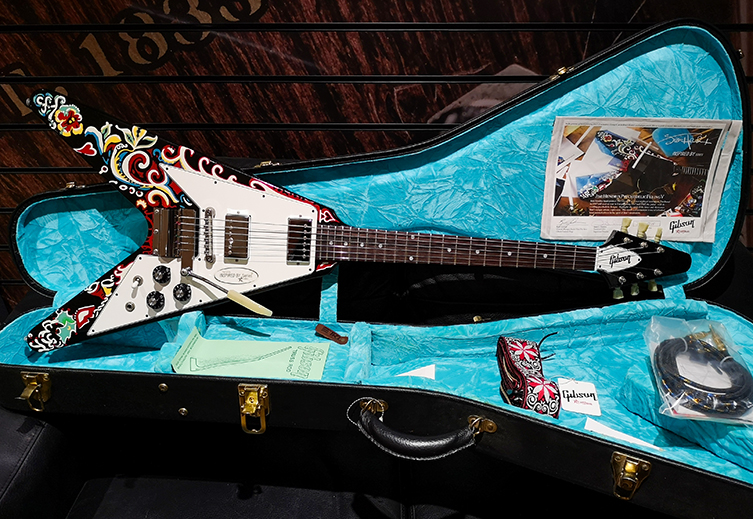 Limited to 300 guitars in total, the Psychedelic Flying V is another '67-style V, which makes sense since Jimi would habitually buy and use new guitars, since there was no such thing as 'vintage' in his day. This model sports a tremolo and a pair of PAF-style humbuckers, plus a beautifully faithful rendering of his artwork on the body, hand painted by Master Luthier Bruce Kunkel. A matching strap is included here too, along with a rather excellent case with a bright blue interior! It seems that Hendrix liked using his Psychedelic Flying V for renditions of Red House, but it's perfect for all triumphant late 60s 'Freak Out' moments, as well as being an incredibly rare collector's piece for all Hendrix acolytes.

Fender Custom Shop Monterey Strat
If there's one Strat out there that is cooler than this, we really need to see it! The Monterey Strat - named after the famous festival performance the guitar debuted at - is about as famous as it gets, firstly for obvious Hendrix reasons, and secondly thanks to players like John Mayer and Kenny Wayne Shepherd using this Custom Shop version live in performances these days.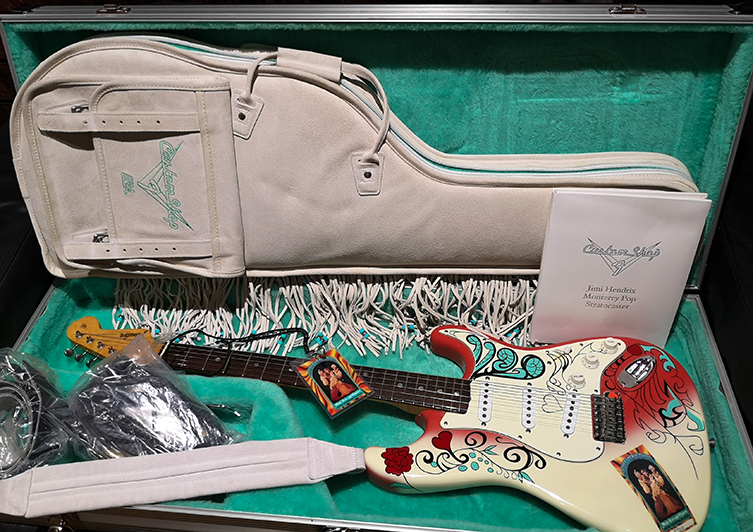 Jimi played the Monterey Pop festival in 1967. This was California in the late 60s: the beginning of the Summer of Love, and so hippies, flower power and psychedelia were in the air, amongst other things. It's crazy to think it, but in 1967, Hendrix wasn't particularly well known in the US, not like he was in the UK. This performance changed all of that. Volume, feedback, spectacular sounds that nobody had heard before and - let's not forget - a famously fiery guitar 'sacrifice' all combined to set the wheels of legend into motion. By the time Woodstock happened two years later, Jimi was the highest paid musician on the planet. Now, we're not advocating the burning of perfectly nice Fenders at all, but you do have to wonder…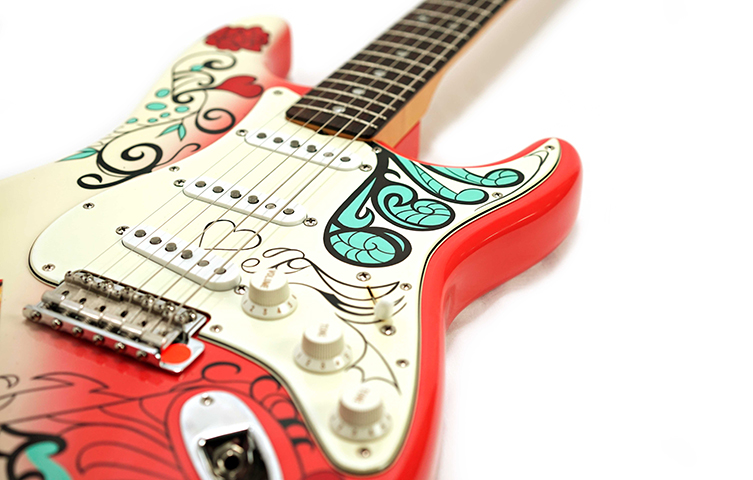 Anyway, his main guitar that night was actually a black Strat, with this famous painted one (originally Olympic White from what we can gather, before Jimi got busy on it) being brought on near the end of the performance in order for Hendrix to out-do guitar smasher Pete Townshend, who'd just been on before him. If ever Fender needed to make a point about just how robust their instruments are, a quick glance at this video shows that it takes more than fire AND a serious bashing to break one…
The Fender Custom Shop Jimi Hendrix Monterey Pop Stratocaster was released in 1997, 30 years after the festival. 210 were made, all hand-painted by Pamelina H, a Fender graphics artist who is now famous in her own right. It's a spectacular sight, and this model is hugely desired by collectors. You'll see in our photographs that the guitar has some immense case-candy too: a suede gig bag (with tassels!), a strap and a backstage pass, all secured inside a specially made road case. No matches or lighter fuel, thankfully!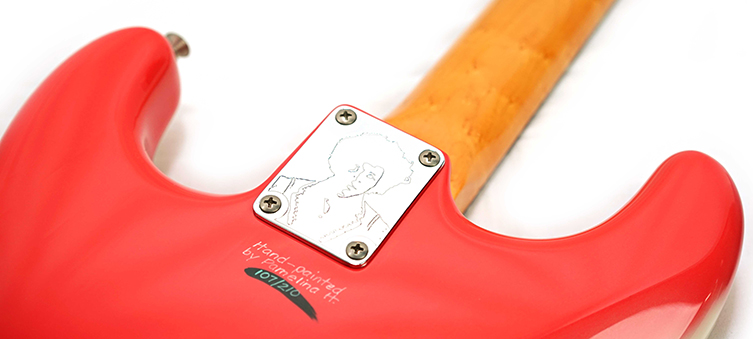 Fender Jimi Hendrix Stratocaster
This final guitar is the current signature model from Fender, the Jimi Hendrix Stratocaster. Made in association with Experience Hendrix (Jimi's family estate and 'official brand'), this guitar has obviously taken inspiration from the Woodstock vibe with its lovely Olympic White finish. There are reversed elements here, such as the headstock and bridge pickup, not it's not a mirror-image like the Tribute we looked at earlier. This is a good idea, since the elements that affect the tone and playing experience (pickup position, string length/tension) remain, but the body and controls are kept to positions more familiar to right-handed players. For guitarists looking to make a clear connection to their idol, this is an impressive and cost-effective way to buy into the Hendrix world.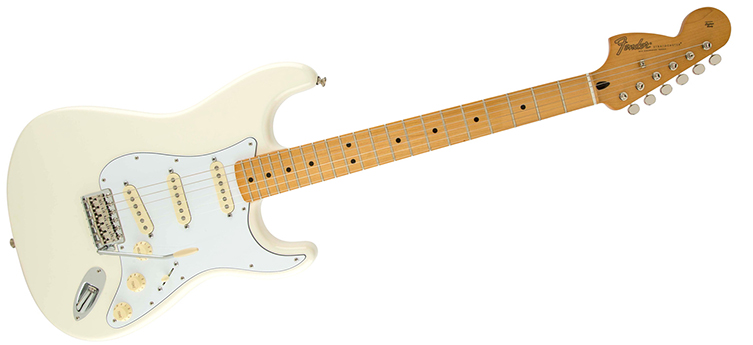 Connecting With the Legend
This is really what all of these guitars are about: connecting with the legend. Each guitar, in its own way, serves as a way to recreate history and magic, from the perspective of one of the true masters of the art. It's not just guitars either: every element of Jimi's immortal sound has been reproduced as pedals, picks and other guitar accessories, in order to get you as close as possible to that golden goal.
Whether you're a Flying V fan or a Woodstock aficionado, there's a Hendrix guitar out there for you, full of Voodoo magic and ready to kiss the sky!