Gretsch: The Collections Explained
Published on 06 December 2021
Do you love Gretsch Guitars?
We do.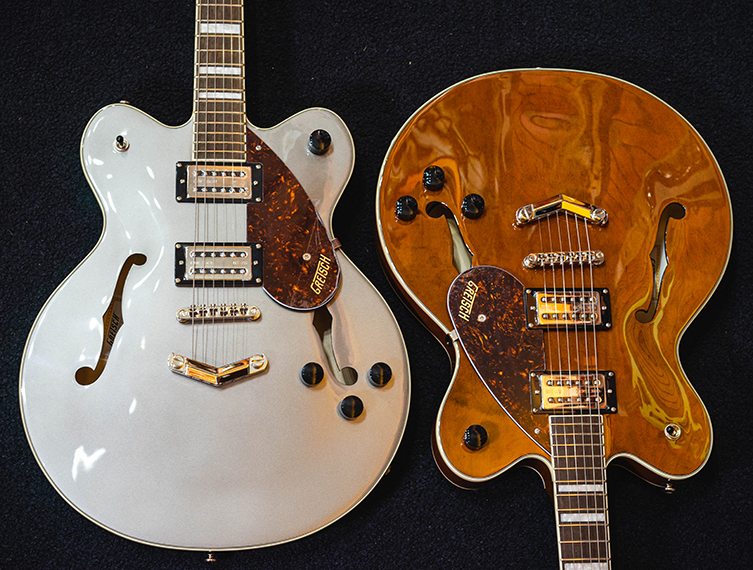 Gretsch make some of the best-looking, most distinctive guitars in the world. Nothing looks like a Gretsch, nothing feels like a Gretsch and nothing sounds like a Gretsch. They also offer some of the widest price points too, covering the affordable, mid-priced and top end areas of the market. Each one is beautiful, so when you see them all up on their wall hangers in a store, it can seem quite difficult to account for the differences in price, especially when they superficially look quite similar.
So, what's the deal with the Gretsch ranges?
Put simply, it's the same as comparing a Squier Strat or Tele to a Fender Mexican Player, an American Professional and a Custom Shop instrument, more or less. They do share basic looks but, as we know with Fender, there are a great number of subtle nuances and differences between each price point that add up to significantly change the sound, feel and performance.

Today, we figured we'd delve a little deeper into the three main Gretsch electric guitar ranges, and perhaps make those differences a little more distinct.
The Gretsch Collections
As mentioned, there are three main branches to the Gretsch electric guitar tree, referred to as Collections by Gretsch. Starting from the top, there is the Professional Collection, the Electromatic and the Streamliner Collections. In addition, Gretsch also produce two Acoustic ranges - Roots (ukuleles, resonators and such) and Acoustic - but we'll stick to the electric guitar ranges today since those are the areas that perhaps create a little confusion. There is also a Custom Shop, which we'll mention briefly, too.

Gretsch, Briefly
Gretsch as a brand has been around for well over a century, beginning in 1883 in Brooklyn, New York City. Friedrich, or Fritz, Gretsch started the brand with the great tagline 'One block from the Ferry', and sold banjos, tambourines and drums to begin with. Trivia: it was in fact a Gretsch drum kit, named the Broadkaster, that caused the company to object to Fender's initial Telecaster title of Broadcaster!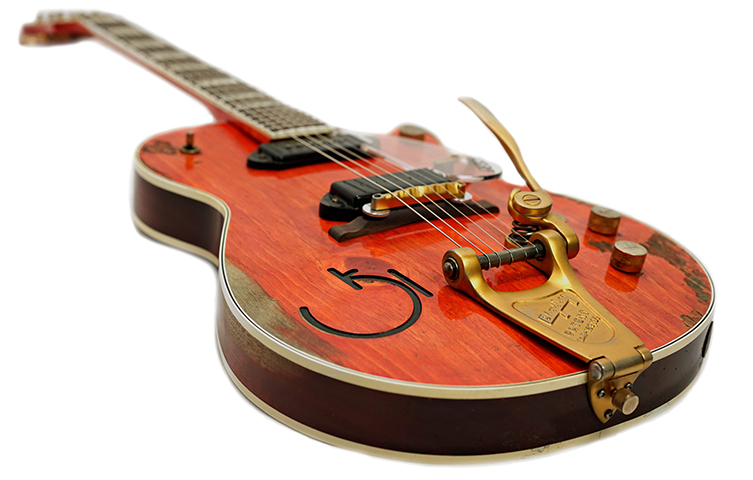 Though still highly regarded for their drums, it's probably fair to say that they are mostly celebrated for their supremely attractive semi acoustics. Like most classic electric guitars from the golden era of the late 40s to late 60s, Gretsch base much of their current catalogue on those timeless designs. Today's blog isn't so much about recounting these famous designs, but the fact remains that their influence is directly there in every newly made Gretsch guitar. First, let's begin with Gretsch's Professional line of guitars.
Gretsch Professional
The Gretsch Professional Collection is the company's top-end, flagship line of guitars and basses. Here is where you will find such iconic instruments as the White Falcon, the Country Gentleman and the Duo Jet.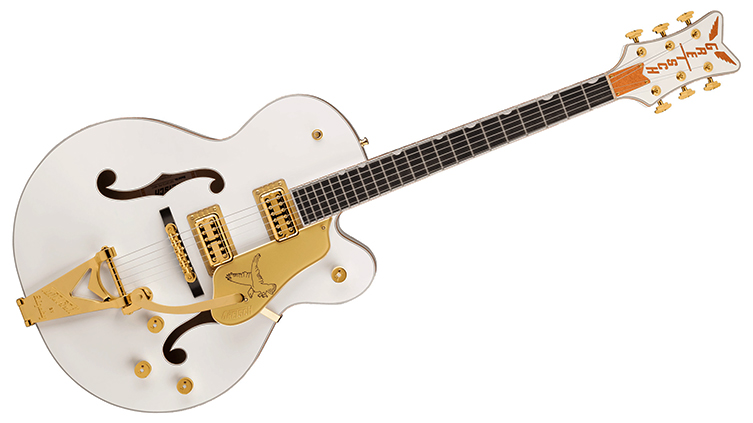 Gretsch Pro Collection guitars are all made in Japan to very exacting standards. The workmanship and finishing is hugely impressive, as befitting such a historical brand. As with the other ranges we'll look at today, Gretsch guitars in the Pro Collection are available as fully hollow guitars (no solid centre block and thus arguably the most 'Gretsch' in terms of their sound), semi hollow guitars with centre blocks to reduce feedback issues, and solid body guitars like the Duo Jet.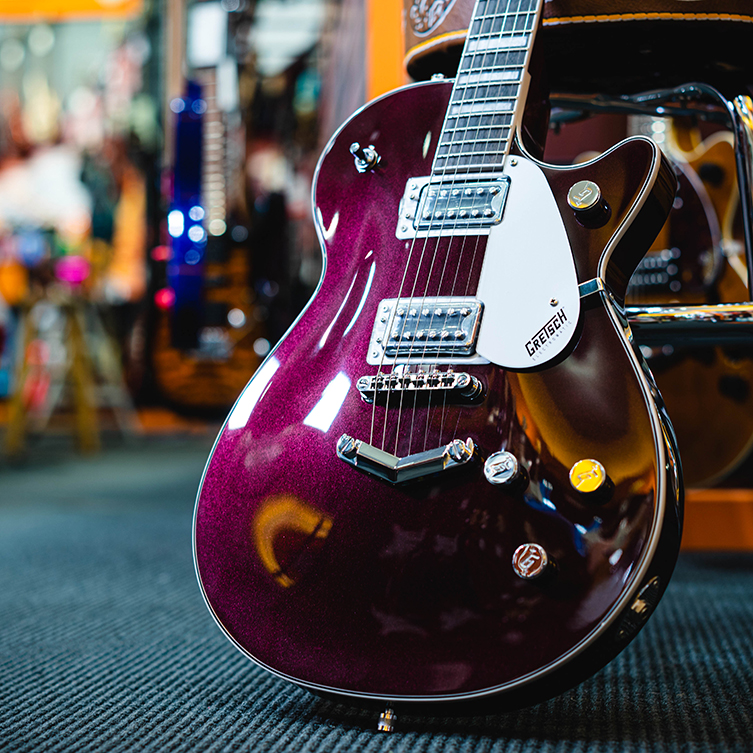 Japan has long since held a reputation for delivering some of the best-made musical instruments on the planet. This is true of Gretsch's Professional Collection guitars. These are the high-end choices for those players who want the very best. It's an interesting point to note that, although these Japanese Gretsches are made in a factory, there are far fewer of them made every year than the number of guitars made by the Fender Custom Shop, for example. These are quite exclusive instruments indeed!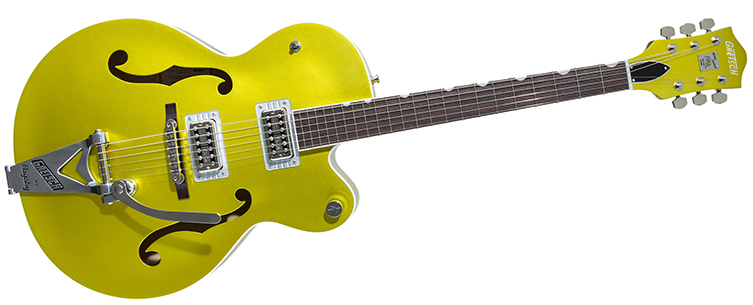 The Professional Collection actually subdivides a little further into two more sections: the Player Edition and Vintage Select. The Player Editions look to classic designs but allow for slightly more user-friendly, modern specs and appointments in order to serve working professionals. The Vintage Select Gretsches are more like true reissues of past models, with period-correct details and appointments. All Gretsches are classics, for sure, but these are more fastidiously adhering to a vintage blueprint.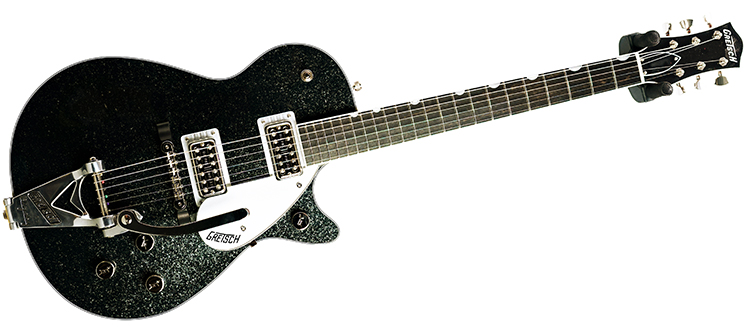 Gretsch Electromatic
The Gretsch Electromatic Collection are by far the most popular guitars made by Gretsch. This is because their price-to-quality ratio is particularly high, meaning that guitarists can enjoy the benefits of great build quality, authentic Gretsch tone and looks, all at an attainable mid-range price.

Electromatic guitars are made in one of two countries. The hollowbodies and semi-hollow guitars are built in Korea, whilst the Jet models and all other solid bodies come from China. China's capacity for manufacturing excellent quality instruments has greatly increased in recent years. Internet forums will forever argue the futile points of view over countries of manufacture, but fantastic guitar factories have existed in the Far East for decades now, making guitars that rival the quality of any other guitar-building country you can think of. Until we get into the realms of boutique hand-builds, then it's fair to say that price point is more an indicator of quality over country of manufacture.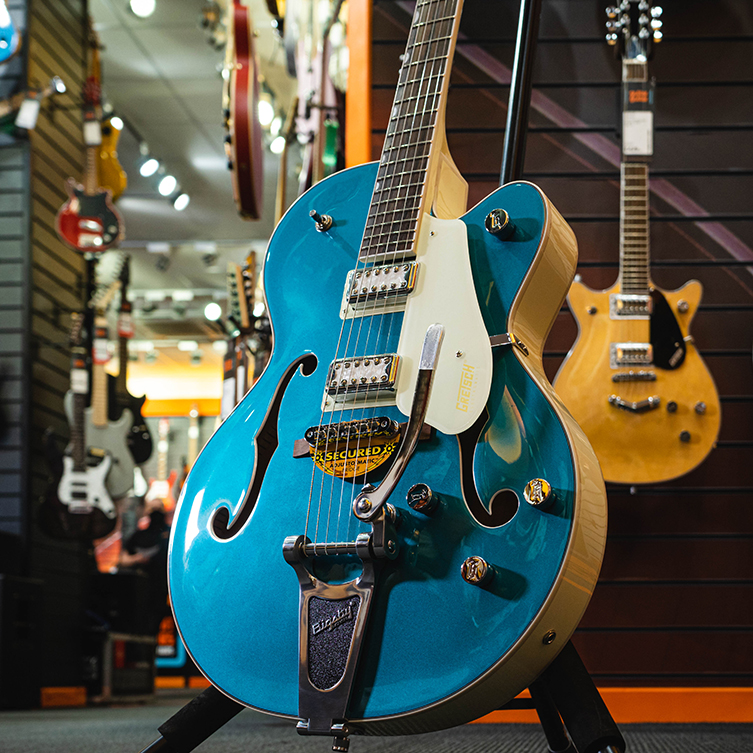 The Electromatic Collection uses numbered codes instead of names for their guitars, so a G5220 is the Electromatic take on a Jet, for example. There is a wide range of hollow, semi-hollow and solid guitars available, with lots of the style and charm you'd hope to find in a Gretsch. Binding, inlays, various Filter'Tron and Broad'Tron pickups and more are all present and correct, giving the Electromatic range that seal of authenticity required by Gretsch aficionados. Famous finishes (the lovely Gretsch Orange, and White models with gold hardware that look distinctly 'Falcon-like' when you squint your eyes) along with the appearance of licensed Bigsby tremolos bring the dream closer to clarity at this price than ever before.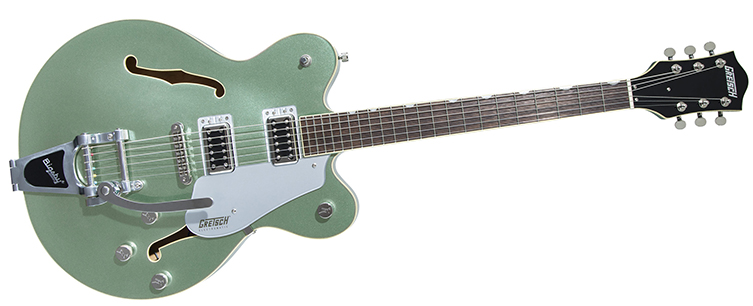 Gretsch Streamliner
Gretsch's most affordable range of guitars is the Streamliner Collection. Designed expressly to put a large dent into the affordable guitar market, the Streamliners are a wonderful entrypoint into the style and character of Gretsch.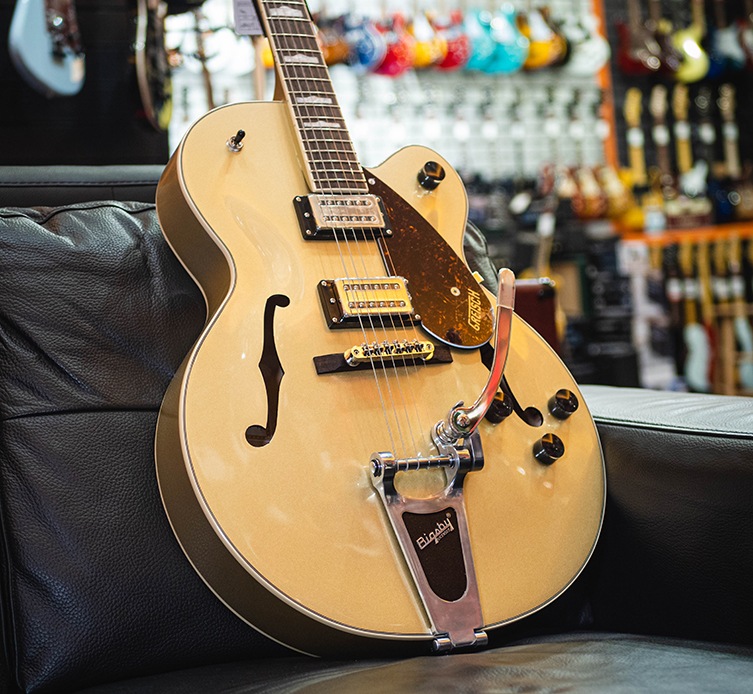 Streamliner models draw from a slightly different period of Gretsch's history - in terms of their visual decorations - from the Electromatic range. There's a distinctly '40s and 70s' vibe to the inlays and silhouettes, though they are very much in keeping with the brand's identity. It's well conceived, because it allows them their own visual space in the family without feeling like 'lesser' models. The Streamliner Collection is its own thing, and has proven to be a very popular range.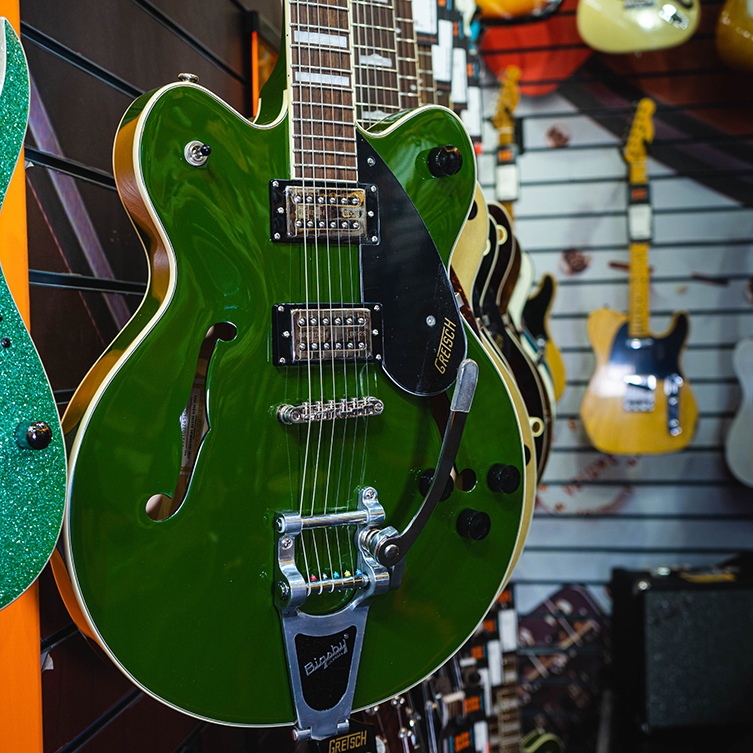 Fun trivia: check out the size of the f-holes on any Streamliner Gretsch. Significantly smaller, right? Now have a look at the top-price Billy Duffy Artist Signature Falcon. Billy's a fan of the 'Baldwin-era' Falcons and prefers the smaller f-holes, so it's not a cost thing so much as it is a style differential. Streamliners are fantastically good looking guitars, whatever the price!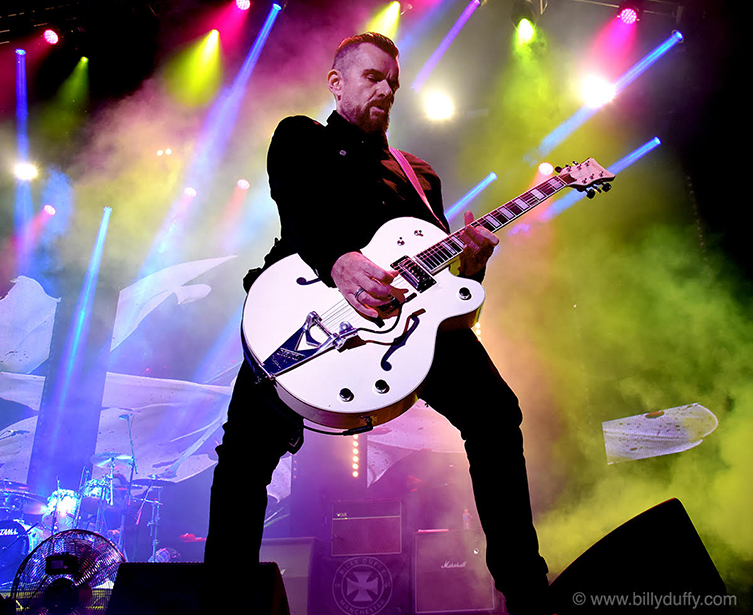 (Photo: Billy Duffy)
Gretsch Streamliner guitars are made in Indonesia, as are a great many of the world's guitars - and feature pickups that look the part but sound more distinctly crunchy than classic Gretsch pickups. This is presumably to offer more 'rock' tones to a general audience, and expand on what may be seen as something of an otherwise niche Gretsch sound. If you love the look of Gretsch guitars but want a slightly harder sound, then this is the way to go! If you want that famous tone, you could opt for switching out the pickups or trying a model from the Electromatic range.

Gretsch Custom Shop
We feel a word about the Gretsch Custom Shop is merited, though they are not a separate 'Collection' per se. Gretsch Custom Shop guitars are the only Gretsches currently built in the USA. They are made in extremely small numbers, too: we're talking in the low hundreds, annually! These are typically small runs of limited guitars or straight-up one-off creations, very often with custom finishes and appointments. These few guitars are the best of the best in Gretsch terms, handmade in California and exceptional in every way.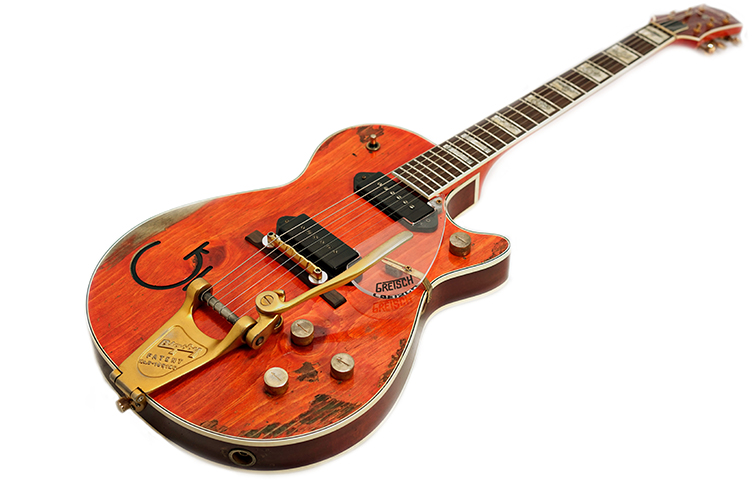 Style and Sound for All
So, there we have it. Hopefully these explanations have made the different Gretsch ranges a little clearer to understand. Guitarists looking for exact vintage tones and looks should head towards the Vintage Select models from the Professional Collection, or 'go custom' with the Custom Shop. Pro gigging players will be well served with Player's Edition models from the Professional Collection, and indeed from all of the Electromatic range. Guitarists seeking some Gretsch vibe on a budget, or who love the look but do not require such a specifically 'Gretsch' tone will win with something from the Streamliner Collection.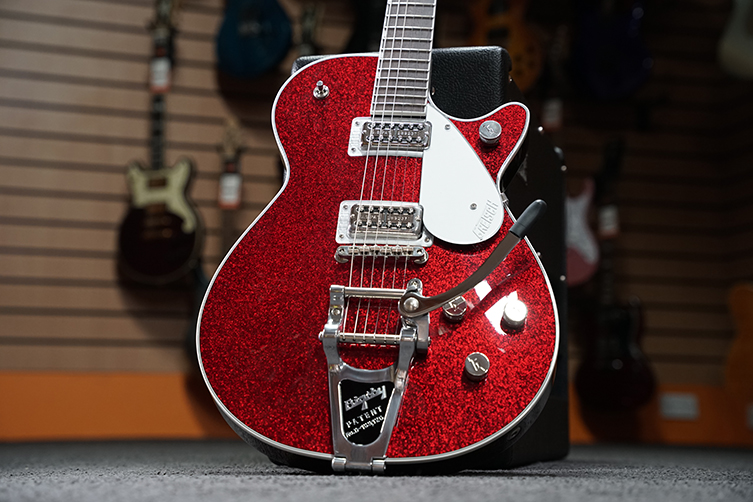 The real takeaway from all of this is that you get an equally 'cool' guitar no matter how much money you have to spend. We always love it when brands treat their customers with this level of respect, regardless of how deep their pockets may be. Each Gretsch is thoroughly 'Gretsch', be it an Indonesian Streamliner or a Japanese White Falcon. Whichever collection you choose to buy from, you're buying into guitar history and timeless style.