What to Sit on When Playing Guitar
Published on 28 April 2022
Disclaimer: The information in this article is provided by the guest blogger and does not necessarily reflect the views and opinions of guitarguitar.
A guitar is a musical instrument that can be played both sitting down and standing up and part of the learning process is to not only find the right position that you're comfortable with but also to know which positions are better for your guitar playing.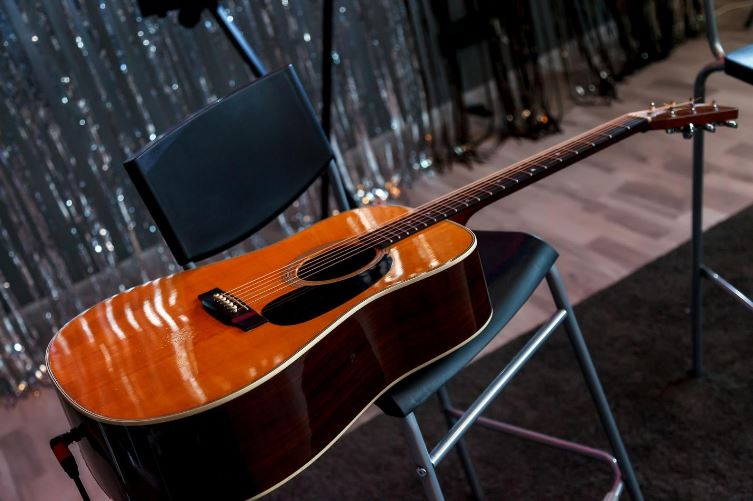 A lot of people aren't aware that playing instruments such as a guitar in an uncomfortable setting may also lead to muscle strains and even cause serious injuries. That's why we need to find the most suitable and ergonomic guitar stool or chair if we're playing. Here are a few suggestions on what to sit on when playing the guitar.
Chair or Seat Requirements
I really think that if you want a comfortable seat to sit on when playing the guitar either practising, recording, or in gigs, it needs to have one or two of the following qualities.
It should be comfortable
It should be adjustable (height)
It should be stable
It should be ergonomic
It should be reliable (durable)
So, when choosing your next guitar playing chair to utilise when playing, be sure to watch out for these parameters.
Bar Stool
A bar stool is one of the most widely used seats by guitarists. They are stable, firm, reliable, and come in a lot of height options. They are perfect for bar gigs for they look neat, presentable and always blend into the aesthetic of a restaurant or bar where guitarists and musicians often perform in.
Standard wooden/steel barstools are perfect for guitarists as they go low profile behind the singer or maybe sit side by side with them using a high bar stool where you will be visible to the audience.
The downside to the stool, especially wooden stool, is that it may not be the most comfortable option when sitting for long periods of time. That's why some prefer having a cushion or foam underneath to support you better.
Office or Gaming Chair
Speaking of home practising or recording sessions, a gaming or office chair for playing guitar can be a perfect solution. Well, ideally you'll have flip up armrests or you're going to have to remove the armrests if your chair has them to begin with so you can play and position your guitar properly.
These chairs are meant for sitting down for longer durations and so they are perfect for practising at home with your practice amp or recording some tracks which can sometimes mean sitting for the entire day! They just wouldn't fit in well when you sit on them as you perform in public, would they?
Another pro of using an office or gaming chair is that some have wheels so you can even move around the room without standing as you rest the guitar on your lap or legs.
Drum Throne
A good drum throne is one of the most comfortable and ideal seats you can sit on when playing the guitar. And, it's versatile to boot. It's low profile so it can be utilised in bar gigs and is readily available and affordable for you to have at your home or in studios.
They are cushioned well and meant for prolonged sitting so no worries there. Also, drum thrones are mobile as they mostly come with wheels so you are free to move about without even standing up. Trust us, guitarists and musicians, in general, are fond of that during practice or recording.
Folding Chair
A folding chair is also one of the most convenient seats to have as a guitarist. They are portable, convenient, and will give you the right height you'd need as you play. They will also blend in nicely either in the studio or the bar for performances.
The downside? Well, a folding guitar chair isn't as comfortable to sit on and sometimes can be a bit flimsy.
Sound Seat
A sound seat is a pricier option that is targeted towards musicians, in general. It is very comfortable, height-adjustable, and of course, supports your body as you play for prolonged hours.
BONUS: For those who always have their guitar on a guitar stand in their bedroom, you may already know for a fact that your bed is one of the best places to sit when playing your guitar. It's stable, it's comfortable, and it offers enough space so you can move around. My personal favourite is the edge of the bed when it comes to practising.
Tips on Guitar Posture While Sitting
It's also quite important for guitar players to know the right posture to take when playing your guitar especially if you are performing or practising for a long period of time. This also helps alleviate any muscle strain when you're recording tracks. You hurt yourself if you sit in front of the computer all day, right? Well, just think about what will happen if you're playing the guitar for almost the entire day. Here are a few tips.
Try to always wear your guitar strap even if you're playing in a sitting position. This helps to make sure that both your hands are free and you don't have to worry about your guitar dropping.
Practice placing your guitar on your left leg (a classic guitar position) so that your playing hand can move about in all movements needed. This is ideal for an electric guitar for they have a thinner body. If it's too challenging for acoustic guitars especially the larger ones then place it on your right leg.
Relax your foot by raising the leg where your guitar rests. You can use a short footstool to raise your leg height.
Sit upright for slouching like when you do as you face your computer can strain your back and neck fast.
When standing, a lot of guitarists think it's cool to play the guitar all the way to the ground but this ain't so good for your body. Try to level your strap in such a way the guitar will be right at your hip where it's ergonomic.
Author: Thomas of GuitarTopReview
My name is Thomas, and I have been playing guitar since 2004. I was a part of my local church band, and initially started out by playing the piano. I later shifted over to playing the guitar, which is my true passion. In order to help beginners on their guitar journey, I teamed up with some of my friends to create guitartopreview.com.