Taylor Guitars 2023: Special Editions and More
Published on 16 August 2023
Welcome, Taylor fans, to a quick look at what the brand has been up to this year! Taylor are never ones to rest on their laurels, and their forward-thinking ethos continues as we navigate the year that is 2023. We've recently taken delivery of some quite lovely new Special Edition guitars, and feel like it's only polite to give you a quick guided tour.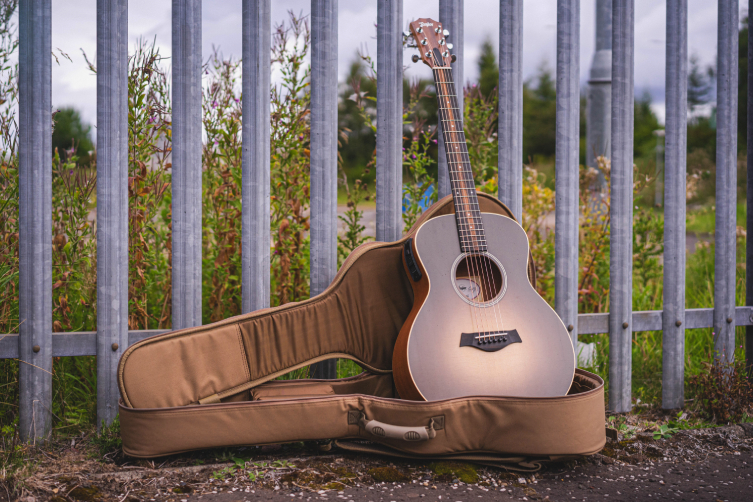 If you like Taylor guitars, then this is the blog for your lunchtime break!
Taylor AD27e Flametop
Let's begin with a beautiful and quite unusual guitar from Taylor's American Dream range. The Taylor AD27e Flametop is a marvellous looking specimen indeed, with a top, back and sides all made from solid Big Leaf maple. This is not something you see every day at all, and makes this relatively affordable Taylor guitar look like a million bucks!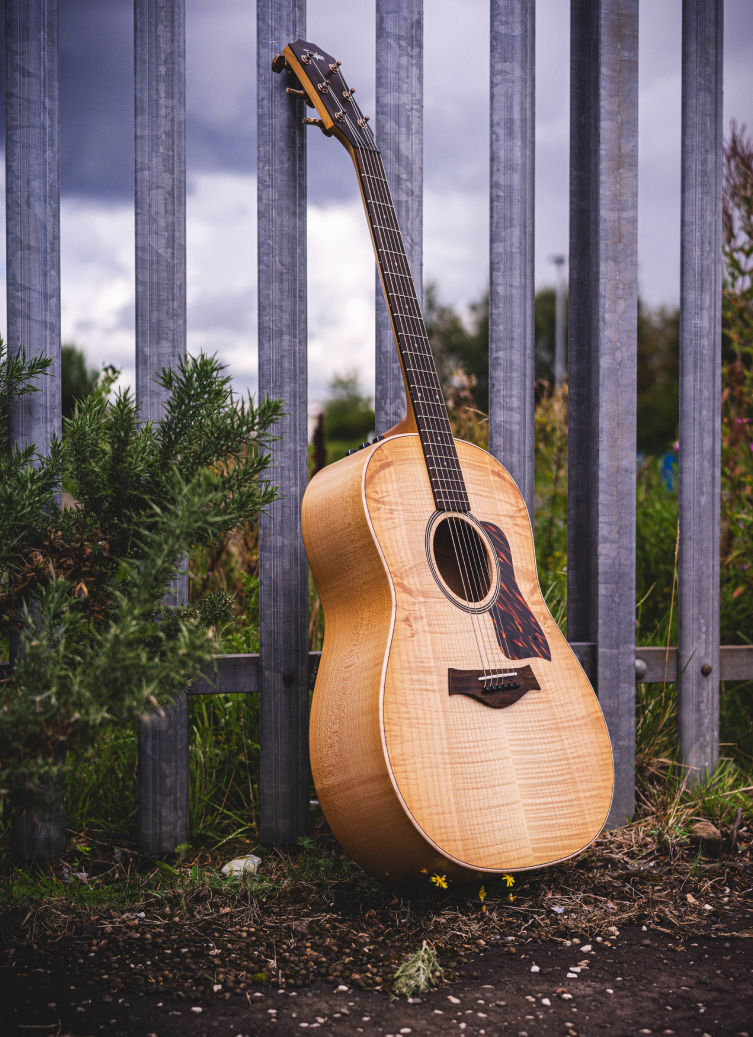 The American Dream range is Taylor's most affordable all-solid collection, and was also the range that first introduced the Grand Pacific body shape, which we see here. It's kind of similar to a slope-shouldered dreadnought but slightly different around the 'waist' and lower bouts. For strumming and other percussive styles, this is a great shape! You'll get lots of rich body to your strums, so singers will love these, as will guitarists who play in ensembles like Bluegrass bands and such, where they need to make their 'dent' in the sound.

So, the Maple build is unusual because maple is a very bright, toppy sounding wood: it's generally more sizeable jumbo guitars like the Gibson SJ-200 who make use of such a timber. Taylor's top design guru Andy Powers has, however, tamed that brilliance somewhat by modifying his own celebrated V-Class bracing inside the guitar, so there are still loads of strong mids coming through with every strum!
Another unusual point to notice is the use of 'smoked' Eucalyptus for the fingerboard. We definitely don't often hear of this particular wood being used in guitar building, but we also definitely trust Taylor's innovations regarding eco-friendly practices, so we're onboard! Eucalyptus is a very sustainable species of wood, and Taylor have darkened the colour to make it more closely resemble rosewood. All in all, a fresh take and a classy guitar that's full of innovations.
Taylor 114ce Gloss
Our next nugget of gold here is a subtle tweak on a classic. Behold, the Taylor 114ce Gloss Special Edition! This is a rare glossy edition of an enduring, affordable cornerstone of the Taylor range and so it's nice to see it getting some special treatment.
The 114 is a Grand Auditorium from the company's 100 series, which is their 'entry level' of their numbered series guitars. The Grand Auditorium shape is perhaps Taylor's most widely recognised style, and that's because its effectiveness has led to widespread use. With easy high-fret access and a very good bulk/projection ratio from the body, the Grand Auditorium is all things to many players, and the 100 series comes in at a cost that many guitarists can work with.

We see the 114ce - with the superlative Taylor Expression System 2 pickup/preamp built in - as one of the foremost choices for guitarists looking to buy their first 'quality' acoustic for gigging with. A solid spruce top does the heavy lifting here, assisted by cost effective layered walnut for the body. The addition of the gloss finishing on the front, back and sides adds a touch of upper-echelon luxury to a very affordable and capable performer.
GS Mini-e Carbonburst
The GS Mini is far and away Taylor's most popular guitar. Small enough to technically qualify as a travel guitar (due to its 23.5" scale and downsized body) but in fact just the right size for everyday playing, this model was and is a real game-changer. A portable acoustic that actually sounds great? Trust Taylor.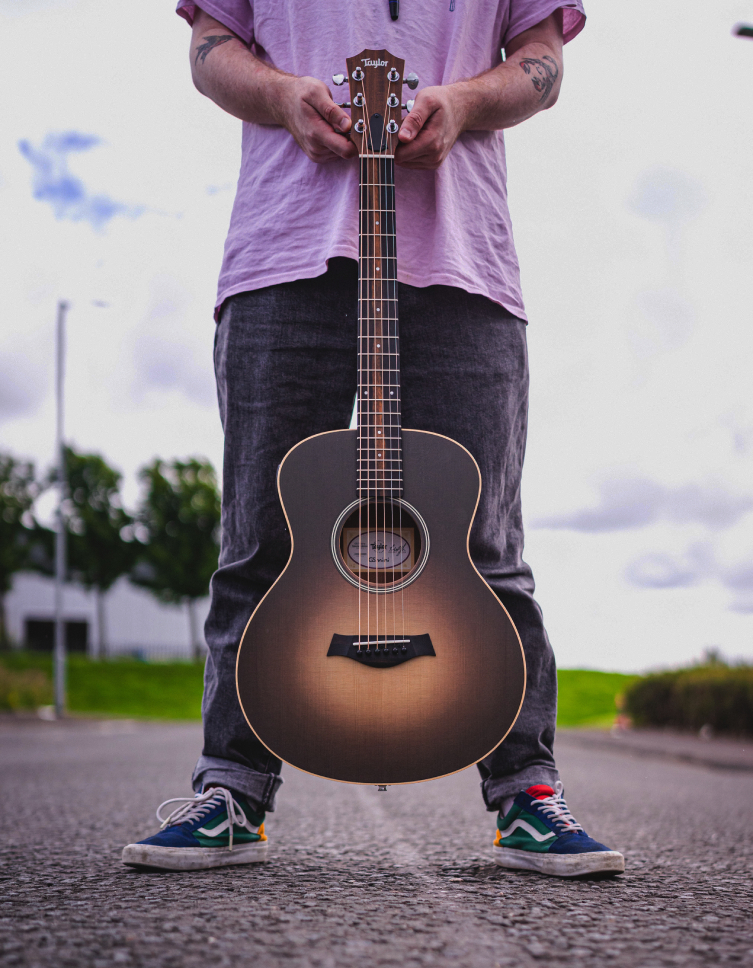 Well, there have been many iterations of the GS Mini over the years, but we're struggling to think of one as flat out cool as this GS Mini-e Carbonburst. As you'll have assessed for yourself, the title comes from that wonderful burst finish, which to us evokes thoughts of late-70s Les Paul Customs with a dash of Futurism thrown in. It's only on the top, so the layered sapele of the back and sides is left natural, for a visual contrast that really pops for us.

It's not only a good looker, though. There's a solid spruce top, a fitted ES-B pickup and an ebony fingerboard from the company's African Crelicam premises to add quality and value to the package. We want!
Taylor Blacktops: 324ce & 814ce
Our last two Special Editions for today's blog post share one thing in common: a very chic and delectable black finish on the top! Let's take them one by one.
First up, let's cast our eyes over the Taylor 324ce Blacktop. This is effectively a 300 series Grand Auditorium guitar with a wonderful satin black finish on the guitar's top. This guitar is a wonderful choice for all players looking for a high quality life-partner, as it were. You get solid spruce and sapele timbers, the hugely effective V-Class bracing ('more volume, more sustain, more punch' is the byword from Andy Powers) and Taylor's gauntlet-throwing Expression System 2 pickup system. We really are dealing with a top quality instrument that is designed to fit in and complement your musical goals, whatever those may be. It sounds wonderful, looks beautiful, feels amazing and gives a world-class plugged in tone. What's not to love?

Nothing, would be the only reasonable response. That said, some players are looking to really go to the crem de la crem with their main acoustic guitar, and so Taylor are currently offering the 814ce Blacktop Special Edition too. Now this is one stunning piece of work! It is fabulous to look at, with all of the extra decorative appointments of the 800 series that includes fingerboard inlays, multiple-layer binding and intricate rosette work. Taylor being Taylor, there's still a respectful understatement to the visuals: the company understands the twin concepts of clean lines and less-is-more, particularly when it comes to these top end guitars. It's gorgeous, but it's classy, too. Just look at that Indian rosewood armrest!

Indian rosewood is used for the body too, making this 814ce sing like a songbird. The black finish here is glossy (the 324ce has a satin finish on the top), which is appropriate to the look and style on offer here. If you want a luxurious guitar that still outperforms most others on the planet, this is one for your shortlist indeed. And these cool black finishes will not be around forever!
Taylor 2023
So there you have it: our roundup of what our friends over in El Cajon, California have been up to this year. We'd say it's time well spent, but we reckon you'll have already come to that conclusion yourself. We applaud the brand for making eye-catching, special instruments at a wide range of price points, not just the very top. This means that anyone looking to own something that bit more special can do so, and they can rest assured that they've bought an unequivocally excellent tool for their music too. Is it time to treat yourself?