"Everyone has their inner voice on the instrument...you have to work a lot in order to let it out" Matteo Mancuso Interview
Published on 01 September 2023
Matteo Mancuso is a man who is making all the right moves just now! The Italian guitarist and composer's career is gaining trajectory at a quite significant speed, as the world begins to take notice of his talents.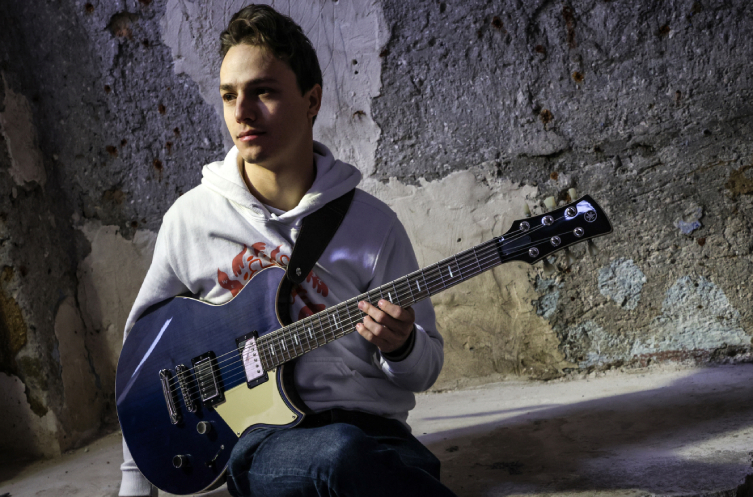 (Photo: Paolo Terlizzi)
Unique amongst today's technical players, Mancuso favours melody and touch over blizzard of notes, though on his debut record, The Journey, there's plenty of that too! His online success has brought him to the attention of no less a star than Steve Vai, who has hand-picked him for his upcoming Vai Academy retreat/experience! Not bad at all, for the 26 year old player from Palermo, who is relatively new to the scene. This man wastes no time! Here's what Steve had to say about him:
"The evolution of guitar is firmly secure in the hands of these kinds of players… it's just a new level, the tone, the touch, the notes!"
And whilst we're at it, here's another gushing comment, this time from Animals As Leaders head honcho Tosin Abasi:
"There's this Italian kid on the internet; his name is Matteo Mancuso. He's 20 or something. I mean, he's a virtuoso beyond virtuosos."
In true guitarguitar fashion, once our interest was perked, we knew we had to reach out to Matteo to learn more. An email back and forth ensued, and you can read all of that right here…
Matteo Mancuso Interview
guitarguitar: I love how melodic your playing is! Is melody a priority for you when composing? And do you often try variations of a melody before settling on a theme?
Matteo Mancuso: Thank you! I always try different melodic variations when I'm composing. My goal is to write a catchy melody without sounding too "cliché", that's the hard part for me. I think that a good melody needs to be catchy and accessible but at the same time it needs an element of surprise in order to be original, and that's a hard balance to achieve.
GG: What made you decide to use a predominantly fingerstyle technique instead of using a pick/plectrum? Are there any areas in which fingerstyle especially benefits you? And by that same token, are there any areas in your playing that are made more difficult by this decision not to use a pick?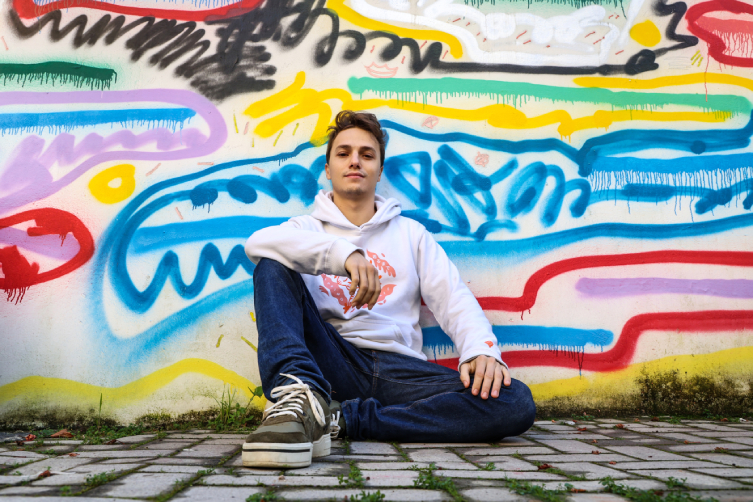 (Photo: Paolo Terlizzi)
MM: I didn't really decide to use fingers instead of a pick. Back when I started playing at 10 years old, I didn't even know that you should use the pick for electric guitar, mainly because I always saw my father playing classical with fingers, and I just thought that every guitar was meant to be played like that. Of course later on I discovered the pick but I was already comfortable playing with fingers.
There are of course advantages and disadvantages with my technique. One major issue with fingerstyle on electric are the nails, if you break or consume a lot of your pick, you just change it. Sadly, you can't do the same with fingernails! That's why I always try to keep them very short, so they don't break easily, and all of the same length.
GG: We've heard that you were something of a child prodigy on the guitar! You come from a musical family, but what was it that drew you to the guitar initially?
MM: My father taught me the first chords and songs on the guitar, so he was my first teacher. I started when I was 10 years old and I remember that I was the last one in my family to start playing! My sister sings and plays the guitar, she writes some songs once in a while. My brother plays classical guitar and my mother likes to sing all kinds of music at home so I was always surrounded by music. My first influences were the classic rock bands like Deep Purple, Led Zeppelin, AC/DC and of course Jimi Hendrix.
GG: With your songs, how much of a given song is composition, and how much is improvisation?
MM: Most of the songs were born thanks to some improv moments with my trio so everything started as an improvisation and then it shaped slowly into a song.
What I like to do when I'm recording is to always keep some space for pure improvisation (especially on the solo) so every take will always sound fresh and different. If I try to prepare everything it will not sound genuine and spontaneous like the improvised takes.
GG: Do you tend to write a lot? If so, what do you do with your ideas? (Do you record them on your phone, for example? Or record demos on a laptop?)
MM: I often record my ideas on the phone or on my laptop, I only write the hard passages if there's the need to, but I don't write the full song most of the time.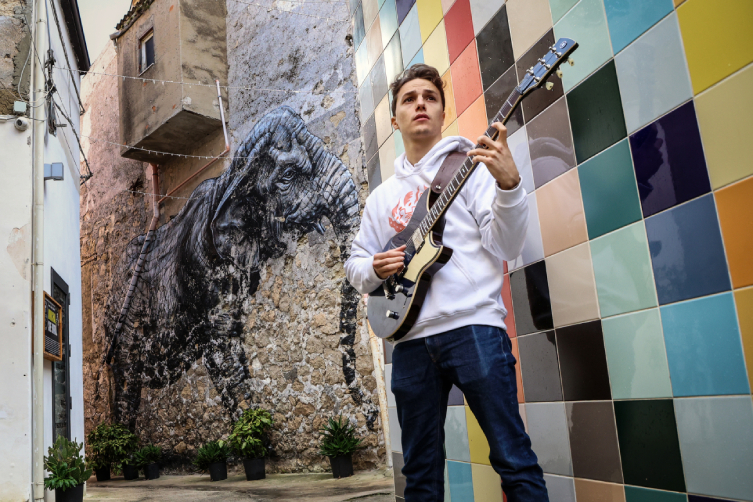 (Photo: Paolo Terlizzi)
GG: You seem to be a big fan of the Yamaha Revstar guitar. What is it about this style that appeals to you so much?
MM: First of all, the looks. With the Revstar, Yamaha succeeded in making a new guitar look modern and vintage at the same time, that's what I like a lot about the Revstars. Then of course the sound is the top priority.
I like the fact that, especially the professional models, they are really versatile guitars. That's what I was looking for, especially if you listen to the music I play. I need a guitar that can be convincing in jazz, fusion, rock and everything in between, and the Revstar seems to be the perfect guitar for that!
GG: What other types of guitar do you use apart from the Revstar?
MM: I also use a Yamaha Pacifica one in a while, and sometimes I use a baritone guitar made by "Bacci". It is a brand from Italy that makes beautiful baritone guitars and basses. I mainly use it to record some rhythm guitar parts but it is fun to use also for soloing.
GG: You have an excellent guitar tone! Apart from the guitar and the amp, do you require much in terms of special pedals etc to get your sound?
MM: I've always been a digital guy so what I'm using now is just my Line 6 Helix. For my lead tone I use a simulation of a Matchless amp called "Matchstick ch2" on the Helix, plus a drive called "Valve Driver". Everything else is just a simulation of a Princeton reverb for the clean.
GG: You've been described as a 'virtuoso beyond virtuoso' by Tosin Abasi: how does that make you feel?
MM: It makes you feel good of course! I'm a big fan of Animals as Leaders, and Tosin is a real game changer in terms of new techniques on the electric, so yeah it is an amazing feeling especially if you think that it comes from an excellent player like him!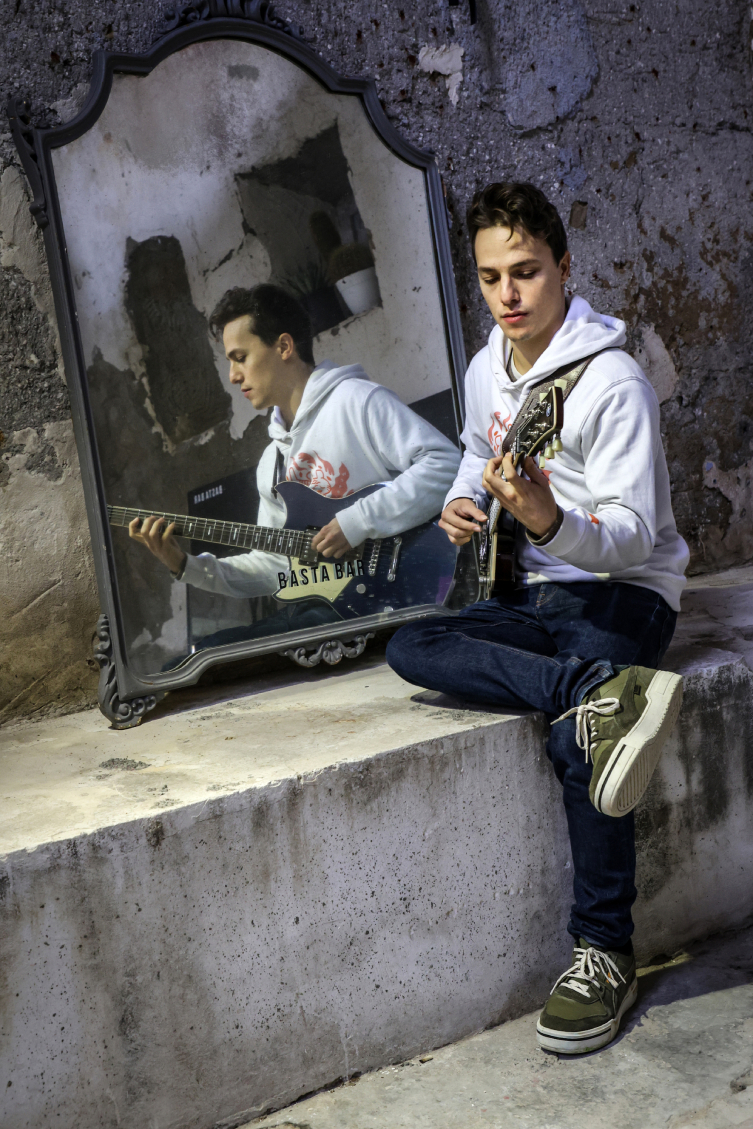 (Photo: Paolo Terlizzi)
GG: How have you built up your online audience? What tips can you pass on to our readers about expanding their own audience and fanbase?
MM: Well I don't consider myself a good social media user. I don't upload very often and I prefer to not use socials that much, but of course I know that they are really important for your career especially as a musician. I can say from my experience that people prefer quality over quantity, so I think it's better to upload very good content once in a while instead of countless videos every week.
GG: Finally, how does a person find their own unique voice on the guitar?
MM: I honestly think that everyone has their inner voice on the instrument from the start. But you have to work a lot on yourself in order to let it out. What I did from the beginning was to concentrate on the things that really excite me the most about guitar, so the number one rule for me is to keep the practicing and playing always fun and exciting. If this will start to feel like you "have" to grab the guitar and study, you are missing something!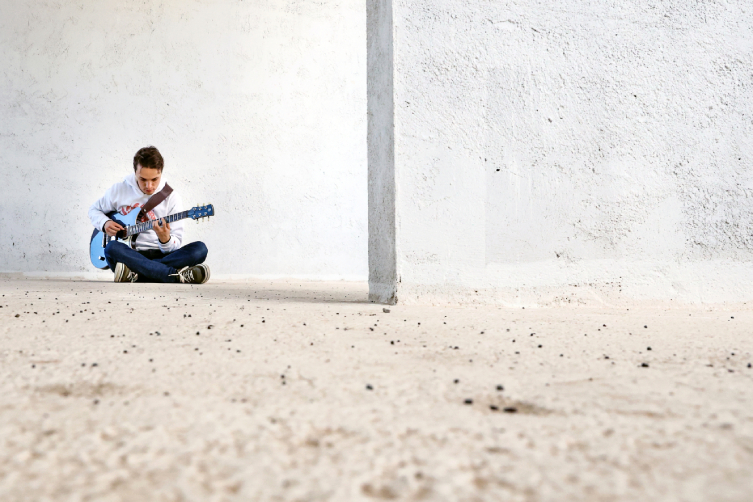 (Photo: Paolo Terlizzi)
Good advice! Fans of great playing, nice grooves and catchy melodies will love Matteo's album, The Journey. Have a listen wherever you stream your music, and head over to the official Matteo Mancuso website to keep up with all of his news and performances.
We'd like to thank Matteo for his time, and also to Lee for putting us in touch! If you liked this interview, head over to the guitarguitar Interviews page where we have many more with artists such as Steve Vai, Joe Satriani, Andy Timmons and Nili Brosh!
We'll see you again soon for some more exclusive guitarguitar interviews!