"There seems to be a 'coolness' with darker things": The Flower Kings' Roine Stolt Brings the Light!
Published on 08 September 2023
For nearly thirty years, Roine Stolt's The Flower Kings have been making the sort of colourful, progressive, theatrical rock music that brings to mind the expansive 70s heyday of the genre. Stolt - who also performs in Transatlantic with Marillion's Pete Trewavas and ex-Dream Theater sticksmith Mike Portnoy - build the Flower Kings around his 1994 solo album of the same name, and the group have developed ever since.
Not for Roine is the dark melancholia of much modern prog: this is a man to whom the future is bright and full of possibilities, who uses himself as something of a conduit for both music and lyrics to reveal themselves. We last spoke to Roine via email back in 2019, when The Flower Kings released their Waiting For Miracles album, (click to read our previous Flower Kings interview) and this month sees the unveiling of their brand new opus, Look at You Now. Naturally, we felt it was high time to see what was new in Roine's world!
We reached out via email, and the resulting transcribed interview below was the brief but illuminating result…
Roine Stolt Interview
guitarguitar: You seem to be a prolific artist: do you find that ideas and inspiration come easily to you? Do you have any practices or routines to encourage ideas?
Roine Stolt: I'm one of the lucky guys that does not sweat to come up with ideas and new music - Generally I just switch on the piano/keyboard and start playing around a bit - see what comes. I love the sound of piano - as I remembered from childhood days when my mother played it.
GG: I always love the optimistic sound of The Flower Kings. Would that be partly a Yes influence? Why do you think so many rock bands veer towards nihilism & negativity with their music? Is it easier?
RS: There seems to be a 'coolness' with darker things and black outfits etc. - I've never understood that thing - I think it looks silly or very 'insecure'. My role models were none of these bands - but rather The Beatles, Frank Zappa, David Bowie, Queen, Rolling Stones, Allman Brothers, King Crimson, Muse, Joni Mitchell etc. None of these were into the black stuff... and they were all strong and secure artists.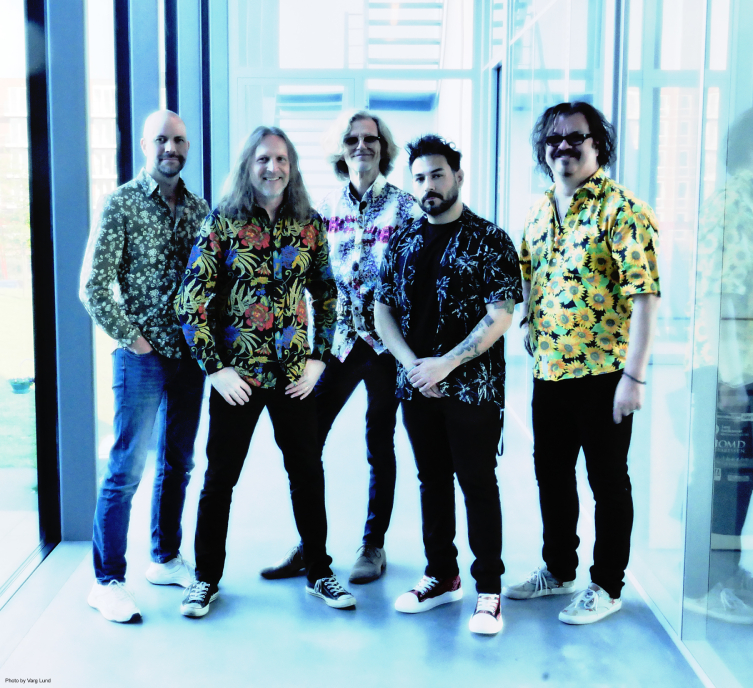 (Photo: Varg Lund)
GG: Last time we spoke (2019, for the Waiting For Miracles album), you talked about improvising most of the lyrics. That's pretty amazing! Was that the case this time around?
RS: In fact very much like that again - for the past few albums - It works and I feel more freedom in that approach. I trust my intuition - more and more each day. I think our subconscious will take us in the right direction - and I am sometimes as surprised as others are.
GG: Overall, what is the most important part of playing music for you? Could it be delivering a message? Spreading joy? Entertaining? Maybe it's none of those things?
RS: No, not really the message - Yes, it is important - but secondary perhaps. The fact is I just love the sounds of musical instruments - I wanna be in that spot - where things produce a sound. Sounds evoke memories and they have their own ways of pushing me in certain directions.
GG: On songs like 'Hollow Man', is there a Musical Theatre influence at play? If so, does that also manifest itself in your attitude towards live performance?
RS: Well, I've probably nicked a bit of British Music Hall - because it feels like home, even if I'm Swedish! I just love that genre - loved it when The Beatles or even Queen did that. For Hollow Man, I used a few 'role models'. Trump is one of them but there were also a few others - politics seems like it just draws them in - the spotlight and the smell of power is most likely very addictive.
GG: Do you find narratives and stories/concepts useful when putting songs together?
RS: Sometimes - yes - could be something I've read - or heard on TV - or radio - or someone told me a story. I don't overthink it - I just let it speak - and view it - like a spectator and see if I like it.
GG: Last time we spoke, you mentioned viewing music as a 'spiritual ritual, a conversation with God'. I'd love to hear more about that if you felt like expanding on that?
RS: Yes: if we look at God as a divine power of all sources and all energy - the 'alpha' of all creation - so in reality, I'm not even sure if we the musicians 'write' the music - of if it was there all the time before or after us. To me it doesn't matter - We are here at a given moment and we act on the impulses we get, from where? I don't know and it doesn't matter too much. I just trust the feeling - and as long as others react then we're obviously connected.
GG: How far do you take the writing of any given song before you bring it to the other members to work on?
RS: I just try to get it to a point where I feel they will understand the direction. The idea must be clear - so yes, I do work a bit on my demos - they're quite close to the finished product actually.
There seems to be a 'coolness' with darker things and black outfits etc. - I've never understood that thing - I think it looks silly or very 'insecure'.
GG: On a song like The Queen, for example (though it could have been many Flower Kings songs here), how important is it for you to take your audience on a journey?
RS: Not sure - it was just a song that happened to come to me the same week the Queen of England died. So the title was begging to be ...'The Queen'.
GG: We covered your fantastic guitar collection last time, but were there any particular guitars and amps that you gravitated towards for this record?
RS: Not really - I'm not nerdy in that regard. - I do always gravitate towards my Telecaster Thinline - it is just so 'me' - a fantastic guitar, the singing vibration, and it has a great feel. I also played a Stratocaster and my old Les Paul from 1953 - and a newer Gibson ES-335 with a True Temperament fretboard - fixed by the Swedish inventor himself - Anders Thidell (who unfortunately died from cancer a year ago) - a modern day genius - that I celebrate. That man was one of the most important developers of electric guitar ever.
The amps I played are usually mostly Orange - and a Mesa Boogie Transatlantic head through Orange 12" speaker cabinets.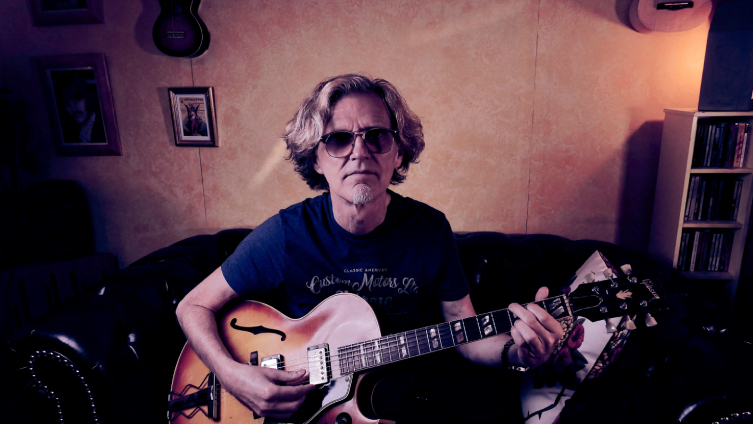 GG: Would you subscribe to the notion that certain individual guitars have songs waiting inside them? (and therefore can eventually 'run out of songs'?)
RS: Not really - but of course if you put on a Strat - you may start playing Jeff Beck licks - or Alan Holdsworth tremolo bar bends.
GG: Fun last question: you're stuck on a desert island with a device that will magically play the entire collection of any ONE artist's music. Who do you choose and why?
RS: The Beatles will put a smile on my face - Joni Mitchell will keep me warm in my heart - but Yes will entertain me endlessly.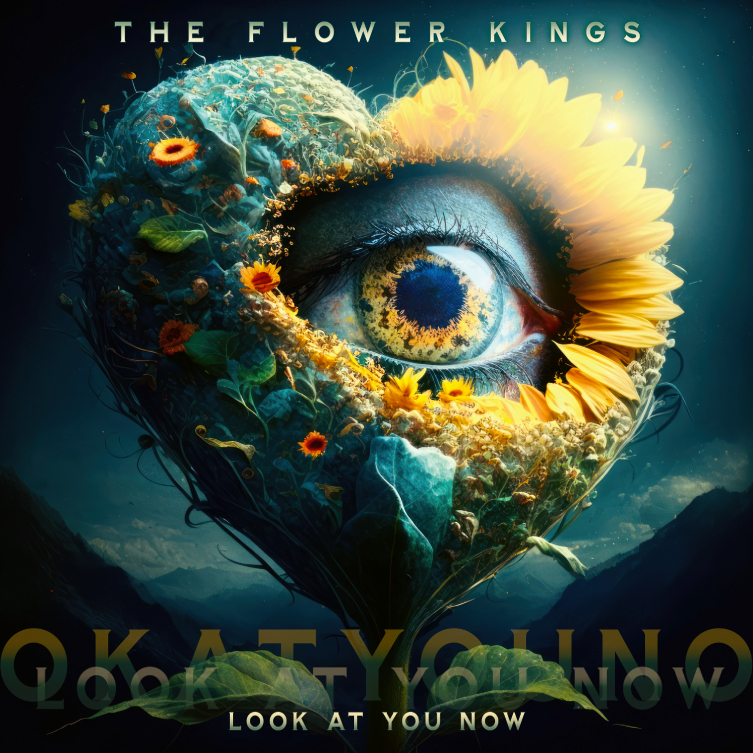 Good choices! And we suspect Roine may be slightly more nerdy about guitars than he's letting on! The Flower Kings release Look at You Now today (8th September) via Inside Out music. Find it wherever you get your music, and head over to the Roine Stolt/Flower Kings official website for news on tour dates, vinyl, merch and more!
We'd like to thank Roine for talking to us again, and to Simon for putting us in touch. If you love Prog music, we have some articles that will be right up your street! Click through for exclusive interviews with Steven Wilson, Steve Howe, Tony Levin, Steve Hackett and over 150 more on our guitarguitar interviews page!