Korg Nanokontrol Studio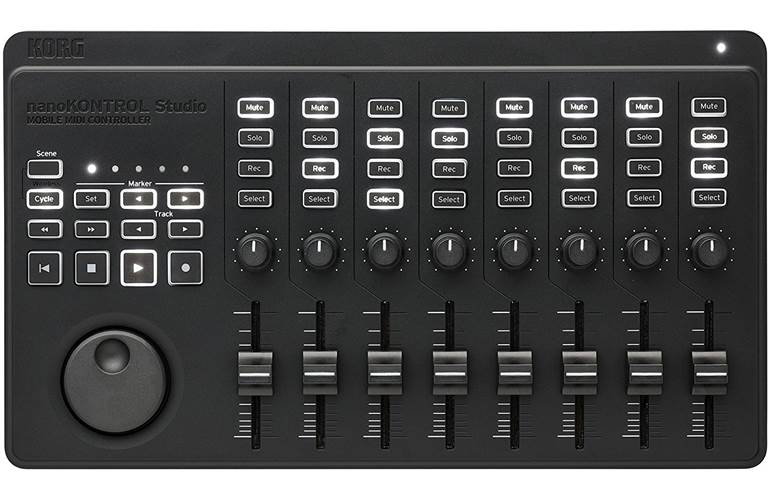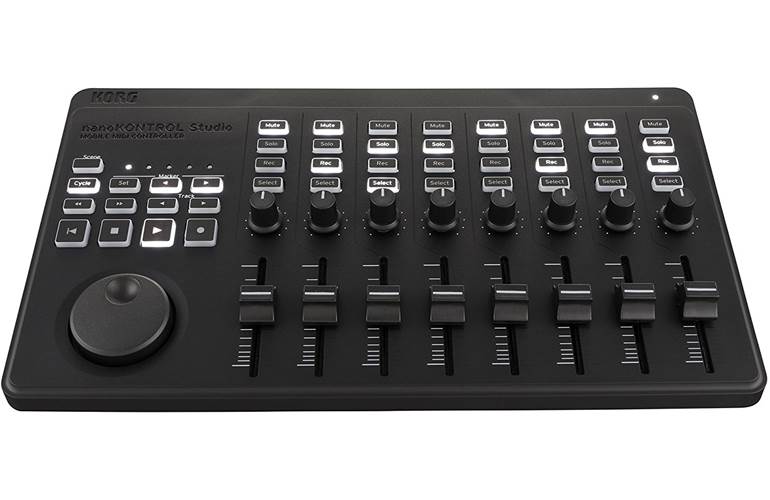 £129.00
Available to Order
Stock expected 22nd October 2021
3-Year Warranty Included
We're the 1st, and only, UK guitar retailer to offer a 3-year warranty as standard. Buy with confidence today. Learn More
Manufacturer's ID: NANOKONTROL-STUDIO
What we say:
At A Glance:
The Nanokontrol Studio from Korg is a fully-equipped control surface in a compact, stylish package. There are tons of faders, knobs and switches on board, as well as useful controls for playback and recording. With both USB and Bluetooth connectivity, the Nanokontrol studio is ready for any situation!
Features We Love:
Control Surface
The Nanokontrol Studio features eight channels of control. Each channel has its own fader, knob and switches. On the left you also have main DAW controls and a jog wheel. It's great to have so much control in such a small device!
Sleek and Compact Design
Thanks to the low-profile design of the Nanokontrol Studio, you can easily take it anywhere with you!
USB and Bluetooth Connectivity
The Nanokontrol Studio is USB bus-powered, meaning you can plug it into your computer with the included cable and play with minimal fuss. Alternatively, you can use AAA batteries to power the unit and connect over Bluetooth. This is ideal for on-the-go use with mobile devices and laptops with Bluetooth.
Highlights:
Low profile and compact control surface
Jog wheel for DJ uses
Faders for hands-on control
A variety of control buttons
Works with most major DAW programs
Lightweight
USB Bus Powered
What's Included:
Nanokontrol Studio
USB cable
KORG Software Bundle code
two AAA Batteries
Specification
A compact physical MIDI controller that's ideal for mobile or desktop uses.
Smaller than a letter-sized sheet of paper, the nanoKONTROL Studio is designed for thinness. It's the perfect size to easily carry in a bag and use with your computer. In spite of its compact size, its controllers provide generous power and a solid feel, making it a convenient and versatile MIDI controller.
USB and wireless for more music production freedom.
The nanoKONTROL Studio can connect not only via USB but also wirelessly. It can easily connect to iPad/iPhone music apps such as KORG Gadget and Apple GarageBand, or to your Mac/Windows music production software. Freed from annoying cables, you can set up your equipment easily and efficiently. Due to careful tuning, you can enjoy low latency and high stability.
Refined and stylish design
The simple, refined, and stylish design features illumination with beautiful white LEDs. The design has been modernized to use alongside new devices such as your laptop, tablet, or smartphone.
A full array of controllers that cover everything from DAW control to DJ performance.
You have the all controllers you need to operate your DAW: sliders that feature generous spacing and stroke, plus a convenient jog wheel. Whether you're controlling your DAW and plug-ins, or putting on a performance, the nanoKONTROL Studio provides everything you need in any situation.
Preliminary Information – Specifications and features subject to change
Supported software
The nanoKONTROL is compatible with any software that supports MIDI input, including KORG Gadget, Logic, GarageBand, Live, Reason, Cubase, Studio One, FL Studio, Sonar, Pro Tools, Digital Performer, and Traktor.
A lavish bundle of powerful music software is included free of charge.
The nanoKONTROL Studio comes with the incredible "KORG Software Bundle" that lets you start enjoying popular music software right away. Whether you're on mobile or laptop, you can start creating music as soon as you purchase this unit.
The sounds and functionality of "iPad / iPhone apps" can be expanded by connecting them to a nano Studio series unit.
Apps for iPad/iPhone
KORG Gadget Le for iPhone (music production studio DAW app) KORG Gadget Le for iPad (music production studio DAW app) KORG Module Le for iPad (piano/keyboard sound module app) KORG Module Le for iPhone (piano/keyboard sound module app)
Software for Mac/Windows
KORG Legacy Collection - M1 Le (synthesizer sound module) with a special upgrade pass to the KORG Legacy Collection - Special Bundle UVI Digital Synsations (synthesizer sound module) AAS Ultra Analog Session (synthesizer sound module) AAS Strum Acoustic Session (acoustic guitar sound module)
AAS Lounge Lizard Session (electric piano sound module) Propellerhead Reason Limited (DAW music production software) Ableton Live $50 discount coupon (DAW music production software)
Customize using dedicated "KORG KONTROL Editor" software.
We provide "KORG KONTROL Editor" software that lets you freely customize the settings of the nanoKONTROL Studio. You can specify the MIDI messages that are assigned to the sliders, knobs, and buttons, customizing the unit in detail to suit your needs.
"Control Surface plug-in" provided for GarageBand/Logic users.
We also provide a plug-in for using nanoKONTROL Studio with Apple GarageBand/Logic Pro X. Simply install this plug- in and connect it to the nanoKONTROL Studio.
Operating requirements -Wireless Connection:
iOS:
iPad/iPhone that Supports Bluetooth 4.0, and has iOS8 or later installed
Models:
iPhone 6s, iPhone 6s Plus, iPhone 6, iPhone 6 Plus, iPhone 5s, iPhone 5c, iPhone 5, iPhone 4S, iPad Pro, iPad Air 2, iPad Air, iPad fourth generation, iPad Third generation, iPad mini 4、iPad mini 3, iPad mini 2, iPad mini, iPod touch sixth generation, iPod touch fifth generation
Mac:
Mac that supports Bluetooth 4.0 or later, and has OS X10.10 Yosemite or later installed
Models:
MacBook (Early 2015 or later) MacBook Air (Mid 2011 or later) MacBook Pro (Mid 2012 or later) Mac mini (Mid 2011 or later) iMac (Late 2012 or later)
Mac Pro (Late 2013 or later)
Windows:
Operating system: Windows 8.1 or later (32-bit/64-bit) [KORG BLE-MIDI Driver is required] Supported devices: A computer that is running Windows 8.1 or later, and is equipped with Bluetooth 4.0