Was
£3,699.00
Save £400.00
£3,299.00
Order before 3PM for FREE Delivery Tomorrow
Includes extended exchange
Buy with confidence: Items bought 1st October 2021 to 24th December 2021 are eligible for our Extended Christmas Exchange & can be exchanged until Monday 31st January 2022. Learn More
Frequently Bought Together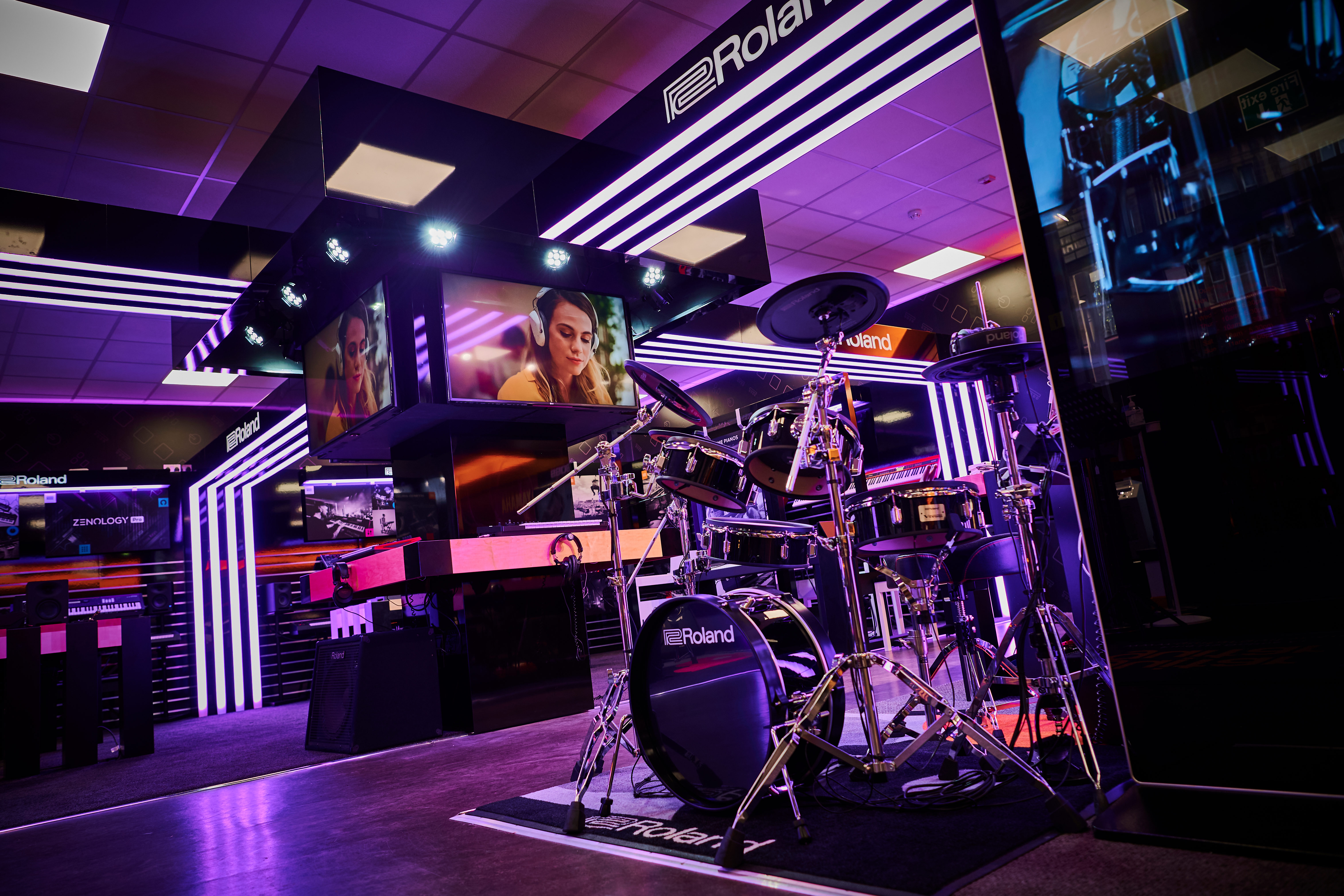 Try it now in our Glasgow Roland Store
This item is set up and ready to try at the only Roland Store in Scotland. Based in our Glasgow premises, you will find a huge selection of Roland and Boss gear that's ready to demo. Plus, you can get the expert advice you need from our in house Roland Senior Product Specialist.
Manufacturer's ID: FANTOM-8
What we say:
At A Glance:
Fantom 8 is Roland's flagship machine for music production and performance. Built to be musical every step of the way. Sound creation, songwriting, sequencing and performance playing can all be executed with ease.
Fantom not only sounds amazing, it draws out new musical ideas every time you use it. Created with the musician in mind, Fantom never gets in the way of your performance, it is a pure joy to use.
Features We Love:
The Best Sounds
Fantom combines decades of technology. Nailing the sound of Roland's iconic synths with their custom Behaviour Modelling Chips. Pianos and acoustic tones are realistically recreated using the now legendary V-Piano technology. New complex tones can easily be created in beautiful detail through the HD interface and controls.
Fast and Fluid Music Creation
Fantom recognises that different sequencers benefit different production styles. Patterns can be created by recording your performance in real time, using the 808 style TR-REC step sequencer and using a piano roll grid. Patterns can then be chained together to create songs, or split up into clips for a Live style real time performance.
Optimised For Every Performance
Fantom-8 features a beautiful fully weighted keybed with aftertouch. Menu diving is kept to a minimum thanks to a generous selection of encoders and faders. Each featuring high resolution control over 1024 steps for smooth analogue-esque adjustments. Finally the HD touchscreen is a dream to use, thanks to the intuitive operating system, your workflow will be effortless.
Expandability
Fantom is a new concept platform that is constantly evolving. Through regular updates, Fantom has gained several new usable features, which since its launch have included the introduction of multisampling, SuperNATURAL acoustic instrument voices, 4 vintage synth expansions, a Virtual Tonewheel Organ, a 32 band Vocoder and Ableton Live integration. In addition to these updates, Fantom features the ZEN-Core sound engine, which allows you to import, export and share your ZEN-Core sounds with other Roland ZEN-Core hardware and your DAW.
Pros:
World class sound expandable sound engine
Tough metal construction
Analog Filter
Deep integration with Ableton Live and Apple Logic Pro X and MainStage
Computer intergration with high-quality 16x3 stereo audio interface
Works as DAW controller
CV/Gate outputs
What's Included:
Fantom-8
Power Supply
User Manual
Specification
Keyboard
88 Keys (PHA-50 Wood and Plastic Hybrid Structure, with Escapement and Ebony/Ivory Feel, channel aftertouch)
Sound Generator
ZEN-Core
 
Various MODEL sound generators
 
V-Piano Technology
 
SuperNATURAL Acoustic
 
* ZEN-Core Tones can import and export.
Expansion
EXZ Series
 
EXSN Series
 
EXM Series
 
* The expansion are rewritable internal sound generator memory.
 
You can download data from the Roland Cloud and write it via a USB flash drive into the FANTOM's internal memory.
Parts
16 Zones(Internal + External)
Scenes
128 Scenes x 4 Bank
Tones
Over 3,500 Tones
 
Over 90 Drum kits
Tone Remain
16 parts (16 zones / 16 scenes).
 
* Tone Remain does not apply to V-Piano Technology sounds.
Favorite
Rating System: 4 Steps (0-3)
Tone Search / Scene Search
Raiting, Character
Effects
Multi-Effects: 16 systems, 90 types
 
Part EQ: 16 systems
 
Drum Part COMP: 6 systems
 
Insertion Effect: 2 System, 90 Type
 
TFX: 1 System, 90 Types
 
Input MFX: 2 Systems(in Parallel), 90 Types
 
 
 
Chorus: 9 types
 
Reverb: 7 types
 
Master Compressor
 
Master EQ
 
Input Reverb: 7 types
 
Input EQ: 2 Systems (in Parallel)
Analog Filter
STEREO
 
Type: LPF1/LPF2/LPF3/HPF/BPF/Bypass
 
Drive
 
Amp
Vocoder
Band: 13, 20, 32
 
Type: Mono, Stereo
 
Preset Setting: 10
 
User Setting: 20
Scene Chain
Chain: 16 Scenes x 32 Pages (Total 512 Scenes) per 1 Chain set
 
Set: 100
 
Marker: 62 (0-9, A-Z, a-z) per 1 Chain Set
 
 
SEQUENCER
 
MIDI Tracks
16 (Internal/External)
Group
16
Pattern
8 (per each Track)
Pattern Length
32 measures
Recording Method
Realtime recording, Step recording, TR-REC
Editing Method
Piano roll edit (Touch Edit support / Automation support), Microscope
Song
1 (per Scene)
File format
Original, SMF export/import supported
 
* Sampler trigger data can be recorded.
 
 
SAMPLER - KEYBOARD MULTISAMPLE
 
Format
16/24-bit linear, 44.1/48kHz, WAV/AIFF
Number of Samples
8,000
Number of Multisamples
128
Sampling Time
The maximum is 2 minutes 44 second (1 Sample)
 
* A total of approximately 2 GB (Share with Expansion titles)"
 
* Keyboard Multisample can import and export as ZEN-Core Tone.
 
 
SAMPLER - PAD SAMPLER
 
Format
16-bit linear, 44.1/48kHz, WAV/AIFF import supported
Maximum Polyphony
8
Number of Samples
16 Pads x 4 Banks
Sampling Time
The maximum is 60 minutes (the equivalent of approximately 660 MB).
 
* A total of approximately 2 GB can be saved (including imported WAV files)
 
* When you use the PAD samples as KBD Wave, then you have to manipulation it.
Internal Storage Space for Files
2GB
 
 
OTHER
 
Rhythm Pattern
Yes
Arpeggiator
Yes
Chord Memory
Yes
Motional Pad
Yes
PAD Mode
Sample Pad, Note Pad, Partial Sw/Sel, DAW Control, Zone Mute, Zone Solo, Kbd Sw Group, Rhythm Pattern, Pattern, Variation Play, Group Play
AIRA LINK
Yes
 
* When connect to MX-1
CV/Gate Control
2 x CV/Gate or 3 x CV/1 x Gate
Controllers
Pitch Bend/Modulation Lever (*)
 
Assignable Switch x 2 (S1/S2)
 
Control Knob x 8
 
Slider x 8
 
USB Audio Slider
 
Wheel x 2 (*)
 
Function Knob x 6
Sound Modified Knob x 11 (*)
 
4 x 4 Pad
 
* 1024 step editing support
 
It can be use with Cutoff, Resonance, Attack , Decay , Sustain , Release , Amp , FX Depth.
Display
Graphic Type, 7", Wide VGA (800 x 480 dots), backlit LCD (Color/Touch screen)
Connectors
Headphones Jack: Stereo 1/4-inch phone type
 
MAIN OUT Jacks (L/MONO, R) (1/4-inch phone type)
 
MAIN OUT Jacks (L, R) (XLR type)
 
SUB OUT1 Jacks (L, R) (1/4-inch phone type)
 
SUB OUT2 Jacks (L, R) (1/4-inch phone type)
 
ANALOG OUTPUT Jacks(1,2)(1/4-inch phone type)
 
Mic/Line Input Jacks: (1,2) (1/4 inch phone type/XLR type)
 
2 x CV OUT, 2x GATE OUT
 
FOOT PEDAL JackS(HOLD, CTRL1,CTRL2,CTRL3) (*1)
 
MIDI connectors (IN, OUT1, OUT2/THRU) (*2)
 
USB MEMORY Port
 
USB COMPUTER Port (AUDIO: Max 24bit/96KHz 3 Sereo Output, 16 Stereo Input / MIDI:
 
3 Port support)
 
3 x External Device Port: A Roland A-49 or an A-PRO series MIDI Controller can be connected. (*3)
 
*1: 1024 Step value support
 
*2: High-resolution velocity data output support
 
*3: Operation is not guaranteed if a generic MIDI device is connected.
External Memory
USB Flash drive (sold separately)
Dimensions
1,432 (W) x 439 (D) x 153 (H) mm
Weight
27.7 kg
Firmware Update Ver.2.5 introduces the following features:
Virtual ToneWheel: Faithful emulation of a real tone wheel organ
Ableton Live Integration: Seamless Ableton Live workflow direct on the FANTOM touchscreen
Firmware Update Ver.2.1 introduces the following features:
Additional Functions
A MODEL sound module has been added.
Four MODEL EXPANSION sounds (EXM001 through EXM004) are now supported.
EXPORT SAMPLE operations (EXPORT operations for KEYBOARD SAMPLE data) are now supported.
KEYBOARD SAMPLE / MULTISAMPLE functions are provided.
A MICROSCOPE EDIT function has been added to the sequencer.
An AUTOMATION function has been added to PIANO ROLL EDIT.
A MARKER function has been added to SCENE CHAIN.
A SWAP function has been added to SCENE CHAIN.
TFX has been added to MAIN BUS.
Input MFX has been added to AUDIO IN.
A ZONE OUT ASSIGN screen has been added.
A WALLPAPER function has been added.
Roland Cloud is now supported.
ZEN-Core SCENE IMPORT and EXPORT functions are provided.
SuperNATURAL Acoustic Piano/Electric Piano expansion sounds (EXSN01 and EXSN02) are now supported.
An LED Brightness function has been provided.
A Zone Sw Indicator function has been provided.
ZEN-Core TONE IMPORT and EXPORT functions are provided.
SuperNATURAL Acoustic Strings and Brass are provided in the sound source.
VOCODER is provided in Input FX.
A TONE Raiting function is provided.
A TONE text search function and Rating search function are provided.
Pattern and Variation Play functions are provided in PAD MODE.
A Remote Keyboard Switch function is provided.
An LCD Brightness function is provided.
A USB Memory Unmount function has been added.
AIRA LINK is supported.
Batch installation and uninstallation of multiple added tones is now supported.
A TONE addition function (EXPANSION) was provided.
A PATTERN-EDITING function using the piano roll was added.
A SCENE search function was added.
"ZONE assign" and "PLAYBACK level" functions for the sample pads were added.
A NOISE SUPPRESSOR function was added to the analog filter.
A function for setting the timing of pattern switching was added.
A copy function for TR-REC was added.
A Playback/Stop function for TARGET PATTERNS was added.
A Normalize Function for Sample Editing was added.
An End-Point preview function for WAVE editing was added.
ZEN-Core and System parameters were added.
Functionality Improvements
Operational stability when installing or uninstalling an EXPANSION has been improved.
The accuracy of detecting keystrokes has been improved.
The Original Key value is now inferred from the file name when importing a KEYBOARD SAMPLE.
It is now possible to IMPORT and EXPORT TONE values that use KEYBOARD SAMPLE or MULTISAMPLE data.
It is now possible to select the MODEL tone when performing an IMPORT or EXPORT operation for a TONE.
In TONE EDIT, changing a Partial Pitch Coarse Tune value now retriggers sound production.
Improvements have been made to the accuracy of MIDI clock synchronization for effects when the Sync Mode is set to SLAVE.
A display function for the LIST screen has been added to SCENE CHAIN.
COPY, SWAP, and INT functions for SET have been added to SCENE CHAIN.
ZOOM EDIT is now selectable for MFX, IFX, and TFX.
ZOOM EDIT is now selectable for DRUM KIT EDIT.
Five types of ASSIGN parameters have been added to the S1 through S3 buttons.
ADVANCED has been added to ZONE INT/EXT CONTROL.
Transpose settings for each respective ZONE have been added.
KBD SAMPLE is now also selectable in FACTORY RESET, BACKUP, and RESTORE operations
SCENE DOWN/UP and DEC/INC have been added to the functions assignable to the [S1] [S2] [S3] buttons.
A Wave Tempo Sync parameter has been added to TONE.
An Encoder Speed function has been added.
The PANIC function has been improved. Stopping Samples is also carried out.
PANIC function: Pressing the [SHIFT] + [EXIT] buttons transmits an All Note Off message to all parts.
In Piano Roll Edit, it is now possible to select, copy, and work with multiple events in other ways.
In the V-Piano Technology sound engine, Coarse Tune, Fine Tune, and Octave Shift can now be carried out.
The sequencer's PATTERN screen was revised.
The pattern-creation conditions at the Piano Roll screen display were revised.
Recording at high-resolution velocity during pattern recording is now supported.
The list view displayed when a Tone Name or the like is double-tapped has been improved.
The operation of the TONE CATEGORY buttons at the SCENE SELECT screen has been improved.