A Closer Look: Landlord FX Pedals
Published on 29 November 2018
If there's one thing we love here at guitarguitar, it's beautiful guitars. But if there are two things we love, it's beautiful guitars and new effects pedals! Every new distortion or delay pedal is cause for celebration here at guitarguitar! What could be better than that?
Well, an entire new range of pedals, for a start. And a new range of pedals is exactly what we have for you! Landlord FX, a fresh new brand of stomp boxes, have just landed and we are super excited!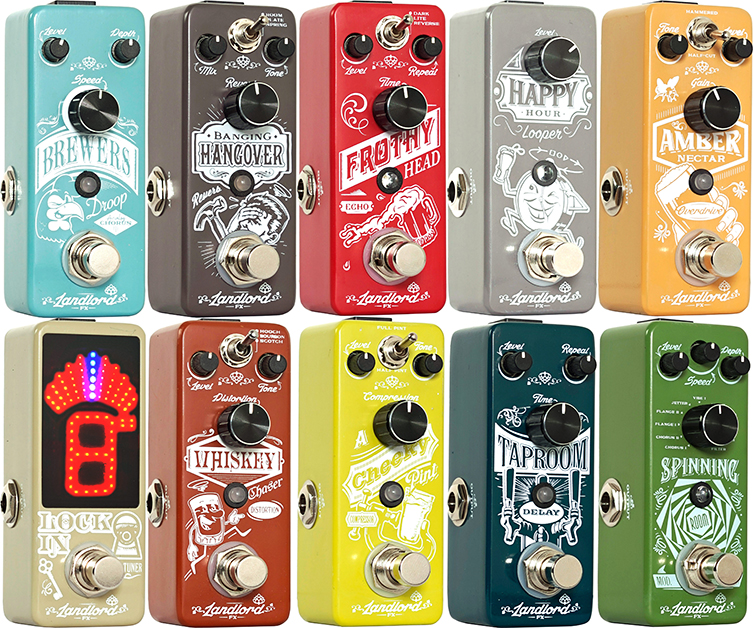 Landlord FX are a collection of compact-sized, solidly built effects with a fun, light-hearted 'British Pub' vibe to the names and graphics. We've just taken delivery of the full range and we are impressed for a number of reasons. Let's take a look!
So, first things first. The build quality on display here is super-solid. Metal enclosures and heavy-duty switches (more of which later) are the order of the day. Each pedal's housing is of the mini variety so you should be able to find ample pedal board real-estate for a few of these little guys! One thing we noted was that, like all other mini pedals, these run on mains power only: no batteries! This is hardly a problem if you're plugging these into your pedal board but it is worth pointing out none the less. They are physically too small to house two jacks (input and output) plus a 9v PP3 battery!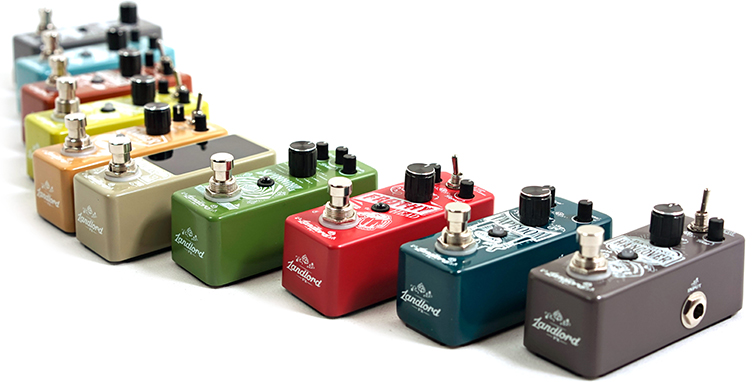 Okay, so the full range contains ten pedals. There are the usual delays, reverbs and drives but there are also a few surprises in here too. We were most impressed to learn that the Happy Hour looper has a full ten minutes worth of recording time on it! Not only that, the Cheeky Pint compressor uses optical technology, the same as classic vintage studio compressors! All of these features are favourable signs that Landlord are taking care of business properly, even if they are having a good laugh with the slightly naughty names (Brewer's Droop Chorus!) and graphics.
The Spinning Room is one to check out: in one small metal chassis, you get access to ELEVEN different modulation effects! Flanger, Phaser, Vibe, Chorus, Tremolo…you name it! You can even store your favourite setting in the pedal's internal memory for later recall by holding down the footswitch for two seconds! Value!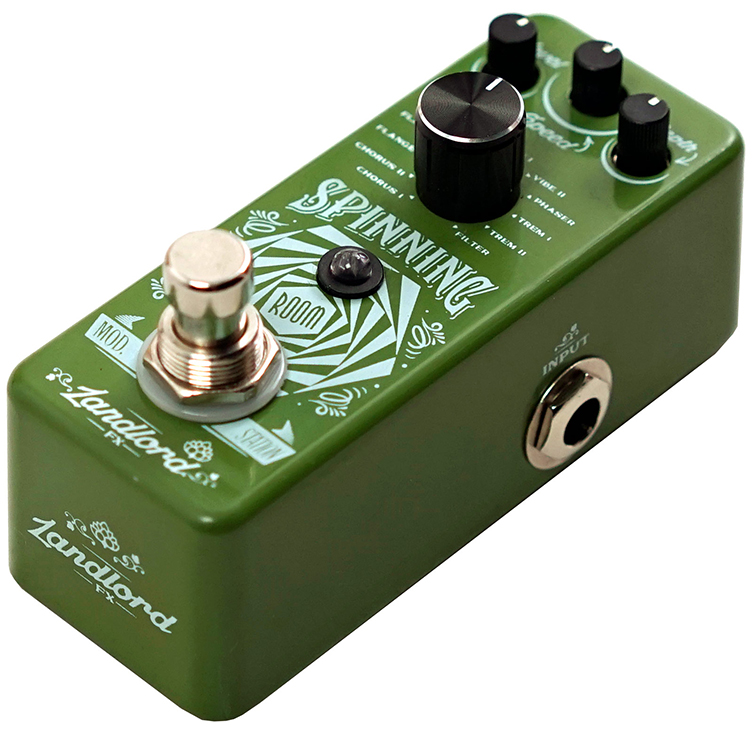 Talking about that footswitch, each of these pedals is fully True-Bypass! That's right: there will be no signal degradation in your chain from using these pedals! Off is off! It's details like this that set this range apart from other affordable pedals.
And affordable they most certainly are. This is one detail we have not yet touched on: just how amazingly priced these pedals are! An optical compressor pedal with two different modes for £39? A looper pedal with USB connectivity for under fifty quid? We know, it's insane!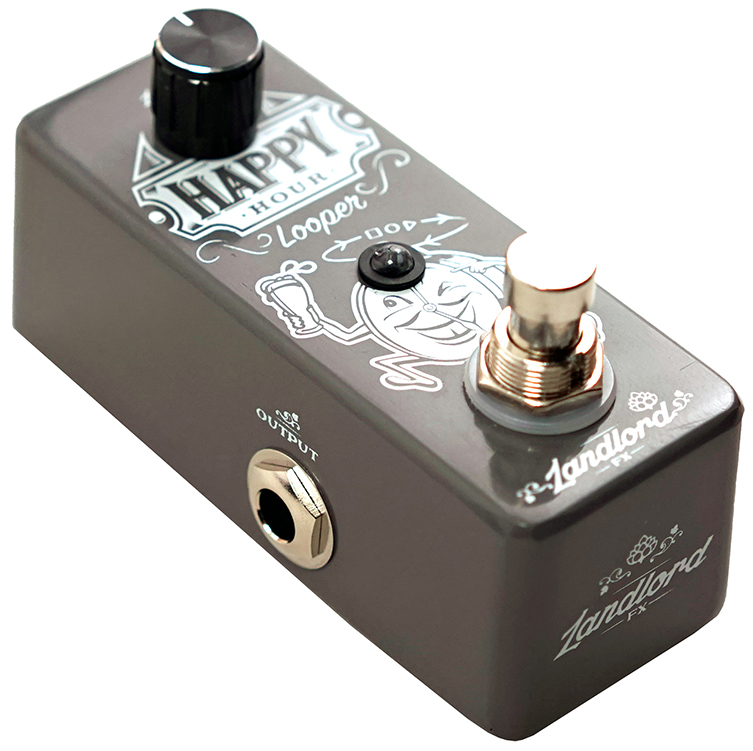 Best of all though: we can happily report that the sounds match up to the rest of the deal. There are some absolute peaches in this collection! We took the entire lot home to demo (life can indeed be tough sometimes) and, on the whole, the sound quality is superb. Playing through each was fun and pleasant, as it should be. Bearing that in mind, we had a couple of clear favourites. The first one on our Must Buy list would have to be the Amber Nectar Overdrive. It's sweet and expressive in that great way that encourages you to just play and play. It's addictive stuff! The gain levels actually go further that we'd traditionally expect from an 'overdrive' pedal so it can also do Classic Rock without breaking a sweat. It's a fantastic go-to choice for dirt and gain, with a sound that is miles better than its humble price would suggest. You have to try this!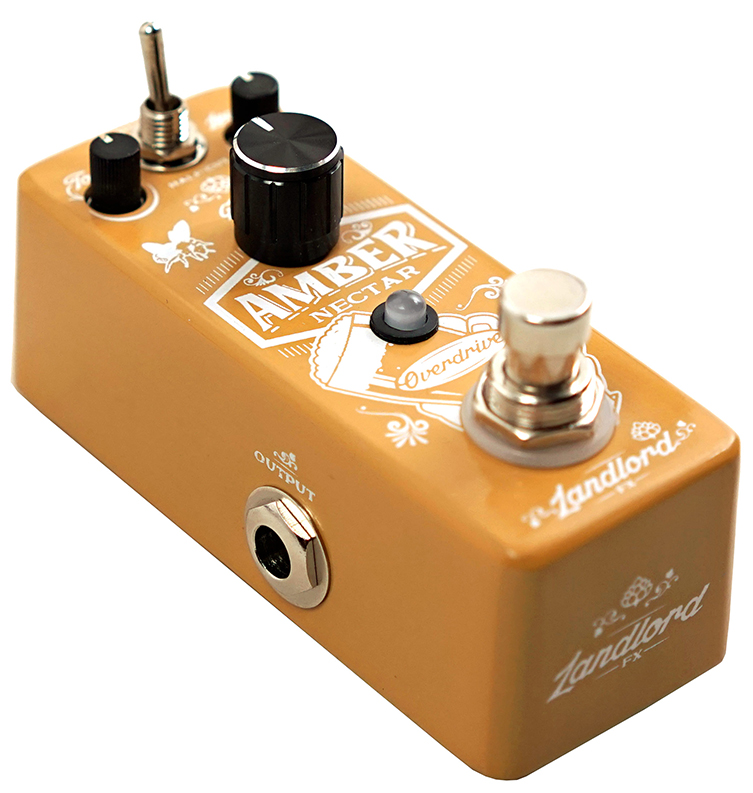 Our other favourite is the comedically-titled Brewers Droop Chorus. Upon plugging this in between our trusty Tele and a small house-sized valve combo, we were treated to gorgeous, thick analog Chorus tones that had us dusting off our favourite Cure and Police riffs (yes, we know those guys used flangers but the Brewers Droop instantly took us to that place!) with an authenticity that brought a smile to our face. Success!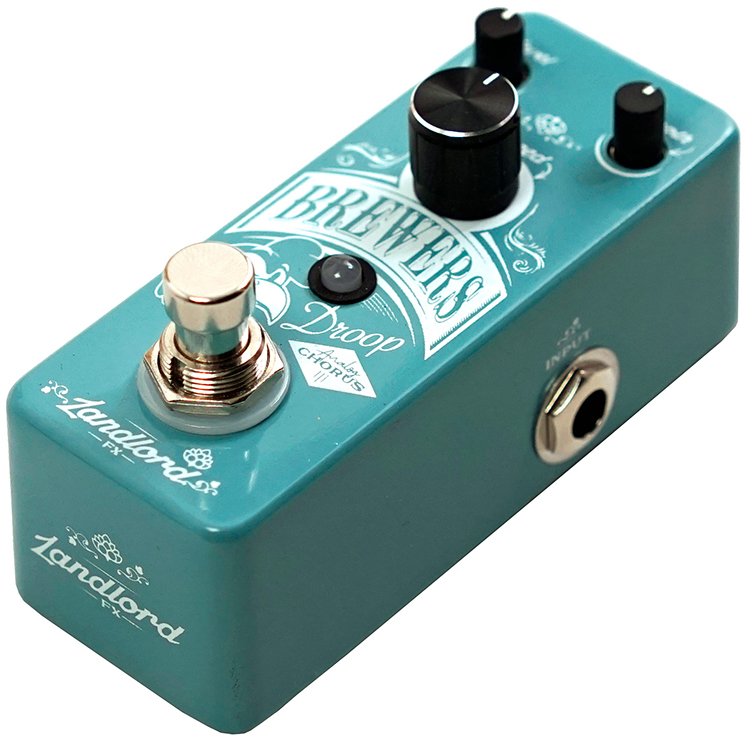 These Landlord FX pedals are most impressive, especially for such a low outlay. For the same price as one relatively fierce night at the pub and a kebab on the way home, you can treat your guitar rig to a brand new effects pedal! Not just any pedal either but a great sounding, quality, True-Bypass pedal with a strong metal chassis! There are ten to pick from and absolutely no down sides! It's time to talk to the Landlord!