A Closer Look: Thinline Roundup
Published on 27 November 2019
What's the deal with thinline guitars?
Having an f-hole on your guitar does look cool, but what's the point?
Well, now. We've mentioned before about how the Gibson ES-335 is, in many ways, one of the most versatile guitars money can buy. Our reasoning was that its inherent tone crossed many important 'marks' for guitarists: it sounds rich (Jazz) but has a little bit of snap (Funk, Pop). There is a strong midrange (Blues, Rock) along with a large amount of sustain (Rock, all lead styles) and has a clean sound that is maybe more dynamic than other humbucker-equipped guitars.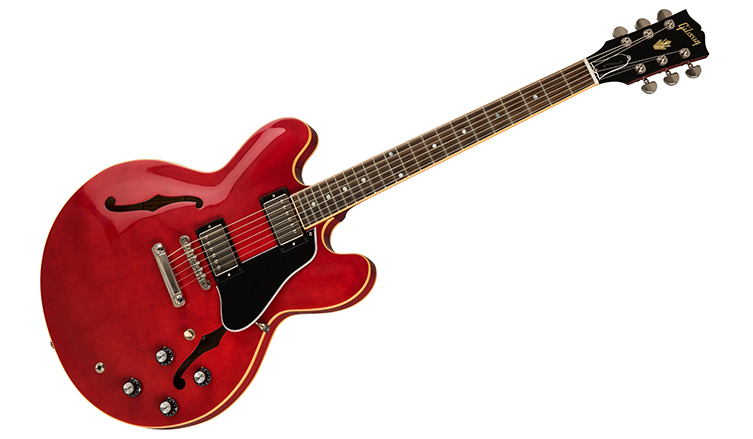 So, the point here is that the semi-hollow body helps widen and soften the sound in all the right ways, whilst not really taking anything away from the harder-edged stuff. It's tempting to say that the thinline design adds 'tone', but that's hardly really saying anything! Suffice to say, the semi-hollow construction adds a very pleasant and welcome addition to the guitar's tonal profile.
So, what's out there in terms of thinlines? There are many models that follow closely in the footsteps of the 335, in that they have a solid centre-block and a plywood body with a set neck. Others, notably the Fender Thinline Telecaster and its variants, are more like solid body guitars with large chambers hollowed out. These typically have a bolted-on neck and feature a single f-hole. All sound different, of course, but all benefit from that extra 'air' in the tone.
Today, we'll look at a few from around the guitar world, taking in various price points and styles. Notable by its absence will be the ES-335 itself, since the whole point of this blog is to see what else is out there! We have, however, included a similar model from Gibson's stablemates, Epiphone. We've kept fully hollow guitars like the Epiphone Casino and the hollow Gretsches out of this since, in their eyes, they are a separate entity. This is not an exhaustive list as much as it is an illustrative choosing of what's on offer. Let's dive in!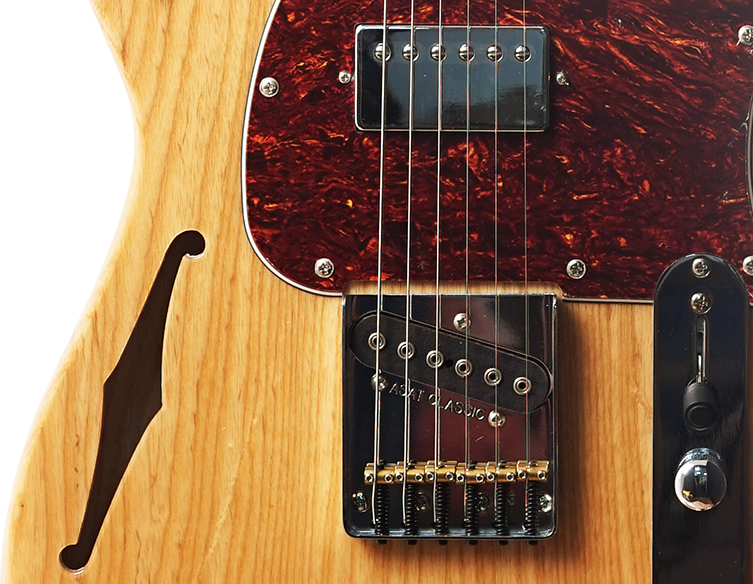 Epiphone Sheraton-II Pro
Epiphone's gorgeously luxurious semi is probably the closest cousin to the Gibson ES-335. Famously, Blues legend John Lee Hooker preferred his Sheraton, referring to it as 'an out-did 335'.
We like his style!
The Sheraton is a handsome object indeed, with its gold hardware, multi-ply binding, intricate inlays and a distinctive 1930's-era Epiphone headstock. This is no mere 335 clone, it's a stunning guitar in its own right, with style and attitude to spare. Coil-splittable ProBuckers bring PAF tones and more, whilst Grover tuners keep everything in check! If a US-made Gibson ES-335 or 355 is somewhat out of your available budget, the Sheraton will feel like less of a compromise and more of a smart move.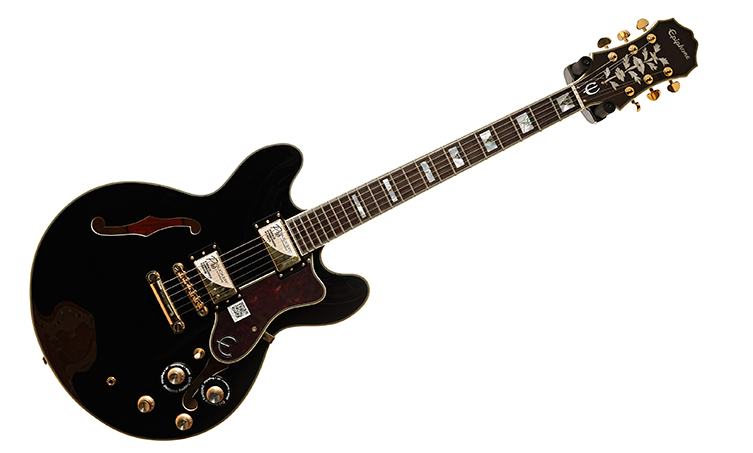 Gretsch Streamliner G2655T
Until very recently, being able to buy a Gretsch electric guitar at any kind of reasonable price was unheard of. Kings of ostentatious hollow body guitars, Gretsch have always been a stylish object of desire. Idiosyncratic, yes, but also about as cool as it gets, Gretsch have been seen as status symbols for decades.
Kudos to them, then, for not only making the affordable Electromatic range, but for going further into value with the Streamliner range! Make no mistake, Gretsch Streamliners are ready for professional stages: just look at At The Drive-In's Keeley Davis, who brings his Streamliner model on tour as his main instrument!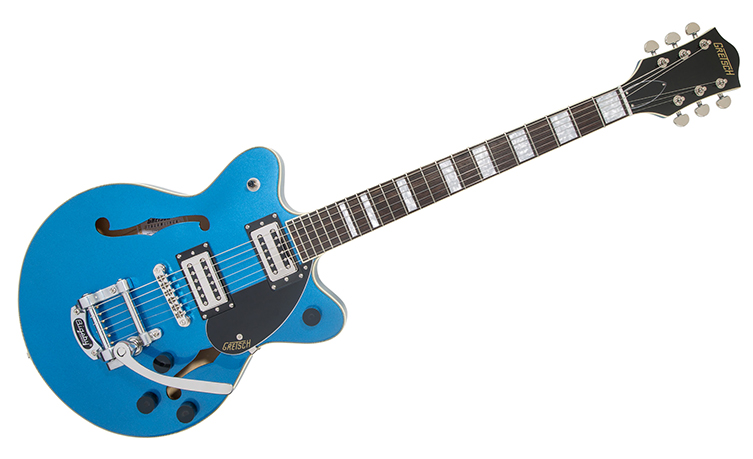 We've chosen the G2655T model to highlight today. It has a smaller body (they refer to it as a 'Jr', but it's a full-sized guitar, it just has a downsized body) and a chambered centre block, meaning it sits right between the T-style thinlines and the larger 335-style models. Block inlays, a Bigsby trem, and some eye-catching finishes bring not only tons of Gretsch swagger but also great value for money to this excellent, charismatic instrument.
G&L Tribute Asat Classic Bluesboy
Leo Fender's final guitar brand weighs in with a most impressive thinline contender. The value here is quite considerable: USA-made pickups adorn this guitar, making it significantly better sounding than most of the similarly priced competition. These are made up of an alnico humbucker in the neck and an MFD single coil, designed by Leo to be loud, clean and low in background noise. Both units sound superb, with a complementary and - suitably vintage - tone and output.
These pickups are matched to a Swamp Ash body, solid to begin with, then chambered and bearing the all-important f-hole. Swamp Ash is a particularly resonant tone-wood, and one that many guitar builders up-charge for. It's the classic wood choice for a bolt-on thinline, and we're most happy to see it here! A range of finishes, including this bold Orange, still show off the Swamp Ash's distinctive grain.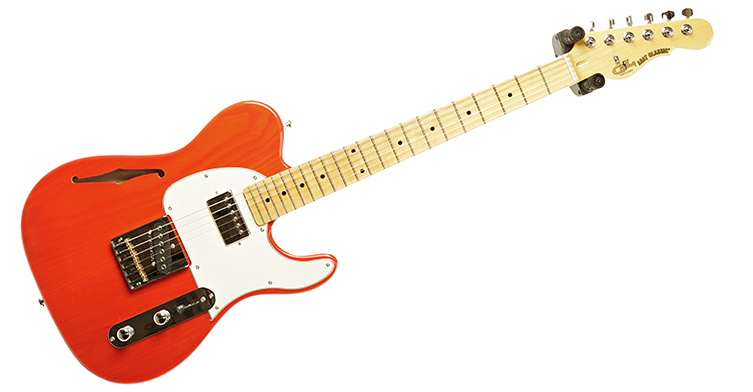 The ASAT also has brass saddles for extra attack and sustain. All in, this is a very discerning purchase for players looking to cover plenty of ground whilst enjoying a selection of high-quality tones. If you do not require a tremolo, the G&L ASAT Classic Bluesboy could be one of the most versatile guitars in your collection, not to mention the best value.

Squier Affinity Starcaster
Now this is an attention-grabbing guitar! Top marks to Squier for adding the Starcaster to their roster. The Starcaster is a Fender design from the 70s, and its distinctive offset body has been seen occasionally since. This ultra-affordable model eschews all superfluous decoration, wisely understanding that the body shape itself is eye-catching enough.
Two humbuckers and a simple control layout are all you need here, along with a hard tail and bolt-on neck. Squier have kept the massive headstock and also, impressively, the arched top! It looks awesome, plays well and has a surprisingly modern, aggressive tone. At this low price, how can you fail?

Fender Vintera 70s Telecaster Thinline
To many guitarists, this is what they think of when they hear the term thinline. Fender's f-holed Telecaster is a classic in its own right, of course, and has been available in many guises over the decades.
This particular model, the 70s Thinline, comes from Fender's new Mexican-made Vintera range. An amalgamation of Vintage and Modern-Era (see what they did there?), the Vintera range at large is pretty impressive, showing that Fender understand not only what their fans want but also how to give it to them.

An Ash body is used here, chambered and matched up with a set of Fender's own-design Wide Range pickups. These are humbuckers, but slightly different, with each coil being individually wound, rather than both being wound together like a conventional humbucker. The result is a clear, bright tone with detail and depth, though still bringing muscle and girth.
These pickups, combined with the chambered Ash body, provide an excellent example of that Thinline sound.
PRS SE Custom 22 Semi-Hollow
Now, this is relatively unusual for a semi-hollow guitar! This is a thinline take of PRS's super-successful Custom 22 guitar. Normally, the Custom 22 is a solid-bodied Rock machine, and you can see that influence remaining in the use of a 'proper' whammy bar and Wide Thin neck profile. We love the mix: it gives the SE Custom 22 Semi-Hollow a wide-open set of possibilities with no preconceptions about how it's 'supposed' to sound.
In practice, this is a very versatile beast: the semi-hollow Mahogany construction adds that extra resonance and 'semi quality' that we spoke of earlier, whilst still being on-point in the Rock stakes. Blues players will love this, as will Jazz and Fusion guitarists. The PRS touches are all present and correct, from the Flame Maple veneer to the Bird inlays.

D'Angelico Premier DC Stairstep Fiesta Red
This confident D'Angelico is all dressed up and ready to go! The D'Angelico brand originally comes from the same era of early 20th Century NYC guitar builders as Epiphone, and they wear their Art Deco influence proudly. Check out that headstock! And that 'staircase' tailpiece! We love it.
It's not just shallow good looks here, though. Duncan Designed humbuckers and a 14" radius fingerboard make this guitar a pleasure to zip around on, dressed in your best suit and preferably adopting a Bronx accent. The D'Angelico Premier brings the style, but it brings the tone and the feel, too.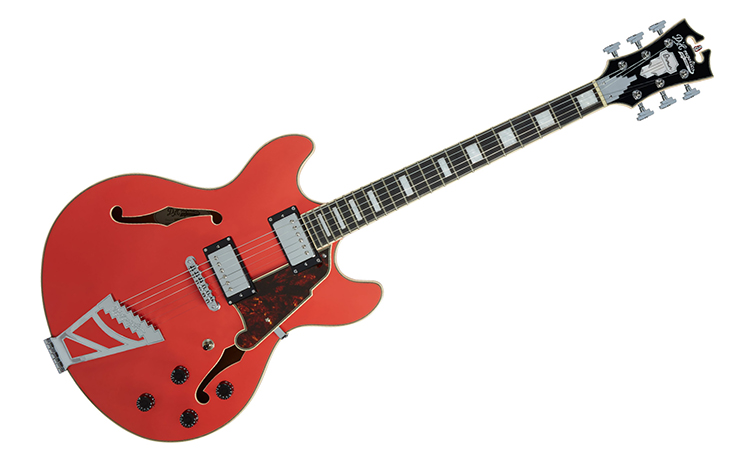 Reverend Airwave 12 string
Our final selection for today is a fantastic thinline with a twist: it's a 12 string! 12 string electric guitars are thin on the ground, so finding one of this quality, not to mention this price point, is exciting!
The Reverend Airwave has a beautiful, unique visual style and features lots of design innovations to set it apart from the (limited) competition. The Korina body is chambered and then a Solid Spruce top is added: no plywood here! Custom wound pickups, the Reverend patented Bass Contour control and a clever bridge design that lets you individually intone each string make up a few of the player-friendly features here.
The airiness of the semi-hollow body, together with the chime and natural Chorusing of those 12 strings, make this guitar particularly beautiful sounding.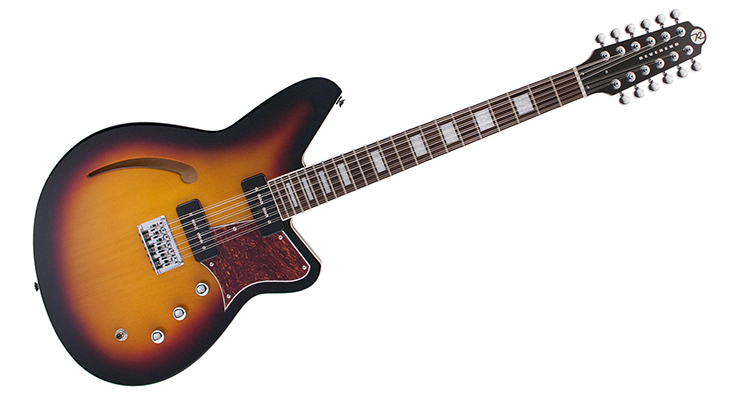 Final Thoughts
The world of thinline electric guitars is, as we've hopefully demonstrated, a rich and varied one. You can come at the subject from all kinds of angles, and whether you are after a versatile instrument or a really specific tone, you'll likely find some excellent guitars here.
We've kept the price point to roughly under a grand (often WAY under a grand!), since we feel there is more than enough variety already without launching the prices into the stratosphere. Needless to say, we do carry a wide selection of high-end Gibson, Gretsch, Fender and PRS thinline guitars, along with fully hollow body guitars, too.
If you have not yet delved into this world, you may be missing out on a sonic experience that perfectly matches what you have always wanted to achieve in terms of guitar tone. Give some a try!
Check out guitarguitar's full range of semi-acoustic guitars here on our site, and visit us to see these beauties in the flesh!