A Closer Look: Gibson Tony Iommi Monkey SG
Published on 31 March 2020
There is nothing more powerful in the world of music than a well-aimed riff.
No one knows this better than Black Sabbath supremo Tony Iommi.
We're willing to bet that at least 8 out of every ten Rock guitarists can play at least one Black Sabbath riff, no question! They were and are the reigning Lords of heavy guitar. Since 1970, Iommi's Doom laden hooks have sunk into the heart of every music fan with a taste for darkness. His ability to write catchy, iconic riffs is a major factor in the success of Sabbath, and part of the appeal is to imagine him, clad in black and multiple silver crucifixes, leaning over his Black SG and cranking out livewire riffs like Hell spawn itself.
Except...it wasn't a Black SG at all.
It was a mid 60s Cherry Red SG Special. With single coil pickups and a sticker of a Monkey on it!
Yes, the true weapon behind such hits as Iron Man and Sweet Leaf wasn't quite as satanic and blasphemous as we thought! It's still a mighty weapon, without doubt, and has been used to write some quite significant musical history.
Understanding how many SG's he's probably helped sell over the decades, Gibson have recently decided to pay tribute to Iommi by recreating this 'Monkey' SG in its entirety. No mere 'Special Edition', this new guitar is a full-on replica, complete with every forensically mapped scratch, ding and hole created by years of use and hardware upgrading. At this year's Winter NAMM show, Gibson unveiled it to the public.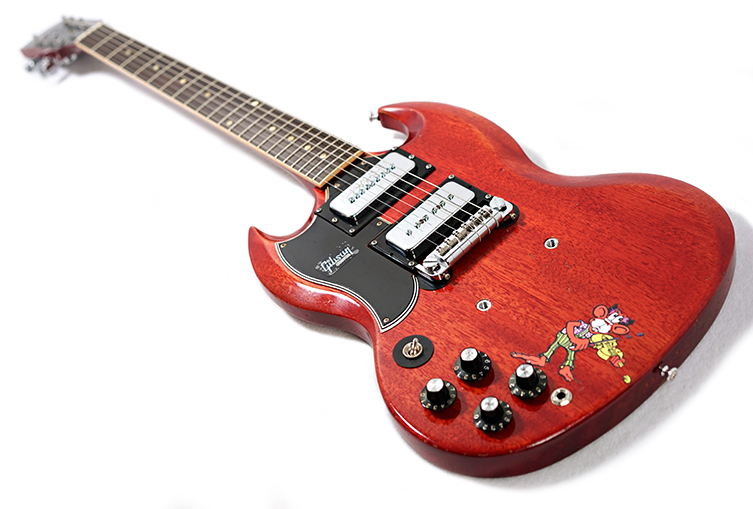 Even Tony himself can't tell the difference between the original and the replicas! Truly astonishing levels of effort have gone into making this instrument an indistinguishable facsimile of the original. We are talking about exact wear marks, holes where tuners have been upgraded, finish checking in the precise places...it's no mean feat!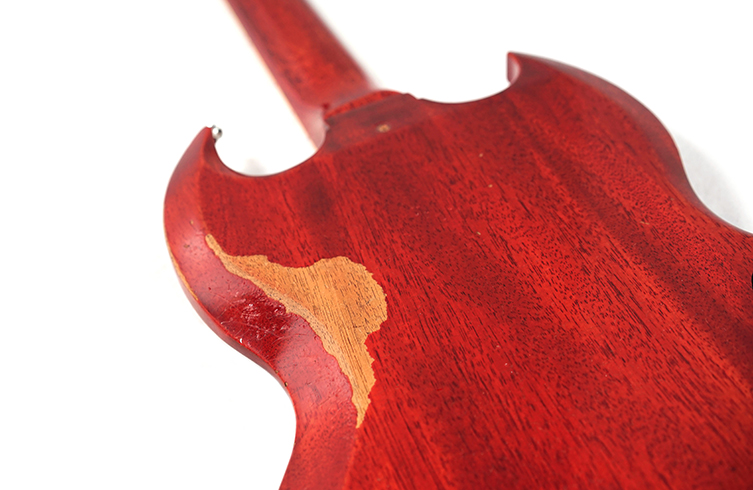 Gibson have made 50 of these guitars only. 25 are lefties, in fitting with Tony's own orientation (not to mention how the real guitar actually is!) and all are hand signed on the back of the headstock by Tony himself. Sounds good so far, but what else is there to look out for with the Gibson Monkey?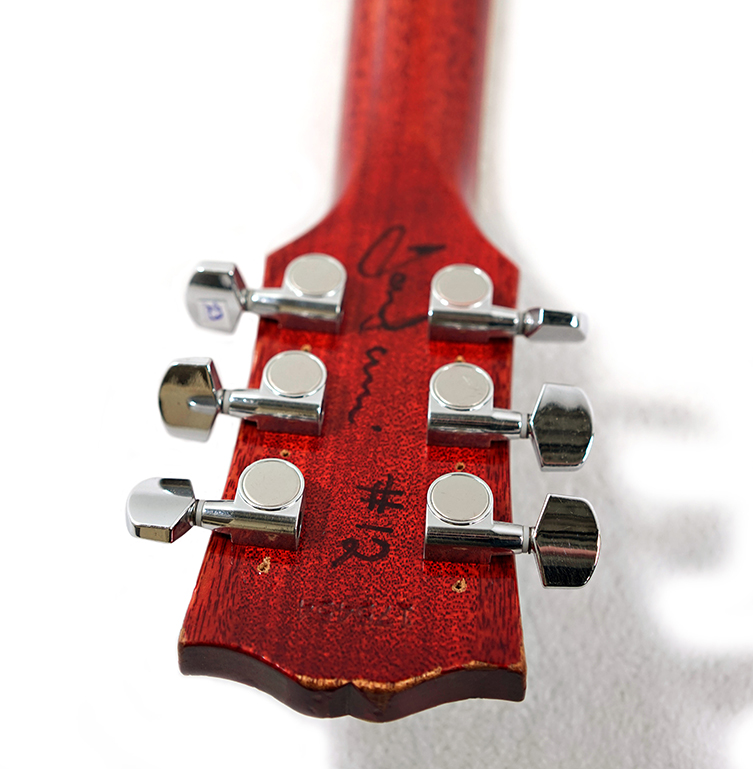 So, according to Gibson. The original guitar was a '64 SG Special. According to Iommi's website, the Monkey has been identified as a 1965. It's not a huge distinction to be honest, se we're going to stick with 'mid 60s', and that of course means, for an SG Special, P90 pickups and all-Mahogany construction. The SG Special originally had only one pickup. Tony modified his by getting John Birch to build ham another, and also to encase his Gibson pickup in a metal cover to match the new Neck model. For this tribute instrument, Gibson approached an apprentice of the late John Birch to hand-make the pickups. This level of authenticity is both respectful and appropriate.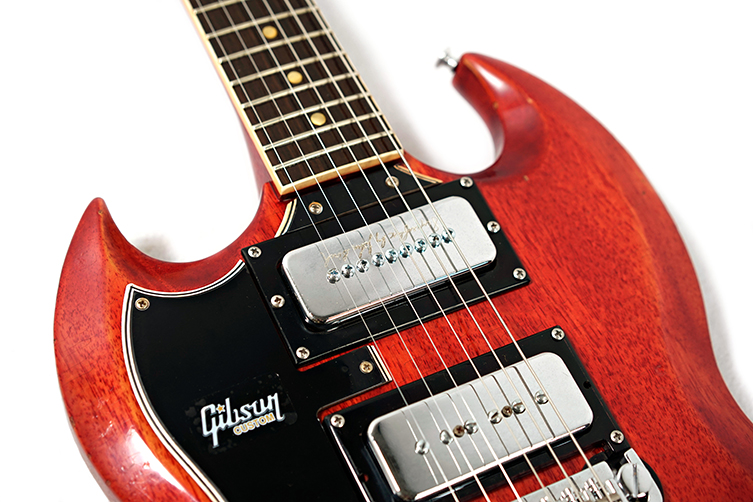 It seems that Iommi couldn't leave his SG alone: there are modifications galore, all of which are artfully recreated. An obvious one is the bridge: the stop tailpiece and TOM bridge had been replaced with a wraparound one-piece bridge, since Tony needed a bridge that would be better equipped to handle the light string gauges he needed. This modification left behind a pair of large holes in the body where the studs of the tailpiece had once lived. These are here, as are the small holes left by an upgrade of tuning pegs up on the headstock.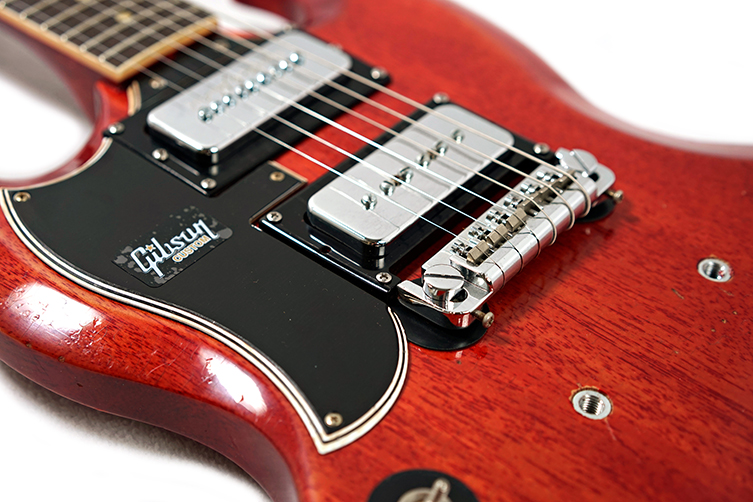 The details continue: turn the guitar over and you'll find perfectly recreated areas of 'battle damage' where the cherry red finish has cracked and fallen away to reveal the solid Mahogany underneath. Glance down to the back plate that covers the electronics and you'll find a scrawled etching of Iommi's name scratched into the plastic! What a brilliant detail!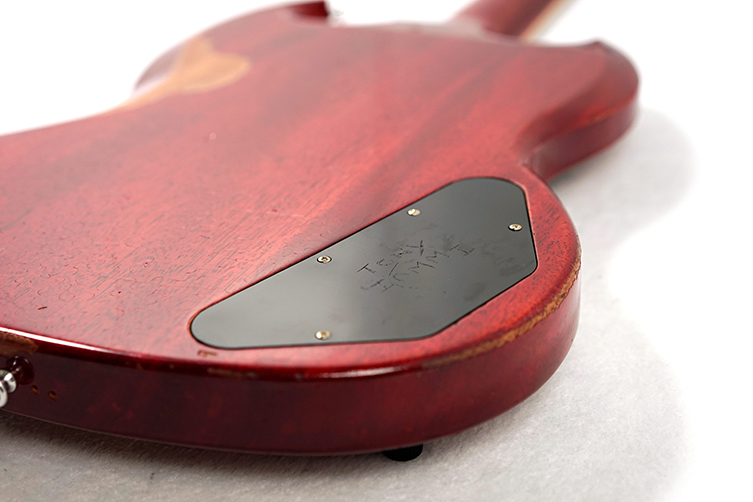 What else? Well, it hopefully goes without saying that Gibson have recreated the Monkey sticker, but what might not be mentioned is how well this little violining primate has been aged! This is a very necessary part of the process: it would be a fatal misstep to plonk a fresh new sticker on top of all of the relic'ing labours that have been so carefully carried out to the body and hardware! Suffice to say, if Gibson told us they'd found a fifty-year-old stash of Monkey stickers lying in some Birmingham drawer, we'd readily believe them!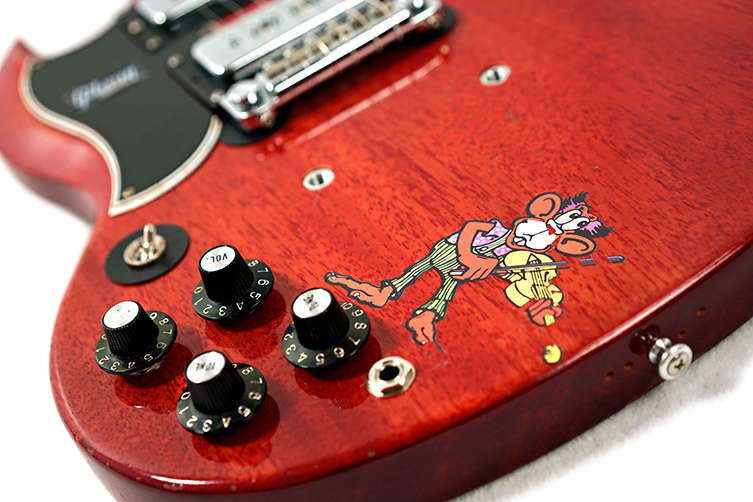 Also, it's well worth mentioning the unusual, and entirely accurate, treatment of the fingerboard: it has been coated with a layer of glossy polyurethane! The reason for this is pretty simple. As we all know, Tony lost his right-hand fingertips in a grim sheet metal factory accident and has to use false fingertips to play guitar with. By coating the fingerboard, the polyurethane builds up slightly towards the frets and makes the surface much easier for his fingers to slide around on. The fingerboard also sports a 'zero fret', something that Gibson generally do not add to their guitars, and which may well be included here for similar reasons, as on the original.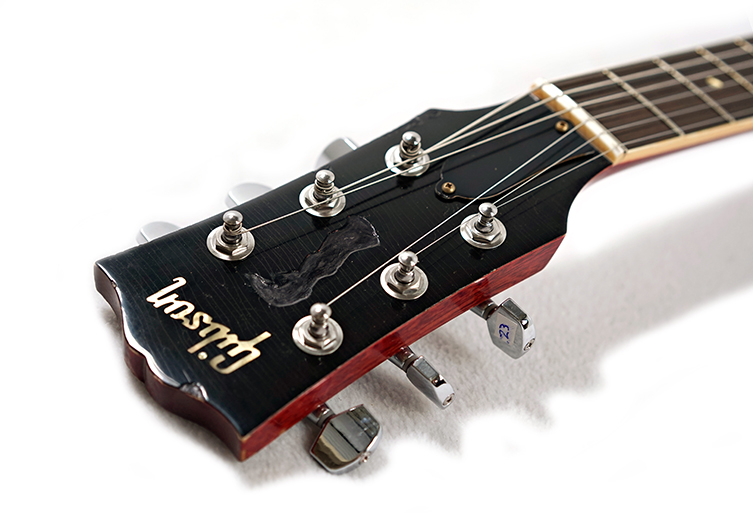 The Gibson Tony Iommi Monkey SG comes with some great case-candy too: not only do you get a 60s-style case and replica of Tony's touring guitar strap, you also get one of Tony's fantastic silver cross necklaces, which come with their own coffin case!
For all students of the Dark Arts, we have one of these incredible recreations available. It's the closest ever replica to the guitar you've listened to for decades. The guitar on all of the main guitar parts for the first five Black Sabbath records. It's the magic wand of a magic Riff Lord, and it can be yours.