A Closer Look: Yamaha THR5A
Published on 14 May 2020
Yamaha's THR amplifiers have been a hit with guitarists.
This range of small, stylish and specific amps have found their way into many houses, studies, home studios and more over the last few years. Their distinctive styling, top notch natural sound and their solid versatility have helped the THR amps score big.
Part of the appeal is basically how fun they are to play. They are not all things to all players, but instead a few great things to most players, wrapped up in a quality metal chassis with a good selection of sounds that you actually find yourself using, rather than skipping through. The addition of thoughtful features like USB connectivity and an Aux in cable expand the THR range's appeal without making things overly complicated.
Most THR amps are, as you'd expect, designed for electric guitars. This one we're looking at today though, is the THR5A, designed and built for electro acoustics. Let's dive in...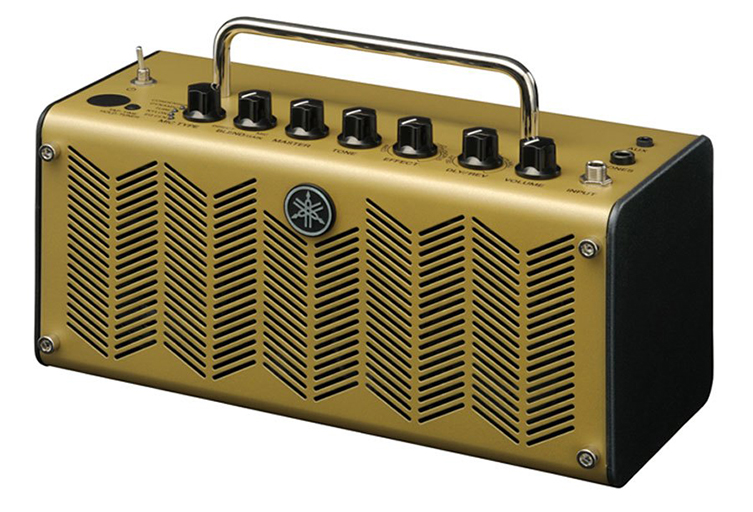 Specifically for Acoustic Guitars
The THR5A swaps out amp modelling almost exclusively for microphone styles. This makes a lot of sense, since acoustic guitars tend to be either mic'd up or DI'd into a mixer at live gigs, avoiding amps entirely. The THR5A is great for Silent Guitars, since you can plug them in and give them a voice!
The mic models include condenser, dynamic and tube mic styles, along with a channel specifically for nylon string instruments and an 'amp' channel which models a US-style clean tube amp. We like this decision: some acoustic players - particularly those partial to a little bottleneck playing – often choose to go through small tube combos so this option brings you that type of sound.
There's a separate control knob to let you determine your preferred blend of direct sound and mic model, too. These nuances make a real difference!
FX You Can Use
Yamaha have incorporated an FX system that spreads the most commonly used effects for acoustic (compression, chorus, reverb and delay) across two intuitive control knobs. Adding space and dimension to your sound is easy and quick, with no menus to trot through. Also, the more 'out there' effects – the type you'd almost never use with an acoustic guitar – are only available via Yamaha's THR editor software. Deep edits and extra effects are available here, and you upload your choices to the amp via the USB connection. We like this compromise since it works in favour of most players, not to mention retaining the sleek simplicity of the amp box itself. If you want more, you can have: a minute or two of connecting to your laptop will have you sorted. If you don't need the extra options, just ignore this whole section and get playing! The choice is yours!

Stylish Looks
The Yamaha THR5A is, like the rest of the THR range, designed to fit into your living space. As such, it's ergonomic, subtle (you don't see speakers, for example) and has an appealing Art Deco-style metal chassis in order to add to the look of whichever room you place it. Aesthetics in the home are an important factor, especially if you are co-habiting, so this side of things shouldn't be underestimated. A streamlined selection of controls sticks to this understated, yet very specific, design ethic, as does the curved chrome 'lunchbox' handle.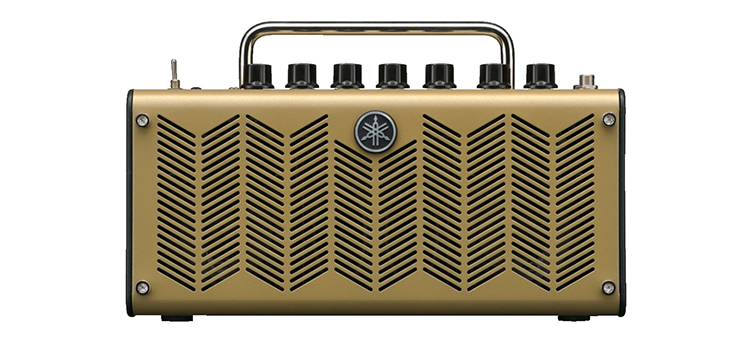 True Portability
The Yamaha THR5A weighs 2kg. That is nothing for an amplifier! It comes supplied with a mains adapter, but it can happily run for 6-7 hours on a set of standard AA alkaline batteries, too! Take advantage of that nice big handle and carry it outside with you for some al fresco playing! The sturdy metal casing will be more than up to the task.
The THR5A will give you 10 watts of power, 5 watts from each of the 8cm full range speakers. Use that AUX in connection to play songs from a phone or tablet, if you want something to jam along to or just switch things up and have a portable music player!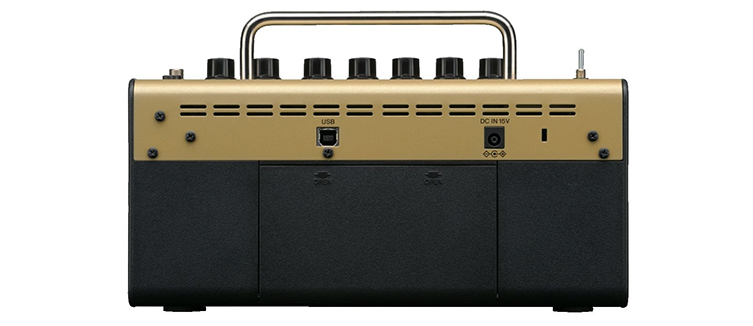 Final Thoughts
If you want to get more from your acoustic guitar in terms of sonic potential, we recommend having a good look at the Yamaha THR5A. Nylon string players, Dobro players, Mandolin players, all of you can add volume, space, dimensions and movement to your sound by plugging into one of these. Do you play at a local folk club? In a pub or similar venue? See what one of these can do for your sound! The Yamaha THR5A is actually great for violins, too, and any acoustic instrument that uses a piezo-electric pickup.
Be creative. Think outside the box. Try a Yamaha THR5A.