First Look: Martin SC13E
Published on 21 May 2020
What sort of words come to mind when you think of Martin guitars?
Heritage?
Tradition?
Historical?
Those are some of the first words we think of, alongside 'quality' and 'significance'.
It makes sense: of all of the premium acoustic guitar builders out there, Martin have the most visible and storied past. We won't go into massive detail again, but suffice to say that when Elvis, Johnny Cash, Joni Mitchell and Neil Young have all been pictured strumming and picking on your guitar brand, you're a big part of culture!
So, bearing all this in mind, we tend to expect a certain type of guitar from Martin. When they release a new model, you could say that we kind of know what it's going to look like, to a certain degree.
Not this time.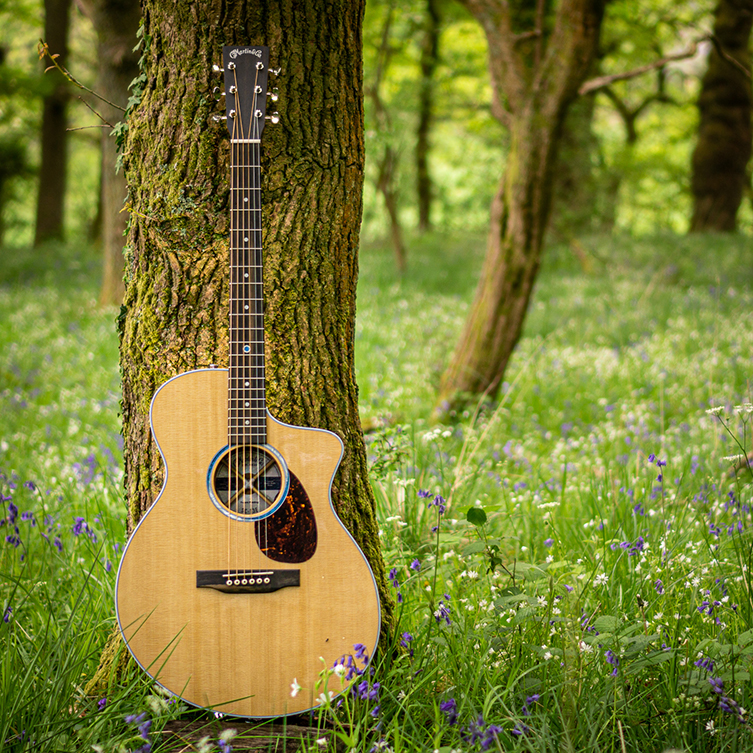 Martin SC13E
As soon as you lay eyes on the Martin SC13E, you can tell that's it's a complete re-drawing of the acoustic guitar. The offset body shape is entirely new, and that's just the beginning. Join us as we take a look at the ins and outs of Martin's truly Space-Age new guitar...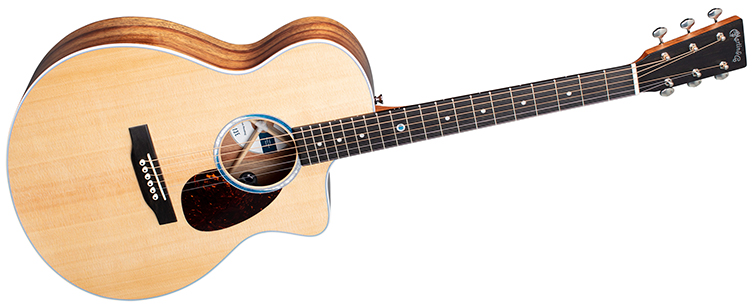 Access
The real key to this guitar is the access. The focal point of the SC13E is the unparalleled upper fret access granted to the player. Martin's thinking is that more and more acoustic guitarists are playing in ever-more unorthodox ways, and this often involved the use of higher frets. Also, many predominantly electric players become frustrated which the lack of access to frets on acoustic guitars that are no problem to reach on their electrics. The SC13E is Martin's response. Joining the body at the 13th fret (which in itself is unusual), every fret is highly available to the playing's fretting hand.
In order to do this, Martin have designed an entirely new neck joint, known as the Sure Align Neck System. There is still a dovetail neck join, but it is horizontal rather than vertical. Pressure is applied to the join via two screws, which do not pass through the neck into the body: they are merely there to apply the required pressure.
The back of the neck join has been carefully sculpted to allow the player's left-hand an unobstructed path into the 'nosebleed' territory of the neck!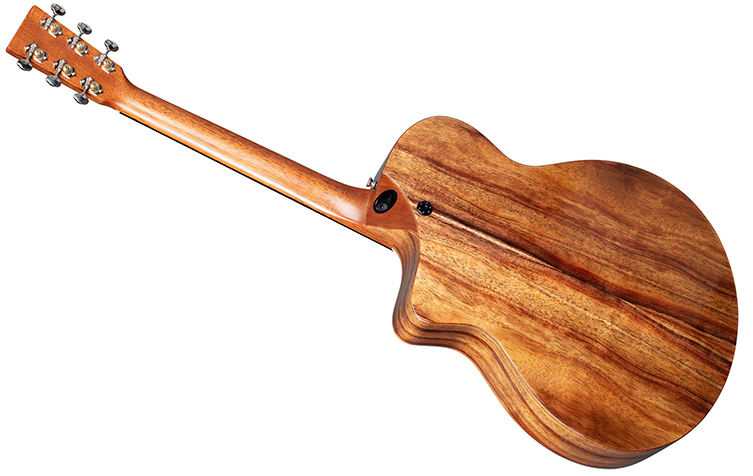 Offset body
Asymmetry is something that is normal for electric guitars, but it's still quite unusual for acoustic guitars. The Martin SC13E's body is designed with the performer in mind, and so hangs perfectly from a strap for playing live. The body is made with layered Koa and the top is solid Spruce: a perfect tonewood for strumming, fingerpicking, percussive taps and more!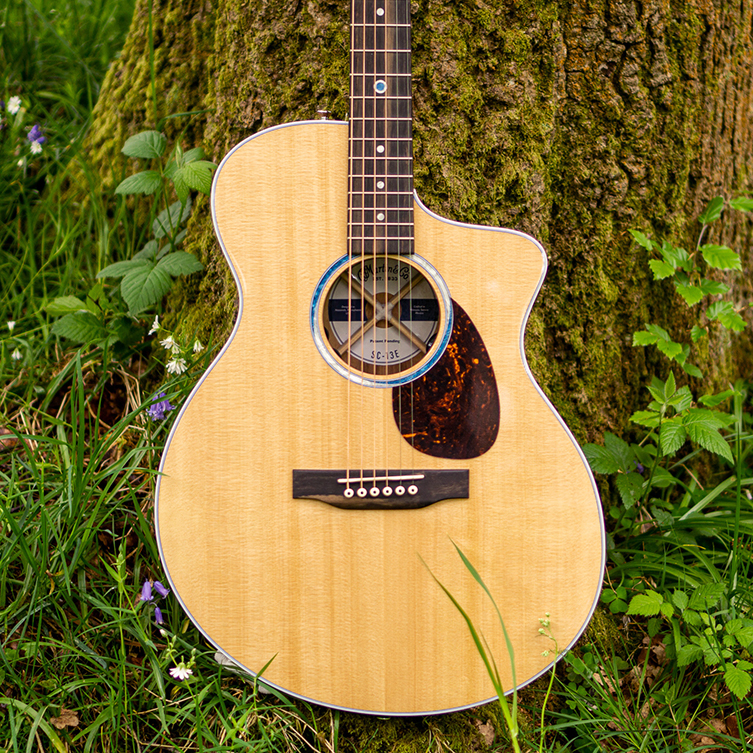 Performer-Designed
The performer-based features are numerous. In addition to the asymmetrical body, the neck itself is a Low-Profile Velocity neck with a tapered profile. It's thin, string and very easy to navigate! An Ebony fingerboard provides a rich, tight and flat playing surface for all of your dextrous escapades, making the Martin SC13E a delight for guitarists of all styles and genres.
Performers need to plug in, and so Martin have made the SC13E ready to rock straight out of the gig bag by fitting a top-quality Fishman MX-T pickup system. The preamp is located in the soundhole, where discreet volume and tone controls can be accessed.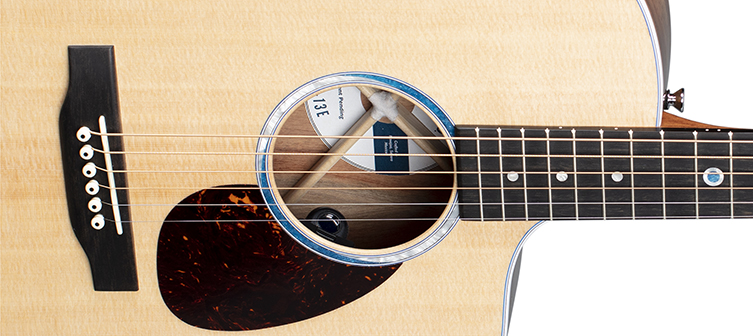 The guitar's slightly higher up X-bracing (scalloped on the treble side) and non-scalloped Tone braces ensure that the most is made of the body's curves: this is a nicely balanced sounding guitar with plenty of low-end response and top end sparkle.
The SC13E was made for live performance, so it's a loud creature indeed! Thankfully, the body design helps you get a higher volume threshold before feedback creeps in. You won't have to watch how hard you strum the SC13E on stage: it can handle it all just fine.
Clean, Modern Looks
In addition to the quietly futuristic body shape, the Martin SC13E has a few other visual details to further define its unique voice and aesthetic. The rosette is a cool pearlescent blue, described by Martin as an 'Aperture Design', and the colouring is also used for the top binding around the body, too. The 12th fret inlay continues the theme with a 'Celestial Bullseye'. All of this helps define the guitar as separate from more traditional Martin designs, without 'jumping the shark' and releasing something unrecognisable. It's a great balance of what we know and what we don't. In short: it's beautiful and modern.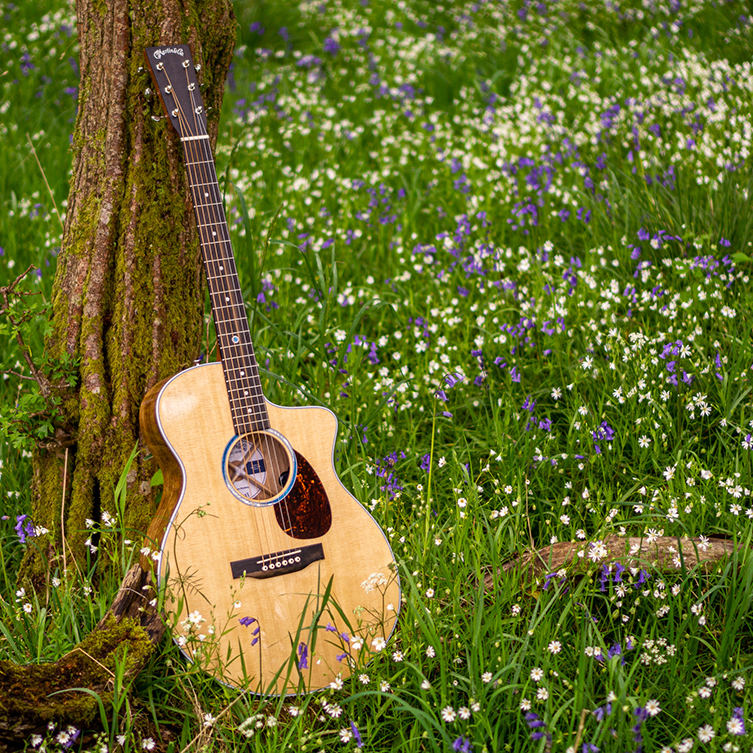 Final Thoughts
Martin has a huge range of acoustic guitars in their product catalogue. The SC13E successfully sticks out by genuinely offering something new to players who err on the side of modernity but still appreciate heritage and provenance. All of the SC13E's innovations have been designed and implemented for solid, practical reasons: it isn't just about trying something different. That's mainly why we are excited to bring this guitar to you. It's fresh, it offers you a new playing experience, but doesn't dictate how or what you should play: it (literally) gets out of your way and lets you concentrate of the important stuff: the notes.