The guitarguitar Interview: The Twilight Sad
Published on 30 October 2020
When The Cure's Robert Smith describes you as one of the best bands around, you know you're doing a few things right...
Such is the case with The Twilight Sad, a post-punk, indie rock band from Glasgow. For over ten years now, the Twilight Sad have mixed krautrock beats, atmpspheric guitars and synths with a melancholic, slightly paranoid sound that has won them fans across the globe. Over the course of five albums, their sound has developed to include more textures and drama, broadening their appeal without distilling their impact. The band themselves describe their sound as 'folk with layers of noise' which, in a certain context, makes a lot of sense, though we have a feeling that tongues were somewhat residing within cheeks when that comment was made!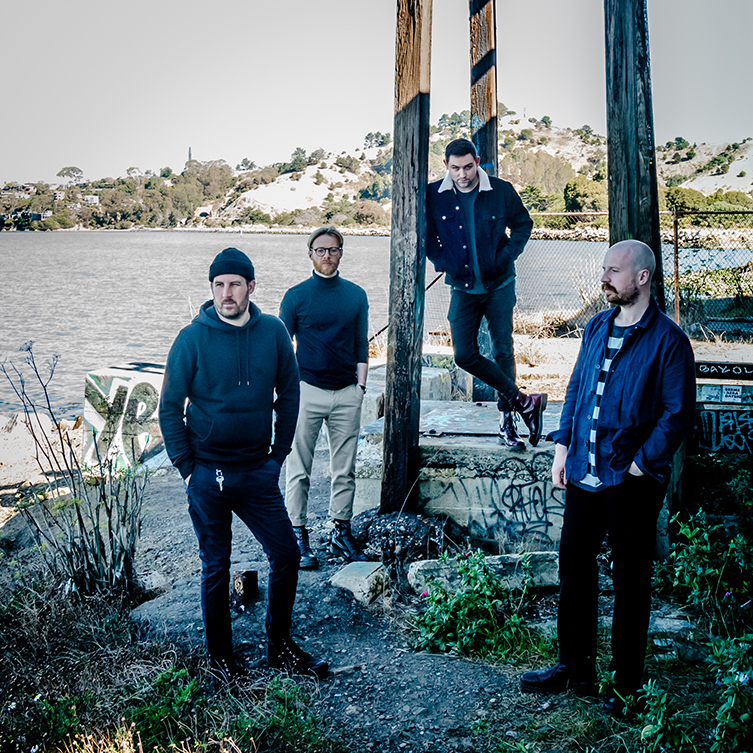 (Photo: Paige Parsons)
The Twilight Sad are one of those bands who've become quietly 'big' on their own terms, without seeming to chase any commerciality or status. That is perhaps exactly why their hardcore fanbase aprreciates them so much, whether those fans are gobal megastars like Robert Smith or not.
We thought it was high time we chatted to the Twilight Sad, to see where their sound comes from, and also what they've been doing with themselves amidst the ongoing covid pandemic. Bassist Johnny Docherty gamely agreed to take part in a Q&A for us, where we talk about his role in the band, the influence of landscape, and about longevity within a fickle industry...
Guitarguitar: So, Johnny, how have you been managing the whole COVID situation? It must have seriously disrupted your plans, right? The Twilight Sad were supposed to have played some special quadraphonic shows at the Barrowlands, weren't they?
Johhny Docherty: Hello, I am great thanks. During the past 6 months or so I have been trying to keep busy, fixing things around the flat and sorting a bunch of stuff I have either been putting off doing or not really had the time for. As far as the band goes it has been pretty tough with postponing shows and trying to keep the finances afloat. The Barrowlands shows have been rescheduled for May next year so we are all very much looking forward to that.
GG: Talking of big special gigs, you guys supported The Cure at a number of world-famous venues including the Hollywood Bowl and Madison Square Gardens. First off, what's it like to play in such legendary places? And secondly, how has Robert Smith's long-term championing of the band affected you guys?
JD: Surreal would be an understatement. Both of those shows were incredible. Obviously playing such iconic venues, the nerves are at their peak! I remember as we were just about to go onstage at MSG for the first time, the stage security thought it was the perfect time to tell me who had played there and whose shoes I was walking in. That's one way to put the fear of god in you! I'm pleased to say everything went well and after the first song or so the nerves began to settle.
We couldn't ask for a better mentor in Robert. He has gone above and beyond, we wouldn't be where we are today without his support.
I like bass players that don't really play orthodox or classically.
GG: Returning to the beginning for you, you joined the band in 2010, after they'd already become quite established. How did you come to join them? Was it a big step up on what you'd done before?
JD: Yeah I started playing with the band towards the end of the Forget The Night A Head campaign. I had randomly met James a few times in the pub and I must have mentioned that I was looking for session work; TBH the encounter is a bit hazy. I hadn't really listened to the band prior to this point. I was playing with my own band, Take A Worm For A Walk Week at that time and the only time I had heard TTS music was on tour in the van. I was doing a lot of session work for other Scottish bands at the time and session work was something I wanted to progress with so I was very lucky to be asked to play with them.
GG: Before joining as bassist, you were a guitar player, is that right? Did you always play bass as well, or did you switch for the band?
JD: I started off playing bass when I was in high school and then moved to guitar in my early twenties. I returned to bass to pursue a job as a session musician. Now that I have been playing bass professionally for over 10 years I have grown to prefer the bass to the guitar.
GG: Who are your bass playing influences? And how do your influences gel with those of the other Twilight Sad members?
JD: I guess my influences are pretty stereotypical to someone who started playing bass when they were 15 but it has evolved as I discovered new music and my taste in music evolved. First off, Cliff Burton of Metallica. Metallica was the first band I really started to enthuse over. Trying to learn all the bass parts from Master of Puppets and Ride The Lightning. Moving through the years I began to discover bass players like Jaco Pastorius, Justin Pearson, Mick Karn, I like bass players that don't really play orthodox or classically, if that makes sense. I'm sure the rest of the band could enjoy some Weather Report or Japan but I think The locust might be pushing it a bit.
GG: I've seen pictures of you playing a Travis Bean bass: is this your main bass? What other basses do you use?
JD: The Travis Bean was my main bass but as the price has increased I have decided that it will need to stay at home for now. I will use it for local shows and recording but I can't risk flying with it anymore. I also have a 1978 Fender precision bass, a 1989 Fender precision bass, ReBirth custom jazzmaster bass and a Copeland precision bass. The ReBirth has become my main touring bass now. It has the closest sound to the Bean, plenty of bite and punch, plus it's about half the weight. I also use a baritone live which is a Squier Bass VI. I ripped the electronics out and replaced the pickups with one Bare Knuckle Trilogy Suite single coil. Sounds great!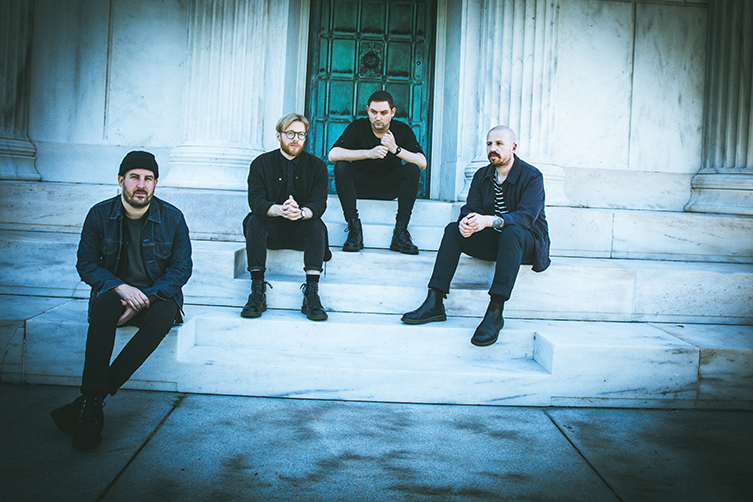 (Photo: Debi Del Grande)
GG: Do play fingerstyle or use a plectrum? What's your preference for strings and picks?
JD: I use a pick, I believe it's a Dunlop 0.88, I just prefer the sound for the kind of music that The Twilight Sad plays. I use 105 gauge Dunlop bass strings. They have quite a dark sound that I love.
GG: What's your typical live set up, in terms of amps, cabs and effects?
JD: I use an Orange AD200B mk3 bass head. It is by far the best bass amp I have ever played. Very versatile and it has those old classic characteristics. I run that through a 2 x 15 bass cab, which is loaded with some Celestion speakers, I can't remember the model unfortunately. Effects pedals tend to change about a bit to keep things fresh for me or I'll change things up if I come across something new. The pedal chain is: Fender splitter box > Boss TU3 > MXR compressor > DI > Orange Two Stroke > MXR Submachine > TC Electronics Bass Drive > MXR Chorus > Earthquaker Devices Hummingbird > Earthquaker Devices Transport SNR. The DI is so James has a clean line going to his IEM's.
I have the Two Stroke on at all times; I feel it adds a bunch of clarity. The Submachine is just for the fuzz and the Bass Drive is my boost. It is the best boost/drive pedal I have ever heard. Unfortunately they don't make it anymore so if anyone who is reading this has one please get in touch, I could always use a backup ;). I use the chorus for a bunch of the newer material and the Hummingbird is just for adding some texture, mainly at the end of songs or I use it in the middle of Let's Get Lost. The Transport SNR is for the end of songs and for creating noise at the end of the set.
There is quite a lot of swirling noise coming from the band live so I need to ensure my bass is able to cut through all of this. The combination of the AD200B and the Two Stroke really help me to do this.
We couldn't ask for a better mentor in Robert Smith. He has gone above and beyond: we wouldn't be where we are today without his support.
GG: Does this set up differ from your studio rig?
JD: The studio setup does differ. Depending on what the studio has I may try that but for the last two records I have used the AD200B. I used a combination of the AD200B and an old Traynor TS60B for Nobody Wants to Be Here and Nobody Wants to Leave. I used a Sovtek Big Muff for the drive on those records and the MXR Chorus for a couple of things but I try to keep it simple when recording. As for basses I used a 1976 Fender Jazz bass for Nobody Wants to Be Here and Nobody Wants to Leave and the Travis Bean for It Won't Be Like This All The Time.
GG: I heard that you've recently started to use the Neural DSP Quad Cortex, is that correct?
JD: We recently started working with Neural DSP but unfortunately due to Covid they had delays on the Quad Cortex units so I have not got my hands on one yet. In the meantime I have been enjoying their plugins, A LOT! It's great to finally have a bass tone that is transparent and punchy from a plugin. This is next level for sure! I would highly recommend your readers to check them out. We have currently been using the plugins for demos, which is sounding great. It just feels like a huge leap from what we were using previously.
GG: Do you find technology is part of the songwriting process from the start, or does it get added in later on?
JD: Technology comes into things further down the line. Once the record has been recorded, we figure out how we will play it live. The demo process mainly consists of guitar and bass plugins, drum samples and soft synths then when we get to the studio we will get the amps and synths out and re record everything. It's also nice to have the freedom to experiment in the studio. For instance on the last record we incorporated 'found' sound, recording washing machines and hitting old cars with sticks. We used sounds from trains, metal hits, anything really. I think adding these sounds can make a recording come to life and give it a unique sound.
GG: Talking of the band's sound, location seems to be a large factor in the sound and vibe of many bands. You are all originally either from Glasgow itself or the smaller surrounding towns like Kilsyth, right? With that in mind, how much of the city (or nearby rural landscapes) influences your sound? There certainly seems to be lots of urban imagery associated with the band, but that could be somebody else's interpretation, right?
JD: Andy is from Kilsyth but has lived in London now for a good few years and James is from a small village close to Kilsyth called Banton. James, Brendan and myself are all based in Glasgow now. As for our surroundings influencing the way we sound, I can agree with that. I think it would be hard not to take influence from your surroundings when doing anything creative. As well as our surroundings playing a part in our sound the usual aspects of life also play a huge role. To be honest, it would be hypocritical if it didn't.
GG: It's a cliché to say it, but there seems to be a kind of darkness at the heart of the band. Is this more about dramatic licence and artistic expression than overt despair? Like, a kind of dark 'folk' kind of attitude?
JD: I think this just comes naturally and has never been something that any of us have deliberately focused on bringing out in the music. We're a bunch of moody basterts!
We have always made music for ourselves first and foremost and if people like what we do, all the better!
GG: How important are videos and social media to the band in terms of exposure? I'm talking pre-COVID, really...
JD: As social media plays such a huge role in the music industry now, we try to stay as personal and in touch with our fans as best possible. James is constantly on Twitter and Facebook and reaches out to people when they get in touch.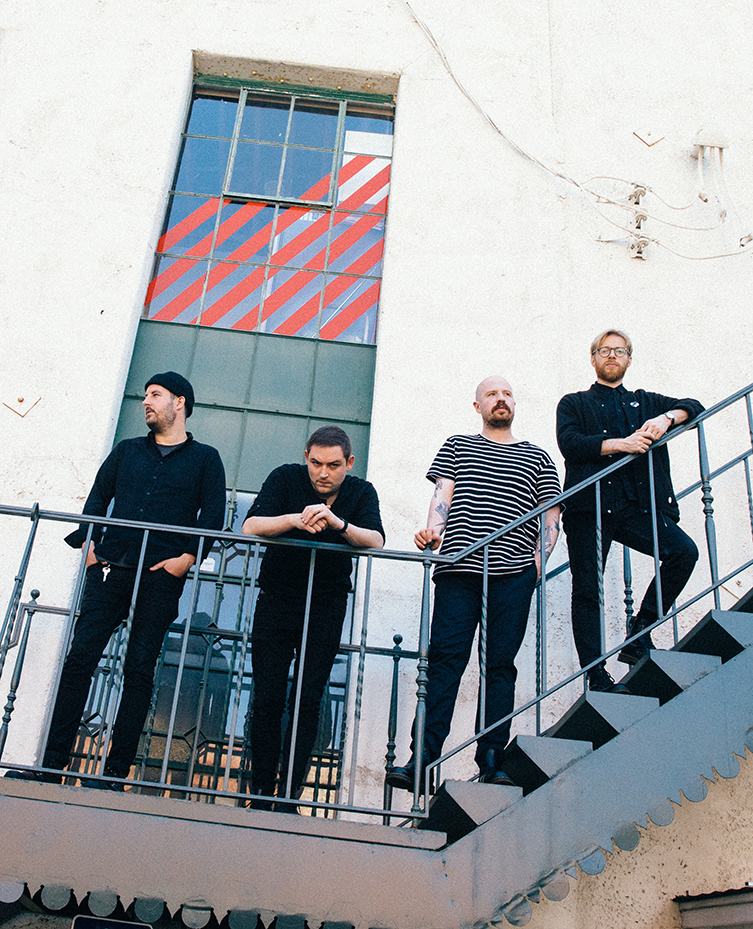 (Photo: Debi Del Grande)
GG: The Twilight Sad have been able to sustain a successful career for over 15 years, without making overtly accessible or mainstream music, or (from an outside perspective) being made to compromise your musical vision. How much of this is talent, how much is graft and how much is luck?
JD: I think this is perseverance to be honest. Sticking to what we know best and continuing to keep our integrity intact goes a long way. We have definitely had some major bouts of luck especially when it comes to the Robert Smith connection but we have also had some huge lows that we have managed to overcome. We have always made music for ourselves first and foremost and if people like what we do, all the better!
GG: Finally, given that 2020 has proven that even the best laid plans are subject to massive alterations, what to the Twilight Sad tentatively have in your diaries for the near future?
JD: We have three headline shows booked for next year on the 26th of May in Liverpool, two shows at the Glasgow Barrowlands on the 28th and 29th of May and two festivals on the 31st of July at Deer Shed festival and one on the 9th of Oct at Focus Wales. All going well of course. Fingers crossed!
Fingers crossed indeed! With any luck, the world of live music will be back with a vengance soon enough, and the Twilight Sad's ambitious live show ideas can come to fruition. We certainly hope so, for them and all musicians out there. In the meantime, please go to the official Twilight Sad website to keep up to speed with the band and their plans.
We'd like to thank Johnny for giving up his time to provide us with these great answers, and for using a fantastic Scottish term like 'basterts'! Thanks once again for clicking through and reading our interview. There are tons more interviews on the site (click through the 'More News' section), and more to come, so hopefully we'll see you back soon.
Until then,
Ray McClelland