Which Strat? A Stratocaster Buyer's Guide
Published on 11 May 2021
You have decided to buy a Fender Stratocaster.
Congratulations! It is by far the most famous and most iconic electric guitar the world has ever seen, so you are obviously making a wise choice.
Since 1954, Leo Fender's most successful creation has proven that there is really no equal to its perfect balance of form, function and beauty.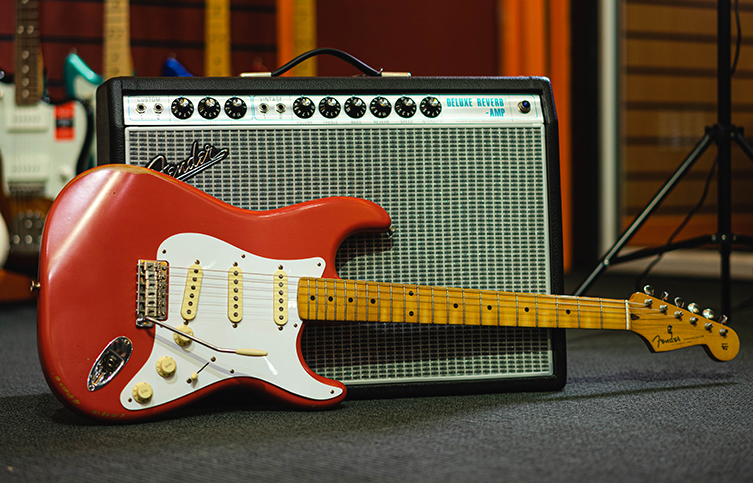 Now, it's great that you've narrowed your focus to the Stratocaster, but there are a lot of Strats out there! It's not only Fender's most popular guitar, it's also the most-copied guitar design in existence! There are so many variations of Stratocaster out there, how can you determine which is right for you? Even more puzzling is the fact that the cheapest models look pretty much the same as those that cost the same as a car! How do you navigate all of this?
The guitarguitar Stratocaster Buyer's Guide
With us, that's how! We've been official Fender dealers from the moment we started business, and we are one of the biggest Fender and Fender Custom Shop dealers in the UK. We love Fender, and we know Fender. When shopping for a Fender Stratocaster, there are many roads you can travel, so why not let us lead you in the right direction for what you want? We'll take in a number of categories, so that those looking for a more classic Strat will get the knowledge they need, and those who want a more powerful, contemporary model will learn what's out there for them, too.
Sound good?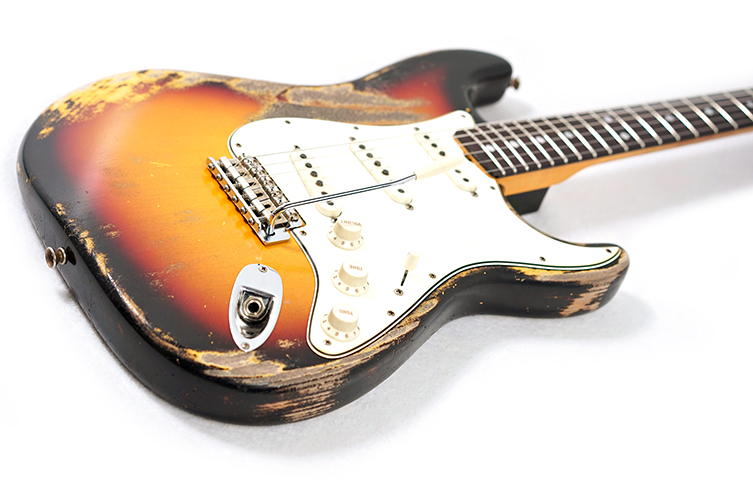 Only Fender Make Stratocasters
Now, before we embark on our journey, let's make sure we are on the same page. This guide will focus almost entirely on Fender guitars. As you know, most manufacturers make their own take on the Strat, but only Fender can rightfully use that name. This buyer's guide, therefore, will be about choosing the right Fender Stratocaster for you. Having said that, we'll include a section towards the end where we'll look at some 'Stratty' offerings from other top companies, too. Competition exists, and it's worth noting that the ideal Strat for you may or may not be created by Fender.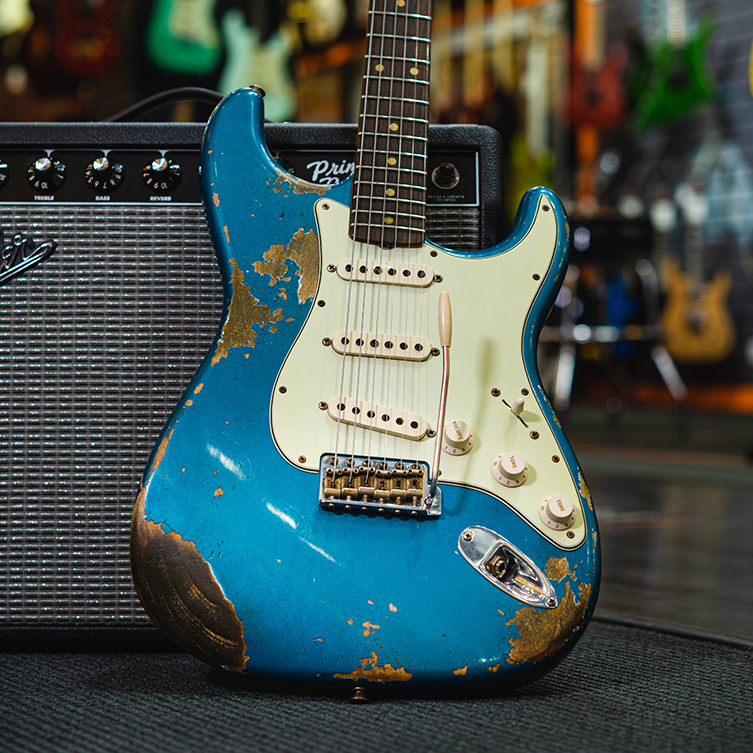 Vintage Versus Modern
The original Fender Stratocaster from 1954 had three single coil pickups and a Maple fingerboard. Since then, there has been a lot of variation introduced, so please bear in mind that, although a Strat with humbuckers and a locking tremolo is still a Strat, it's going to give you a very different sound and playing experience than something more closely modelled on Strats from the 50s and 60s. So, our 'baseline' idea of a Strat will adhere to the rough 50s and 60s blueprint, and we'll veer off from there, explaining the differences as we go. Okay, let's begin!

Affordable Strats
Our first section deals with guitars that most players will be able to afford without too much trouble. These guitars are a step above beginner's models, and in fact are entirely good enough to record and play gigs with. With all of our examples, there are usually more finishes available than we show here, so the descriptions and accompanying pictures are there as a representation of what's available!
Squier Classic Vibe 50s Strat
Our first choice is quite an unbeatable deal, in our opinion! Squier are historically known as the Far Eastern sister-brand to Fender who make beginner's guitars with designs licensed by Fender. These days, it's not so simple! Squier have always been dependable, but the last 5-10 years have seen a real upswing in their quality, design and sound. Squier are the brand to beat in the sub £500 Strat market, as evidenced by this Squier Classic Vibe 50s Strat.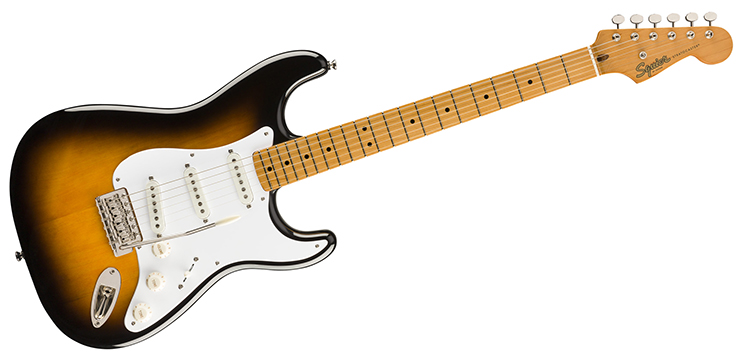 Today's example pays tribute to the dawn of the Stratocaster. It's a pretty faithful (given the price point) rendition of how Strats were in the 50s, down to the 2-tone Sunburst (sixties models typically have 3 tones in their burst), glossy neck and specially voiced pickups. Strats from the 50s were slightly less powerful than those of the following decade (nobody has been able to say why the Strat pickups were wound increasingly hotter in the 60s but they were nonetheless!), so they generally had more chime and twang in their sound. This Squier replicates that very well! Certain concessions are made to today's player, such as a C-shape neck profile (fifties Fenders were more 'V') and a slightly flatter 9.5" fingerboard radius. A higher number radius equals a flatter fingerboard, which in turn means easier lead playing. These things may seem small, but they do in fact really change how a guitar feels, so make sure you find out what you prefer!
Fender Player Stratocaster
Now, onto what may very well be the single most popular model currently available from Fender. The Player series was introduced around three years ago, replacing the phenomenally popular Standard Series. Made in Mexico, the Standard Series was seen as the affordable backbone of Fender's entire line, and was stratospherically popular. The Player Series had a lot to live up to, basically, but time has proven the range more than up to the match.

The Fender Player Stratocaster is available in a few guises, one of which we're see later in this article. For now, though, let us focus on the 'regular' Strat with three single coil pickups. What did Fender do to improve this Player model over its previous (and very good) iteration? Well, there are a few refinements to the recipe, most significantly in the sound. Fender have used beautiful sounding, specially made pickups featuring alnico 5 magnets for a much more authentically 'vintage' Strat tone than before. This difference is pretty obvious if you get to A/B an older Standard Series Strat, but let's move ahead since there's more to enjoy...

The body itself has been re-drawn to be more in line with vintage Strats (yes, not all Fender Strats have exactly the same body shape! We were surprised to learn that, too!), there is an additional fret, making for 22 medium jumbo frets in total The tremolo is a 2-point system, which means that the bridge is anchored in two places rather than 6 like you'd find on most vintage Strats. It's an all-round better and more reliable system, though some prefer the aesthetic of the 6-point pivot systems.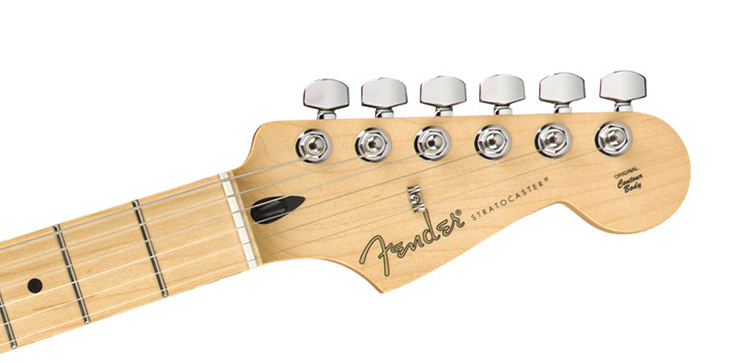 The Fender Player Strat adds a very comfortable slim C-shaped neck, a separate tone control for the bridge pickup and a host of excellent finishes to choose from.
We love details like the vintage logo on the headstock, and in fact the headstock itself, which has a gloss-finished front and matte back and sides. These things prove that Fender are not taking any chances with the Player Series: they understand how crucial this price point is, and they want to destroy the competition. Mission accomplished. By any standards and at any price, the Fender Player Stratocaster is one heck of a guitar.
The True Standard
This brief chapter is for the Fender American Professional II Stratocaster, basically. Throughout the decades, the 'American Standard Strat' has been the yardstick upon which all other Strat-type guitars have been judged. This guitar is not a retro classic, nor a high-powered gunslinger's axe, but the in-between land, where most of us want a Strat to be!
Fender American Professional II Stratocaster
As we said, this model is the standard upon which others are compared, so it's therefore a very significant instrument. The American Standard changed to the American Professional only two or three years ago, and this Mk II revamp only occurred late last year, so the range is still very fresh!

There are some stunning new finishes available, including Miami Blue and Dark Night, but these are only the tip of the iceberg in terms of what's been put into the American Pro II Strats! Newly designed V-Mod II pickups have been developed, with each pickup tweaked specifically for its position on the guitar. This is interesting, since most Strats carry three of the exact same pickup and just drop them into each position. These new pickups sound excellent: full of detail and clarity, which is a hallmark of the Stratocaster's famously haunting tone.
A discreet button located on the top of the second Tone knob brings in extra switching options: on the model we're looking at (three single coil pickups), this switch brings in the neck pickup to pickup selections one and two. This is an old David Gilmour trick and we're super-glad to have it on here! There is also a treble bleed feature built into the circuit, for preserving top end when you turn back the guitar's volume.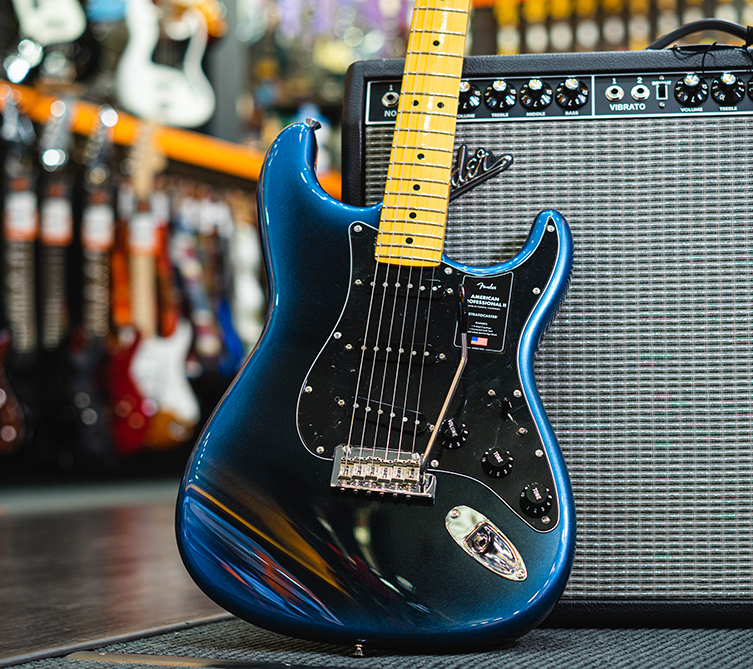 A "Deep C" neck brings a slightly more substantial feel to proceedings, which is an ongoing trend across the board, it seems. We're happy with this, since it doesn't affect paying speed and in fact reduces hand fatigue!
This parcel of goodies accumulates to make the American Pro II Strat a most worthy successor to the American Standard. It flies the Fender flag highly indeed, and can hold its own against anything. We recommend this model for any guitarist who wants to make a purchase that will last decades, bringing joy and professionalism to every session and performance.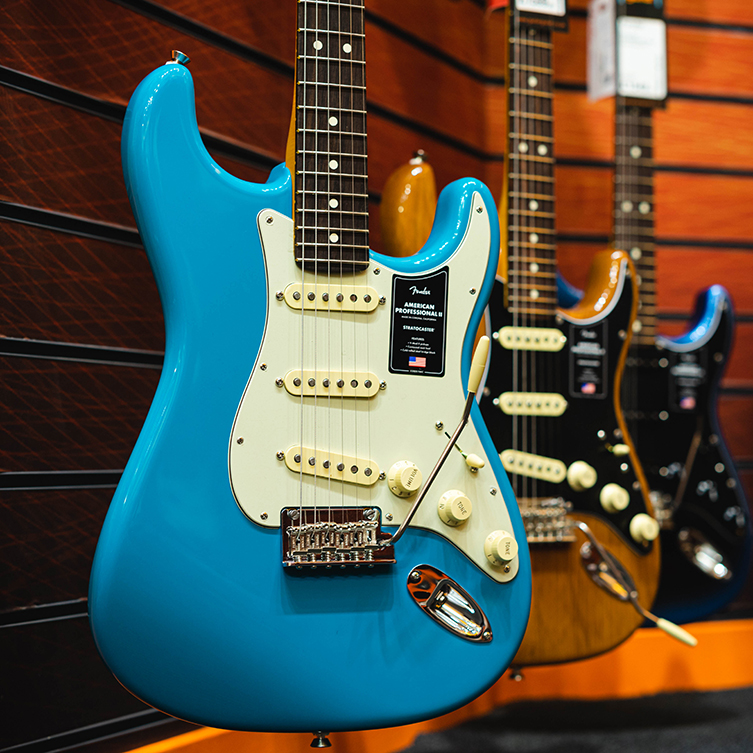 The Classic Choice
Some fans of the Stratocaster want things just as Buddy Holly or Jimi Hendrix had them in the Golden Era of the 50s and 60s. Modern innovations are fine, but some prefer the idiosyncrasies of the past, with all of the charm and vibe that they bring along with them. Our next set of Strats incorporate this retro sensibility to varying degrees, and offer something a little different each time.
Fender Vintera 50s Stratocaster
'Vintera' is an entirely made-up word by Fender. It's a smooshing of the words 'vintage' and 'era', which adequately describes what to expect with the range itself. Fender's Vintera guitars are era-specific, so you can have a 50s Strat and a 60s Strat, for example, and both models will have small differences and offer varying finish options.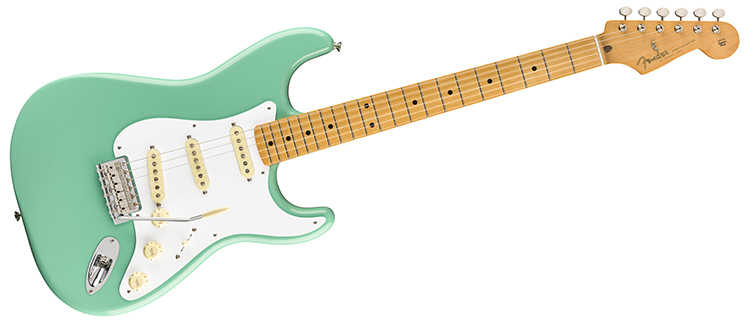 Our first pick today, for illustration purposes, is the 50s Strat. Our next choice is from the 60s, and many differences from one range will be evident in the next, since they are based on the same historical examples to one degree or another. You can generally apply expectations to vintage-themed guitars along the lines of what we'll see here: Maple fingerboards for 50s, Rosewoods for 60s, and so on.
The Fender Vintera 50s Stratocaster is one good looking guitar, recalling halcyon days of Post-War optimism and flashy cars with tailfins. Indeed, the colour choices here – including the wonderful Seafoam Green seen above and the Daphne Blue below – are recreations of actual Dupont car paint colours! Those original fifties Fenders were mainly sprayed Sunburst in the factory, and when a custom colour order came in, the builders would reach for their Dupont car colours and spray over the sunburst!

So, what makes a Strat into a fifties Strat? Well, a few things! If you recall what we said about the 50s Squier Strat we looked at first, many of those conventions apply here, with less concessions to today's player. You get the glossy V-neck here, but also a rounder 7.25" radius fingerboard and smaller, vintage frets. There are also only 21 frets, which is actually something you see quite a lot on Strats!
Other things include 50s-voiced pickups (less windings, less power, more twang) and a pickguard made from a singe ply of plastic, so no little black trim in the middle. It's a small detail, but it's a detail! The outcome is a guitar that feels significantly different to the likes of a Player Strat or American Pro II Strat. You will play differently on this than on other Strats, and for fans of this style, that is precisely the point!
Fender also offer 'Modified' versions of their Vintera guitars. These just bring certain features (different on every model) more up to date and allow for a slightly anachronistic approach, for the benefit of players who need a little less 'overt' authenticity. The Daphne Blue Strat above is, in fact, a Fender Vintera 50s Modified Strat. The differences are a 9.5" radius fingerboard, a C-shaped neck profile and a switch in the volume knob (similar to what we saw earlier in the American Pro II) which brings in the neck pickup at positions one and two on the 5-way selector. Otherwise, the guitar is the same, though bear in mind, the 'modifications' are different with each guitar in the Vintera range.
Fender American Original 60s Stratocaster
For guitarists looking to go down the retro route but who want a US-made guitar, the Fender American Original range is where to look! We've picked the 60s variant this time, but a 50s model is available too, just like with the Vintera range.

As you'll see, some of the finishes here are fantastic! Shell Pink isn't a colour you can get in every range, for sure! The American Original range has nitrocellulose lacquer for their finishes, which goes a long way towards 'selling' that vintage feel and touch. Nitro finishes, as we call them, also age differently and more obviously than standard polyurethane finishes, so if you want your Strat to naturally 'relic' over time, the American Originals will do that.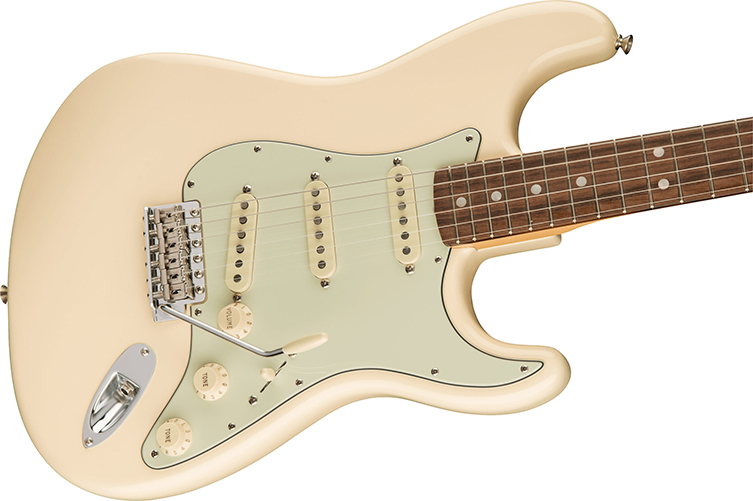 What else is different? Well, the neck is a thicker C shape than normal, the pickups are Pure Vintage 65 single coils, which sound a little hotter and more midrange-focussed than 50s-style pickups. A slightly flatter 9.5" fingerboard radius (on a Rosewood fingerboard) gives a more solo-friendly platform for fans of Texas Blues and other classic 'Strat' genres.
This American-made guitar is a fantastic choice for the all-rounder who wants a slightly more 'historic' feel than some of the more out and out modern Strats that are available.
Hot-Rodded
So, you love the idea of a Stratocaster in general, but you want something with a little more firepower? Not a problem! Many of the guitars we've already looked at, such as the Player Stratocaster and the American Professional II Stratocaster, have models available with humbucking pickups, but there are also other options we've yet to see that cater for a potentially harder sound, not to mention more extreme playing styles. Let's check them out!
Player Strat Floyd HSS
We return to the Player Series which impressed us so much earlier. This time, the Strat we've picked features an HSS pickup layout and, significantly, a Floyd Rose tremolo.
HSS? This is guitar speak for humbucker - single coil – single coil, and refers to the addition of a humbucking pickup at the bridge position. This has been a familiar sight ever since a certain Mr Van Halen decided to try an old Gibson humbucker in his home-made S-type guitar back in the late 70s. The combination worked, to say the least. Thus was born the 'Superstrat', which this guitar essentially is. Behold, the Player Strat Floyd HSS.

Having a humbucker pickup at the bridge allows you to really dig in with chunkier rhythm sounds, as well as louder, more sustaining leads. In short, it rocks a bit harder! Strats like these are considered by many players to be the most versatile of all designs: you gain a harmonically rich hard rock tone and still keep most of the strat's inherent 'twang and spank' via the other pickup selections. Session players and guitarists with lots of tonal ground to cover tend to prefer an HSS Strat over the conventional SSS pickup layout. This guitar brings that versatility along with the sonic possibilities of the famous Floyd Rose tremolo.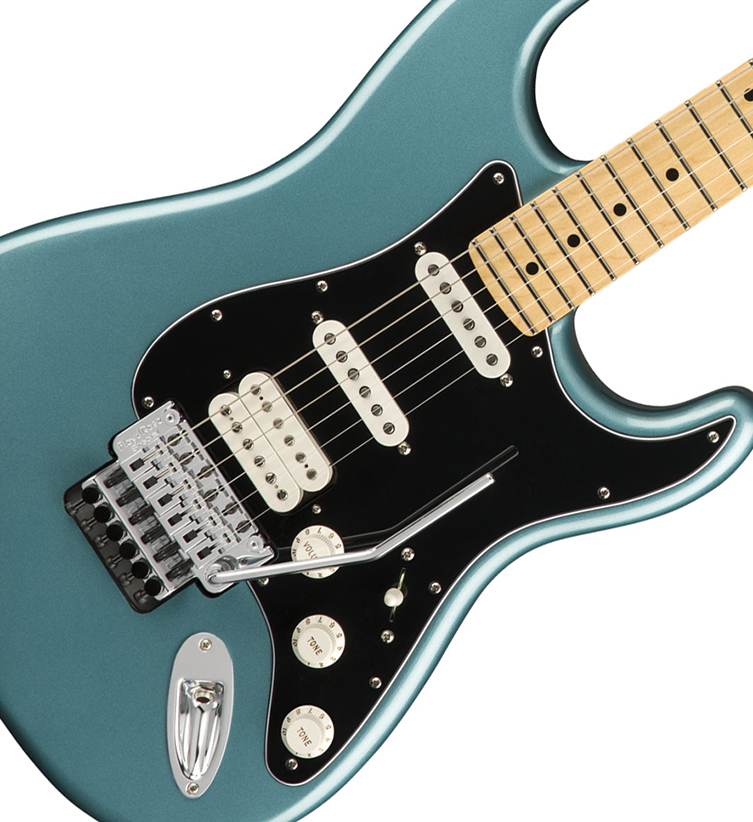 Now, we have a dedicated Floyd Rose blog for those of you who might want some in-depth info, but in shorthand, a Floyd Rose tremolo locks the string in two places (mechanisms 'bite down' on each string at both the headstock and the bridge) so that tuning stability is rock solid. On top of that, the Floyd Rose bridge allows for deeper pitch bending, so you can create sounds hitherto impossible on standard Strats or any other guitar! Floyd Rose guitars are a lot of fun for sure, and you still get all of the tonal versatility we mentioned earlier from the HSS pickups. Strat-loving hard rockers will be onto a great deal here, with this excellently priced, genuine Fender guitar.
Fender American Ultra HSS/ Ultra Luxe HSS Strat
Moving into US-built territory, Fender's state of the art range is the Ultra series. These are for players who appreciate the classic design of the Strat but need a more contemporary set of specifications in terms of neck dimensions and pickup technology.
Since we are looking at hot-rodded Strats here, we've chosen the HSS Ultra Strat, with a mention for the HSS Ultra Luxe too. These guitars are broadly similar, with the Luxe adding a Floyd Rose tremolo, stainless steel frets and a painted headstock.

So, let's look at what makes the Ultra a great choice for the hot-rodded Strat enthusiast. First up, the pickups are Fender's own Noiseless units. If you pick the SSS (three single coil i.e. 'regular') Strat Ultra, you'll get Vintage Noiseless units. If you opt for the HSS model, as we have done today, you get not only a Fender Double Tap humbucker (an alnico 4 magnet with 8k DC resistance for a medium output), you also get higher output Hot Noiseless single coils. This better balances the overall output of the guitar and gives the instrument a more modern overall voice. Remember, you can also turn the guitar's volume knob back a smidgen if you want a cleaner, less hot tone! Either way, you have clear, beautiful Strat tone with no background hiss or noise! Fender have refined this technology through a number of generations, and this 5th generation is the best yet.
One cool detail about the Double Tap humbucker is that, when you put it into coil-split mode via the S-1 switch in the volume knob, you get an excellent single coil sound with no loss in volume from the humbucking signal! Normally, a coil tap makes the volume drop noticeably, which is super annoying mid-song. This remedies that problem completely. These small details all add up when you're in the middle of a gig!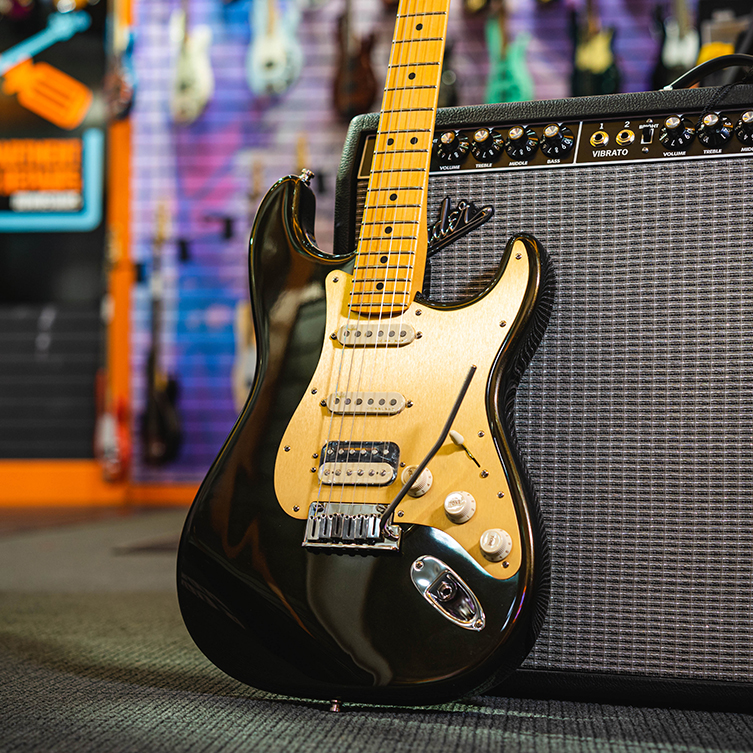 Neck-wise, Fender have developed something altogether more modern for today's players. Firstly, they've opted for a 'D' profile, so the neck feels like it has 'shoulders', if that makes sense? It's not by any means thicker, it's just a different feel, and it's one we love. Playing for long periods of time is easy, especially when the fingerboard edges are rolled, as they are here. No hard edges to ruin the hard rock!

On top of the neck, you'll find 22 frets on a 'compound radius' fingerboard. In other words, the fingerboard has a flattish 10" radius at the 1st fret ('normal' Fender is 9.5", 'vintage' Fender is 7.25"), which gradually flattens out to a positively horizontal 14" at the upper octaves. The flatter the fingerboard, the easier it is to bend strings, sweep pick and generally 'get about' the fingerboard. Not everyone prefers this, but more contemporary technique-based players certainly do, and they are whom the Fender American Ultra range is aimed at! Retro players are well served by Fender, as we've already seen, so it's good to see them keeping an eye on the future too!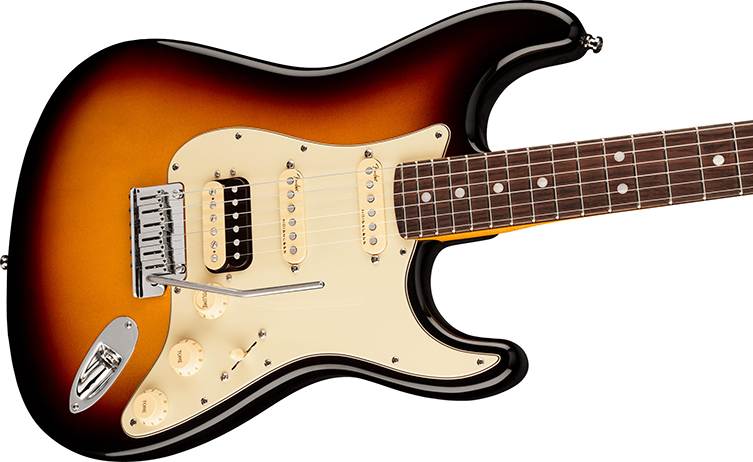 Fender Jim Root Stratocaster
What would you imagine a signature guitar from Slipknot's Jim Root to be like? Perhaps not a tasteful, minimally decorated Stratocaster, that's fair to say! Nevertheless, that's what Jim likes, and this Strat, along with his signature Telecaster and Jazzmaster, has been a popular model for years now. Not all metal players want guitars with aggressive body shapes and pointed headstocks, and this Strat proves it. Available in satin Black, the Jim Root Stratocaster has no fret markers on its Ebony fingerboard and only a volume knob & 3-way selector for the pickups. It's clean, low-key and classy.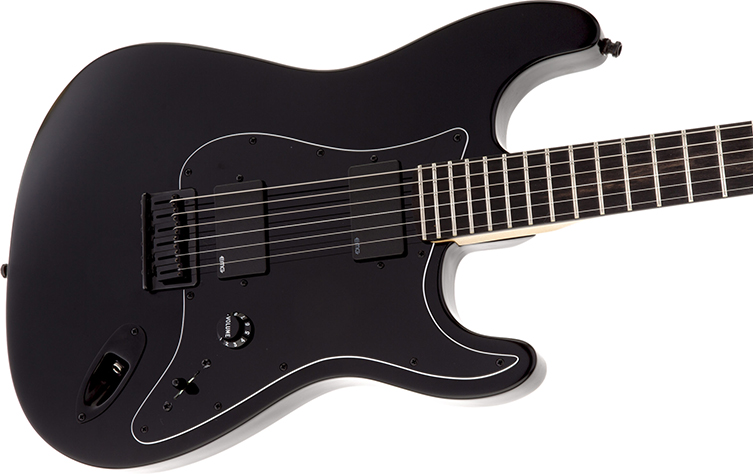 It may look refined, but it barks like a hound from hell. The hard tail bridge strings through the body for more sustain, and the strings pass over a pair of lethal EMG pickups for that massive, crushing metal tone. It's not a sonically subtle guitar, but then we are talking about hot-rodded Strats, right? It doesn't get more powerful than this! Those EMG pickups are active, therefore they are powered by a 9v PP3 battery, located via a compartment on the back of the body. If modern day high gain tones are your thing, the Fender Jim Root Stratocaster more than delivers!
Top Dollar Choices
This last category in our What Strat article is for Stratocasters are at the very apex of the market. Here, we are looking at hand-made instruments from Fender's Custom Shop. The Custom Shop make guitars in a range of sub-categories, such as Team Built and Master Built. For Team Built, a small group of Custom Shop builders (from an overall staff of around 50 artisans) each put their skills to use creating these legendary instruments. Many are based on historical examples, and lots of them have what Fender call 'Time Machine' finishes, known to the guitar world as 'Relics'. We'll see examples of both Relic and non-relic guitars in this category, and it's really a matter of taste and preference as to whether you like 'pre-distressed' electric guitars or not.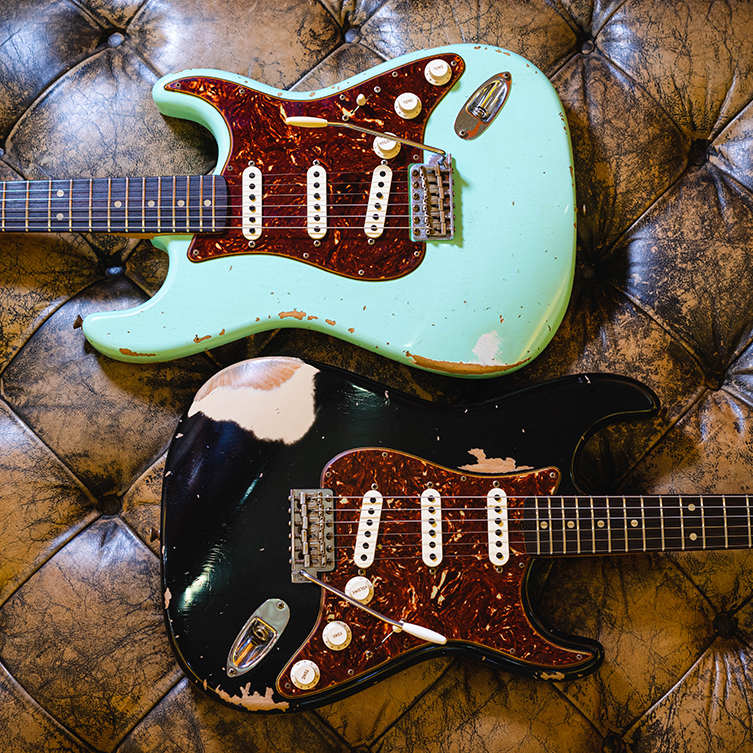 Master Built guitars follow similar ideas, but are made from top to toe by one individual. These people have been singled out by Fender's Custom Shop as some of the best builders in the world, and their promotion to Master Builder status often means that their order books are filled for years in advance. When you see Fender Custom Shop guitars freshly appearing on our site, they have often been spec'd and ordered years previously!
Fender Custom Shop and guitarguitar
One word about Fender Custom Shop and the guitarguitar website, before we continue. At guitarguitar, we individually list these guitars online with their serial numbers, since each guitar is indeed unique. If we buy, say, 5 similar Custom Shop Strats of the same colour with the same specifications, we'll put all five up separately, with their serial numbers displayed in the title.
Why?
We want you to be able to pick the EXACT guitar you've fallen in love with, not a similar one with slightly different details. They one you choose is the one you get, and we work hard on that because we think it's extremely important! To that end, we won't be choosing specific guitars to display in this article, since we want this guide to last for a long time, and those specific guitars will without doubt sell in a short space of time. Putting this article immediately out of date! With that in mind, we'll take a general look at some Custom Shop Strats and explain what you get for your money, with the caveat that the stock is ever changing and that these guitars are not production models and so are subject to change.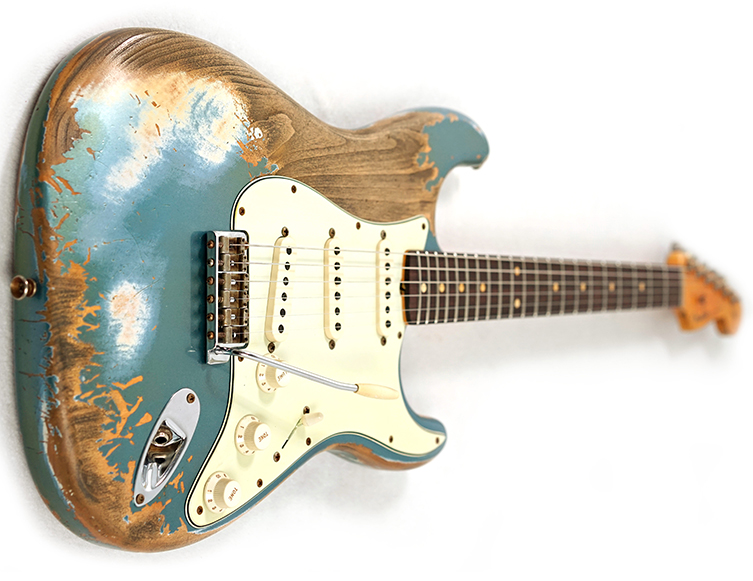 The Custom Shop Difference
It's a fact that, whatever amount of money you choose to spend on a Stratocaster, you'll get something good. From the humblest Squier to these Custom Shop Strats, all of them will give you that fundamental Strat 'thing'. So, why spend a considerable sum of money on a Fender Custom Shop guitar?
That's a good question! We've found the guitars from Fender's Custom Shop to be quite exceptional in a number of ways. First thing is the feel: there is a sense of character and personality in these instruments that is hard to find elsewhere, and we know it from the moment we touch them. A much longer amount of relative time has been spent on each aspect of the guitar's build, from the shaping of the timbers to the winding of the pickups to the setting of the neck pocket. There are hundreds of small elements that go into every guitar build, and the level of consideration and attention to detail on Custom Shop guitars is huge.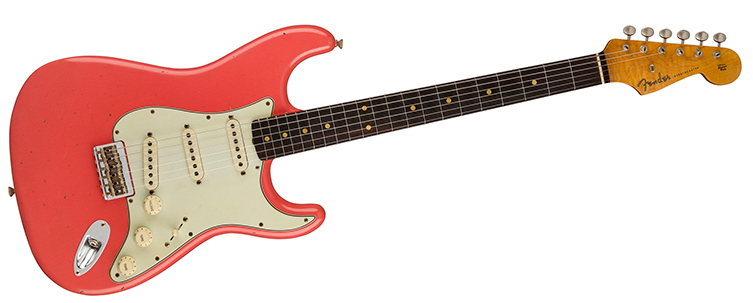 Do they sound better? We'd say so, but the fact remains that 'sound' is a highly subjective thing. Suffice to say that we've been lucky enough to play some actual vintage Fender guitars from the 50s and 60s, and the Custom Shop is where we've located the closest matches to both the sound and feel of those fabled instruments. If looked at in that way, the cost of a new Custom Shop 61 Strat, for example, is far more reachable than the cost of a vintage example. When the instruments are so similar, we start to understand the value inherent in Custom Shop guitars.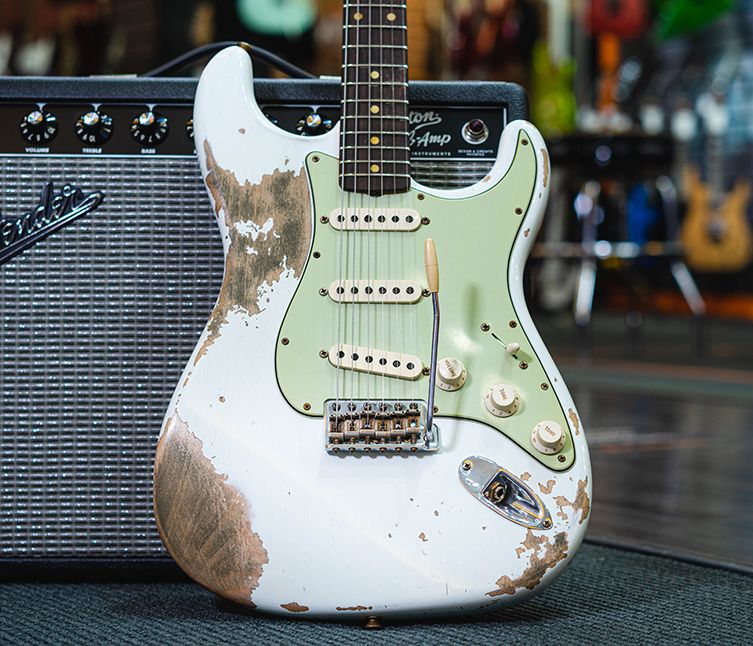 Now, when it comes to those relic finishes, we don't mind saying we love them! If you're also a fan, you'll notice that not every guitar maker is equally skilled at pulling off the look. Bad relic finishes can be embarrassing, so it's worth spending the cash to get it done right, by a team who've proven their skills for decades. Also, the more involved the relic work is, the highest the guitar will cost. It's all about man-hours.
It's true that you can buy hand-wound Custom Shop pickups and put them into any Strat, but that's only a small piece of the puzzle. The difference to be found in a hand-shaped neck and body, all carefully put together by masterful hands and then expertly sprayed with a nitrocellulose finish needs to be experienced to be believed. Buying a Custom Shop Strat means buying a sound that has more detail and more authenticity than less expensive instruments. It means buying carefully selected woods, matched up to make the most resonant and lively combinations. It means buying an instrument that is as good as the form gets, whilst still retaining that important association with the magical Fender brand identity and provenance. You're basically buying into history, right at the top of the tree. Think about this: the people who personally build Stratocasters for Eric Clapton, Yngwie Malmsteen and Jeff Beck are potentially the same people who'll build yours. How special is that?

Because of the nature of Custom Shop guitars (no two are really alike), we've only illustrated a few here to show off some beautiful examples! Please click through to see our current Fender Custom Shop Stratocasters. We are fully authorised Fender Custom Shop dealers, so talk to us if you are interested in buying the best that Fender have to offer! And remember, they really are a Custom Shop, so we can help you spec up and order your very own custom-designed one-off guitar! Contact us for more info on that.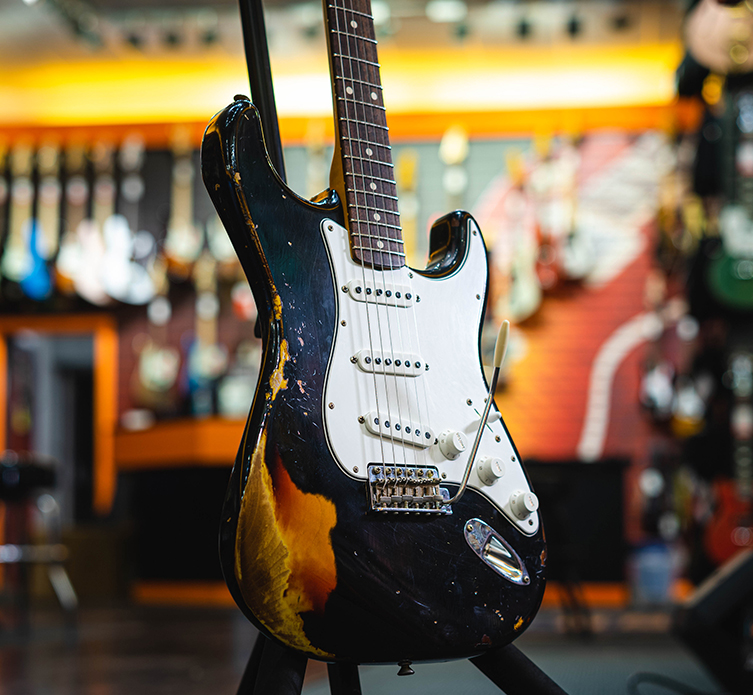 Alternatives
So, obviously, only Fender make official Stratocasters. They designed it and they own the copyright, but it hasn't stopped that shape – known universally as the S-type – to be one of the most copied guitar designs on the planet! Whilst a great many of the S-type guitars out there are intended for the beginner/student market, there are now a huge amount of mid-level and top quality professional level instruments available, too. We've picked out three good ones today to round off the article and throw some light on what other top makers are doing with S-type guitars.
Suhr Classic Antique S
John Suhr is well-known as one of the world's top 'boutique' guitar makers. As an ex-Fender Custom Shop employee, he knows as much about the art of putting an S-type together as anyone on earth. Suhr guitars are known for their impressive quality levels across the board, from the build to the feel to the great tone, delivered by their own Suhr hand-wound pickups. John doesn't believe in 'mojo': he thinks that anything special about a guitar can be replicated, and has made a career of proving this time and again. Examples like this Suhr Classic Antique S have persuaded more than a few guitar fans to 'order off-menu' over the years, if you catch our drift...

PRS John Mayer Silver Sky
This one surprised even us when it was released a couple of years ago. John Mayer, the Blues Rock superstar himself, was a Fender man through and through until tempted away by Paul Reed Smith's esteemed brand. The Silver Sky is nothing like anything PRS have made before, although of course there is simply no denying the 'inspiration'. Apart from the distinctive 3-a-side PRS headstock, this is a vintage Strat almost to the millimetre.

Initially, this seemed in a lot of ways to be undermining Smith's individualistic approach to guitar making, but PRS certainly know what they are doing, and the Silver Sky has been a huge hit. There are no two ways about it: this instrument has the famous PRS build quality, and it retains that famous snap and twang of the best vintage S-types.
Schecter Nick Johnston Trad HSS Atomic Green
More known for their heavy metal guitars, Schecter have dropped the EMG's and crucifixes this time for the Nick Johnston signature model. It's a gorgeous player, with a roasted Maple neck and ever-so-familiar curves, not to mention a raft of surf-tastic finishes.

There are also some cool unique details here, such as the brass circle fret markers in the ebony fingerboard, and the shred-friendly 14" radius. It's a great guitar for those who like to rock hard but play a variety of styles, just like the very best HSS S-types. A touch of the modern with a dash of tradition seems to really hit the spot.
Which Strat Did You Pick?
Well, there we have it: we've reached the end of our guide to selecting a Stratocaster. Thanks for staying with us! We hope all of the info has been helpful and has perhaps made choosing your new Strat a little less daunting.
As we all know, there are far more selections available out there than any guide like this could possibly hope to cover, and things change all the time so some of our choices today may not even be available in 6 months' time! This is the nature of the ever-moving guitar market, and that's what makes things so fun!
We wish you luck in your quest for a Stratocaster and remember: we're here to help! You can reach us online or in any of our stores, so please do contact us if you have more questions. We all love Fender guitars, and we all love Strats, so we can really get into it all with you! Have fun searching!
Click Here to View All of our Fender Stratocasters