Shred Ain't Dead: Best Shred Guitar Brands
Published on 25 March 2022
There are a few key components to look out for when seeking a guitar that can handle the high-speed demands of your demonic licks. An entire revolution of guitar design has led to a refined set of manufacturing techniques that have given us flatter radiuses, thinner neck profiles, higher output pickups, and more stable bridges, all of which are vital ingredients in a shredder's instrument.
So what brands should you consider when looking for one of these souped-up guitars? Here are a few of our suggestions.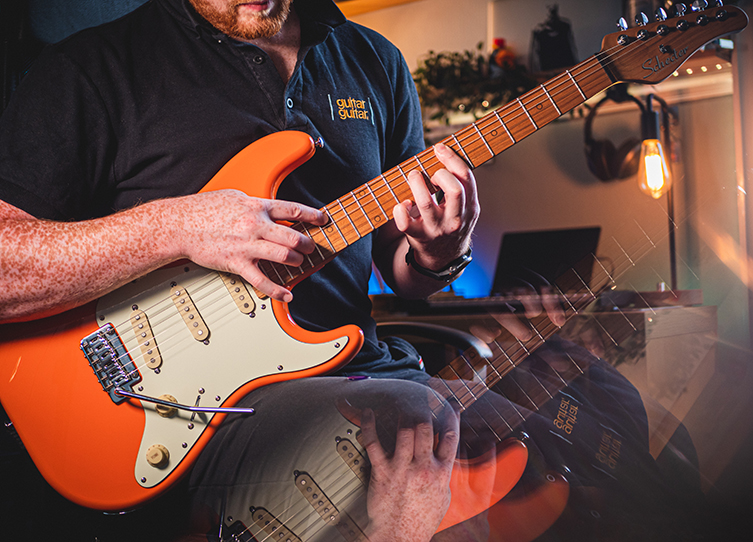 Kramer
Kramer got its start in the late 70s building aluminium neck guitars. The endeavour to create something different has always been a core concept within the Kramer brand, a tradition that has helped build Kramer's diverse roster of users. It was in 1981, when they transitioned to a more traditional neck, that Kramer began to gain traction with the new breed of shredders spawning around that time. It wasn't long until Kramers could be seen in the hands of an array of legendary players.
In 2020, Kramer guitars were brought back to life, rising out of the ground like a scene from the return of the living shred. They now have a huge helping of different models, but we have chosen one to highlight the most shredtastic of them all.
Our pick for top shred worthy Kramer goes to the slick SM-1H. This guitar gives you everything you need and nothing more. A single Seymour Duncan JB in the bridge gives you all the juicy power you require to drive thick, saturated sounds. Interestingly, Kramer was the first company to install Floyd Rose Trems to their guitars in production. So it is fitting that the SM-1H comes loaded with a 1000 Series Floyd. Another interesting mod hiding under the bonnet of this souped-up instrument is a Series/Parallel switch which vastly increases the tonal options available from the single pickup.

Charvel
Charvel is a company that had to get featured on this list. They are still one of the most popular go to's for high-performance guitars. They are, after all, the company that brought the idea of a custom shop guitar to life. It was Wayne Charvel who first offered the public the ability to design and spec their own dream guitars.
Their lineup now covers a wide range of budgets, starting with their popular Mexican made models and running all the way up to master built custom shops. The list of artists who have wielded a Charvel in the past is long, but Guthrie Govan is a major highlight amongst them.
For this reason, our shredders pick for Charvel goes to the Guthrie Govan USA Signature. Guthrie is one of those players that will either inspire you or make you want to set your guitar on fire. If it is good enough for him, it is good enough for anyone.
The signature model features pickups designed through a collaboration between Guthrie and Michael Frank Braun (the man who designed pickups for Eric Johnson's signature Stratocaster). With a set of killer puppies scooping up a big dollop of juicy tone and a list of spec hand-selected by one of the world's greatest players, it is safe to say that this instrument will be the perfect platform for which to shred.

Jackson
Jackson and Charvel share a bit of a bromance. Grover Jackson worked under Wayne Charvel during the early days of the custom shop. The two brands would grow together side by side, so it is hard to mention one without the other.
Jackson's earliest collaboration with Randy Rhoads led to a steep increase in demand. The proliferation of shredders can be traced back to early guitarists such as Rhoads, so we thought it apt to pick an X Series Rhoads as our Jackson highlight.

Ibanez
Ibanez is a company deeply entrenched in the shred with a roster of artists that play so fast you could roast marshmallows on their fingerboards. Guitarists such as Steve Vai, Paul Gilbert, and Joe Satriani rely on these guitars to earn their shred and butter, so it would be criminal not to include them in our lineup.
Ibanez once had a custom shop dedicated to serving the virtuosos spawning out of California in the 80s. When this shop closed, all production of high-end Ibanez guitars continued at their Japanese facilities. This exclusive range became known as the J-Custom, and it steals the show for our Ibanez shredders pick.

EVH
Eddie Van Halen's playing was a force to be reckoned with. Not only was Eddie an incredibly talented guitarist, but he was also quite an inventor with three patents to his name.
In 1974 sparks flew as Eddie brought to life the Frankenstrat. Who knew this rough and ready guitar would become iconic. Pummeling the intense energy of Eddie's playing through its pickups into the ears of thousands of aspiring guitar players across the globe, the EVH Striped Series Frankie has made the list as a humble recreation of a legendary piece of shred history.

In conclusion, a shred guitar pushes conventional design to its limits. Luthiers and guitarists have come together at several points in history to push forward what these instruments were capable of. The search for hotter pickups, flatter radiuses, thinner profiles, and better hardware has made new genres of extreme guitar playing possible.