What Does a Tube Screamer Pedal Do? Our Guide to What They Are & Why You Need One
Published on 25 April 2022
No doubt, all of us reading this will have seen these infamous (usually green) boxes or at least heard the name…if not, you are in for a treat today!
The words "Tube Screamer" are almost as big in guitar culture as "Stratocaster" or "delay pedal". I mean, just look at any of the greats pedalboards… a version of a tube screamer is no doubt mixed in with the cacophony of wires and lights.
What exactly is a Tube Screamer though? And why do so many guitarists swear by them? Let's take a look!
What is a Tube Screamer pedal?
To put it in simple terms, the Tube Screamer is an overdrive pedal with a low to mid gain.
Created by Ibanez (actually built by the company Maxon, but that is a story for another time) and released in 1979, creator Susumu Tamura designed the OD-808 to distort and push the sound of a guitar signal, but in a more natural way. In his own words, he wanted to "create the sound of the guitar amplifier and overdrive pedal combined", which is what makes the Tube Screamer so universally loved and used. It provides that kick without changing the core tone of your guitar and amp.
Usually we'd make note of players who have used a pedal we are talking about, but in the curious case of the Tube Screamer, it's probably easier to note players who haven't used them at one point or another! Some very notable players would be Stevie Ray Vaughn, Eric Johnson, Kirk Hammett, John Mayer, Brad Paisley and many many more.
Ibanez would go on to release the TS-9, a slightly modified version in looks and sound, in 1982 and would release various different versions of their Tube Screamer for many years to follow. In terms of "Holy Grail" pedals though, people tend to gravitate towards the 808 or TS9.
How to use a Tube Screamer?
The Tube Screamers main mission was to produce the sound of a cranked tube amp making it a go to for rock and blues guitarists due to its pleasing low to mid gain potential and unique (for the time) EQ colouring. Known as a "mid hump", the TS series would smooth off the low and high frequencies in a guitar's signal which would accent its mid frequencies. This allows a guitar to sit incredibly well in a live band mix, being able to be heard and cut through all the lows and highs being produced by a bassist, drummer or keyboard player. You just need to listen to any SRV track to hear that sweet Tube Screamer in action. Pay attention to how it reacts to dynamics…when you play soft, it sounds soft, and when you dig it, well, it screams.
The magic of the Tube Screamer is that it's a swiss army knife, being able to fit into most guitar situations despite its low to mid gain characteristics. Surely something with only mid gain could never fit into the world of metal?
Well, although maybe not used plugged into a clean amp, but metal players of the world have been plugging Tube Screamers into the front of a very distorted amp with some specific settings, usually in the form of reducing all the gain and pushing the volume on the pedal. This results in a taming of the high and low EQ while focusing the gain of the amp.
Despite Ibanez halting production of the 808 and TS-9 in the 80's, the pedals' notoriety grew which led them to re-release both versions and are still available to buy today…although, it wouldn't just be Ibanez who made them.
Best Tube Screamer Clones
Like all innovations in the world of guitar, the Tube Screamer set off a wave of inspiration that led many pedal brands and up and coming pedal makers to create their own versions or even make their start by modding existing TS models on the market. Let's take a look at some of the best versions you can get today.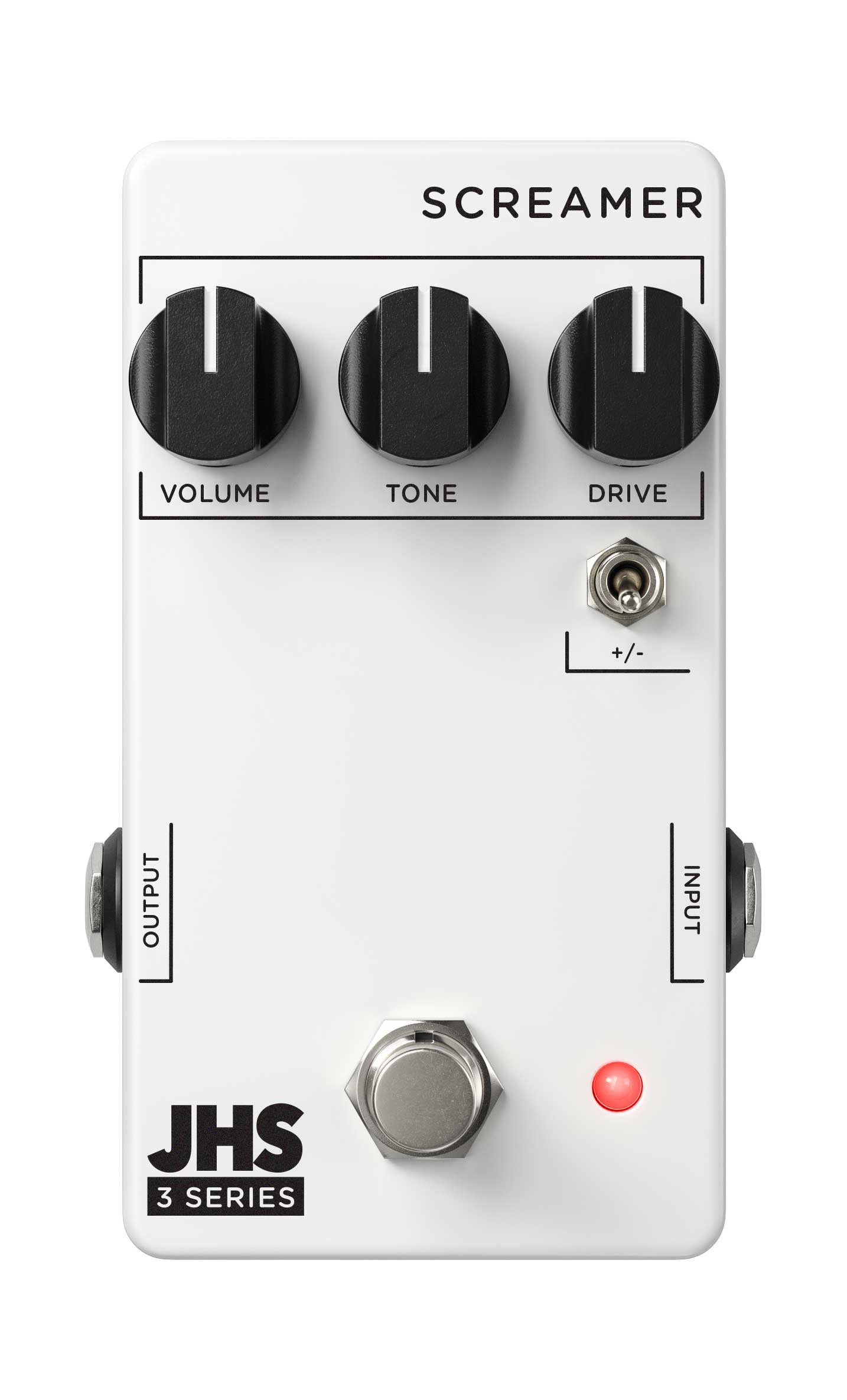 No stranger to modding the classics, JHS, and particularly their owner Josh Scott, haven't hid the inspiration behind this one.The 3 Series Screamer is based on a mod that JHS would do in their early days while Josh was trying to practise and understand classic pedal circuitry called "The Strong Mod". Essentially what this did was give a classic TS9 more volume, more clarity and enough difference in the tone to make it stand out from a standard TS9. Now, this pedal technically exists in the JHS line already with the Moonshine, Double Barrel and the awesome Bonsai, the pedal with 9 TS tones all in the one box. The 3 Series Screamer is the first stand alone product in the JHS pedal that contains their take on a Screamer as well as the Strong Mod.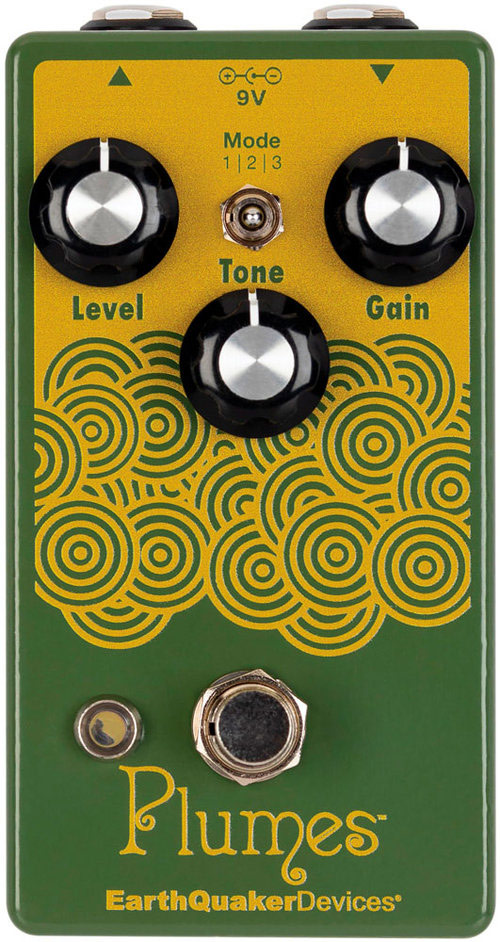 EarthQuaker are no strangers to releasing TS style pedals, see their Dunes or Palisades, so we knew we were in good hands when they took a shot at releasing their own redefined Screamer. With 3 modes to choose from ranging from a classic 808 to a super hot take, the Plumes can fit into several different musical situations with ease. One of the key differences EarthQuaker wanted to do with the Plumes was redesign the way the tone control works with the pedal. Instead of the pedal only focusing on highlighting those sweet sweet mids in your tone, the tone control allows you to bring in more low end or high end which gives it a different characteristic from the original but still retaining the vibe.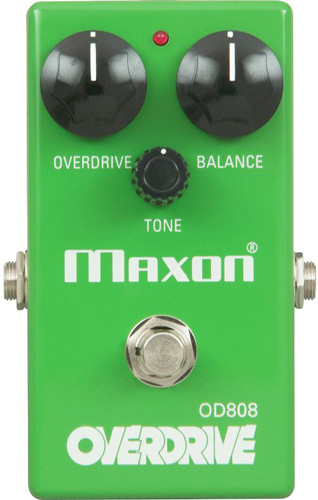 Ok, technically these aren't clones, but we need to give the OG's some time in the sun. It goes without saying that if you want the real deal, original sound of the Screamer pedal, then you need to go with the classics. These models feature the same analog circuitry and chip that was used in the originals, no frills, no mods, just based on how they were made in the late 70's/early 80's.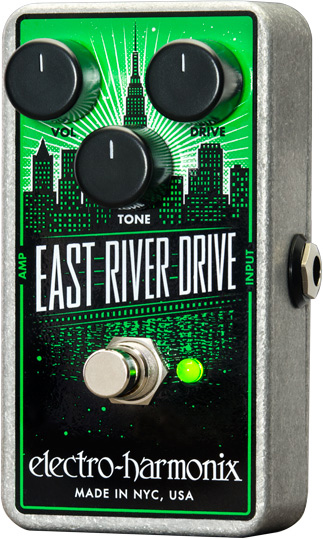 Any surprised that the brand known for their distortions and fuzzes have a version of a Tube Screamer? This budget-friendly take features the same chip used in the original Maxon and Ibanez models, so you can expect the same vibe from the East River Drive as a standard TS. Again, no frills, just the classic sound we all know and love.
As previously mentioned, it's absolutely worth noting that Ibanez still produce a handful of Tube Screamer in the form of reissue TS-808 and TS-9's, the TS9DX, which is Ibanez's take on the multi voiced Screamer, and the TSMINI…it's a Tube Screamer, but small.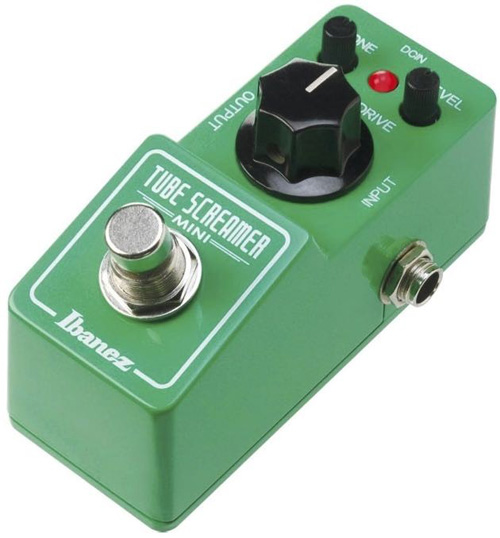 Wrapping Up
We aren't making any bold statements confessing our love for these classic green boxes, hopefully this blog has helped those who maybe are on the fence with the Screamer and can add it to their board with confidence and join the millions of us who can't live without our Tube Screamers.
What's your favourite Tube Screamer? Is there a player who you immediately think of when you hear this pedal's name? Let us know on our social media pages.