BRAND NEW! Taylor 700 Series ALL-KOA 722ce and 724ce
Published on 26 May 2022
Koa is a wood that all guitar players know about.
Indigenous to the Hawaiian archipelago, Koa has long been favoured by luthiers and performers alike for its striking looks, robust strength and excellent tonal properties. Taylor guitars built their first Koa-made instrument in 1980, and added the wood to a Koa Series line of guitars in 1983. Thus, the brand are well-associated with the material and have hence used it on many lines: most of you will be at least familiar with their GS Mini Koa models, since those are some of the most popular guitars in the world!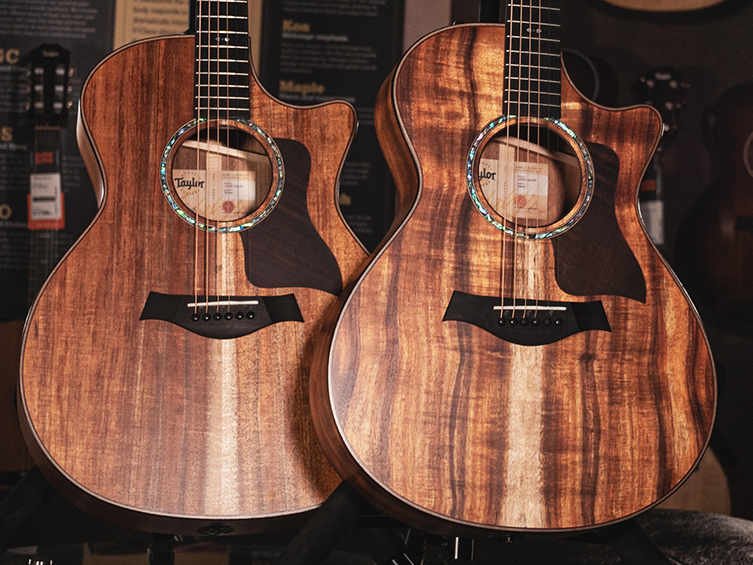 Today, we'd like to look at a brand new pair of Taylor Koa models from their recently redesigned 700 Series: the 722ce and the 724ce.
A New Take on Koa
To learn more about Taylor's new take on Koa, we first have to know a little more about their attitude towards ebony.
Ebony, as we know, is a beautiful, dark, tightly grained wood used often on guitar fingerboards. Over the decades, many luxury builders have upsold instruments with ebony fingerboards because the timber itself is relatively rare, and the industry requirements for the blackest coloured pieces meant that only a small amount of any log could be used, upping the cost to the builders. So much precious ebony was left to rot in the forest because the timber had streaks of brown running through it, spoiling the look for guitar makers. This was standard practice for decades upon decades.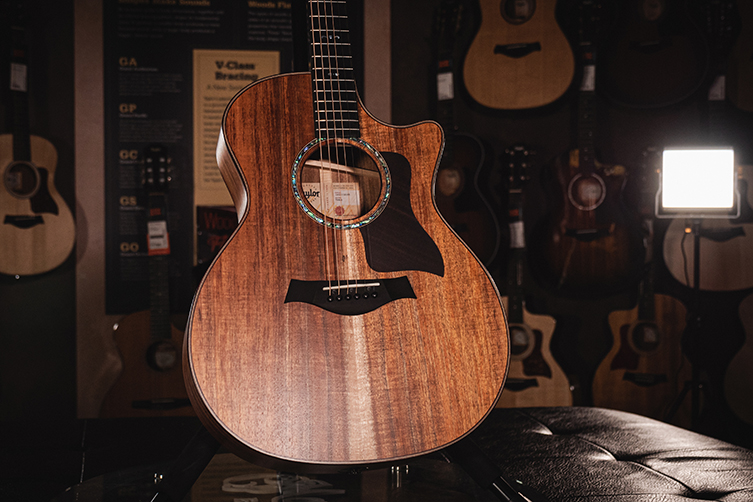 Taylor changed all that. Understanding a need for sustainable, responsible ebony foresting, the company researched and then bought an ebony mill in Cameroon, West Africa. Restructuring the business mindset to incorporate all usable pieces, Taylor began logging, shipping and building with ebony that was responsibly taken, regardless of how it superficially looked. Taylor guitars began appearing with ebony fingerboards that bore streaks and veins of browns and golds alongside the expected black shades we're all familiar with. Taylor made a thing out of 'repurposing' the wood (actually, it was more like a decision to actually use it rather than waste it) and the guitar playing public wholeheartedly agreed with the process. Not only has nobody objected to seeing their Taylor favourites appearing with streaky ebony fingerboards, they have in fact loudly applauded the company for walking the walk and implementing long-reaching changes to their lines, for the sake of sustainability.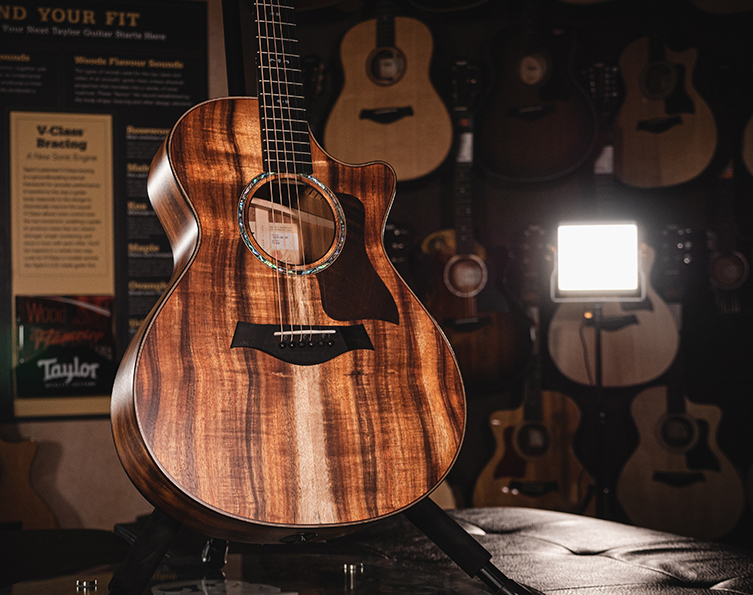 Such concerns and goals are at the centre of these new 700 Series Koa models. Koa is well known for its striking looks, but that often only applies to a small percentage of any given log, and when selecting timbers for guitar builds, that can therefore involve as much waste as with ebony. Taylor have instead turned this 'perception problem' around and are offering what they call 'Select-Grade Hawaiian Koa' as a major tonewood in one of their top lines. This Koa has a straight grain, and is less concerned with museum-grade figuring as it is with world-class tone. This means that much more of the timber is used productively in the building of guitars, and much less goes to waste. Even smaller, less obviously useful pieces of wood are retained for decorative detailing, smaller parts (binding, rosette pieces etc) and, brilliantly, for a side project of Bob Taylor's which makes wooden kitchen utensils!
The New Taylor 700 Series
Taylor have revised and relaunched their entire 700 series range of guitars with this sensibility font and centre. This premium-level collection of instruments used to be made with Sitka Spruce and Rosewood (a classic combination for sure), but now the whole Taylor 700 Series is composed entirely of all-Koa instruments. That is quite a statement of intent from the company regarding their confidence in both sound quality and performance!
Not only that, it also brings a completely different look and sound, an additional flavour to Taylor's catalogue, as it were. Spruce and Rosewood instruments are already abundant within several other Taylor series, so this marks these out as a true alternative and an extra proposition for the player.
The Taylor 722ce and 724ce
Launched today are the 722ce Grand Concert and the 724ce Grand Auditorium, two similar and yet distinct models from the revamped 700 Series. Sharing an all-solid Koa construction, the two models offer a livelier, punchier sound than before, with a different tonal profile from other top end Taylors.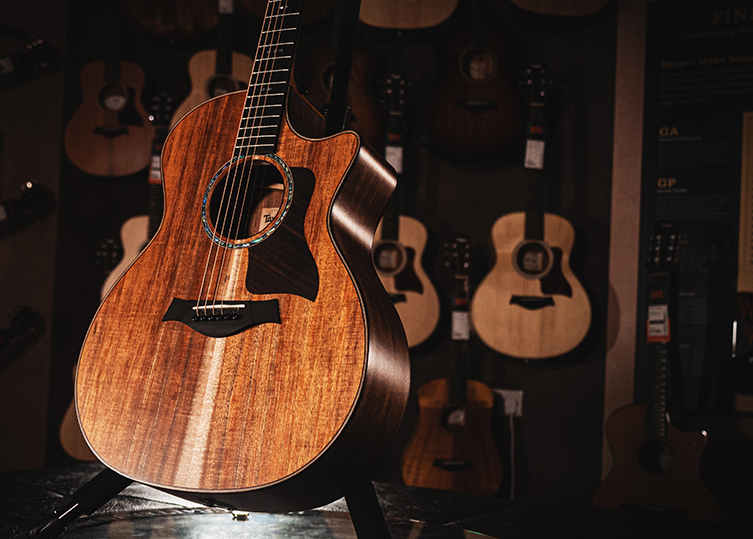 Master designer Andy Powers has developed new, specially designed back bracing to get the most out of the woods, bringing that rich, dynamic Koa sound to the fore. The bracing is 'tuned' to each particular model to ensure an even, expressive response.
Both guitars feature Neo-tropical mahogany necks with ebony fingerboards sourced straight from the Crelicam premises in Cameroon. You'll find mother-of-pearl inlays on the fingerboard and headstock, rosewood binding on the body and a wonderful stained maple pickguard to set off the natural beauty of the select-grade Koa.
These are the similarities, but what of the differences? The 722ce is a Grand Concert model, so it has a slightly smaller body. This changes one's interaction with it as it offers a famously 'slinky', cosy feel against the body. A somewhat smaller 24 7/8" scale length takes advantage of that vibe with a slightly looser string feel. This is perfect if you like to apply bends and wider vibrato to your playing, and also if you prefer heavier strings.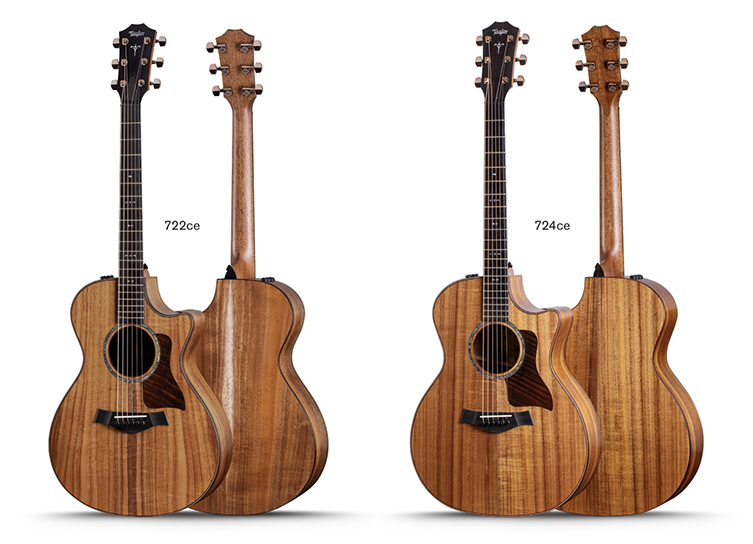 The 724ce model, by comparison, is a Grand Auditorium and so is a little bigger in terms of its silhouette. It's still a shade under the size of a dreadnought or jumbo, but the added dimension nonetheless allows for a larger bottom end in the tone. Grand Auditorium guitars are often seen as the best of both worlds, since they offer an even middle ground for strummers and fingerpickers alike. Taylor match this with a more standard 25.5" scale length in order to offer more string tension, which translates to volume and tone. Players who want a top-flight all-rounder should perhaps start here, and then compare it to the 722ce to see which one stands out for them. It'll be a close call!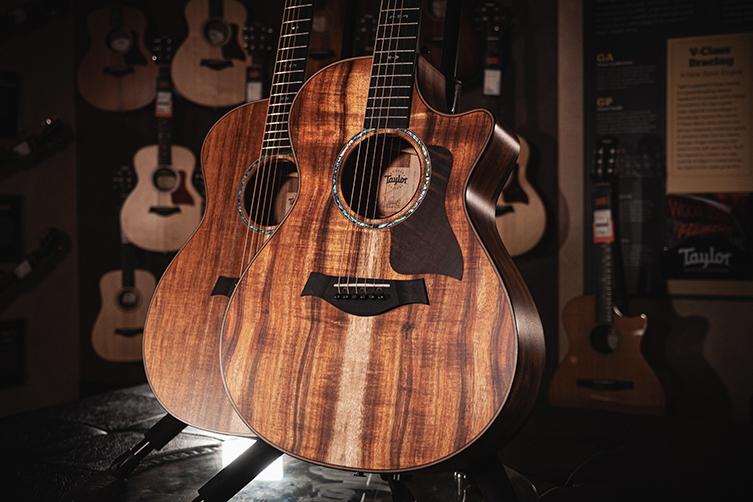 Both instruments sound excellent, and exemplify that new punchier dynamic promised by Taylor. Each makes excellent use of precious timbers in a responsible, sustainable and most importantly (for us musicians) wonderful sounding way. We applaud Taylor for taking the lead in showing the world how to build eco-conscious instruments without cutting tonal or experiential corners, but mostly we're just excited about this new range of excellent all-solid Koa guitars!