The New Sound of Metal
Published on 30 May 2022
Is there a more guitar-centric genre out there than metal?
We can't think of one, and certainly not one with as much forward movement in terms of the overall sound. What is considered 'metal' today is far from how things were in the past. Today's metal musicians play more complex tempos, tune their instruments lower than ever and use musical devices that are light years away from the likes of Led Zeppelin, Judas Priest or Iron Maiden. 'Metal' as a term encapsulates all of these sounds, since the genre is one of the most inclusive that exists, but there is definitely a 'contemporary' sound to bands of the last decade.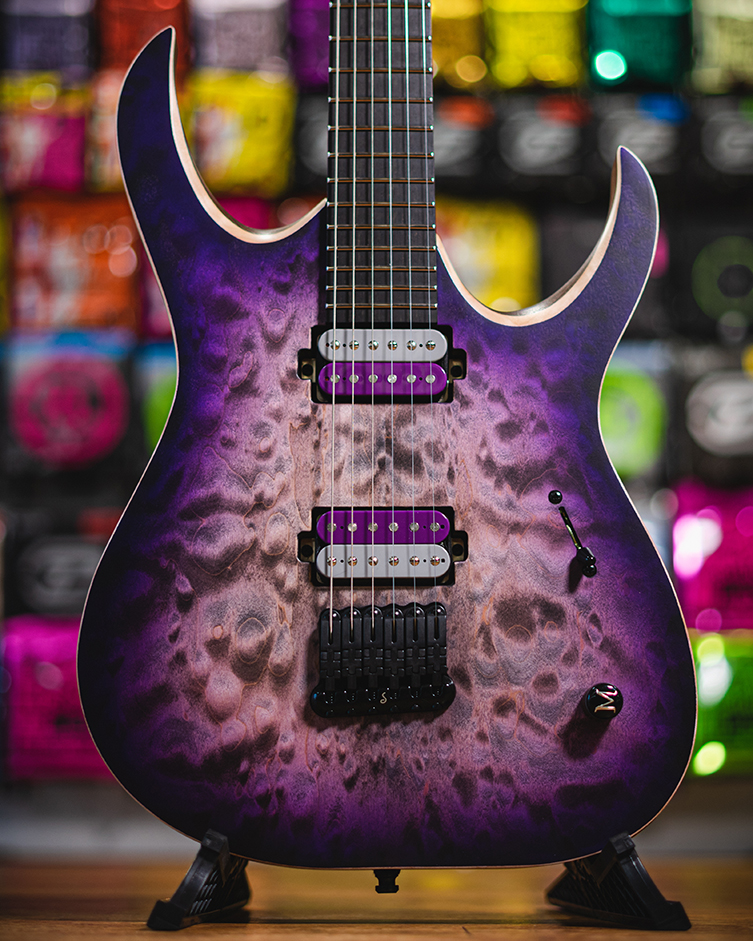 There's also a big resurgence of Nu-Metal at the moment, but keeping that to one side (since it might be more about fashion than tunes to be honest), there's a whole world of metal born from musicians who grew up on the likes Pantera, Dream Theater and Meshuggah, which has an entirely different musical language to bands from a generation before. These newer bands sound accordingly more brutal, modern and complicated (in general terms) than what came before, and have therefore helped to define what metal sounds like today. Whilst Metallica and KISS may still be headliners, their music is now generationally in the past, and it's perhaps time to pay more attention to what's happening now!

With that in mind, we've looked at some cutting edge metal bands whose guitarists have their own signature guitar models. This is as good a way as any to indicate what is popular amongst today's heavy musicians. Our blog features a selection brands and artists who are contributing to the onward momentum of metal music in a meaningful way.
Periphery
Periphery are perhaps the most influential of this current generation of technical metal bands. Their three-guitar lineup weaves complex and bone-crushing passages throughout their labyrinthine music, with non-standard time signatures and aggressive vocals defining much of their sound. As a pioneering Djent band (the term coming from the onomatopoeic relation to the chugging sound of the riffs), they have proven extremely significant to today's guitarists.
Periphery take a degree of influence from the original, genre-defining Djent band, Sweden's Meshuggah, but steer that influence in a slightly less uncompromising direction.
When using 6-strings, Periphery generally tune to Drop-C, though they regularly employ 7 and 8 string guitars too. As for the guitars themselves, each player - including the ex-bassist - all have signature models, which in itself is proof of how the band are regarded from within the industry.
Of the three guitarists, none seem to take traditional lead or rhythm roles: all three perform both tasks, depending on where and when a certain part is required. Therefore, their signature models are custom made for technical rhythm parts and lead sections alike. Jake Bowen (nephew of prog-maestro John Petrucci, fact-fans) has a signature Ibanez JBM27, which is a 7 string loaded with his own signature DiMarzio pickups.

Mark Holcomb has some tasty PRS SE models in both 6 and 7 string varieties. Seymour Duncan make his signature Alpha & Omega humbuckers and they are included, along with certain models bearing the super-cool 'Holcomb Burst' finish. When you not only get a signature guitar but also a signature colour, you know you've made it!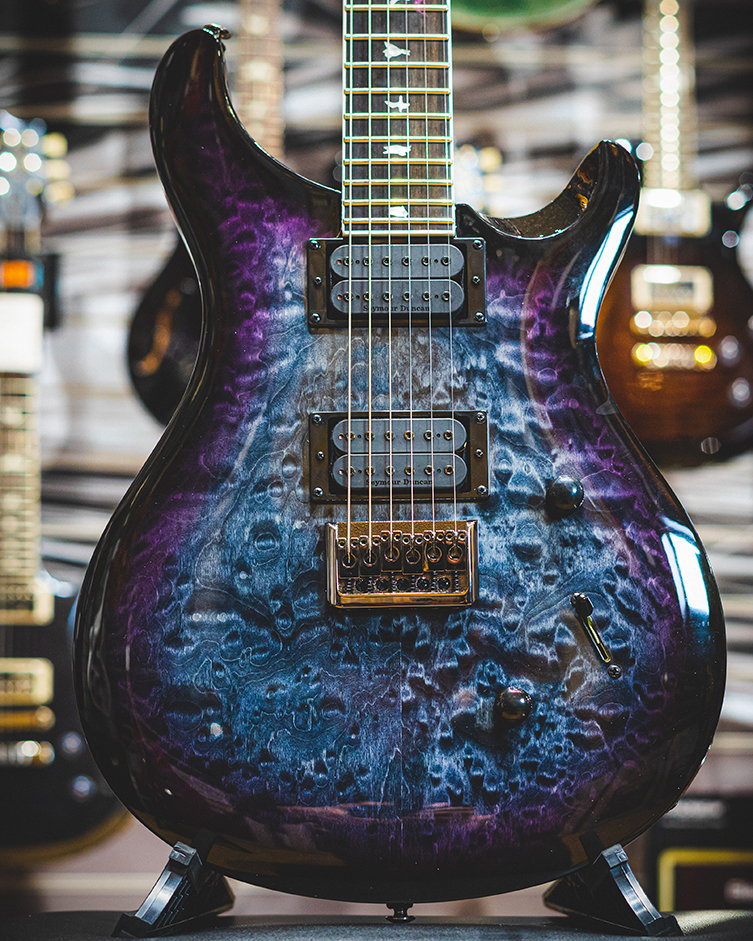 Misha Mansoor has had a huge range of Jackson Juggernaut signature guitars, over the years, some of which feature an Evertune bridge for rock-solid tuning stability. We enjoyed a long and detailed chat with Misha a while ago when he was in the UK. Watch the video below to see and hear the man in action!
Periphery's ex-bassist, Nolly Getgood (appropriate name!) is well respected as both a player and engineer/producer. Iconoclastic bass brand Dingwall produce a series of signature NG basses in 4 and 5 string variants to his favoured specs, making Periphery perhaps the most endorsed band in existence!

Architects
Brighton metallers Architects have proven that perseverance pays off: they have steadily worked their way up to become one of the biggest bands in the UK at the moment. Given how uncompromising their sound is, that's quite an achievement!
Early Architects music was brutal, chaotic and intense, before the band chose a tighter, more 'post-hardcore' sound, which they arguable continue to use today. Tragically, one of their founding members, Tom Searle, died in 2016 at the age of 28. Josh Middleton eventually replaced him and the band have continued since, making only music they know that Tom would have approved of.

ESP supply Josh Middleton's firepower with the suitably angry LTD JM-II, and Polish guitar makers Mayones (we'll see more of these guys later) make a signature baritone model for Architects' other guitarist, Adam Christianson.
Monuments
Following with a similar sound is Monuments, another British Metal band with a sound and dynamic that references contemporary and extreme metal but also uses cleaner, melodic vocal parts too, which just go to make the heavier parts that much more crushing.
Monuments seem to have had a relatively revolving door policy regarding band members, but one constant has been guitarist John Browne. Favouring elaborate rhythmic patterns and jazz-flavoured chords over dexterous showings of shred, Browne brings the band's sonic backbone and musical framework to bear, saying, 'When it comes to music, the end goal is 'Can you feel it through your bones?''
We couldn't have put it better ourselves! Another Mayones endorsee, Brown has a very distinctive line of Bare Knuckle-equipped QATSI guitars, finished in quite outrageous colour schemes like 'Juice Burst'.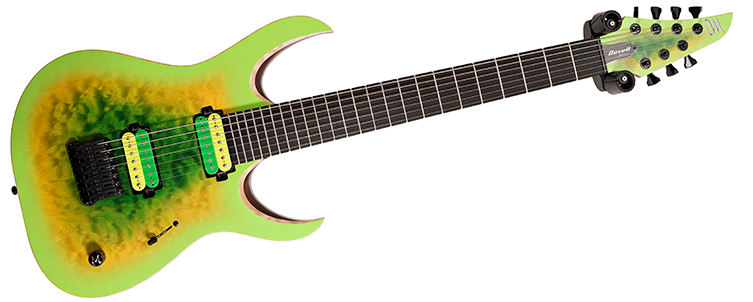 Keith Merrow
Keith Merrow - producer, engineer and founding member of death metal supergroup Conquering Dystopia - is also an instrumental metal player with a sound that bridges traditional and contemporary styles. A guitar player's guitar player, his rabid fanbase eat up each of his releases and download his custom Kemper profiles.
On top of that, he has a range of rather tasty Schecter signature guitars, including a model with inlays taken from 80s alien Predator's gnarly arm-gadgets! His guitars are popular, and not just with his fanbase, either: pro players in bands like 3Teeth and Scalping choose Schecter Keith Merrow guitars for their own doom-laden noise.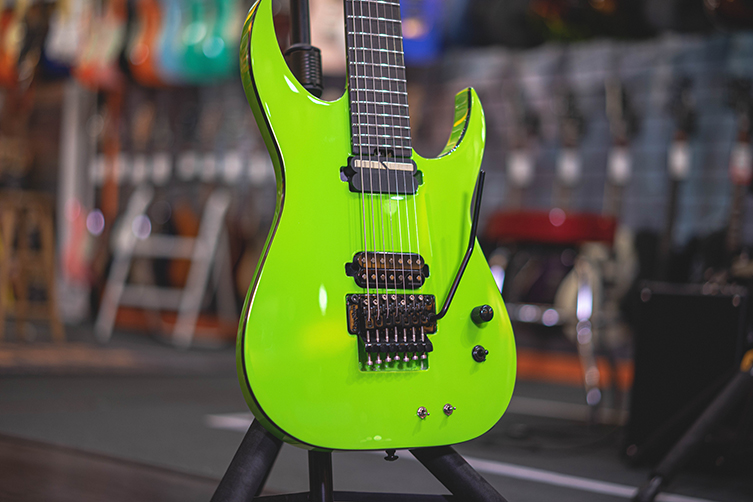 Today's Metal Brands
Today's instrument landscape for contemporary heavy guitar players shows an eye for the modern and forward-thinking as much as it does harken back to the glory days of thrash and shred. This makes sense to us, given that the overall metal genre itself is a constant flux of 80s, 90s and noughties sounds, with up to date production incorporated. Here are some of the guitar brands that today's metalhead turns to for their expression…
Strandberg
Firmly sitting on the 'forward-thinking' end of that old/new paradigm, Ola Strandbgerg's famously ergonomic designs have found a firm place within more technical metal circles. This makes obvious sense, given that every inch of a Strandberg is designed to put your playing experience and comfort as the priorities. Players like shred fiend Plini and Scar Symmetry's Per Nilsson both have signature models.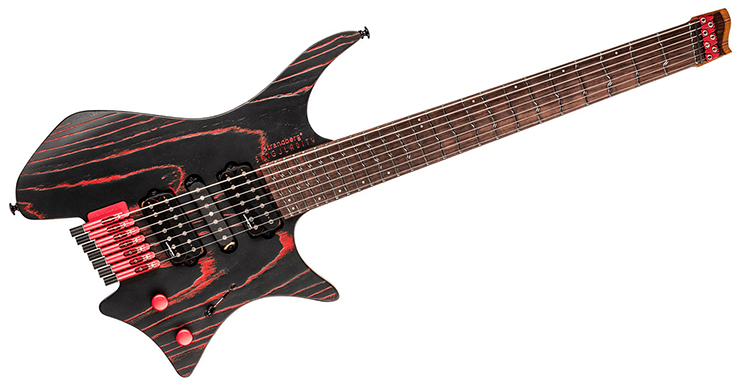 ESP
Call it the omnipresent, overarching influence of the mighty Metallica, but ESP have been a permanent solution for heavy tone freaks since Hetfield and Hammett came onboard in the mid-80s. It makes sense, too: their designs are always at least pointing towards more aggressive styles, and their combination of playability and brutality is perfectly suited to the riff and shred meister alike.

Their artist roster is almost a who's who of metal through the ages, from Judas Priest to 'Tallica, Rammstein to Soulfly. Amongst this newer wave of metal, you'll find signature models for artists like Javier Reyes (Animals as Leaders), Sammy Duet (Goatwhore) and Alan Ashby (Of Mice and Men).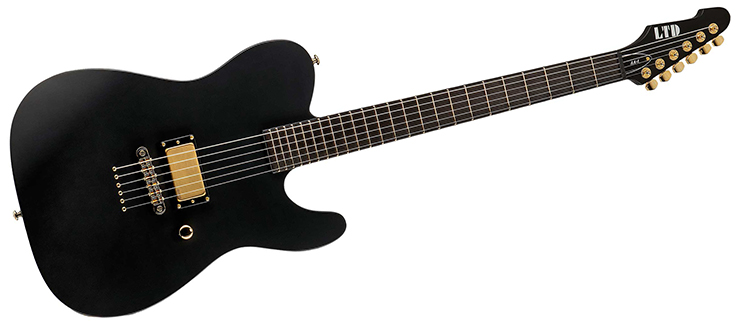 The New Sound of Metal
As you can see, there is no shortage out there for guitarists of a more extreme persuasion who are looking for a cutting edge axe. We've only scratched the surface today, too: there are a great many trusty contenders from the likes of Ormsby, Solar and countless other brands. As we mentioned earlier, there is perhaps no style of music in existence that relies so heavily on high performance guitars, and this allows the market to be filled with fantastically loud, obnoxious, dark, sleek and progressive instruments. Whichever direction your tastes take you, you'll find your perfect weapon of expression at guitarguitar.