JOE STRUMMER Fender Custom Shop Esquire
Published on 12 July 2022
Joe Strummer was the real deal. A punk rocker with a vision; a man of the people and an artist with the ability to speak directly & forthrightly without ever losing the common touch. For many, punk's pose and ideology is a matter of history and context, but there's no mistaking the fact that Joe Strummer walked the walk.
For many music fans, Strummer is a constant source of inspiration. His performance style, his passion and the subject matter he tackled through the Clash's career (and his own subsequent work) redefined what 'rock' music could be in terms of its communicative ability. People look to Joe Strummer as a model of integrity, of straight-talking and of passionate following of the muse, wherever it takes the artist.
Punk's Definitive Changeling
He's best known as Joe Strummer, but he was a number of people before that. Fans look back to the days when John Mellor (his real name) called himself Woody and performed acoustic protest songs a la Woody Guthrie, an early influence. He then moved onto the mid-70s 'Pub Rock' scene and wove around there until punk came along and blew the doors off the London music scene. Joe Strummer was born in this bright ball of creative energy, and outlasted its implosion too, bringing a number of disparate influences into The Clash's music without ever altering the attitude or message. The Sex Pistols lasted less than two years from inception to final fizzle. The Clash's chameleonic career lasted four times longer before their engine rattled to a halt in the mid-80s. By that point, The Clash were legendary figures and then some.
The Influence
As such, he has become an iconic character. It's an easy term to throw around for anyone who is popular, but Strummer's 'lead by example' life is something that other musicians gravitate towards year after year. They want his passion and energy, and in looking for ways to accomplish that, they pay close attention to his writings, his clothes, his music (or course) and they definitely pay close attention to his equipment.
As we know, artists tend to reveal their personalities through their choice of gear, and Joe Strummer is a perfect example of this.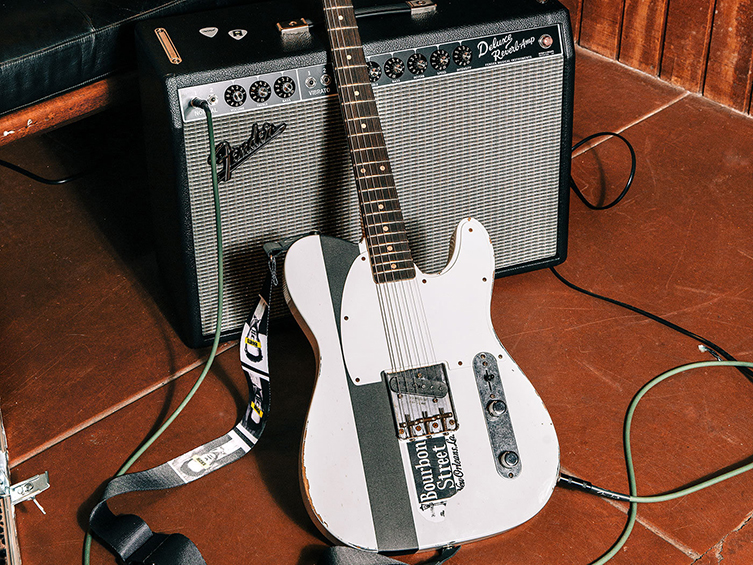 The Guitars
Tom Waits once said 'the way you do anything is the way you do everything'. This seems to apply perfectly to Strummer's approach to his musical tools. A heavy handed strummer (hence his stage name), Joe went for the most direct and straightforward guitar design on the market: the Fender Telecaster. In truth, he played a few different instruments over the years, but the Tele - and its single pickup sibling the Esquire - are the models he played the most, and are the ones most closely associated with him.
A Tele or Esquire direct into an amp with no pedals and no MIDI switching is what Joe was all about: a direct and clear route of communication, just like his lyrical style. There were two Fenders in particular that fans will know well, and Fender have issued commemorative models of both over the years.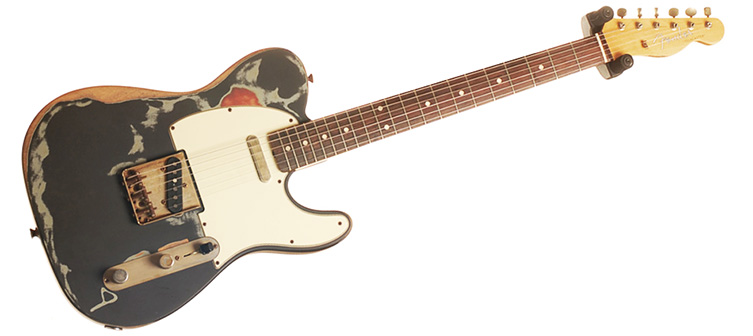 The first was his grey/black 1966 Tele. The story behind that one is interesting. A female friend of Strummer's from South Africa needed a husband in order to legally remain in the UK. Strummer required a decent guitar for gigging with, and so agreed to marry his friend in return for the cost of a guitar! Good deal, we say!
Strummer's Tele originally had a Sunburst finish, but as the punk scene dawned in London, he felt that the guitar could do with looking 'the part' more, and so took it to a car refinisher to have it sprayed! A grey primer coat was applied, followed by a few layers of black. Joe then liberally added stickers to the guitar (with such slogans as 'Ignore Alien Orders' and so on) over the years, while the finish gradually deteriorated due to his brutal playing style.
This guitar was recreated as a Mexican-made Fender Road Worn guitar back in 2007, complete with appropriate stickers inside the case for adding as much authentic decoration as you wished. It was a big hit at the time, but there's been another more recent tribute from Fender, from an entirely different part of their company…
Fender Custom Shop Joe Strummer Esquire Relic
This fabulous limited edition Fender Custom Shop Joe Strummer Esquire Relic is an exacting replica of Joe's other main guitar. Hand built by Master Builder Jason Smith, this wonderful guitar captures every angle, mark and ding of the original, which was used throughout The Clash's most influential London Calling/Combat Rock era.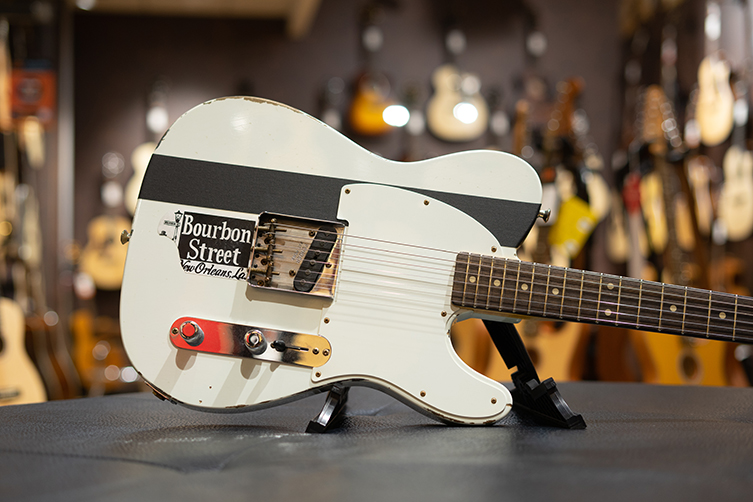 The original Esquire was a 1960 model - with presumably no marriage proposal attached - and, in typical Strummer form, was decorated in a somewhat DIY fashion. A black racing car-style pinstripe was added to the body, and a sticker advertising Bourbon Street in New Orleans was stuck down behind the bridge. Footage of Joe playing this Esquire can be readily seen from TV performances during that golden period for The Clash.
For Strummer, it seems to have been the directness of such a guitar design that appealed to him. With only one pickup to contend with, there was surely less in the way to interfere with his business!
That said, there is more to this Esquire (and Esquires in general) than first meets the eye. Far from being a single pickup Tele, the Esquire has its own sound and vibe, thanks to a clever circuit and the single pickup providing less overall magnetic pull towards the strings. This factor makes the Esquire sound more percussive and responsive, qualities which must have appealed to Strummer's decidedly physical playing style!
You may have wondered what a three-way switch actually does on a single pickup guitar? It's pretty useful actually! Position one selects the bridge pickup of course, but connects only to the volume control, bypassing the tone pot. This means the resulting tone is both louder and hotter than a typical tele tone. A useful thing to know for players who want more 'snarl' from their guitars!
The middle position on the selector is what gives you the typical Tele bridge sound, as you'd get on position one of a standard Telecaster. This selection brings back in the tone pot to the circuit, in addition to the volume.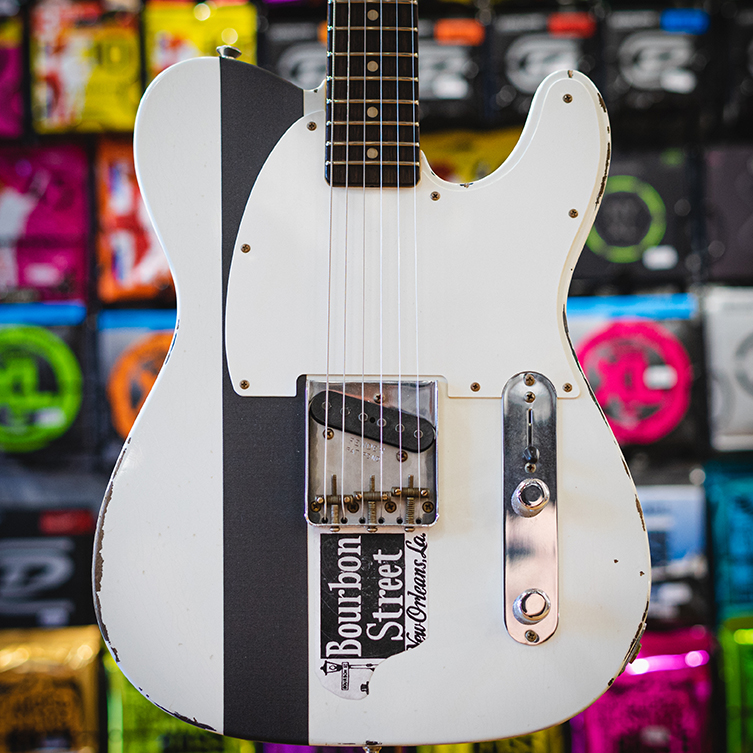 Finally, the third position is a curious thing indeed: it brings in a treble roll off capacitor to make the guitar sound pretty dark, tonally. The theory behind it was to give the guitar a 'bass' option (not that the pitch changes, of course!) for players who were accompanying other guitarists. It's an unusual sound for a Tele-type guitar, but it's historically authentic and has been reproduced here. In fact, Jazz players like Mike Stern prefer this tone over the more traditional hollowbody tones favoured by jazzers, so there's potential there for sure!
The pickup itself is well worth shouting about, since it is a Custom Shop 55/56 single coil hand wound by the famous Josephina! An acknowledged master of pickup winding, she's been making stunning pickups for Fender for decades now, making this a mighty tone machine. There's cut and attack for days, but it's not in any way shrill: there's body and resonance in there, and the pickup reacts extremely well to volume and tone changes.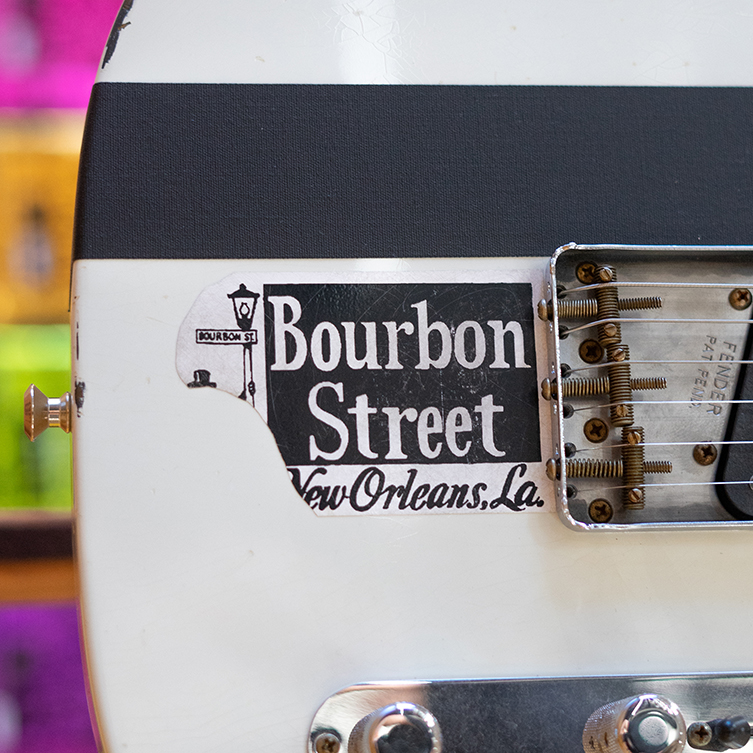 Other details with this legendary Esquire include a flat sawn maple neck with a 59 Esquire profile, and a AAA rosewood fingerboard with a 9.5" radius. Joe wasn't much interested in playing solos but if you do, you'll have an easier time of it on this guitar, thanks to that slightly flatter radius!
Schaller tuning machines are used, and the bridge is a 'top loader', which adds extra top end zing to the tone. All in all, this machine means business.
The Perfect Guitar for Combat Rock
The main event is impressive enough, but Fender Custom Shop have added in some lovely extras to make the whole package pretty special. Alongside a Joe Strummer strap is a fantastic pink Anvil case, lined with faux leopard print fur and stencilled on the outside with Strummer's name!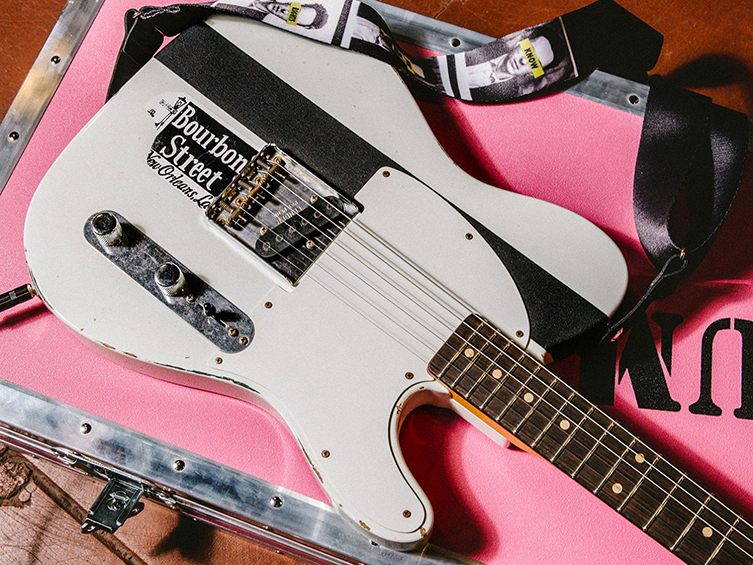 What a package: a stunningly replicated guitar, handbuilt by Master Builder Jason Smith, with a pickup made by Josephina, and all in tribute to a true maverick and punk legend! It's a rare, beautiful thing, and will speak to all lovers of Strummer, The Clash and everyone who loves Teles and Esquires. Only 70 have been made, so it's already a rare beast! Get it while you can!
Click to View the Fender Custom Shop Joe Strummer Esquire