Best Acoustic Electric Guitars for 2023: 7 Options For All Budgets
Published on 18 August 2023
Do you say 'electric acoustic' or 'electro acoustic'? However you prefer to name them, acoustic guitars with pickup systems built in are amongst our most fundamental tools as musicians. They are the one instrument in our armoury that can go literally from the bedroom to the beach, the back garden to the stage. Electro acoustics (our preferred term) are really the only guitars that are equally at home both unplugged and connected to an amp or PA. They are our songwriting machines and they are our close partners throughout our musical lives, so it makes sense to choose one that's going to mesh the best with our needs, right?
The Best Electro Acoustic Guitars of 2023
We think so, anyway, and for that reason, we've decided to put together this easy reference blog of what we consider to be amongst the best models out there. We are definitely arranging these by price, so that you can determine just what a given amount of cash will currently buy you. We'll select a favourite of ours and also offer an alternative, but please realise that there are far more great and worthy guitars out there - especially on our own site! - than we can fit in here, so take our info and run with it, but don't hold back from a guitar that speaks to you just because we've recommended something else! We are your source of friendly opinions, that is all!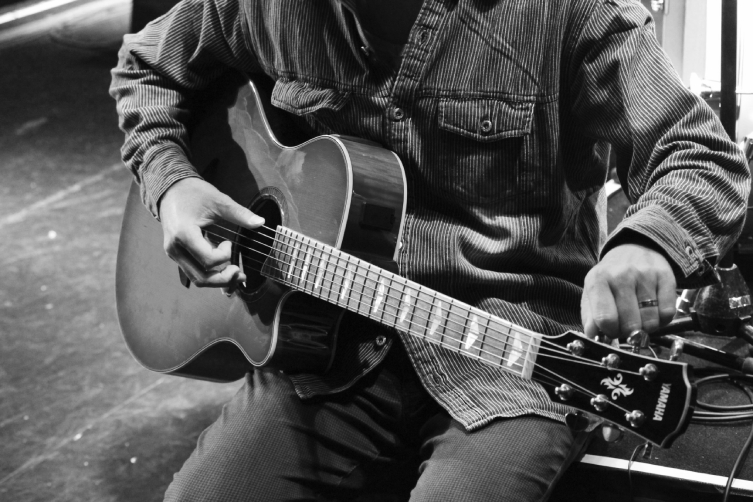 And yes, it's actually really hard to find a genuinely 'bad' electro acoustic guitar these days. Competition is fierce at every price point, and every maker wants you to choose them, so quality is currently very high across the board. That said, you'll have preferences of your own, not to mention certain specs that you just need, so let's get to it, and see if we can't just find your next electro-acoustic life partner!
Best Affordable Acoustic Electric Guitar
As you'd no doubt expect, the level of competition at the affordable/entry-level price point is monstrous: every manufacturer wants to succeed here, because players often tend to stick with brands whom they know deliver the goods. If you buy a good cheap (relatively speaking) guitar and it impresses, you may well stay with that brand for your next purchase. It's dog eat dog out there!
Well, that's good news for you, the player, because the manufacturers therefore stuff loads of value and quality into their offerings, making for some rich picking indeed. For us, there are a lot of great choices out there but the Alvarez Artist AF30CE is the one we keep coming back to here. It's a folk style (OM, if you prefer) guitar with a cutaway and a decent pickup system that allows you to cover a range of bases to a good level. The slightly smaller body style was a deliberate choice from us (Alvarez make a comparable dreadnought in the AD30CE) because we feel that this shape is slightly more portable, more grabbable, and with a little less in the bass response, sound wise, we think it's a little more useful for fingerpicking and quieter playing. Of course, strumming is no problem, but this model's forte is in the slightly more intimate styles.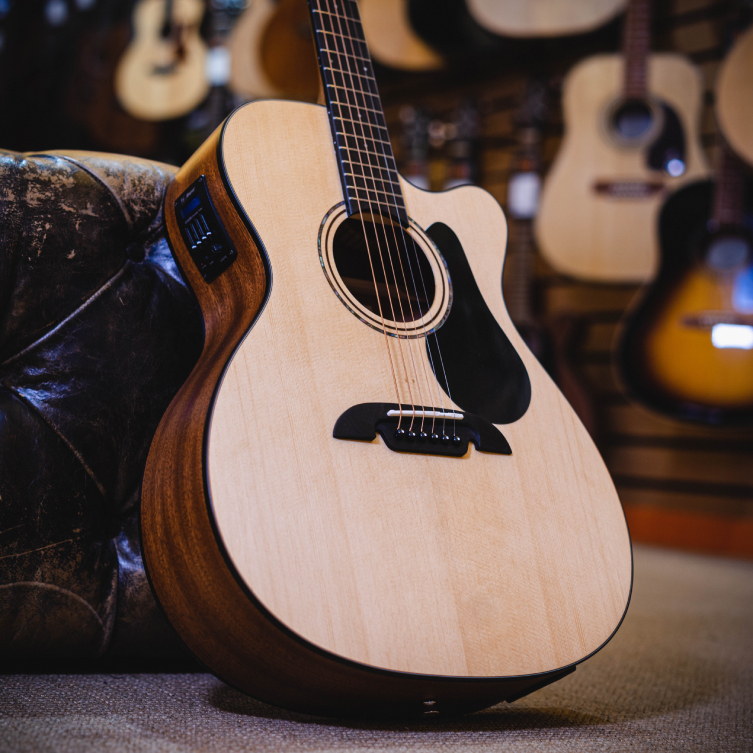 Importantly, we have a solid 'A' grade spruce top for the soundboard (the guitar's top), so this Alvarez will resonate well and 'season' as the instrument ages. Now that is a lot of guitar for the money!
As an alternative choice, we would also recommend the Yamaha APX600. This is a distinctive looking guitar, and is pretty famous around local open mic nights and suchlike. Why? Well, again, it has a slightly smaller body and a decent pickup system, so it suits a range of players in terms of styles, ages and physical sizes. It is very affordable, it's available in a range of pretty, eye-catching colours (no need to settle for brown here!) and of course, the Yamaha name on the headstock means you can expect reliability and good build quality, even at this low price.

Most Popular Acoustic Electric Guitar
For 'most popular', it really does depend on price points for many of us. The most popular guitars are beginner models, as you'd probably guess, so for this bracket, we've opted for a guitar that has been perennially popular with more seasoned players. We're talking gigging players, serious home players, and those on their journey who want their first 'real' guitar, to use a somewhat anachronistic term. You know what we mean, though!

Our choice is the Taylor 214ce. Why? It's easily one of the best-selling acoustic guitars on the market, and it has one of the best pickup systems you can get, regardless of price. It's a Taylor, so there is not only prestige attached but a sense of eco-responsibility, and on top of all of that, it's still coming to us at a good price. It's not cheap, but it is really good value.
The 214ce uses Taylor's Grand Auditorium body shape, which is not unlike the choices we've seen on our blog today already: it's smaller than a dreadnought and has narrower 'hips' which means the sound is sweet and balanced, but never particularly huge or bassy. If you want to fill a room with sound, you'll like our next choice for sure, but many circumstances just don't require a huge amount of volume and projection, so we've valued playing experience over flat-out noise-making ability here!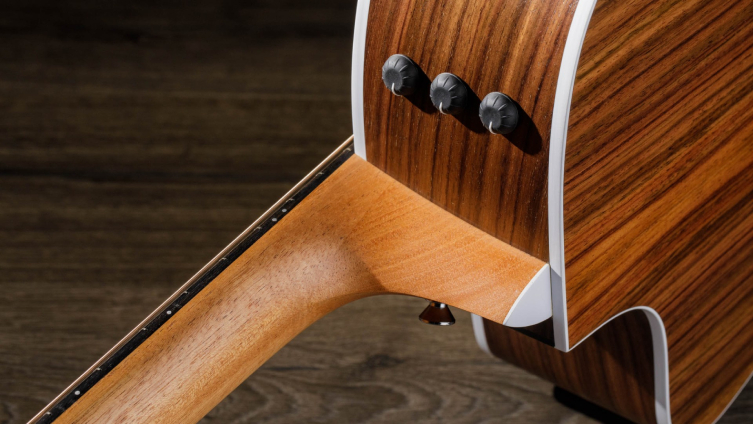 The Taylor 214ce is a great guitar for life for anybody who wants a stylish but relatively understated instrument with a great tone and effective pickup.
Our alternative choice in this category is a pretty different kettle of fish! We're going for the Epiphone Inspired by Gibson J-200. This is a famous beastie indeed, modelled after the Gibson SJ-200 and, in our opinion, giving the original model quite a run for its money! If you haven't tried any of these new Epiphone models then we forgive you for having preconceived notions about them being 'budget Gibsons', but you really need to get one in your lap for a strum! We won't pretend that there's no difference between this model and the Gibson, but at over four thousand quid less, we think those differences feel quite acceptable!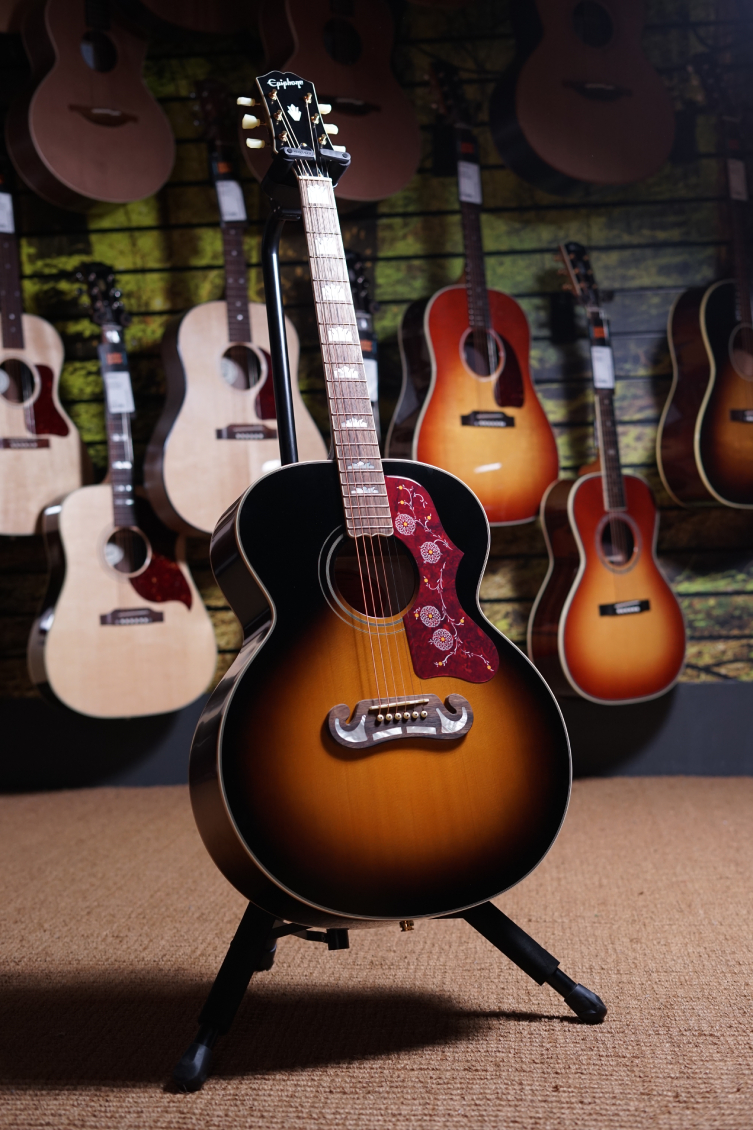 The Epiphone Inspired by Gibson J200 is - unlike other Epi J200 models that are still available - made from all-solid timbers. This is a pretty huge distinction in the world of acoustics, because guitars made with all-solid timbers resonate much more effectively than those with only solid tops, or indeed no solid timbers at all. It makes a significant difference to the initial palette of tones on offer, and it makes more of a difference over the years as the guitar breaks in. If you can buy all-solid, we respectfully recommend that you definitely do!
Briefly, then, the Epi J-200 here looks like a million bucks, has a very authentic feel, sounds huge and has a Fishman pickup in it. If you are looking for downsides, we don't know that you'll find any, save for the size-related stuff that's inherent to any jumbo acoustic. Hey, if the J-200 is too big for you, just go for the Hummingbird from the same Inspired by series: it's easier (for some) to manage and every bit as charismatic, though the slightly grander vibe of the J-200 is hard to beat!
Best High End Electric Acoustic Guitar
This section is probably the most subjective of all, in terms of acoustic guitar buying. Once you get into the higher-end price brackets, it's probably a safe comment to say that most players know largely what they like, what they need and what they're looking for. Thus, it's hardly helpful to chat about how wonderful a certain parlour guitar is, if that person knows that they prefer jumbos, for example. Because of this, we're going to just talk about a couple of guitars that we've found to be quite exceptional. We'll tell you why, and if what we say sounds like it resonates with you, then we'd invite you to delve further. Sound good?
Well, we've not had a dreadnought in our blog yet, and that's a terrible omission! So, to counter that, let us choose what is in many eyes the dreadnought of all dreadnoughts: the Martin D-28e Modern Deluxe. Martin are the creators of the dreadnought guitar style, and are easily the most significant acoustic brand in the world. Their instruments are widely used, widely loved and also widely copied, so much so that their other designs (such as the OM and 000) have become standard in their own right.

We wanted a classic Martin on here for obvious reasons, since it's the cornerstone of all acoustic guitar building. That said, Martin do offer a stupendous variety of models, even if they all appear to be pretty closely related. Therefore, to meet our criteria of being an electro-acoustic right out of the case, we opted for this electro D-28e model from the Modern Deluxe range. It brings us some of our favourite Martin timber choices and adds a Fishman Aura pickup, so we're getting top class quality across the board.
Okay, to us, the combination of good spruce and good rosewood on a dreadnought is something that is extremely tough to beat. This example gives us some of the best species available, from the Adirondack spruce to the Indian rosewood, and there's also a delicious ebony fingerboard too. The spruce has been treated to Martin's VTS process (Vintage Tone System, similar to the roasted or torrefied woods you see other companies using) for a strident sound that could be a hundred years old if you didn't know better. It makes a massive difference and contributes greatly to this being one of our favourite Martin guitars.
Talking about superior wood choices, our other recommendation for best high end acoustic uses AAAA Sitka Spruce and AAAA Cocobolo to wondrous effect. We are talking, of course, about Ireland's own Lowden guitars, and our choice today is the Lowden FM. Guitars just do not sound better than Lowden; it's like hearing a mix between a harp and a grand piano each time you play some notes! Also fitted is a top-drawer LR Baggs Anthem pickup and preamp, which actually employs a full-on condenser mic inside the soundhole to capture massively realistic, expressive tones.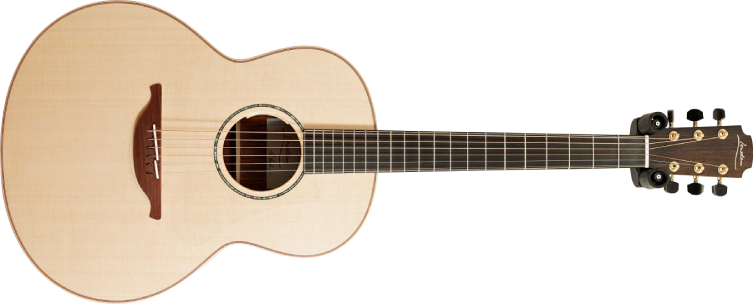 We love Lowden and this model is an excellent example of their singular vibe, singular voice and absolutely unreal build quality. It's a modern guitar for sure, but if you want champagne for your ears every time you strum, then this Lowden is waiting to pop for you!
What about Hybrid Acoustics?
Yes, what about hybrid acoustics? Well, firstly, what is a hybrid acoustic? We'd say that a hybrid acoustic is an instrument that aims to offer realistic acoustic guitar AND authentic electric guitar tones as its end results, but may go about that in a manner that makes the guitar look, feel or operate in a manner that is 'other' compared to a regular acoustic guitar.
The easiest way to explain this is actually to just show you a couple. Let's take the Fender Acoustasonic, which came out a few short years ago and quickly became more popular than anyone expected. We have an entire blog dedicated to these, so if you want to hop off for a bit, please click through to our Acoustasonic blog. If you're continuing here with us, then here's what we're talking about: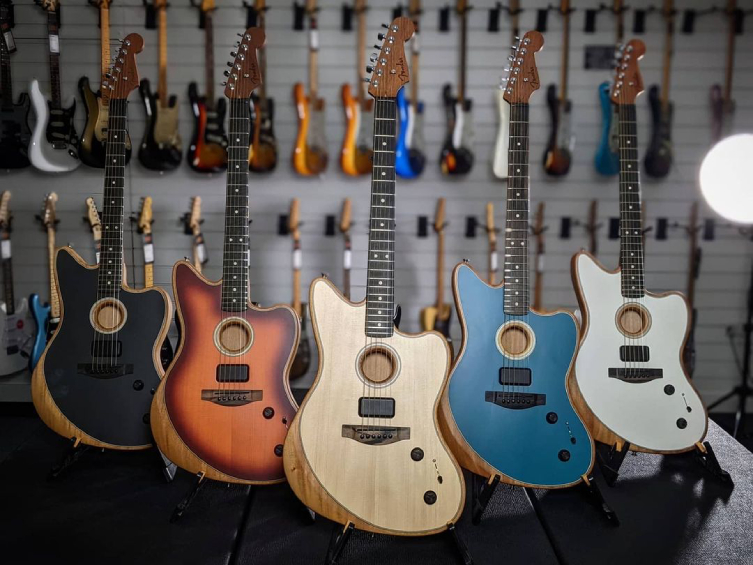 Fender make the Acoustasonic in three main styles, all of which are based on their electric guitar models. The first was the Acoustasonic Telecaster, which is only correct given it's preeminence as the company's first ever electric guitar. This was followed by the Acoustasonic Stratocaster and then the Acoustasonic Jazzmaster, and whilst they all have little details and features relative to themselves, the basic premise remains the same throughout the range.
These guitars have hollow bodies (sealed up, mind you, but still hollow), three different pickup systems and a special 'Acoustic Engine' that Fender developed alongside pickup giants Fishman. The long and short of it is, you get a selection of palpably real-sounding acoustic tones, some actual-real electric tones and the option of mixing the two. You can have separate outputs if you want different amps for each type of sound, and you should never have to worry about feedback ever again.
In practice, this is all true, we're happy to report. They work exceedingly well, and allow artists a relatively hassle-free way of using acoustic tones alongside electric ones at a gig, without carrying around a ton of gear. We're seeing these pop up everywhere so it looks like this is one of those good ideas that'll stick around!
Do Acoustic Electric Guitars Sound Good Unplugged?
Yes, they do! Some players wonder if electro acoustic guitars ever suffer in the unplugged department. The logic is that they must have compromised somewhere in order to allow for the ability to be plugged in, and it's an understandable concern. Back in the day, bowlbacked Ovation guitars and other such 'stage acoustics' sounded…unique when strummed normally. We're being diplomatic here of course, but you'll notice that our choices today (with the obvious exception of the Acoustasonic) are built primarily as wonderful acoustic guitars. The pickup systems on board will always vary with price (and application), but the benefits of them are too good to ignore. We'd also say that, with the electro acoustics out there that might not sound so great, well, you may find that the guitar itself is the problem, not the addition or absence of a pickup.
Are Electro Acoustic Guitars Good for Beginners?
When putting this list together, we held beginners in mind for our 'affordable' section, since that is likely where most players would begin their journey. So, yes, electro acoustic guitars are absolutely good for beginners! Just choose one based on your preference, your budget, and maybe some sound guidance from a guitar-playing pal (or a guitarguitar staff member) and you'll be fine!
A Roundup of the Electro Acoustic Guitars Models We Chose
To round things off, here's a list of the guitars we chose as the best electro acoustic guitars for 2023…
We hope you've found some inspiration in today's blog. Electro acoustic guitars are wonderful things, and your journey as a guitarist may not feel complete without one. Check out our recommendations, see what else is out there, and get playing!