Recommended Bundles
Manufacturer's ID: LPS-SUB-001
Moog Music is proud to introduce the Sub Phatty analog synthesizer, a 25 full-size key, 31 knob production instrument that melds the soul and functionality of vintage analog synthesizers with new and unique sound design tools. Building on the tradition of Moog's highly successful Phatty family, the Sub Phatty grinds and screams with a uniquely aggressive voice — making it the new standard for synth bass, analog percussion, and a wide range of sound design applications.
Specification
Say hello to the Sub Phatty, the grittiest Moog Synth ever.
"We set out to design the grittiest Moog synth ever, one that still offers all of the great sound and flexibility that Moog synthesizers are known for, but that also really has teeth," said Mike Adams, President of Moog Music. "One of the great advantages of the Sub Phatty is its ability to conjure aggressive sounds that cut through a dance mix, stand out on-stage, or burn up the studio. We think that everyone from producers and sound designers to DJs and synthesists will have a blast using it."
Moog Music's engineers have crafted the Sub Phatty's oscillators to perform with extreme accuracy and require almost no warm-up time. Just power up, dial in your settings, and put your fingers to work on the keys to summon crisp and detailed waveforms, a vibrant and articulate sound that more than honors the rich sonic density synonymous with Moog creations.
The Sub Phatty is the first analog synth to feature Moog's transformative new Multidrive section; at low settings Multidrive adds warmth and girth, but when pushed, it delivers a screaming snarl that is highly reactive to resonance, waveshape, and oscillator level. Experiment with this new circuit and unlock an undiscovered world of vivid analog tonalities.
The mixer section offers innovations of its own, including a sub oscillator that outputs a square wave one octave below Oscillator 1. Use this powerful tool as a third oscillator for added depth, or to craft your own customized incarnation of monstrous Moog bass. Also in the mixer section is a noise generator voiced to deliver low-frequency content, rich with body and punch. If your goal is to sculpt analog percussion and sound effects, look no further.
The Sub Phatty features a wide range of parameters just below the surface, and all features are easily accessible from the instrument's front panel, or via the free standalone/plugin editor. Select filter poles, assign wave mod destinations, or specify pitch bend amounts — it's all there.
The Sub Phatty brings a fearless new voice to the Moog family of synthesizers. With its streamlined interface and dynamic sound design flexibility, this new synth fuses an unparalleled connection between human & machine, opening the door to unprecedented sonic exploration.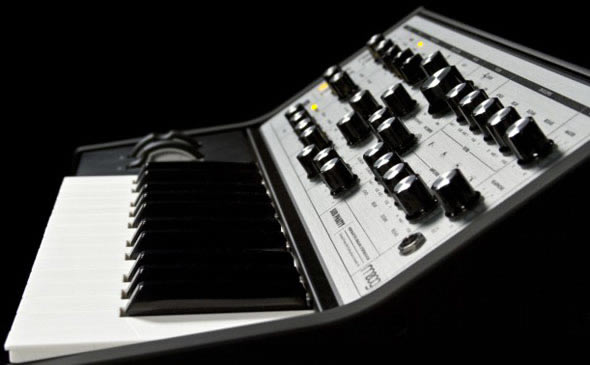 Moog Sub Phatty
Sound Engine: Analog
Number of Keys: 25
Type of Keys: Semi-Weighted
Other Controllers: Pitch Bend, Mod Wheel
Polyphony: Monophonic
Synthesizer
Sound Sources: 2 Variable Waveshape Oscillators, 1 Square Wave Sub Oscillator, 1 Noise Generator
Oscillator Calibration Range: 22Hz-6.8KHz.Guaranteed note range at 8' of Note 18 to 116
Mod Sources: Triangle, Square, Saw, Ramp, SH, Filter Envelope
Mod Destinations: Pitch, Osc 2 Pitch Only, Filter, Waveshape
Transposition: +/- 2 Octaves
Inputs and Outputs
Audio Input: 1xTS
Audio Output: 1xTS, 1xTRS Headphone
MIDI I/O: DIN In, Out, and MIDI over USB
CV/Gate Inputs: Filter CV, Pitch CV, Volume CV, KB Gate
What's In The Box
Moog Sub Phatty
Power Supply
£696.00
Order now for FREE Delivery on Thursday
Includes extended exchange
Buy with confidence: Items bought 1st October 2019 to 24th December 2019 are eligible for our Extended Christmas Exchange and can be exchanged until Friday 31st January 2020. Learn More