Bose L1 model II System with B2 Bass Module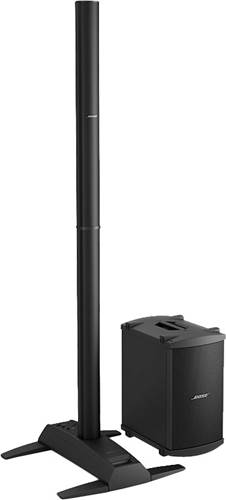 £2,389.00
Order before 12PM for Delivery Tomorrow
Manufacturer's ID: 58540
Award Winning Portable PA System
Bose L1 Model II with B2 Bass Module is the complete portable PA package. Thanks to its impeccable sound quality and ability to quickly be pulled down for easy transport, the Bose L1 systems are the go-to choice for solo musicians. This Model 1S system includes everything you need to amplify yourself for gigs, simply plug in your mixer and you're good to go!
Bose L1 Model II System
The award-winning Bose L1 Model II system allows you to hear the same quality sound your audience hears. Based on over 10 years of groundbreaking Bose research, this all-in-one amplification system features the unique Cylindrical Radiator loudspeaker. Its proprietary, vertical design helps fill the room with clear sound like no ordinary speaker can.

24-speaker articulated line array delivers 180-degree horizontal sound coverage
Produces the most consistent tonal balance with less volume drop-off over distance
System's interconnecting pieces allow for easy transport, setup and breakdown
Bose B2 Bass Amp Module Black
The B2 bass module delivers the most low-frequency output for L1® system users who need more powerful bass for larger audiences. The rugged enclosure encases two 10-inch high-excursion woofers. Includes protective slip cover.
Covers the essential lower frequencies for your L1 system