Using a Midi Keyboard Controller & Laptop Live - The Basics
Published on 07 August 2014
Use your laptop as the engine to your performance, saving money on an out-of-your-budget synthesizer or stage piano. For under £500 and your laptop you can have access to an unlimited amount of instruments, sounds and a whole lot more. We show you how with our huge selection of MIDI keyboards and studio tech!
There are many performers either in bands, as duo's or as solo artists who regularly use a stage piano, keyboard or synthesizer to help provide an element of their music throughout the gig. Whether this be digital piano, bass guitar, drum pads, or even drums, the keyboard of their choice will usually end up being a synthesizer, keyboard or workstation at a price of over or around the £1,000 mark.
"Grab the latest software emulation of your favourite synth, for a fraction of the price!"
Whilst these are great choices for keyboard performers, the upgrade path for new sounds needed in the future can become very steep or even sometimes hit a brick wall.
Enter the laptop and a Midi Keyboard or Controller. These are very affordable, playable and extremely versatile as the upgrade path is software based and on a laptop. Meaning all you need to do to get the latest sounds or features for your keyboard is order the latest software or plugin of your choice. Not only is this extremely flexible and offers you an unlimited extension of sounds, but it is also super-affordable - if you already have a laptop of course.
All you need to get setup and going is the following:
Computer or Laptop
USB Midi Controller Keyboard
+ Virtual Instruments(s) or recording software of your choice.
"You are simply using the laptop as your sound engine and processor but because it is a fully fledged computer you can get and install as many virtual instruments, sounds or effects as you like."
Steven James (Digital Specialist)
For example take the average workstation which may contain many synth engines and a number of presets, usually up to a maximum of around 50Gb storage space for samples and sounds.
These are usually priced in the £2,000 to £3,000 bracket and for someone on a budget this can be out of reach. Now lets put the laptop and Midi keyboard setup into perspective, your laptop usually comes with a 300Gb Hard Drive which gives you an almost unlimited amount of space for sounds.
Your laptop or if you use DAW software such as Ableton Live can have an unlimited number of tracks with a virtual instrument assigned to each one. With an unlimited expansion path using your laptop and a Midi keyboard, all your upcoming live performances can be future proof!

STEP 1 - Setup your laptop & software
Choose, purchase and install your virtual instrument software title.
Our recommended software title to start with:
STEP 2 - Install & Connect your Audio Interface
Purchase and connect a USB audio interface that allows low latency audio and the best sound quality. Simply install the interface by loading the drivers and plugging the device into the USB port. Connect the outputs of the audio interface to your speakers or simply plug in your headphones.
Our recommended portable USB Audio Interfaces:
STEP 3 - Plug-in your Midi Keyboard
Connect your USB keyboard to your computer, allowing your computer to install it's own Midi device drivers and you are good to go. Most Midi keyboards can use the generic operating system drivers in Windows or MAC OSX, but some do come with their own drivers you can find on the included DVD or as a download from the manufacturers website.
Our recommended Midi Keyboards for Live Performance:
STEP 4 - Launch Your Virtual Instrument & PLAY!
The last step is to run your virtual instrument software and choose your keyboard as the default midi controller device in options within the software. you also need to assign the audio device within the software's preferences to the USB Audio Interface you previously connected.
You should now be able to play your virtual instrument software of choice and flick through endless sound presets to suit your taste or performance.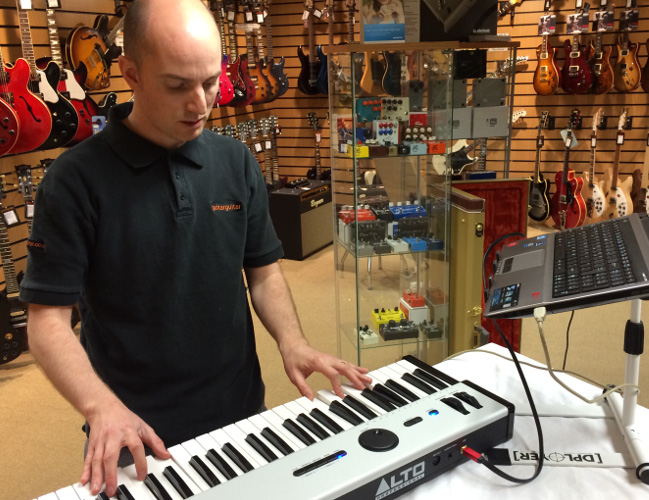 Make sure to Like the GuitarGuitar Digital Facebook Page for all of the latest DIGITAL updates!