These are the Best Electric Guitars under £1000 (Updated for February 2021)
Published on 12 April 2019
What is the best guitar under £1000?
If you're asking this, we're guessing you're after a bit of quality without breaking the bank!
You're in luck...there are a lot of seriously great guitars available at this price point. Here are a selection of our abiding favourites...
Fender Ed O'Brien EOB Stratocaster
This first one is a bit special! This is a collaboration between Fender's R&D guys and Radiohead's Ed O'Brien. It's a pretty non-standard instrument disguised as a regular Olympic White Strat and it is rightfully getting a lot of people excited!
So, this is a Fender Mexico guitar and has a host of brilliant and musical additions. Where to start, though? The neck is a chunky V shape which feels tremendous, single-handedly rewriting lots of opinions on V-profiles to many players, this one included!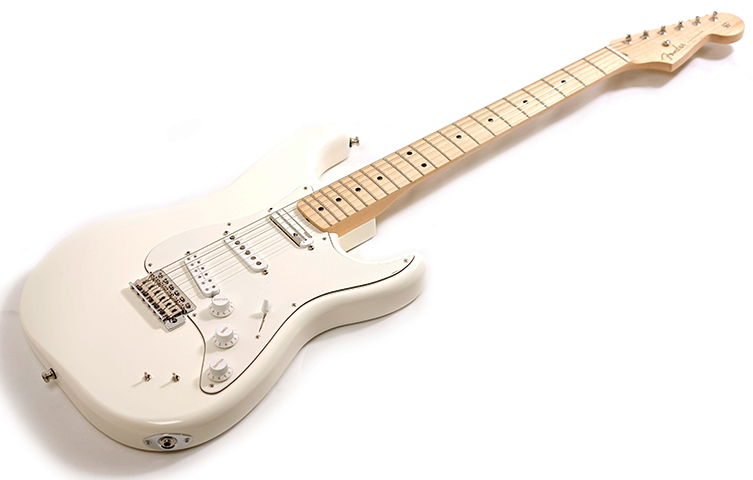 The pickups are an obvious area of modification, too. This is essentially an H-S-H configuration, even though it doesn't look so. In the bridge is a Seymour Duncan JB Jnr, a single-spaced humbucker. The middle has a Texas Special single coil (a hotter, pokier sound to better match the output of the humbuckers) and the neck is the guitar's 'special move': a Fernandes Sustainer unit. This device is employed to sustain single notes and chords, practically forever, and we can definitely attest to its effectiveness! It really works. Throw away your E-Bow: you can strum, pick, play normally in fact, all in the knowledge that any sustain you choose to employ with be natural, harmonic and work across multiple strings (if you want) simultaneously. Plus, you don't have to hold on to any mad gizmos in your picking hand, meaning no compromises to your playing! Micro-switch controls give you hands-on access to this voodoo right there on the guitar's body. It's an amazing feature and will open up your creativity in all kinds of new ways.
O'Brien is a subtle man so there is no actual signature to be found on this guitar. What there is, is a nice little sacred geometry etching on the neck plate to pinpoint this as an out-of-the-ordinary guitar. Massive bonus points also go to whoever decided to reposition the input jack to the side of the guitar instead of on the face. Fender: can this be the future, please?
Basically, if you don't yet have a Stratocaster, buy this one. Seriously. Your playing will just evolve.
Epiphone Prophecy Les Paul
We are so impressed with this hard-rocking Les Paul from Epiphone! It's just the right blend of tradition and modernity, and features up to the minute pickups that really open up the sonic potential. Epiphone's 2021 'reboot' has been entirely good news for guitarists, since they have opted to up the hardware and build quality across the board. This is our pick for those rockier moments.
So what makes this Prophecy model special? Plenty. First of all, there are 24 frets, which is entirely unusual for a Les Paul and really handy for more technical players. These frets are on a lovely Ebony fingerboard, too, which you don't often see at this price bracket. The neck itself has an asymmetrical profile in order to better fit the natural curves of your inner hand, and the heel has been sculpted to allow more comfortable upper fret access.
On to of all that, there is a set of active Fishman Fluence humbuckers which not only offer you a switchable choice of Vintage and Modern tones, but also include coil taps for single coil options, too. Choices!
Finally, the guitar itself just looks beautiful. Satin finishes with brushed metal hardware and some of the decorative elements from the Les Paul Custom bring the Les Paul Prophecy right up to the minute with rockstar tastes. It's a handsome beast with a versatile bunch of voices, not to mention a range that most Les Pauls cannot offer! We love it.
Gretsch G5420T Electromatic
Moving tack to a completely different vibe of guitar, it's pretty hard not to love the suave coolness and larger-than-life persona of Gretsch hollow bodies. Most Gretsches (yes, including the White Falcon and so on) are made in the Far East these days. The expensive Professional Series come from Japan whereas the Electromatics, from which this guitar is a member, hail from China (some older examples are Korean). There is now another range, with the name Streamliner, which are made in Indonesia too. The point here is that the whole 'All-American' thing to which Gretsch are associated is not exactly the case, so playing a Chinese Gretsches should present no problems for guitar players, providing the quality is there.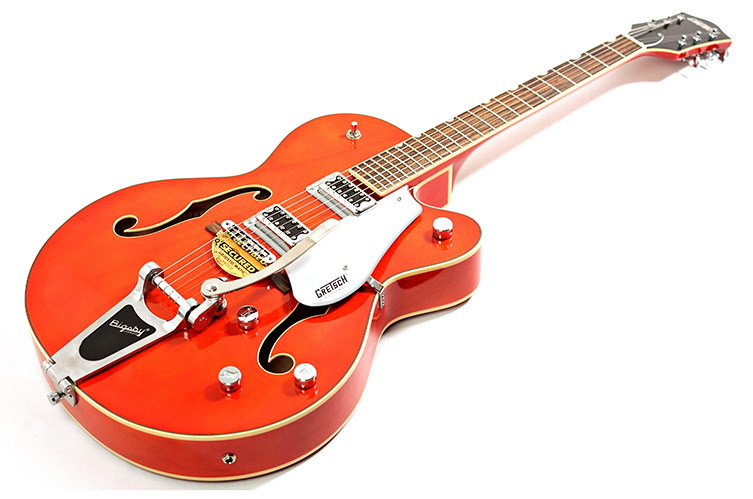 Thankfully it is! The benefit here is that Gretsches are hollow, so the relative quality of tone wood is a non-factor! Gretsch use licensed Bigsby tremolos and carefully designed Filter'Tron pickups with these Electromatics, so you ARE playing a proper Gretsch. Electromatics are played on stages all over the world and they definitely have that idiosyncratic Gretsch feel.
This Gretsch Electromatic G5420T that I've picked out is one of the most popular styles and it looks like a million bucks! I've chosen the Orange finish since it's a colour synonymous with the brand. All of the cool Gretsch appointments are here, just like the more expensive models: binding, metal hardware, thumbnail inlays, the large body with the proper shape and even branded control knobs!
Sonically, that distinctive Gretsch twang is here, along with the extra Duane Eddy wobble of the Bigsby. This, like all Gretsches, is a guitar that you need to let 'play you' a little more than you play it, so to speak. It's part of that inimitable charm so just go with it!
Hagstrom Pat Smear Signature
Here's another signature model but, again, that is a detail that you can quite easily sidestep, enjoying the instrument for what it is. The Hagstrom Pat Smear guitar is full of attitude and swagger, regardless of the attached name. It's nice to see signature models that are unique and interesting creations, but which are not overtly 'owned' by the artist. Anybody who is into Indie, Rock, Punk or Metal could blast on this Hagstrom and have zero interest in Mr Smear himself, or indeed Foo Fighters or Nirvana.
So, this guitar! It's a take on their cool H-II shape, which itself is something akin to a slightly more goth and slightly more fabulous SG. Ol' Pat has gone for binding, Ebony, Block inlays...the whole 'custom' style which always looks awesome and really suits this offset design. There is also an inexplicable blue ring surrounding the pickup selector too, which we don't quite understand but really like!

Those unfamiliar to Hagstrom may not know about their innovations like the H-Expander truss rod and Resinator fingerboards but both are here! The H-Expander truss rod has a cross section that looks like the capital letter 'H' and is made from composite elements in order to be super strong, stable and adjustable.
The Resinator fingerboard is not a million miles away from Richlite, which Gibson fans will know about. It's smooth and dark, an appropriate choice and excellent at this price point.
Custom Alnico 58 humbuckers bring the by-now familiar PAF-style tone, which is par for the course with a Mahogany body, set-neck guitar. That's fine by us since it's one of the greatest combinations out there for tone, sustain and satisfaction!
The Hagstrom Pat Smear is a very sound choice for fans of those other Mahogany set neck guitars, especially considering how far under the £1000 cut-off this awesome beast comes in at! It's cool, it's got swagger and it has its own style whilst delivering the kind of familiar thick tones you probably already knew you wanted. Pat who?
PRS SE Custom 24
PRS have been a major force in the guitar world for over 35 years now. To begin with, the company focused on extremely high-end boutique instruments, but in the last decade they have absolutely dominatied the sub-£1000 market, too. Why? Well, their designs are outside-the-box in an acceptable and cool way, and the sheer quality on offer for the money being asked leaves little to argue about.
Paul Reed Smith is a man who has always managed to bring something unique to the table in a way that is still recognisable and indeed palatable to conservative guitarists. His Custon 24 model brought together the best parts of the Strat and the Les Paul, whilst not overtly reminding us of either. It's a true hybrid, and this SE model, from their imported line, is just terrific.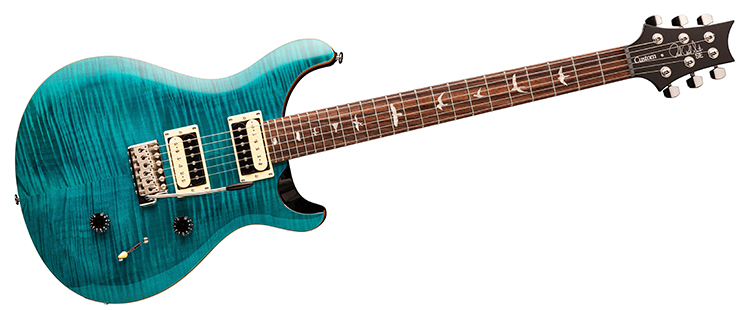 This PRS SE Custom 24 features a lovely figured maple veneer, a good tremolo system that works well without requiring a locking mechanism, and lively sounding pickups that are loosely based on Paul's own favourites.
Rather than comparing this lovely guitar to one of it's Marylan-born cousins that cost typically four times more, we'd rather talk about this Custom 24 in comparison to it's market. Coming in well under a thousand pounds, we think it is extremely difficult to beat this guitar for beauty, build and performance. The 25" scale is something everyone can like, and the Wide Thin neck profile is a time-honoured favourite. Basically, if you like nice looking guitars that play well and sound great, you're making a good move by choosing the PRS SE Custom 24. It's available in a literal rainbow of finishes, and is shown here in Sapphire.
Charvel Pro Mod DK24HH
Hard Rockers with perhaps a slightly more shred-based proclivity may want to feast their eyes on the Charvel Pro Mod DK24HH. To be honest, we could have included any of Charvel's Pro Mod guitars in this rundown, such is their quality and sheer vibe! The San Dimas models are essentially hot-rodded Fenders (in other words, awesome) but this new DK24HH bears a slightly different reference point: we'd say they are a little more 'boutique' in style (without naming any names) and bear more than a passing resemblance to Charvel's own Guthrie Govan signature model.
The DK24HH has an Alder 'Dinky' body loaded with top grade Seymour Duncan pickups. In the bridge we have a self-explanatory Full Shred humbucker, which the bridge following tradiiton with the less powerful Alnico Pro II. As a pair, you can cover a wide range of sonic ground, with the guitar's 5-way blade allowing for even more tonal choice.
Interestingly, Charvel have opted for a non-locking tremolo, which is kind of going against their shred-tastic modus operandi! Not everyone likes a Floyd though, so this could be seen as a further move to place this guitar into the hands of fusion, prog and classic rock players. This trem is a Gotoh 510 unit anyway, so it is of premium quality and still allows plenty of scope for dive-bombing as well as more sedate use. Holding back on the more overt shred-specifications makes this Charvel a more versatile choice, we'd say.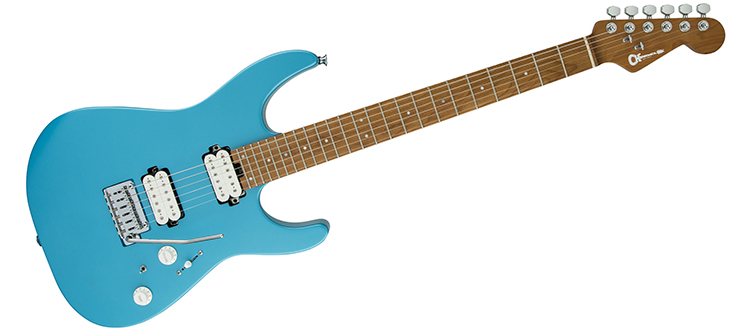 This elegant DK24HH has an extremnely impressive neck, to say the least. The 12"-16" compound radius and Jumbo frets are situated on a fantastic 'caramelised' Maple neck and fingerboard. The exotic process of 'Caramelising' is otherwise known as torrefaction and has quickly become a standard thing on many guitar lines. Torrefaction dries all of the moisture form the neck's timber, resulting in a strong, very stable piece of wood that also happens to feel and look great. Perfect!
This Charvel is more subtly-styled that some 'superstrats' too, with a range of beautiful but not-too-bold colours (shown here is the gorgeous Matte Blue Frost) to help bring some brand coherence to the model whilst helping it blend in better in less 'hair metal' situations. Guitarists with a lot of gigs to cover should seek an audience with this gorgeous animal soon. The Charvel DK24HH can hold its own anywhere.
Reverend Double Agent W
What can you not do with a humbucker and P90 combo? Nothing, that's what, and Reverend guitars know this well! It's hard to break into the market with original design guitars but Reverend have stuck to their guns, offered up innovations like the bass contour (more in a sec) and have slowly become the pre-eminent outsider's choice. Guitarists are a tough bunch: if it isn;t a Strat, a Tele or a Les Paul, it can be tough to get us interested, but Reverend have done it, with the help of a few well placed signature artists like Smashing Pumpkins, The Cure and Nine Inch Nails.

Today's choice is the Reverend Double Agent W, and it's a beaut! The offset body is Reverend's own design, and the guitar gets it's name from the aforementioned pickup configuration. We literally canot think of a base you can't cover with a good bridge humbucker and neck P90! It's a powerful combo, made more so by Reverend's patented Bass Contour control. This is basically a passive high-pass filter build into a regular control knob, so turning back the knob thins out the sound and cuts the bass frequencies. It's great for making humbuckers more single coil-like, for instance, or for teasing a more gnarly tone from a P90. As it's a knob, you can have all manner of in-between settings by turning more or less, as well, or you could use it the way NIN's Robin Finck told us, in an all or nothing manner. It's up to you!
Other innovations include a 6-bolt neck join for superior strength, pin-lock tuners and a fantastic Wilkinson tremolo which features locking saddles! Outisde of a full-on Floyd Rose, this is as secure as tremolo tuning stability gets! There's also a baked maple neck and lovely decorative binding around hte top of the body! The quality features just keep coming!
Reverend guitars are super-cool and we think more players are just going to get switched on to them and totally love them. We do!
Fender Vintera Jazzmaster 60s Modified
Guitarists have long since woken up to the potential of the Jazzmaster. Bigger sounding than a Strat and a little softer than a Tele, the Jazzmaster occupies a pretty space within Fender's sonic fingerprint that makes it uniquely good at handling almost all genres of music. Granted, there is certainly an association with Indie/Alternative Rock, but Jazzmasters are equally about to attack Blues, R 'n' B, and other styles, too.
Our model today is the Fender Vintera 60s Jazzmaster. Fender like messing around with the Jazzmaster design, changing pickups, adding humbuckers, removing the special circuitry etc. Fair play, it's these variations that helpo us find the guitars we love, right? Having said all that, one of the things we love about the Jazzmaster (and it's elliptical sister-model, the Jaguar), is the famous lead/rhythm switchable circuit! It can take a little learning, since only certain knobs and controls work with each circuit choice, but there is no much fun to be had messing wiht the options! This Vintera retains all of that, and we're very happy about it!

Elsewhere onthe guitar, we'll find a set of re-voiced 60's style pickups, which are very similar (though nobody comes out and says it) to P90s. Larger single coils, basically. A Modern C profile neck with a 9.5" radius Pau Ferro fingerboard is standard specs for a 'today' Fender, which is what we'd want, to be honest! That also helps explian the 'Modified' subtitle of the guitar's name, along with one other great feature...the bridge.
Yes, the Jazzmaster bridge is a notorious subject amongst aficionados. SOme love it, some can;t get on with it at all, and dislike the amount of movement the strings have. Fender have settled the debate here by fitting an 'AdjustoMatic' bridge. You and I would refer to it as a 'Gibson-style' bridge and it's a great shout here: tuning and intonation issues are dealt with as it the leaping string problem. Sorted!
We think the Vintera 60s Jazzmaster is a fantastic example of the 'classic' Jazzmaster. We love the finish choices and the design upgrades. Fender have pitched this one just perfectly.
Solar S1.6FR
Solar are fast becoming a significant brand in the metal world. Owned and designed by YouTube personality Ola Englund, Solar guitars have evolved out of long talks with progressive contemporaries players, to find out what they need and want from affordable, gigging guitars. The results are impressive and very cutting edge. We spoke to Ola about his guitars, and you can read about that in our exclusive Ola Englund Interview.
So this model, today, is the Solar S1.6FR. There is no mistaking it's intentions: from the aggressively shaped body horns to the sharp harpoon-style headstock, this is not a guitar the fainthearted! It's built to shred and Djent with the best of them, and it boasts some very cool features.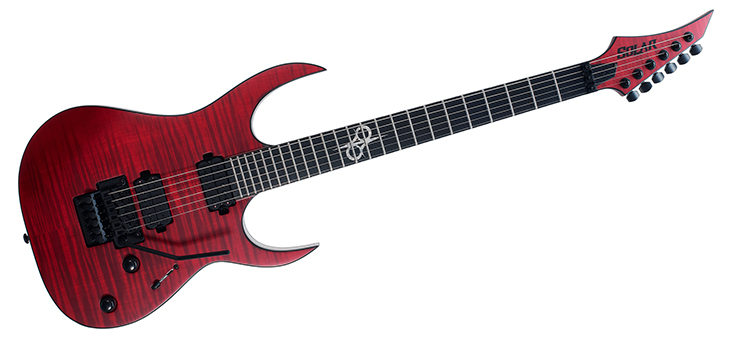 First up, that dangerous looking body is made of Alder, with a genuine Flame Maple veneer. The Maple neck has an Ebony fingerboard and, impressively, 24 stainless steel frets! Normally, these are only seen on very pricey guitars, since stainless steel is an expensive hassle to work with! For the players, though, it means super-strong frets that will takes many, many decades to wear out, if ever. A nice touch is the inclusion of glow in the dark side dots, so you even the darkest stages won't leave you blindly grasping for the correct notes! A quality Floyd Rose 1000 tremolo unit is fitted too, which equates to a more stable system that's machined with harder metals than cheaper Floyd units. All of the screams 'quality' and it's clear that you're getting a lot for your outlay.
FInally, the pickups are worth a mention, not just because they sound great but because you cannot find these anywhere else! Yes, these Duncan Solar pickups are a collaboration between Seymour Duncan and Solar guitars, and are made to Ola's own preferences. It's worth noting these these are not USA-made Seymour Duncan pickups, but more like specially designed Duncan Designed units. The difference? The designs are made by Seymour Duncan but made in the Far East, so the magnets, coils and other components may differ dform those used in the US. The takeaway from this is that you get a fantastic sounding pair of pickups (with more range and versatility than the guitar's overall design may imply, it's worth noting) that come in at the right price for Solar to offer that guitar under £1000. You can have it all!
It's a Great Time to Be a Guitar Player!
So, there you have it. That is my list of ten guitars, all under a grand, and all superb instruments in their respective fields. There is a fairly wide range of models collected here so you'll no doubt love some and hate the others but that's how it often is! The main point is that these are all ready and waiting to give you years of exceptional service at home, in the rehearsal room, on record and on the road. There has never been a better time to buy an electric guitar, and with this kind of quality available at these prices, it's a great time to step up into this phenomenal level of guitar making!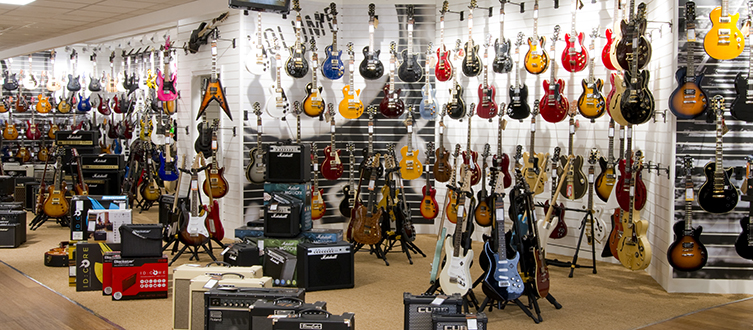 Thanks for reading, and have a look at our News Section for more guides, tips and interviews!
Ray McClelland