Line 6 Helix: The Ultimate Swiss Army Guitar Rig
Published on 22 September 2020
The Line 6 Helix is the Ultimate Swiss Army Guitar Rig. We say this in full knowledge that we have probably just invented that phrase, but the fact remains, there has perhaps never been such a highly-featured, authentic sounding unit for guitarists and bassists ever in the market. As we will see during the course of this article, the Line 6 Helix is, realistically, the only tool you need outside of your guitar and a few standard cables, for gigging and recording to a professional standard.
In the past, so-called multi-effects units were merely collections of popular effect types, organised together and made available in collections of settings called patches. Tone purists were never truly satisfied by the compromises required to factor these units into their amp setups: there would be complaints about 'tone-sucking', and of sounds that were overly 'processed' sounding. Some genres of music benefited from this (generally more futuristic and brutal styles) but guitarists who appreciated quality, classic tones with depth and nuance felt short-changed by older multi-FX processors.
Line 6 went some distance to change those perceptions with the POD. It's definitely fair to say that successive generations of POD technology kept improving the tones, but from the start, this little kidney bean amp-collection-in-a-box was a game changer. This diminutive guitar recording preamp introduced the idea of amp modelling to the world, something apart and more specific than mere collections of FX.
Line 6 have been synonymous with amp modelling ever since, from those early days twenty years ago right through to their most recent pre-Helix models like the best-selling HD500X. The prevailing opinion has essentially been this: if you happen to have a vast collection of vintage equipment, a fantastic sounding room and an engineer who really knows his stuff, you may get a slightly better guitar sound on your recordings. Otherwise, the POD sounds incredibly close, and is a LOT simpler to get results from, not to mention a King's ransom cheaper!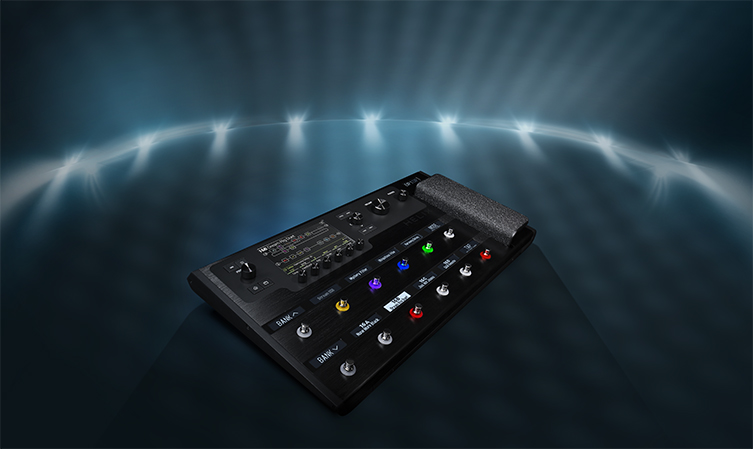 The Helix took this POD concept – the notion of recreating the 'behaviour' of amps, cabs, FX and mics, not just the sound – and upped the ante significantly. The world had in some ways caught up with Line 6 (a company staffed by ex-Oberheim and Alesis boffins, plus famous pedal designers like Jeorge Tripps): other companies were offering their own equally viable takes on modelling technology. Line 6 had to respond with something good. The Helix is the response. And what a response!
There are many reasons to get excited about the Helix: the depth of editing available, the tonal consistency, the connectivity, the portability...but more than any of these reasons, the most exciting elements are the absolutely world-class tones, the entirely authentic feel and the response of those sounds to your playing. This is reality on a whole new scale! For once, there doesn't need to be any compromises with your sound, your playing or your tonal ambitions.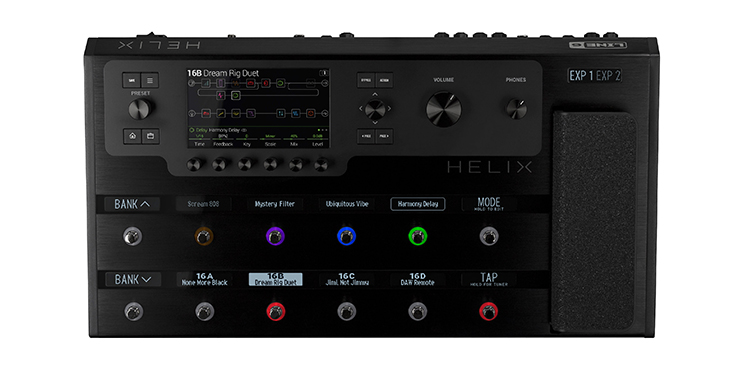 Let's delve a little deeper. The Helix (the Floor unit, to be clear: there is a rack unit too but our focus today is on the pedalboard version) is light, at only 14.7lbs (6.6kg so a good kilo lighter than an average Stratocaster), but is built to Hulk-proof standards of strength. The Helix has obviously been designed to accompany you on tour after tour. The knobs and switches impress too: they are clearly built to take a bashing! Longevity is an important matter when you commit to a piece of gear. Line 6 are old hands at this though, and their nuclear blast-proof chassis for the Helix comes as no surprise.
On the back, the connections are impressively diverse, especially for the gigging musician. Alongside the usual jack ins and outs, you'll find balanced XLR connections, one in and two out, to allow for quiet connection to mixing desks and indeed to use as a preamp for vocals is you feel like it! USB connectivity turns this into a high-quality interface, and MIDI, SPDIF and CV connections bring the functionality up to quite unheard-of levels. Multiple mono and stereo effects loops allow connection of additional pedals (and other gear) too. This proves that Line 6 are confident of the power available in the Helix and they want users to exploit that and make the Helix the integral nerve centre of their whole rig.

Usability is a large concern for many prospective users. It's one thing to know that this unit can perform all kinds of complicated tasks: it's quite another to get it to do them! The Helix is powerful in ways that most guitarists haven't even considered before, and this is something that can excite some players and bamboozle others. The important through-line here is, it comes out the box loaded up with exceptional sounds and is immediately straightforward to navigate. The screen is huge and clear, as are the 'scribble' strips above every footswitch. Stepping through patches and activating individual effects is second nature, and simple editing will come naturally to most users. If this is as far as you take things, you'll be served with a huge selection of excellent, professional quality tones.
The deeper stuff takes more concentration, but the payoff is well worth it. Imagine assigning two completely different distortion effects to a couple of expression pedals and blending between the two? How about assigning up to SIXTY parameter changes to a single footswitch? Our in-house Helix expert Robert does just that, naming this switch (the scribble strip text is rewritable, of course) 'MORE'! The example he told me was in relation to clean sounds: he programmed his 'more' switch to add a little volume, more reverb, a little compression and some subtle EQ'ing, all at the same time with a single touch of a footswitch. Keyboard players have enjoyed this type of thing for years, but guitarists have, up until now, been obliged to perform that most ungraceful of tap-dances to get their sounds to change so drastically. In terms of creativity and practicality, this is like opening the door in the back of the wardrobe and finding Narnia!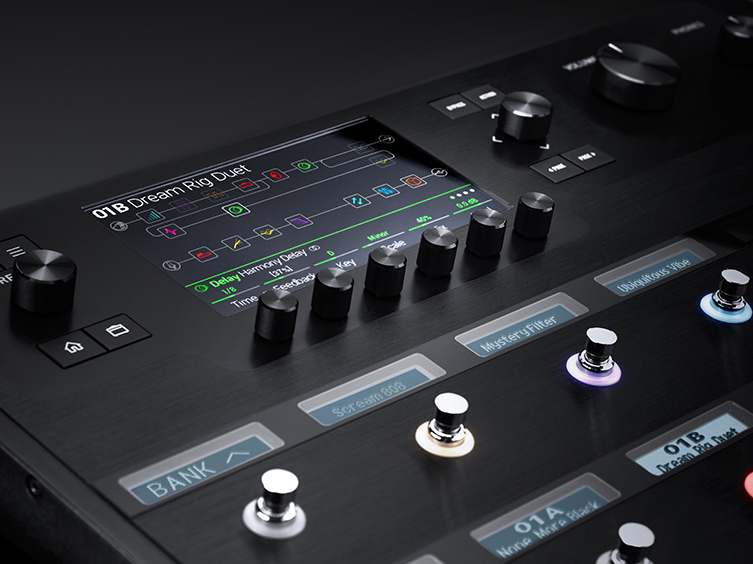 Back to the sounds themselves, then. Since the days of Line 6's Jeorge Tripps-designed DL4 Delay pedal and their M-Series HD effects modelling, the company has made modelled sounds that directly match those of their 'inspirations' in like-for-like comparisons. Endless pro guitarists have kept those pedals on their boards, and they can have anything they want so the quality speaks for itself!
Part of the secret behind why every amp, cab, effect and mic sounds so authentically realistic is down to the nature of the modelling itself: the Helix actually models the physical components as well as the behaviour of the electrical signal (including the reactions of the physical components) to create a simulation that is completely 'real'. Actions, dynamics and interactions are minutely measured and recorded from the physical originals for absolutely authentic recreation. Connoisseur terms like 'tube sag' and 'note bloom' are directly relatable to the sounds on offer from the Line 6 Helix. This applies equally to old tweed amps, 'Blackface' combos, 'British' half stacks, molten American Metal rigs and everything in between. Each rig reacts differently to your pick attack, bringing 100% realism to your performance.
We realise that these types of comments have been said often enough throughout the years about technology that was ultimately not entirely up to scratch. It becomes hyperbolic to the point where people no longer believe you. Much like CG special effects in movies, where what looked amazing at the time of release tends to age rather quickly and look embarrassing a few short years later, so it has sometimes been with digital modelling. People say 'it's as good as the real thing' until the next, better product comes along, and the same comments begin again. We've all heard it before and it's natural to be sceptical.
Up until now. Playing through the Helix feels like playing through amps. They've nailed it. Factors like dual (large) processors help to make the Helix a unit that captures the classic (and more esoteric) tones so definitely, it fully convinces, from both an ears and a feel pointy of view. Every day we read about more and more guitarists 'going digital' and doing away with amps altogether. These are world-class touring acts like Metallica, King Crimson and even Mark Knopfler (?!) so if they are convinced enough of the results to trust digital, we can be too!
In practical terms, you no longer have to hoist your heavy amp combo up and down flights of stairs, in and out of vehicles (or, gulp, public transport) and then face the prospect of being told to continually turn down at the venue, robbing you of your volume 'sweet spot' and hence compromising your sound for the entire gig. Now, you can just show up with a guitar, a handful of leads and your Helix. You plug directly into the PA system and, wherever you go, your carefully dialled in tones with remain true, night after night. No sweat.
Volume is a non-issue: you can monitor yourself effectively with stage wedges, and in-ear mixes are straightforward. A bonus for everyone is the fact that stage volume will be completely different: no band members will be competing over your roaring half-stack and everyone will hear you clearly!
Not only that, since you will have most likely already used the Helix directly into your computer to record your songs by this point, your live guitar sound will 100% match your recorded tones! There is no such thing as compromise here at all! The only thing you do need to get used to is having more space on stage, since there is no amp sitting there anymore!
Needless to say, cover band and function band musicians will be able to store their set's worth of perfect tones for instant recall. Whatever the sound or genre, you can be sure that a little bit of dialling in at home will draw forth the ideal combinations of amp, cabinet, FX and mic placement.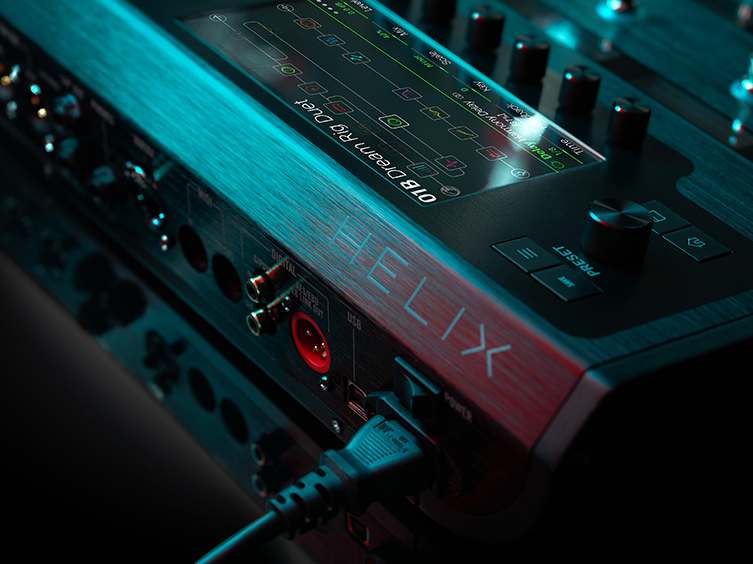 Let's summarise this a little: the sounds are endless and all of them are total slam-dunks in terms of realism and feel. The options for programming are as deep as the Mariana Trench but the unit is as simple to use as a mobile phone. The connections are well thought out, carefully considered and future-proof. The build quality matches that of boutique stomp boxes and bomb shelters. The price is less than many small boutique valve combos. It's light enough to stick in a bag (Line 6 do offer an official backpack) and carry without doing shifts at a gym. It operates in a reliable and un-fussy way and lets you sound and play like a Rockstar.
We don't know about you, but we think that's pretty hard to beat. We genuinely feel like this is the future of guitar tone, both live and in the studio. We believe in the Helix and we want you to try it out at your nearest guitarguitar to see for yourself. Let us know what you think!
Ray McClelland