Gear Spotlight: A Brief History of BOSS Compact Pedals
Published on 08 October 2019
BOSS compact pedals are iconic. Colour-coded pieces of Modern Art. Collect them, line them up and join the ranks of some of the most famous players in the world. This blog is a brief celebration of these bright-looking, brilliant pedals. We know you now about them, because BOSS pedals (yes, we will continue to use capitals) are things we all love!
If a DS-1 wasn't amongst your first three pedal purchases, you are a rare, mythical being.
And if it wasn't a DS-1, it would've been a Metal Zone. It was, wasn't it? Most of you will still own one. Why wouldn't you? After all, they are bona fide classics!
In the Beginning...
So, BOSS pedals have been around for over 40 years now. Some pedals have remained in production for much of that time, whilst others have been updated and others still have been sent to pasture. As with all collectible things, there is something of a fetish market for rarer Boss pedals, and we'll have a look at that, but we also want to highlight the classics that are available today too. We'll see who uses them and on which records they appear.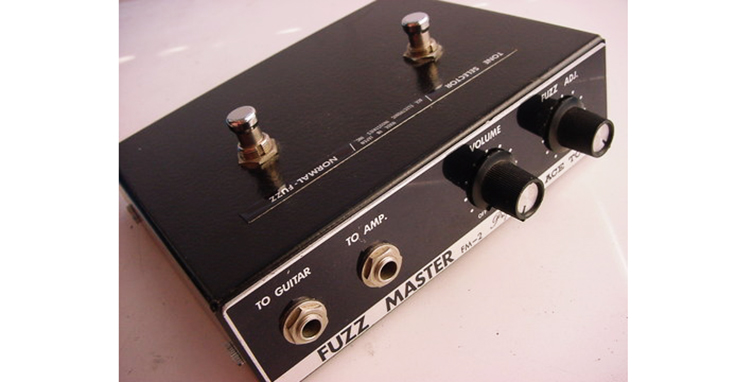 Before Boss, there was Ace Tone. Pedal fanatic still fawn over the original Ace Tone Fuzz Master, quite rightfully, since it sounds extreme and wild even today! This was back in the late 60s. BOSS as we know it came a few years later, with their incredible CE-1 Chorus pedal. Prior to this the company had released a clip-on preamp for acoustic guitars, but that was technically pre-BOSS.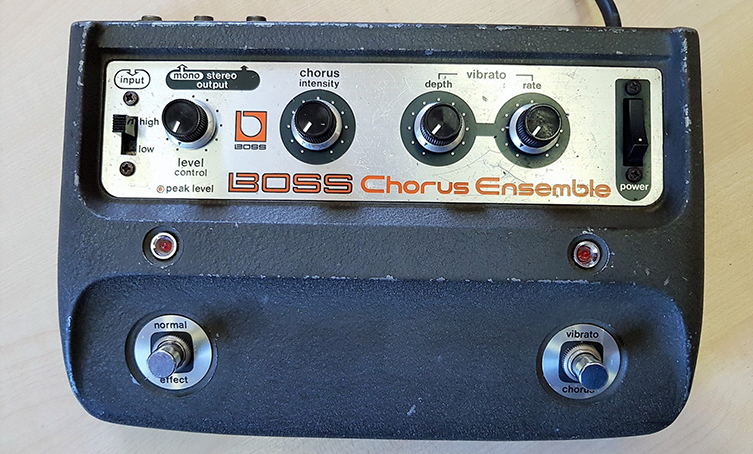 The CE-1 Chorus immediately – and has forever since- been the Chorus sound to beat, inspiring countless boutique builders to try their hand at matching the magic. It was the same Chorus effect found in the Jazz Chorus amp, itself a classic.
BOSS Classics
What the CE-1 didn't have was the iconic pedal chassis we all know and love. That came around in 1977 with a trio of pedals (known as the 'traffic lights' due to their colours): the OD-1 overdrive, PH-1 Phaser and the SP-1 Spectrum. Earlier BOSS pedals like these were all made in Japan (they are now built in Taiwan) and such examples command top dollar from our collector friends out there. We can't hear a difference in quality but since when did that matter?
The following year, 1978, brought the immortal DS-1 Distortion pedal to the world.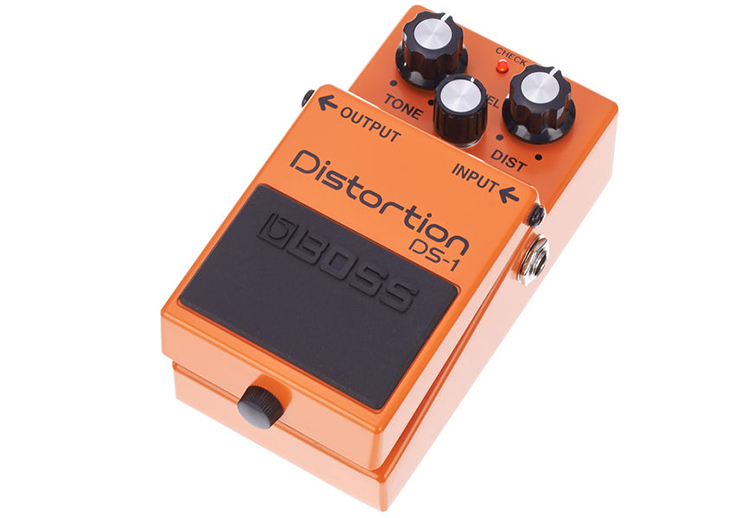 The DS-1 is a pretty aggressive drive pedal, and it was seen more pedalboards across the world than Velcro. Players as diverse as Kurt Cobain and Steve Vai are people who had made long term homes for the humble Orange box in their rigs. It's relatively inexpensive, has a wide range of gain on tap and instantly slathers your tone in nasty, angry Distortion. Perfect!
Gain for Days
BOSS have made a scandalous amount of distortion pedals over the years. Some are now rare classics, like the discontinued HM-2 Heavy Metal pedal, beloved by Black Metal fans. Others have remained, like the BD-2 Blues Driver, a pedal loved by even the most hard-to-please tone-toffs! The BD-2 clips your signal just right, adding a delicious crunch to your sound. It works well as a boost too, so try this in pace of the usual 'screamer' effect and enjoy the results! John 5 does this, and he definitely knows a thing or two about tone!
The DS-1 enjoyed an update in the form of the DS-2 Turbo Distortion, beloved by John Frusciante.
The MT-2 Metal Zone is the second best-selling BOSS pedal of all time. Introduced in 1991, it has remained a best seller ever since. No wonder: it has heaps of gain, a powerful EQ and a ridiculous amount of low-end! Like all BOSS pedals, it is wise to begin proceedings with all pedal settings pointing North to 12 o'clock. Starting here gives you the 'factory sound' as it were. Pedals like the MT-2 are really quite powerful so go easy when boosting and cutting!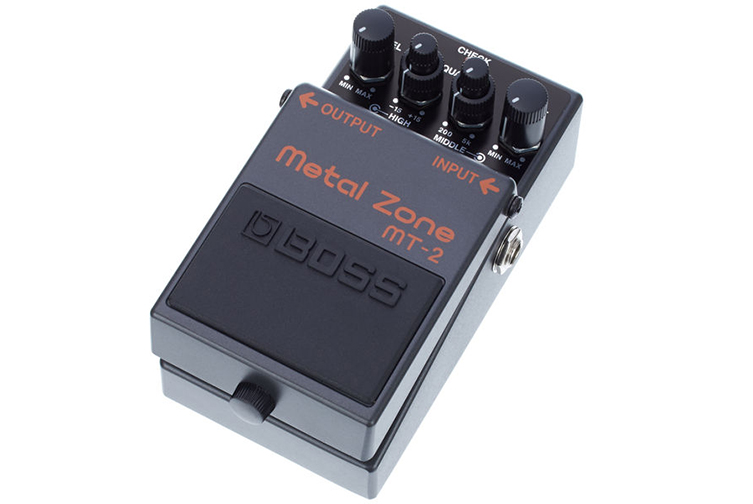 Delays and Swooshes
BOSS Digital delay pedals are almost as familiar to guitarists as the Distortion pedals. The simple DD-3 in particular has won friends as illustrious as Jane's Addiction's Dave Navarro and Rage Against the Machine's Tom Morello. The DD-3 has some fun tricks up its sleeve too: the fact that the effect cuts off all delay repeats when switched off can be used to wonderfully dramatic effect.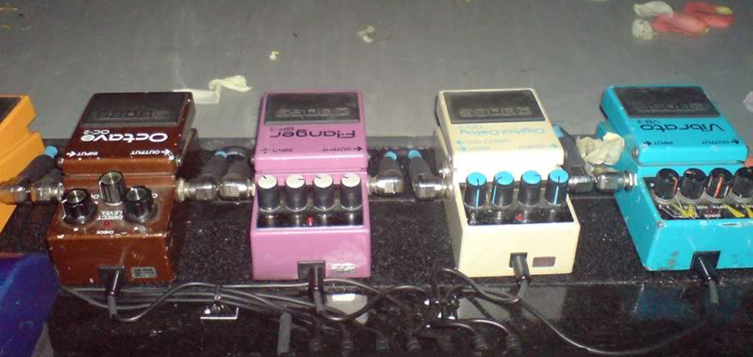 (Prince's 'Purple Rain' pedal board. Behold the BOSS!)
BOSS Modulation effects have always been impressive, not to mention innovative. For a phaser that sweeps in an 'always up' or 'always down' motion, that than just the usual sweep up AND down, look no further than the PH-3 Phase Shifter. For a Flanger that gives you a quasi-tremolo sound and is so good that PRINCE had it on his pedalboard, go for the BF-3 Flanger. The Cure's Robert Smith uses almost nothing BUT BOSS compact effects.
Innovations
Despite being a large, essentially mainstream company, BOSS (in other words - Roland) have shown a lot on innovation in their Compact Pedals. BOSS were the first to bring out a compact Acoustic Simulator for electric guitarists. Leave your dreadnought at home if your gig only requires one acoustic song!
They were the first to squash intelligent Harmonising into such a small box with the Harmonist. This developed with subsequent Super Shifter pedal, before arriving back at the stupidly powerful PS-6 Harmonist.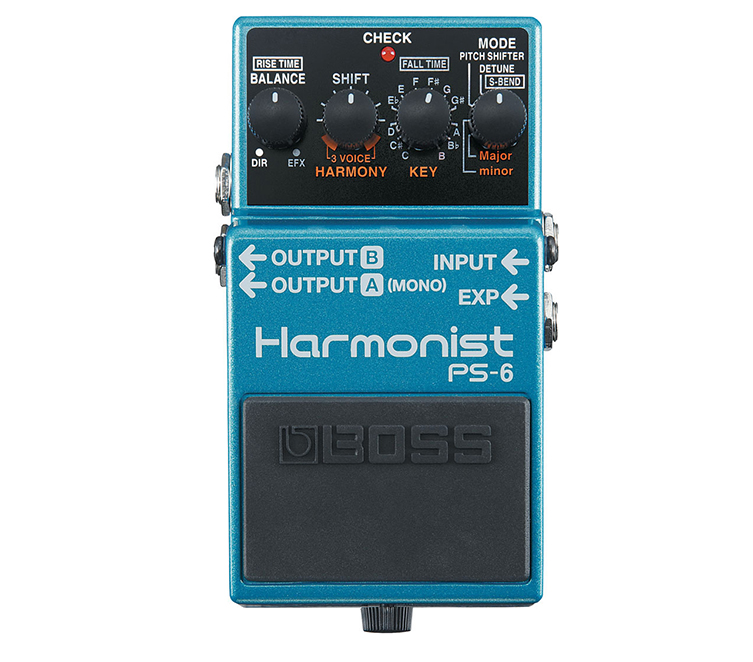 One particularly rare and excellent pedal (which this writer laments selling) was the Super Feedbacker & Distortion, a pretty gnarly drive pedal with a real time harmonic oscillation available by merely holding the pedal down with your foot!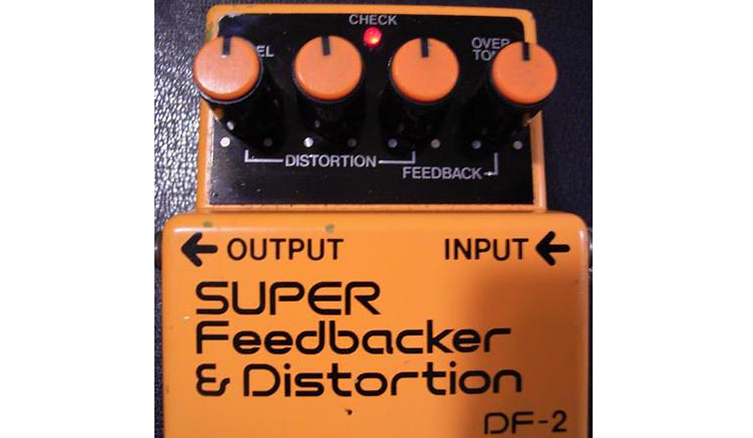 Boss were pioneers of the Looper too, and brought the world the first series of compact pedal loopers with the RC range.
These Days
BOSS are still going strong. The world needs colour coded effects pedals like it always did, and BOSS have not only kept the quality high, they have fended off legions of sub-standard copycats eager to remove their hard-won crown.
On a dark stage, it's easy to tell which pedal is which: standing on a BOSS pedal is second nature to many of us, and it's not unusual to have the same BOSS effects on your board for two or three decades, such is the build quality.
We think BOSS pedals are exceptional. They sound great, they go 'further' than many self-consciously eccentric boutique brands and their universally accepted layout means that you're never left wondering how to operate them or what to expect, at least in terms of operations.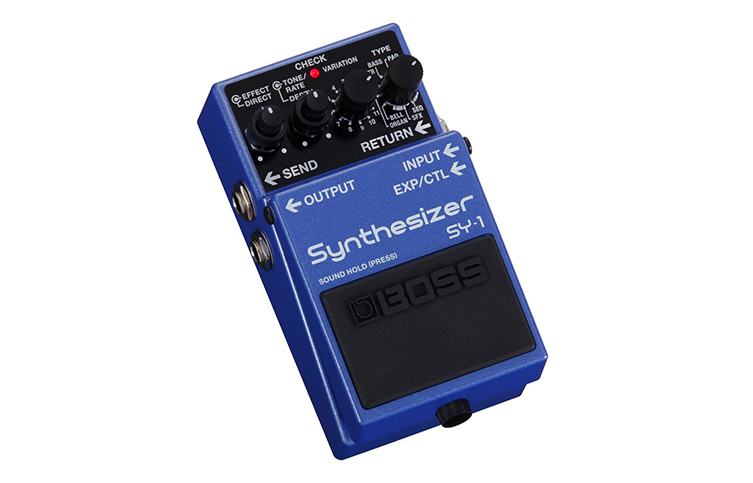 Recently, BOSS released yet another game-changing pedal in the form of the SY-1 Synthesizer pedal, which brings real synth pads, brass and leads to your guitar without the need of a special pickup. Genius! It sounds as good as you expect too, head to your local store to plug into one now!
Here's to another 40-odd years of BOSS Compact effects!
Check out our full range of BOSS pedals today.
Ray McClelland