A Closer Look: Gibson Custom Shop Hand-Picked 50s Les Paul Standards
Published on 09 December 2019
The Gibson Les Paul is one of the top three defining electric guitar designs in all of history.
Every guitarist who does not yet own one, wants to own one. It's just one of those defining sounds, a primary tool in the musician's tool kit.
A custom made Les Paul, from Gibson's Nashville Custom Shop, therefore is the thing of many a guitarist's wildest dreams!
The summit of the mountain.
The apex of singlecut heaven.
Amongst Custom Shop Les Pauls, models based closely on those from the hallowed period of the late 1950s are universally revered more than the rest. The combination of distinctive PAF pickup tones and generous neck carves have inspired more purple prose from aficionados than any other guitar from any other period.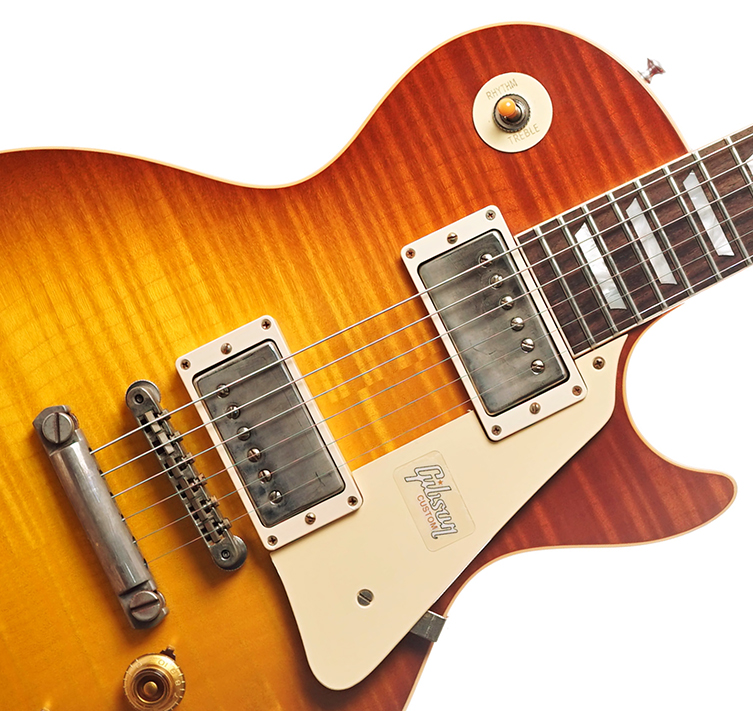 The Gibson 'Sunburst', from 1958-60 is the Holy Grail, and Custom Shop models that accurately replicate the few hundred examples that remain are, realistically, the closest any of us will get to these tonal deities. A custom made Late 50s Les Paul Standard with a Sunburst finish is a guitar of distinction!
The Cherry part of many Sunburst finishes faded over time, resulting in the famed 'Lemon Burst' finish beloved of Peter Green fans. Indeed, the range of bursts found on vintage Les Pauls is interesting: some bear the famed 'Heritage Cherry' (bright translucent red), whilst others have much more of a Darkburst, with rich, chocolate-y Brown hues being sprayed on instead of the Cherry. They are all 'Sunbursts', but they are not all alike.
This brings us to today's subject.
As some of you may have read previously, we sent a staff member across to Nashville on a mission to pick out the greatest pieces of Figured Maple timber for using to create a select run of special 'Late 50s' Les Paul Standards. Our man took his time going through nearly a thousand Maple blanks, picking out just 81 that were deemed suitable.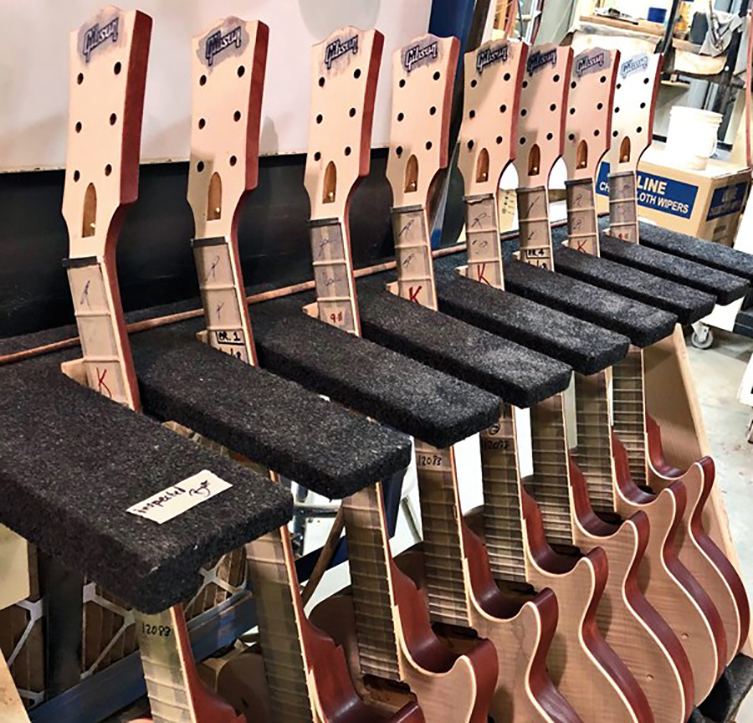 Next, select Mahogany was chosen for the bodies and necks. This had to be lightweight mahogany, because these Les Pauls were to receive precisely zero chambering or weight relief. Gibson didn't do that in the fifties, so we didn't want it happening now! Choosing lightweight pieces of Mahogany lets Gibson's Custom Shop stay true to historicity, whilst accepting that all of our back muscles prefer less heavy Les Pauls!
Pickups were specially hand-wound for these instruments, too. Custombuckers, with the most PAF-like tone ever to from a contemporary pickup. Mix these pickups, and these woods, with the stringent quality control standards applied by the artisans in Gibson's Custom Shop, and you have the Best of the Best. It's world class stuff, form beginning to end.
To finish, each of the guitars has been given Gibson's proprietry VOS (Vintage Original Spec) treatment over a period-correct nitrocellulose lacquer to appropriately simulate the look, touch and patina of a fifties Les Paul. Every detail counts on a guitar of this pedigree. Gibson do not disappoint us with these: each individual instrument is exceptional.
We've made 81 of these guitars in total, making use of each piece of hand-selected Maple. Within that number, there are five colours to choose from. Here, we'll take a look at one example of each colour, along with an accompanying video of that exact guitar being played, so you can really get a feel for what to expect.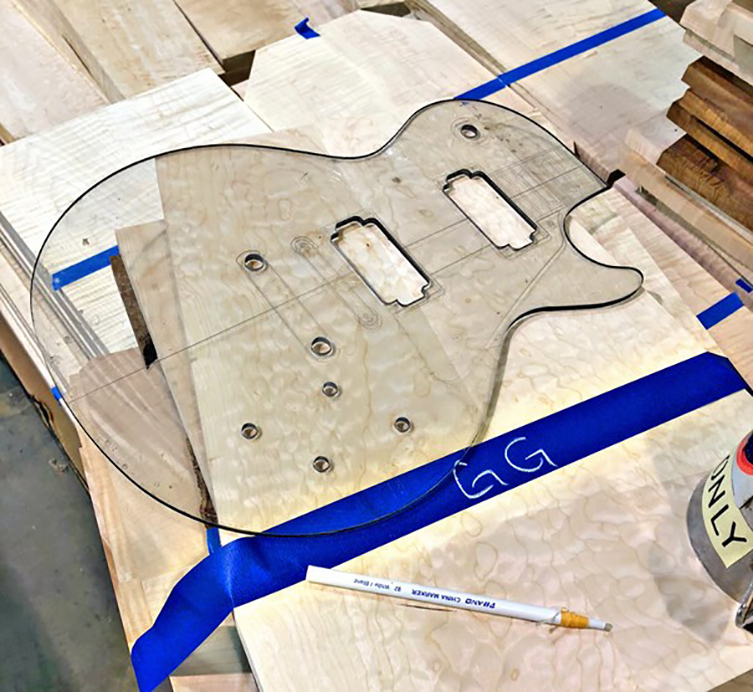 The Les Pauls
Sunrise Teaburst VOS, serial GG008
This is a pretty exceptional example of a wonderful Tiger-top Les Paul with a tight figure pattern and a medium-strength Cherry colour. For many guitarists, this Sunrise Teaburst model will be the definition of a Les Paul!

Ice Tea VOS, serial GG030
Our Ice Tea Les Paul here has a most striking top, with slightly more bold Cherry shading around the edging. This guitar's top is book-matched, just like the others in this super-limited run.

Washed Cherry VOS, serial GG023
Brighter and slightly more contrasting than the tops we've looked at thus far is the Washed Cherry finish. It's matched up to a piece of Maple with some wide, dramatic figuring.

Lemon Burst VOS, serial GG053
Factoring in the natural ageing process, the Lemon Burst models like this stunner make allowances for the slow recession of the Cherry coat, leaving a delicious, tasteful Amber. This example, like the others, has some quite stunning figuring.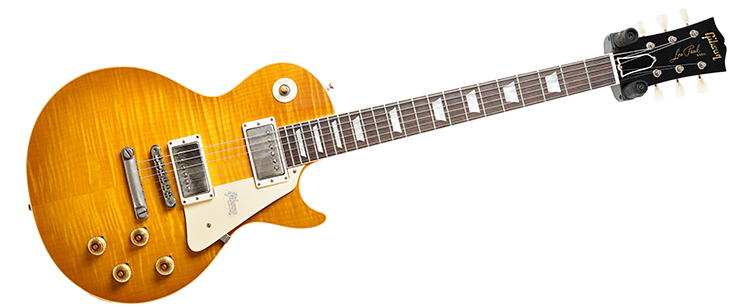 Faded Tobacco VOS, GG078
Faded Tobacco is perhaps the most different of the finish options available here. Historically, some 58-60 era Gibson Sunbursts were sprayed with darker bursts, with brown and even blue pigments appearing in the paint mix. The effect is sublime, especially when contrasted with the Cherry back of the guitar!

Final Thoughts
Each of these Les Pauls is a one-off. Some of these very guitars, in fact, might be sold and away by the time this blog goes online! Such is the nature of it, and such is the demand for these exquisite instruments. Dozens have already sold, and with good reason: they are some of the most beautiful, authentic-sounding and wonderful playing instruments of this type that exist. If a late 50s Les Paul is the instrument of your dreams, then you do not have to wake up: your dreams have come true!
See our entire collection of Gibson Custom Shop Les Pauls and click through to buy.