A Closer Look: Morley 20/20 Pedal Range
Published on 10 February 2020
Nobody knows wah pedals like Morley.
Since the 1970s, this USA-based company has been a force in the market for professional quality wah pedals. Their Power Wah is a bona fide classic, with its distinctly dramatic signature sweep that has added growl and expression to countless solos over the years.
Morley pedals are noted for their battle-proof build quality. Indeed, some original owners of these steel-housed, made in the USA wahs have been putting them in constant service since the 70s! Such extended front-line duty is testament to how well they are built to begin with.
Added to that, Morley wahs all nowadays use optical circuitry instead of mechanical moving parts. This means no friction and thus no wear! This is good news for all guitarists.
Morley are also famous for pioneering Switchless Wah technology. They were the first major brand to produce wah pedals that automatically switched on with a little foot pressure, and back off when the foot was removed. This has been incorporated into selected models in the 20/20 range too, as we will soon see!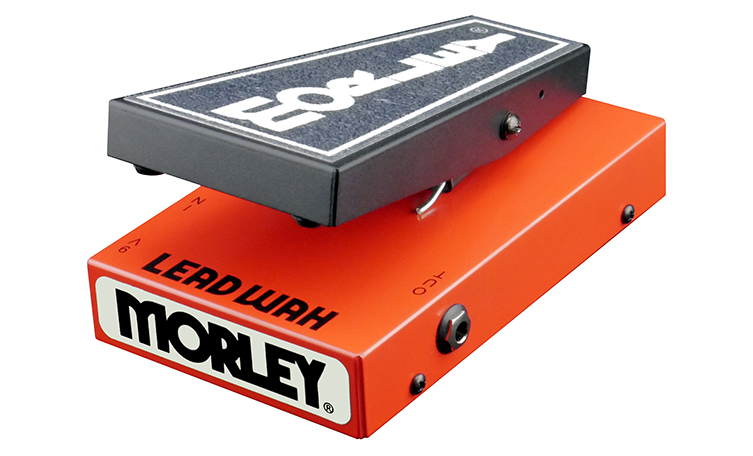 The 20/20 range all have specially designed buffer in the circuit, to ensure a lifetime of high signal strength. No tone-sucking!
For 2020, Morley have taken stock of their range and remodelled it, selecting some of their most effective wahs and housing them in more pedalboard-friendly housing. Basically, what was once 'mini' is now 'standard' for Morley. Not a bad thing, we say, considering how 'ample' their older models were in terms of pedalboard real-estate! Some of the models are brand new, too! In total, there are ten pedals in the range.
We'll take a little look at a few of our favourite Morley 20/20 wahs today, but first, let's run over a few features that apply to the whole range.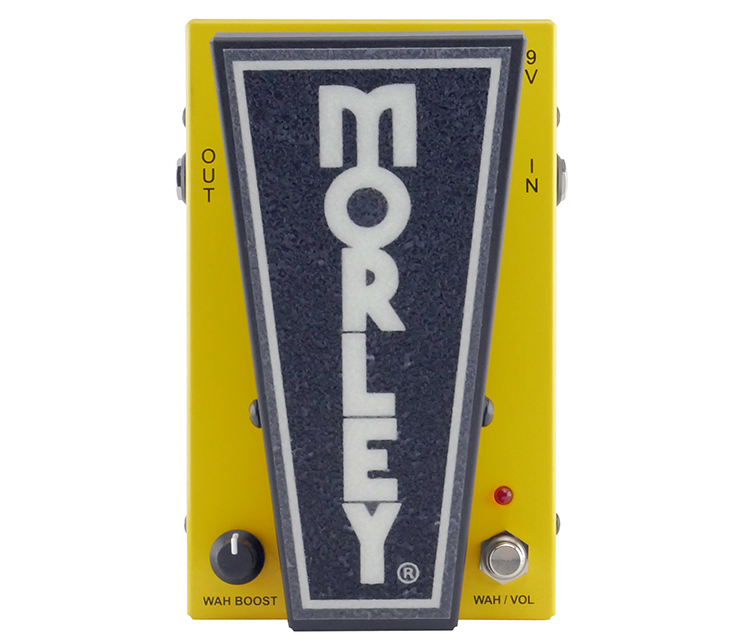 20/20
So, a quick appraisal of the Morley 20/20 range at large sees the company delivering a brace of high-integrity pedals that cater to the contemporary gigging musician. Each pedal is made in the USA and carries on the tradition of using cold-rolled steel housing for strength and longevity. Each pedal takes a standard 9V battery and this is accessible easily: no screwdrivers required here!
Many of these pedals have two or more functions, necessitating extra switches and controls. The switching, for these options, uses silent relay technology to eliminate pops and clicks in your signal. This also applies to the switchless Wah models: you never hear the pedal engaging, other than the wah effect being added to your sound.
There are ten models, as we mentioned. These range from standalone wah pedals in a variety of flavours, to more involved units that couple up distortions, fuzzes and volume effects. Let's pick a few to highlight...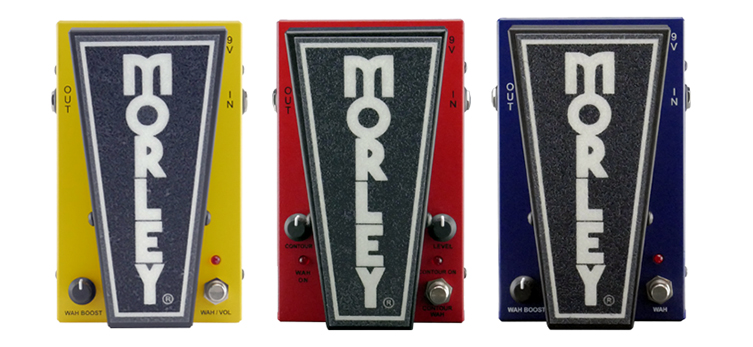 20/20 Distortion Wah
This pedal has plenty packed into its cool green chassis! First off, the wah circuit is the 'Bad Horsie', Steve Vai's signature sound which we'll see in a sec. This is partnered up with a surprisingly good distortion sound – not an afterthought but a fully redesigned PDW distortion circuit – that sits automatically 'after' the wah for the most expected and complimentary sounds. Either effect can be used independently as well as together. The wah is switchless, so it's easy to bring in when you need a little movement in your tone.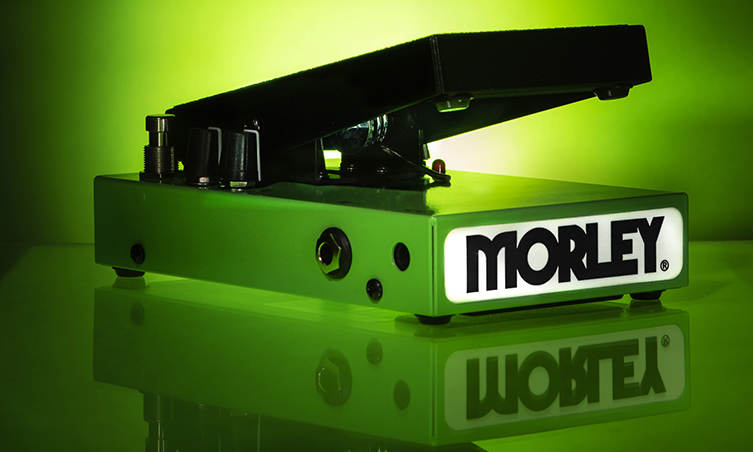 We really like the 20/20 Distortion Wah, and can see it as being a very useful addition to a great many pedalboards: the distortion part rivals many standalone dirt boxes, meaning you can conceivably free up even more space on your board or scale down for tiny stages!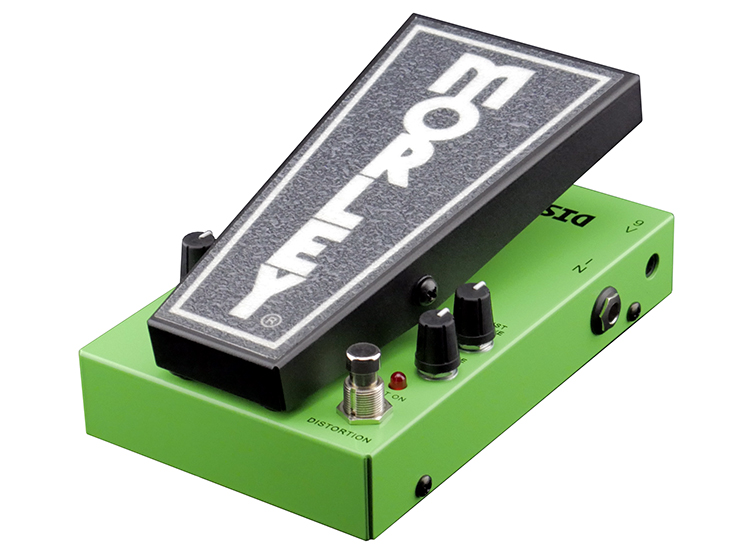 20/20 Wah Lock
This is a cool idea: you want the easy, user-friendly operation of a switchless wah, but also want to occasionally indulge in your own 'Schenker' or 'Money For Nothing' moments (full geek disclosure: we realise that Money For Nothing was in fact not a half-cocked wah, but we all still do it that way, don't we?) with a half-closed wah sound. What to do?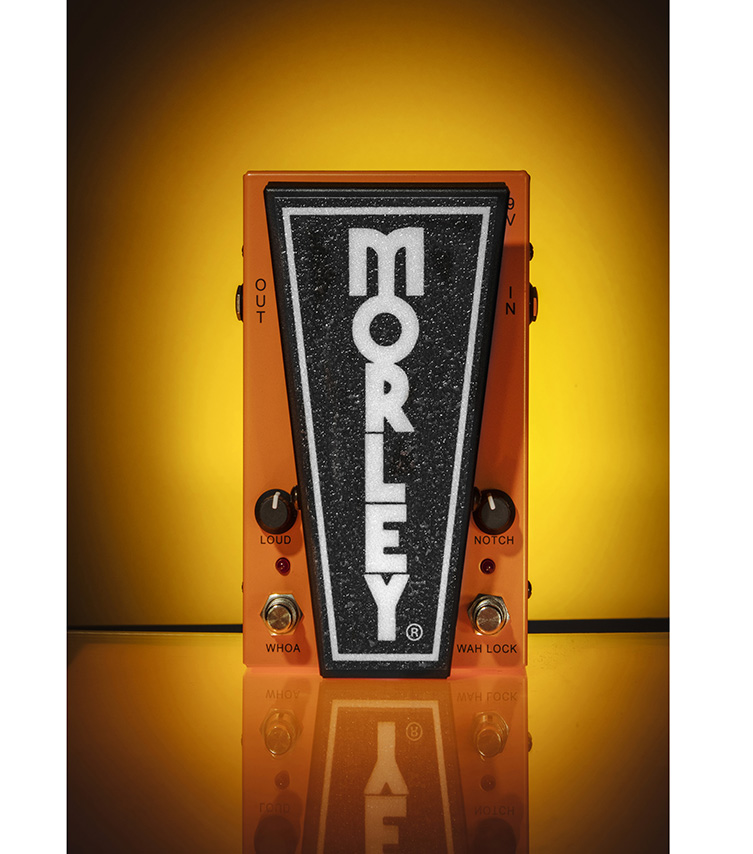 You could buy this 20/20 Wah Lock pedal! It's a switchless wah with an extra few features, accessible via two footswitches. One engages a fixed-wah sound, with a selectable 'Q' value (whereabouts in the wah's sweep the pedal would be parked at) controlled by a 'Notch' control knob. You can have it both ways!
It gets better: there is another switch, named 'Whoa', which turns the 'wah' sounds into a rather pronounced 'wow' sound, with a deeper envelope for creating some quite dramatic wah sounds, even by Morley standards! It sounds VERY cool. All of these modes are easy to switch between on the fly, making this an extremely fun and versatile pedal. Is this the best Morley wah? Well, if you don't need additional gain devices built in, it may well be.
Talking of gain devices...
20/20 Power Fuzz Wah
If you want to make a statement at your next gig, we guarantee that this pedal will get you noticed! This is a recreation of a Morley Classic and it's quite a beast!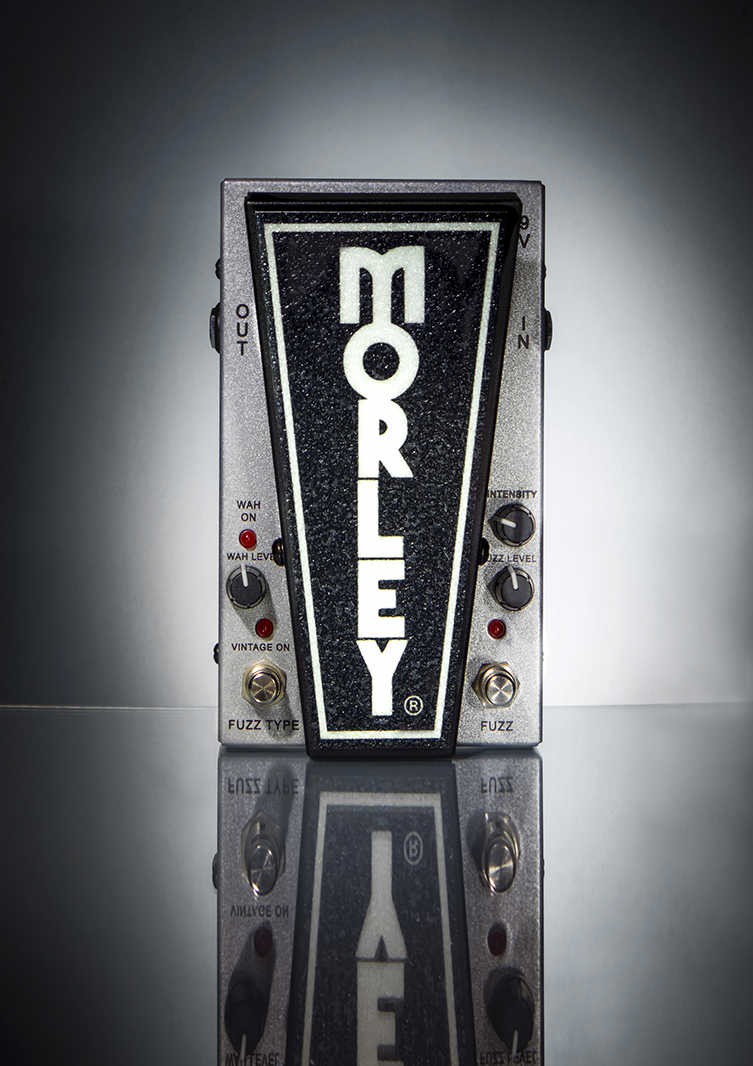 Have you put a fuzz pedal in front of a wah pedal instead of after it? Did you hear the mad, over-the-top, ridiculous sound it made? Did you think: 'that's pretty awesome'?
Then the Morley 20/20 Power Fuzz Wah is for you! Morley deliberately put the fuzz ahead of the wah in order to put that Tom Morello-on-steroids tone front and centre. It's not for polite playing, but it is a very exciting and creative sound for those who like teetering towards more edgy, confrontational sounds.
The fuzz has two modes, one being a direct recreation of the original 70s fuzz circuit and the other a more general distortion sound. This sound is a little tighter, though both deal a good amount of sonic damage!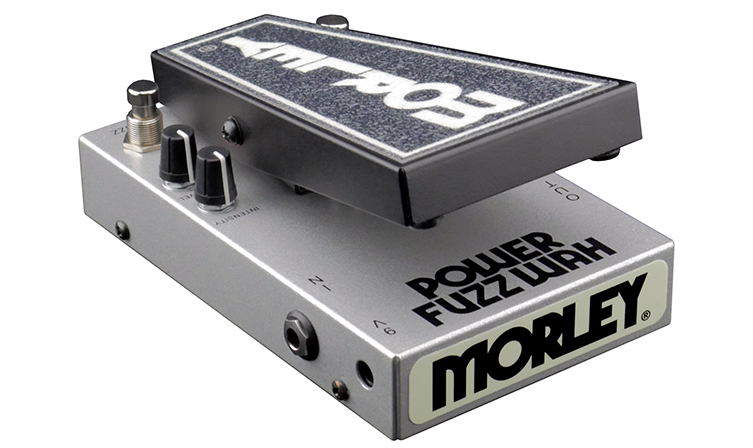 20/20 Bad Horsie
Steve Vai continues his association with Morley via this revamped version of his best-selling Bad Horsie wah. Named after his gobsmacking wah-frenzy of a tune from the Alien Love Secrets album, the 20/20 Bad Horsie brings his specially chosen wah tone with switchless technology and a 'Contour' control, which is footswitchable.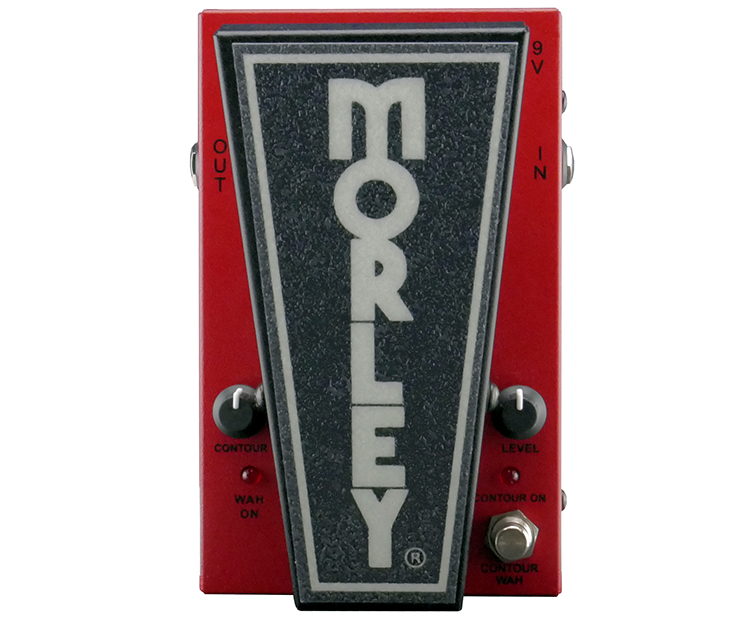 The contour switch changes the centre frequency of the wah sound, allowing you to exaggerate certain parts of the sweep over others. The knob focuses in increasing higher (i.e. more trebly) frequencies as it is turned clockwise. This handy feature lets you dial in the exact flavour of wah to compliment your tonal palette.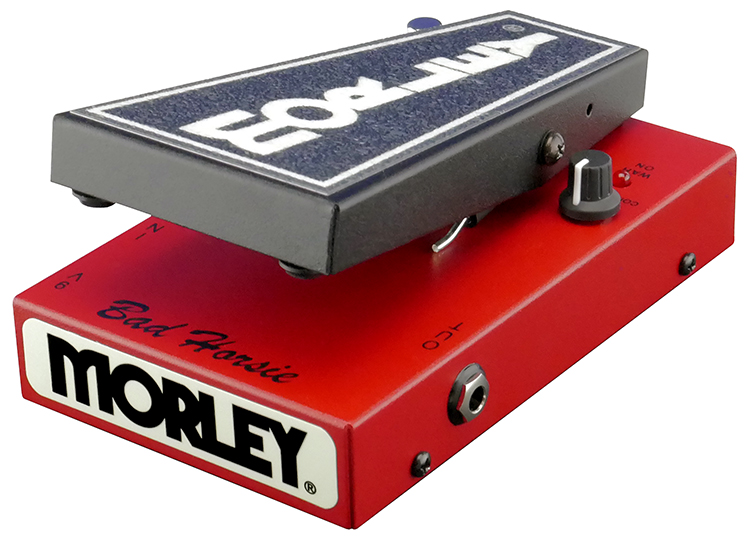 Final Thoughts
Morley have brought their signature sound and quality up to date with a fresh range that fits in with contemporary markets and players. This new 20/20 range is well designed, competitively priced (considering they are super-tough, USA-made pedals that will essentially never wear out) and, most importantly, bring a range of fantastic sounds, all in a package that fits the size and taste of modern musicians. Every detail, from the glow-in-the-dark grip tape on the top to the easy-access battery compartment, speaks of well-considered design.
We are very excited to have these pedals in our stores for you, as well as having the entire Morley 20/20 Wah range online here on the site.
As ever, thanks for having a read.
Until next time

Ray McClelland