A Closer Look: Slash Signature Gear
Published on 10 November 2020
Is there a rock fan on the surface of the planet who doesn't know who Slash is?
We think not.
The omnipresent top hat and low-slung Les Paul has become an enduringly iconic image, almost like a totem for hard rock itself. Slash is the pre-eminent guitar player of our age, and his music inspires new fans every day to pick up a guitar and emulate their hero.
I mean, who hasn't pictured themselves standing on the edge of a cliff, rocking out like Slash in the November Rain video? Come on, we've all done it...
Slash is a great player, a tasteful musician and a man who understands the power of saying a lot by doing a little. He's a rock star through and through, and, as a member of Guns 'n' Roses, a principle part of one of the most potent bands in history. If you like rock music, you like Guns n Roses. It's that simple. Slash literally always appears in Top 100 lists of 'world's greatest guitarists', and G 'n' R have sold millions and millions of records throughout their 35-year history. To put it simply, Slash is the real deal.
Through it all, Slash has kept his recipe for success clear and concise. The shades rarely come off, the top hat never does, and he is seldom far from a beautiful Gibson Les Paul! His playing is showy yet accessible, and never dominates the song. Like Hendrix, Page and Van Halen, his guitar solos are pieces of music you can hum along to.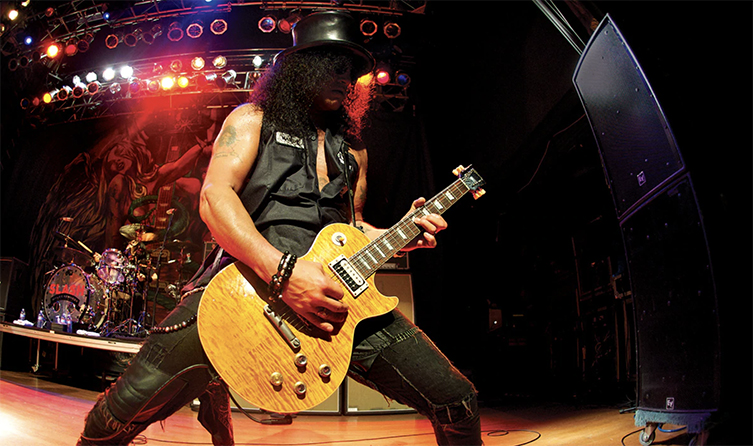 Befitting one of music's most celebrated practitioners, Slash has a number of endorsed products and instruments available for fans and players to enjoy. On top of the expected Gibson and Epiphone guitars, Slash also puts his name to a range of effects pedals by Dunlop and MXR. These are the same pedals and Gibsons used by the man himself on stage, so there is authenticity here in spades. Today, we've gathered together some of what's currently available in relation to the great man. Let's see what's out there!
Gibson Slash Signature Les Paul
The first stop on our Slash tour has to be with his Les Paul! He, more than any other player in the 80s kept the Les Paul's swaggering image at the forefront of rock music, so it's fitting that he gets his own model.
The Slash Signature les Paul is an undeniably gorgeous beast, available in two standard colours – November Burst and the excellently named Appetite Amber – and two limited edition finishes: Vermillion Burst and Anaconda Burst. Can you decide which one you like best? We can't, though we do keep coming back to that compelling green top of the Anaconda Burst...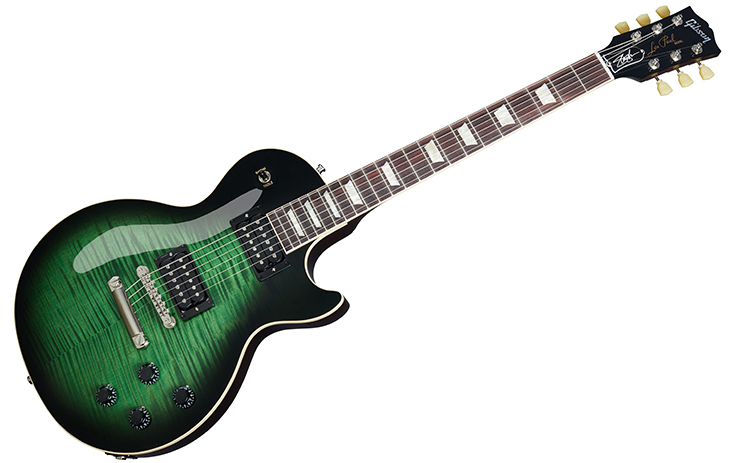 Each Slash Les Paul has a AAA flame maple top on a mahogany body. Slash's preference for a 50's-style C profile neck is used, and Gibson have wound him up a special set of Alnico II Custom Burstbucker pickups to deliver the tone.
Special Slash decorations include a 'Scully' logo on the back of the headstock, a Slash truss rod cover (a blank one is also included if you want to fly incognito) and the case even contains a handful of Dunlop Slash Tortex picks! The guitar comes strung with his preferred Ernie Ball strings, too.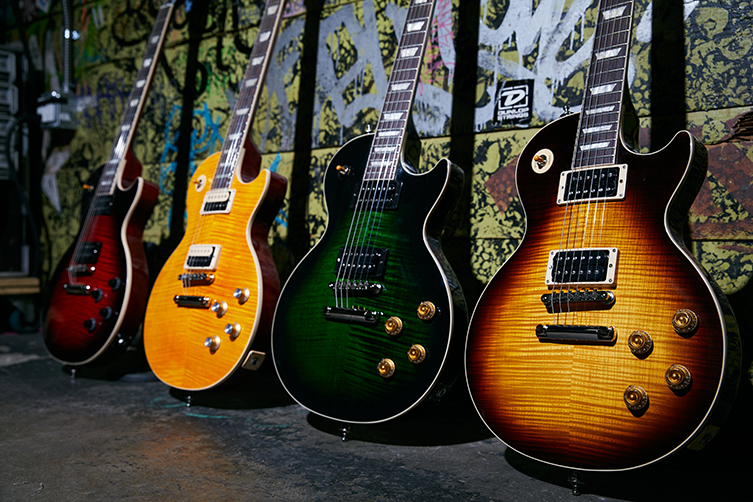 We'd suggest all Les Paul fans check out these supreme guitars. They are stunning to look at, they sound fantastic (there's a lot of vintage PAF love to enjoy here) and they are not overtly 'Slash' in terms of branding, either. Anybody can play these and make them their own, which we think Slash would approve of. Considering the quality of build, hardware and finish (not to mention those stunning tops), we think these guitars are great value for an American-made Artist model guitar.
Epiphone Slash Les Paul Special
It's not just USA-made Les Pauls on offer here. Beginners and student guitarists can get in on some of that Slash magic with the Epiphone Slash Les Paul Special! Available both with and without an amplifier (which must make this the coolest beginner's pack in existence!), this Epiphone punches well above its weight in terms of features and performance!

Check out that top! Squint your eyes a little and that could be Slash's very own Les Paul there! It's a bolt-on design with a genuine Mahogany body and even a little veneer of flame maple for that unmistakable 'Appetite for Destruction' look! It has zebra-coloured pickups, just like Slash's, and even has a built-in tuner! What more could you ask for? A Slash logo gig bag? A strap and some picks? You got it!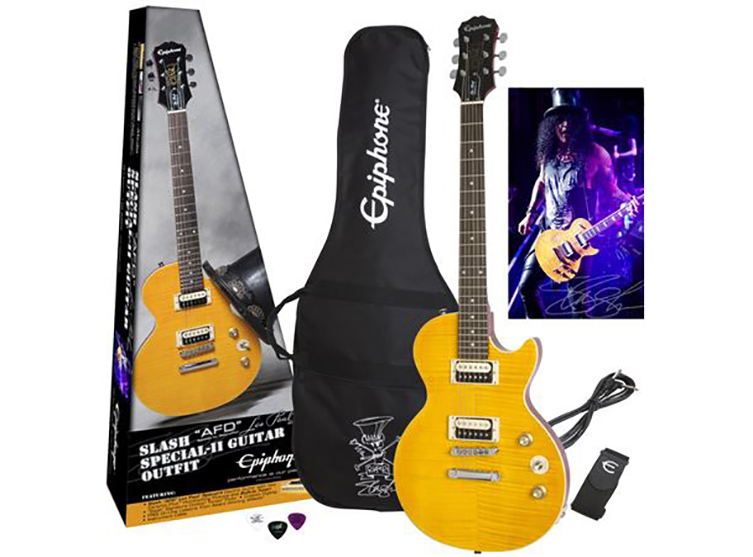 Slash's Epiphone model proves that he's as dedicated to younger players beginning their journey as he is to those who've been with him from the early days. Any guitarist strapping this guitar round their neck will feel like a true star instantly. Job done.
Gibson Slash J-45
Heading back to Gibson, Slash's preference for classic instruments continues with his choice of acoustic guitar. The J-45 is a real cornerstone in Gibson's rich acoustic guitar heritage. As with the Les Paul, Slash has wisely opted to stick fairly close to tradition, with a few tweaks and details (and cool finishes) to differentiate these from Gibson's standard offerings.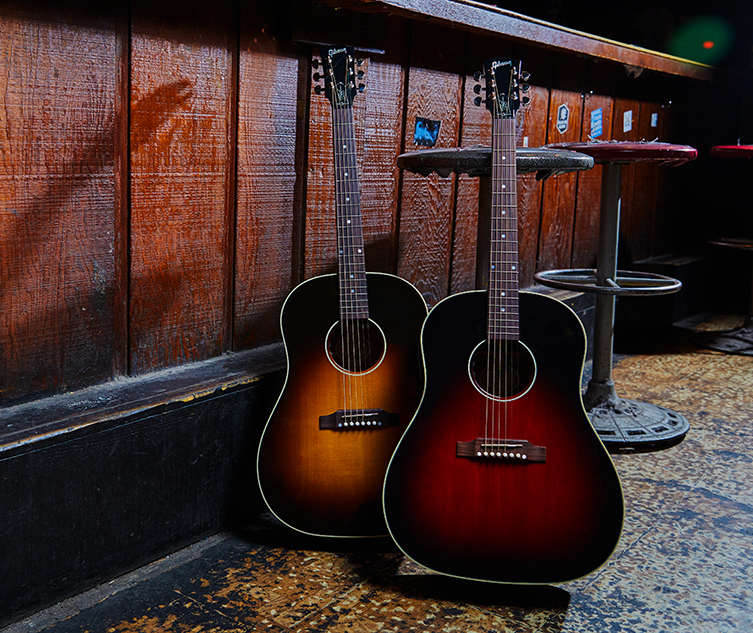 What can't you play on a J-45? It's the perfect blend of size, projection and articulation. Fingerpickers love it and so do chordal strummers. Slash's J-45 models bring two of the superb colours from his Les Paul models across to use: you can pick between November Burst (a rich Tobacco-style sunburst that is classic and amazing) and Vermillion Burst, which we think is distinctive, tasteful and beautiful.
Each Slash J-45 is made with the classic pairing of a Mahogany body and a Sitka Spruce top, allowing for a myriad of tones with depth and sparkle to spare. Hand-scalloped X-bracing ensures complex and balanced tones. A rounded C-neck is used here too, and the flat 16" radius will prove to be perfect for all styles and techniques.
Understanding that many players will want to take these beauties on stage, Slash has specified a top end LR Baggs VTC pickup system so that the plugged tones match the unplugged! Again, we can see these being loved by a wide range of players, not just Slash fans. If you are looking for a quality acoustic guitar, the Gibson Slash J-45 has to be on your list.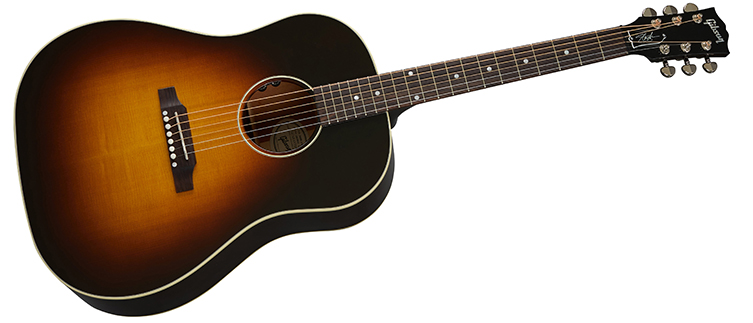 Seymour Duncan Slash Alnico II Pickups
For those looking to add a little of Slash's sound to your own without buying a new guitar, Seymour Duncan offer a set of Slash signature pickups. Hand wound in the USA to Slash's specifications, these humbuckers are moderate in output for a warmer, more vintage tone. They feature Alnico II magnets, single conductor cables (direct tone, no splitting) and a wooden spacer for authenticity. These pickups are directly modelled on the units in his favourite recording Les Paul, and fans of Seymour Duncan will know how accurate they are when it comes to details!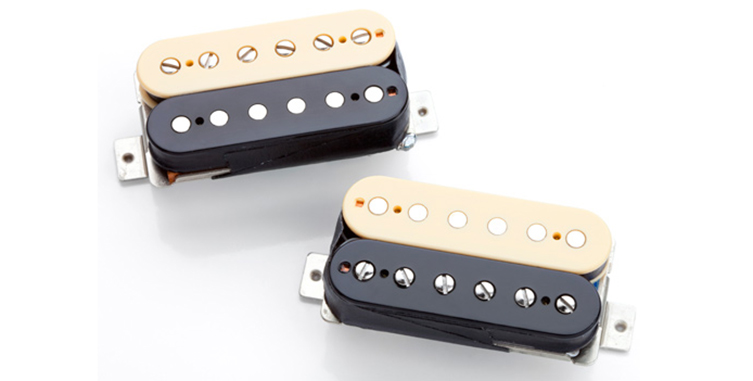 These pickups are available in sets or individually, and you can have them in black, zebra, nickel and raw nickel. From trad jazz to metal, we can't think of a genre that these pickups won't excel in.
Dunlop Slash Crybaby Wahs
Like many lead players, a wah pedal is an indispensable part of Slash's musical expression. He's always been a Crybaby man, and Dunlop have seen for to honour him with not one but two different signature wahs.

The first, the SC95, is a Classic Crybaby made to Slash's preferences. The first thing you'll note is the cool distressed finish, as if it's been painted red, repainted black and then been through several wars! It's a cool look, and one we'll see again in a minute or two. Two blue LED lights let you know when the wah is switched on, which is seriously handy on dark stages! This wah has a custom voice, tunes to have a lower frequency than standard wahs. The range of sweep available is massive, making this a very expressive pedal indeed! Finding your sweet spot to park the wah and go all 'Mick Ronson' will be easy, too. This wah has a custom wound inductor to help give it a sound that no other wah has.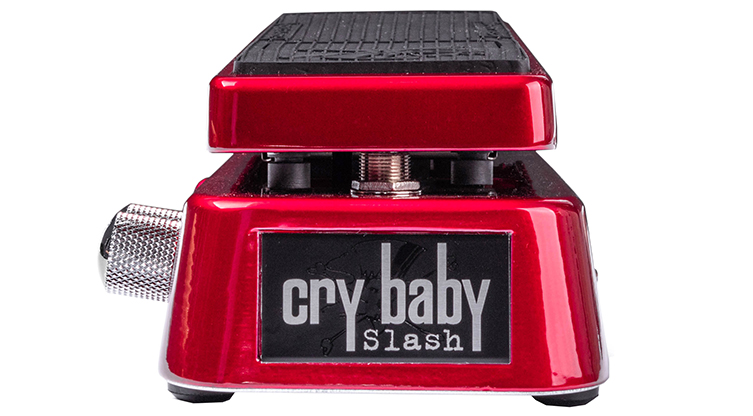 The second Dunlop Slash Crybaby is the SW-95. This bright red unit actually has a built-in distortion circuit for giving your solos an extra shot of saturation and sustain! A switch at the heel turns this function on and off, so you can easily get to it with your shoe mid-gig. Large knobs at the side give you control over gain level and volume.
MXR JD-SF01 Slash Octave Fuzz
Our final piece of Slash-endorsed gear today is a filthy fuzz pedal from MXR with some hair raising octave features. You'll recognise that post-apocalyptic finish from the SC95 Crybaby of course, and we'd say that the finish is certainly appropriate for how this thing sounds!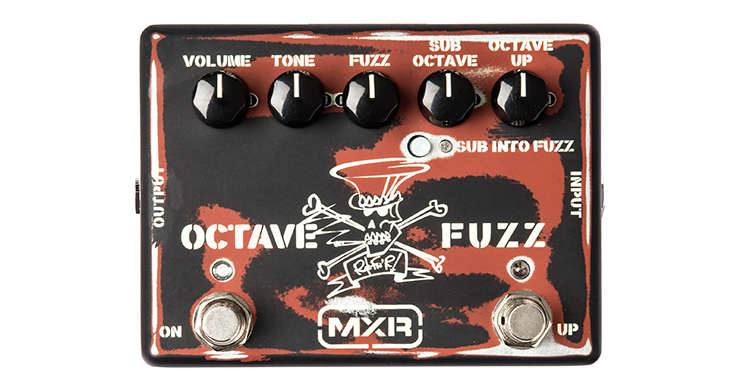 The MXR Slash Octave Fuzz is an all-analog, true bypass fuzz circuit with a ton of outrageous retro gain available. On top of that, you can dial in a sub octave and then footswitch in an upper octave too! With everything on, this pedal sounds like the end of the world. We'd say this pedal would be right at home with noise bands, industrial players and other fans of OTT frequency-mashing. It's actually a little surprising to find Slash's name of this, given how 'tasteful' his tones generally are! The ol' dog's got a few surprises in him still!
Final Thoughts
The guitars and pedals you've read about today represent different ways of tapping into the mythology and legend of an iconic artist, but there's more to it than that. Slash is a real arbiter of taste and quality, and, as we've said a few times already, we think his signature products are great choices for players who may not even care much about Slash or Guns 'n' Roses at all! They are just excellent, interesting versions of classic bits of gear, made with real integrity and spec'd by a guy who knows his gear and his tone.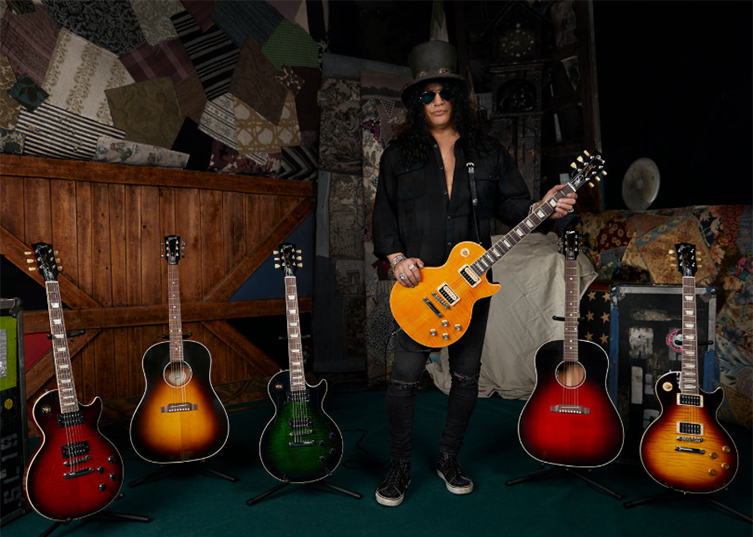 It seems almost pointless to say this, but say it we will: none of this equipment will make you play like Slash. We're always a bit surprised when people think otherwise, but no piece of gear will buy you into the man's head or hands. A Slash Les Paul will turn you into Slash no more than an Ibanez JEM will magically give you the talent and technique of Steve Vai.
What these are though, are the same pieces of equipment that Slash himself uses. He has been involved in making them, has played them, tested them and he approves them. This is his gear, and you can now have it too, in order for it to help you sound more like you.
Follow in the footsteps of a legend as you travel your own path.