The Story of the Gibson SG
Published on 25 October 2022
Les Paul was a genius, but even he got it wrong sometimes.
The man behind the Gibson Les Paul gave us multitrack recording, echo effects and one of the most beloved signature guitars of all time, but we reckon his radar was a bit off-course in 1961 when he ended things with Gibson over his newest signature guitar, the SG. He didn't like what they did with his baby, and had little more to do with the company after his contract ended in 1964.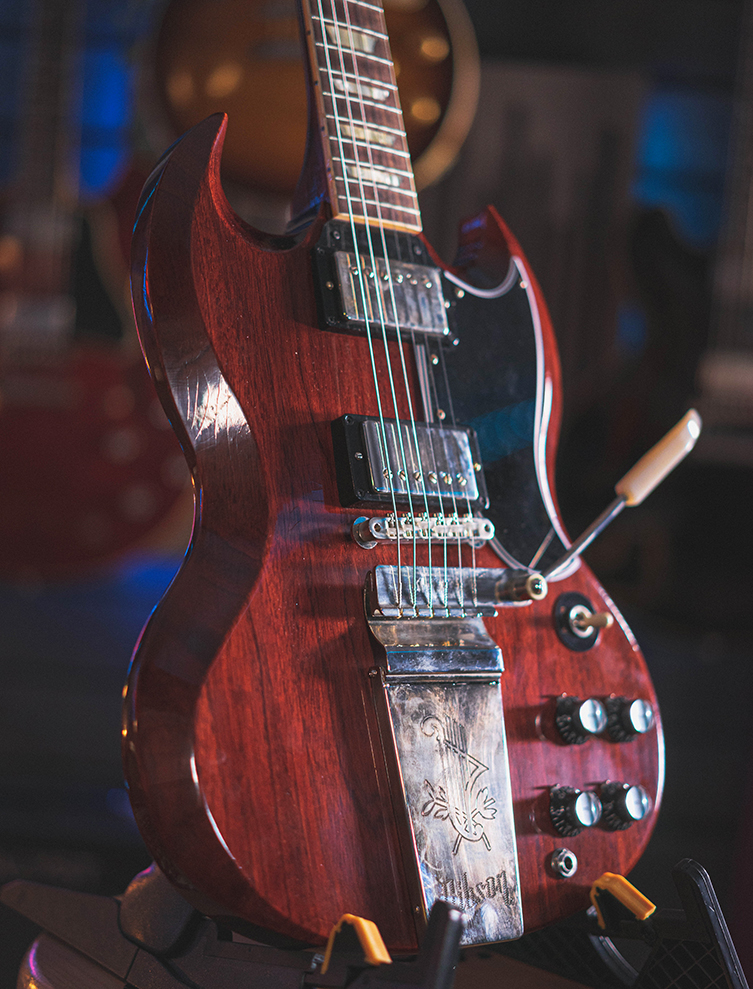 We'll forgive him, frankly, but the instrument that made ol' Les throw his toys out the pram has gone on to also become one of the most beloved - not to mention most enduring - guitar designs of them all. It's something of an ignominious beginning for the Gibson SG, being shunned by Lester, but regardless of that, it has never been out of production since its birth, a fact that even the mighty Les Paul model cannot lay claim to.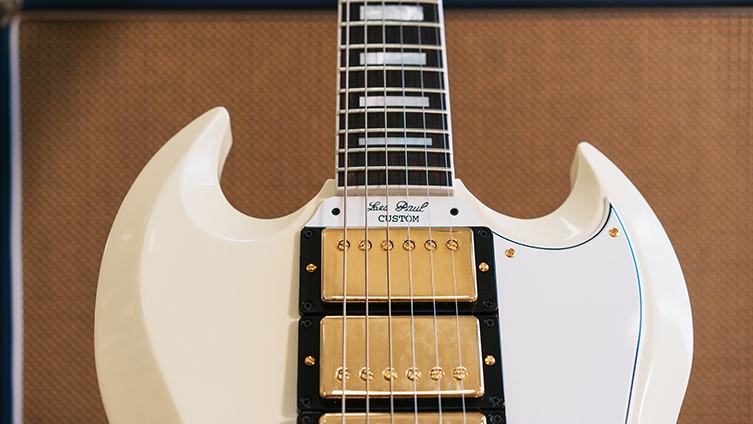 Today, we'll aim to take in a little bit of the Gibson SG's history, check out some famous players and also see what SG models are available today. How similar are contemporary models to those of the 1960s? Let's find out!
Gibson SG: The Early Days
It's a strange thought in 2022, but in the late 50s, the Gibson Les Paul was not doing too well at all. Today, genuine Les Pauls from the 1958-60 'Sunburst' years rank as the most expensive vintage guitars on the planet, but back then, the world was showing very little interest. Fender was winning the great guitar battle, and Gibson's president Ted McCarty decided to rethink the now nine year old Les Paul design in an effort to fight back. Due to declining sales, Gibson discontinued the Les Paul in 1960.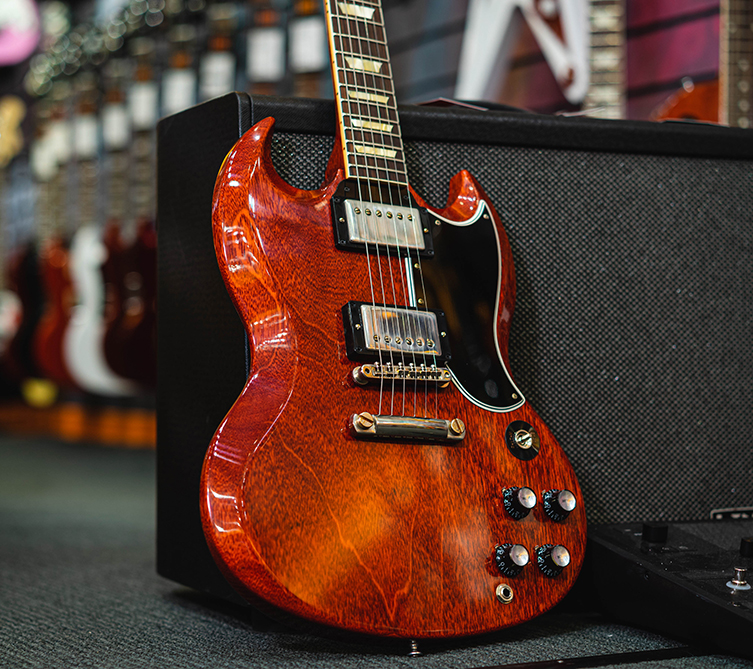 The SG as we know it today pretty much arrived fully formed in 1961. This sleek new creature had a thinner, flatter body with distinctive horns forming a double cutaway shape. Whilst looking nothing like a Fender Strat, it was clear that the new 'Les Paul SG' was a direct response to the Strat's overwhelming success.
SG stands for Solid Guitar, which is somewhat unusual since the Les Paul was just as solid, but there you go. It was hoped that this new model would steer guitar fans away from Fender, but its namesake - who didn't have a hand in designing it this time round - was not interested, as we noted. In 1964, Les was out and the Les Paul SG was renamed the Gibson SG Standard. By that point, it had already accrued sales of around 6000 since its inception in 1961. To put this into perspective, only (approximately) 1700 Les Paul Standards were created during that now-mythical 58-60 period, so the SG was an instant comparative success.
Different SG Models
The most 'textbook' example of a Gibson SG is the SG Standard. This is the hard tail model with two humbucking pickups and is most often seen in either a Cherry or Ebony finish. Compared with a Les Paul, most of the hardware and spec is the same, to be honest: mahogany set-neck construction, a 24.75" scale length, covered humbuckers and a tune-o-matic bridge. Two volume knobs, two tones…you know the drill, because these days; it's a pretty ubiquitous set-up, thus proving how worthwhile such a design is.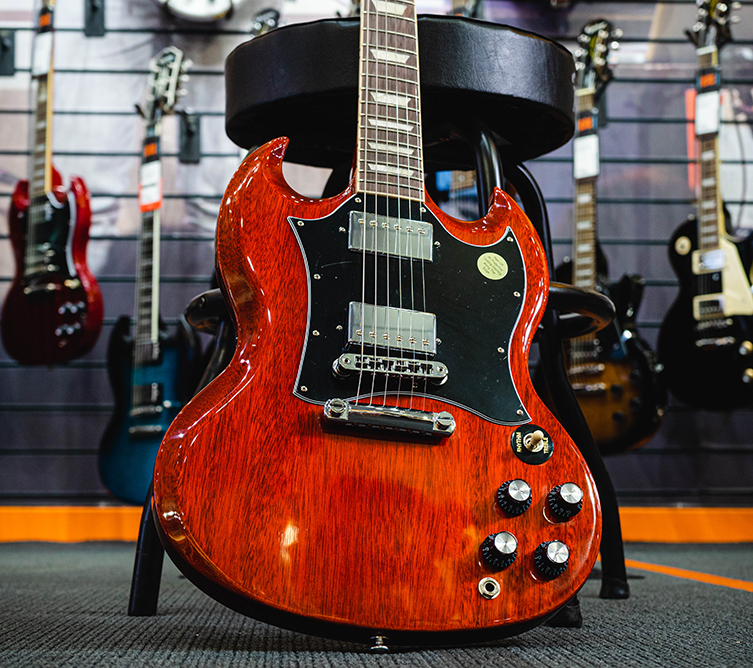 These similarities put the SG in the same general tonal area as the Les Paul, though the thinner mass of mahogany used for the flat SG body tends to bring a sound that's a shade less weighty, with many players perceiving a snappier response as a result.
This is basically how SGs remain today, but we are getting a little ahead of ourselves. Back in the sixties, Gibson issued a variety of SG guitars, just as they'd previously done with the Les Paul. Here's a few, with some pictorial representations appearing courtesy of modern day Gibson and Gibson Custom Shop recreations.
SG Standard
The Gibson SG Standard is, as we've just discussed, the textbook model; the blueprint from which all variations sprang. This is the type of model you'll see Angus Young blasting away on (we'll talk about 1961 reissues in a sec), for example, or indeed Toni Iommi, though his are often customised with upside-down cross inlays, naturally.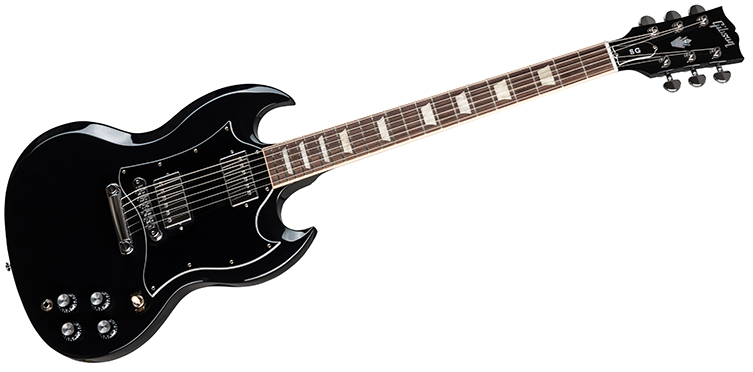 The SG Standard is most likely to appear with two humbuckers - types of which have varied over the years, just like the Les Paul - but occasionally you'll see a model with two P90 pickups. Certainly, the extra leanness afforded by this type of pickup allowed the SG a fresh sound all of its own (as with the SG Jr and Specials, which we'll see in a sec). However, its signature look and sound is that of the twin humbuckers: that's the iconic SG without a doubt. In an industry that uses the word 'iconic' far too easily, we think the SG Standard merits the application.
Most often, you'll see an SG with a hard tailpiece, but they are frequently seen with some form of tremolo unit, too.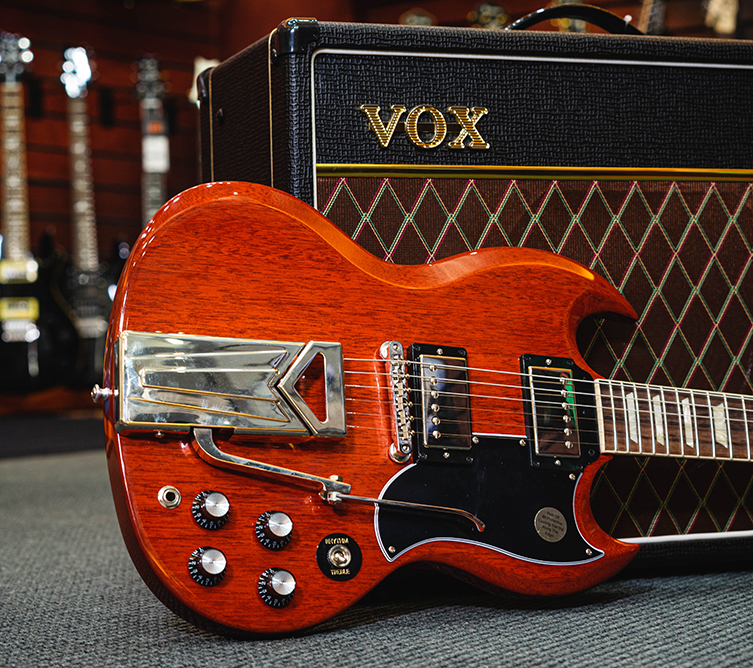 Although SG's are sometimes seen with Bigsby tremolos, it's a far more common occurrence to find one with a Maestro 'vibrola'. This great invention is as much for decoration as for function, with a large shiny metal tailpiece adding to the guitar's looks, and a bar/arm that is either fitted to move normally (towards and away from the guitar body) or sideways, depending on the style.
SG Custom
Not too many people know this, but when Gibson first released their humbucker-equipped Les Paul Custom model in 1957 (it had previously appeared with a P90 and 'staple' single coil pickup), it was far more normal for them to have three humbuckers than two! Yes, even though most reissues since then have emphasised two pickups to the point that it's the more visible version, the OG Les Paul Custom was tuxedoed up with a trio of gold PAFs.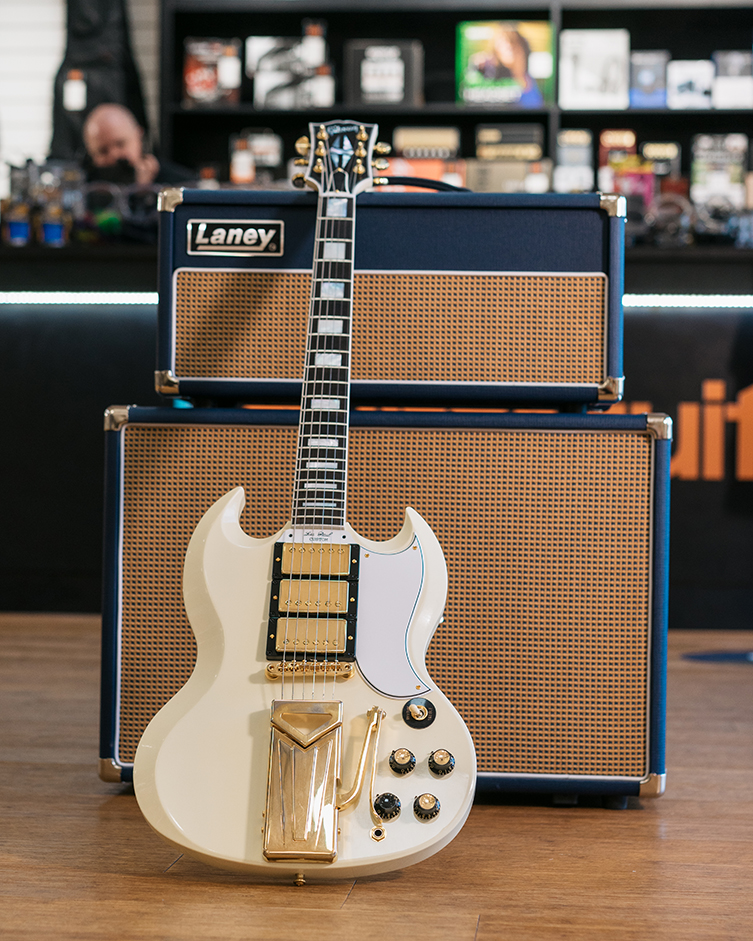 This relates to today's blog because that's largely the same story with early 'Les Paul SG' Custom models, too. Instead of black, they tended to be finished in a slightly creamy-coloured white colour, with all of the same identifying Custom decorations such as the split-diamond headstock and large block inlays. In short, it's pretty gorgeous. Sister Rosetta Tharpe was a fan, as was Hendrix and James Iha.
SG Junior & Special
Another cool historical model is the simple yet ineffably stylish SG Junior. Like its Les Paul equivalent, the SG Junior opted for the straightforward pairing of a single P90 pickup and a wraparound bridge/tailpiece. Initially developed as an affordable model for beginners, it didn't take long for curious guitarists to discover the world-class tones available from such a potent setup. Today, these are highly revered designs, and Gibson thankfully offer nicely authentic reissues.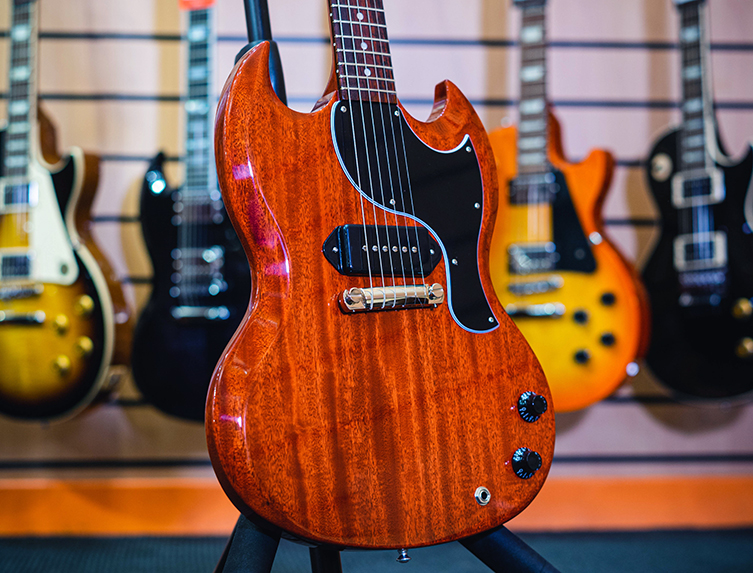 The Gibson SG Special again follows the Les Paul line by offering a slightly more feature-laden model that was still intended for beginners & students. The SG Special has two P90 pickups and often (though not always) also has binding along the fingerboard. Dot inlays, a wraparound tailpiece and a (usually) different neck carve differentiate this from the twin P90 SG Standard model we mentioned earlier. The sound is very, very similar, though, and these are often less expensive. Yay!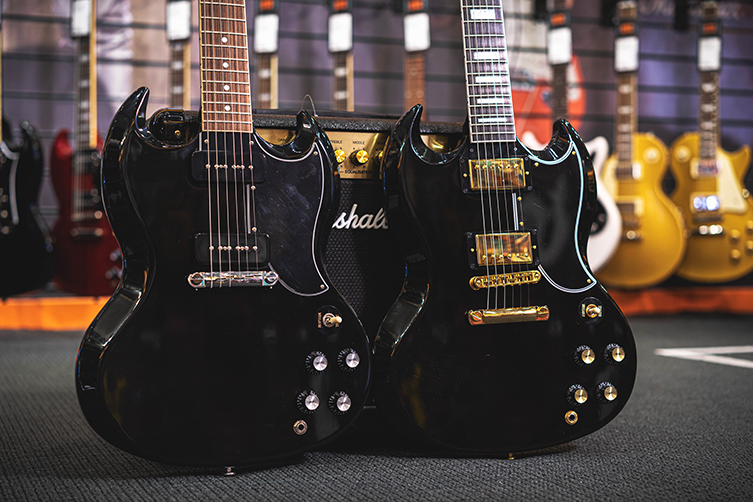 The Pickguard Question
You may have noticed that SGs seem to come with one of two pickguard styles. The smaller is known as the '61 style since it was the original design used on models from the beginning. The larger pickguard is known affectionately as the 'Batwing', due to its shape.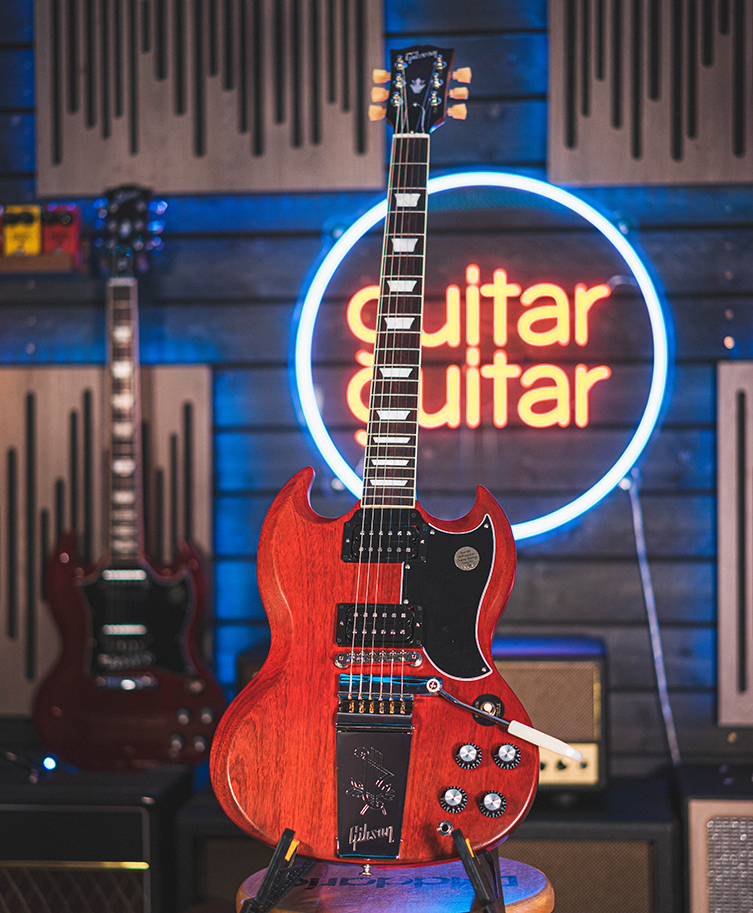 Another term would be 'full face', and, as we've noted, these are normally selected to reference particular points in history. A cherry red '61 SG reissue shouldn't have a batwing pickguard if it's staying true to history, for example. The Batwing came around 1966 and lasted until the early 70s, when things went a little crazy. Les Paul pickguards on SGs? Let's leave those ghouls in the graveyard, shall we?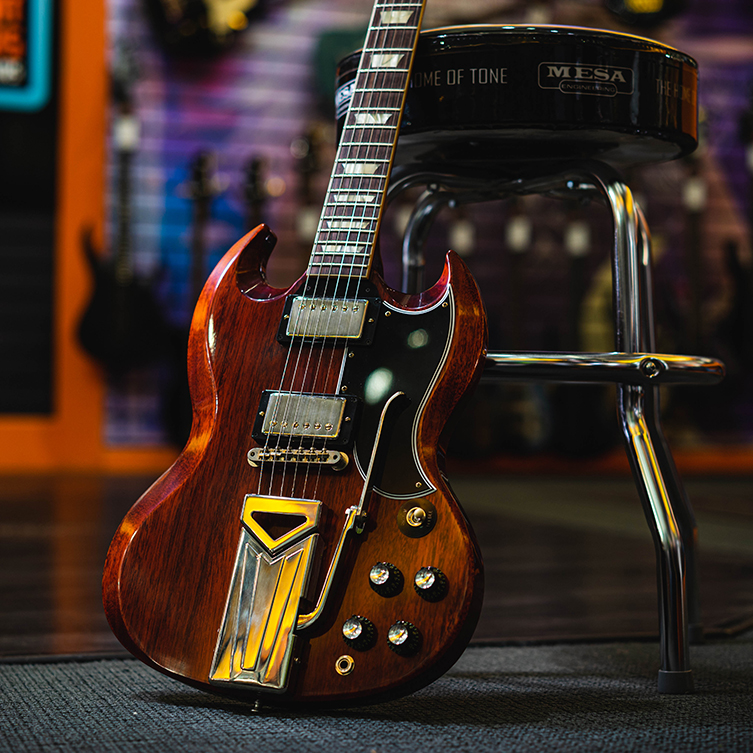 With current SG models, the Standards and Tribute models have the large pickguard, whereas Customs, 61s and certain other historical reissues have the smaller one.
Today's Gibson SG Models
Today, Gibson are fully aware of their heritage. After some unusual years of Robot tuners and Firebird X mistakes (Google it if you must, we've agreed never to look at them again), Gibson fully understand what people like about their brand, and seem committed to delivering on that.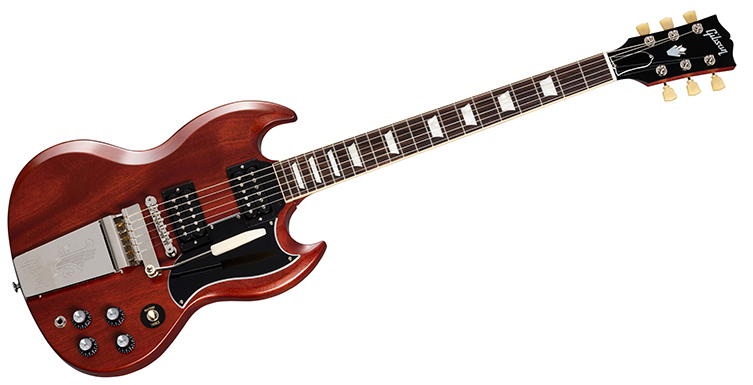 For SG fans, that means a raft of very cool models, some of which are historically inclined, and others more based in the here and now. Here's a brief lowdown on what's currently being built in Nashville:
SG Tribute: most affordable model, two humbuckers, classic design. Lots of bang for your buck.

SG Junior: Single P90, dot inlays, no binding.

SG Standard: Most likely the one you associate with 'Gibson SG'. Batwing pickguard, trapezoid inlays, covered humbuckers. A classic, through and through.
SG Special: Twin P90 pickups, neck binding, dot inlays, wraparound tailpiece.
SG Modern: Figured maple carved top, 24 frets, Ebony fingerboard, extra switching.
61 SG: Smaller pickguard, slimmer neck profile, slightly more vintage-voiced pickups. Available with or without Vibrola.
Faded 61 SG: Satin finish, Vibrola, open coil Burstbuckers (slightly hotter than usual).
There are also Artist models and occasional exclusive editions that come and go on a limited edition basis. There is also, of course, Gibson Custom Shop Guitars, along with Murphy Lab SG models, which exhaustively recreate exact replicas of classic guitars. These look, sound and feel exactly like vintage examples, especially the guitars that are masterfully aged by Tom Murphy's lab of artisans. This goes beyond mere 'relic' work and into providing new guitars that are indistinguishable from priceless vintage pieces. You'll find 61 SGs here, SG Customs, and a whole feast of other Gibson delights.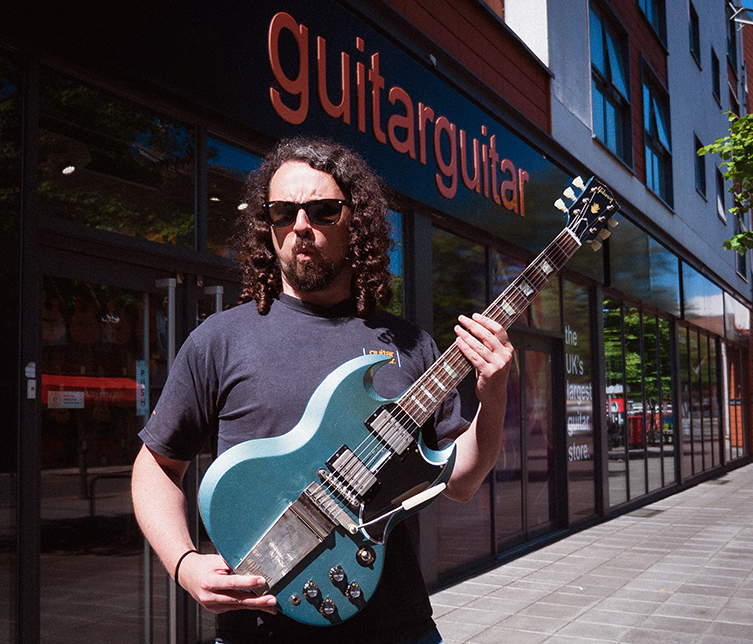 The Gibson SG: 61 Years Old and Going Strong
2022 marks 61 years of the Gibson SG. 61 years since 1962, and we have to say, it's wearing well for its age! The SG continues to be one of the first choices for guitarists all over the world. Whether it's for blues, punk, metal, indie, prog or a little bit of anything, there doesn't seem to be a musical party out there that the SG isn't invited to.
Gibson are currently putting out some of their nicest, best-sounding guitars in a long time, and we think it's high time you became acquainted with an SG of your own. As ever, browse our full selection by clicking the button below, or pop into any of our stores, where you'd find our staff eager to help connect you to your own SG dream machine.
For Those About to Rock on an SG: We Salute You!