Greatest Ever BOSS Pedals
Published on 31 August 2023
Who doesn't love a good BOSS pedal? Owning a BOSS pedal is a guitarist's rite of passage, opening the door to a world of new tones and experimental noises. Equally loved by novices and pros, a BOSS pedal is just a significant part of all of our guitar playing lives. Their distinctive metal chassis and bright, colour-coded finishes make them very appealing and collectable, whilst their format and layout have majorly influenced the way all subsequent pedal companies have approached their own builds.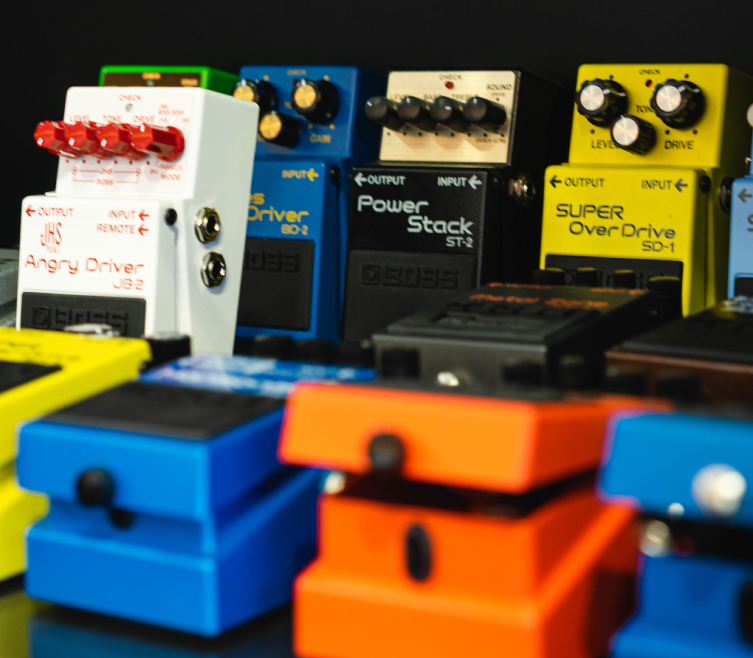 So yes, we love BOSS pedals here at guitarguitar. They are the one thing that we can pretty much all agree on (in general terms), regardless of our musical preferences. Today's blog aims to round up what we consider to be the greatest BOSS pedals ever made. We say we all agree on them, but in reality we all have our own firm favourites, and there's only so much space a blog can fill. It's been quite the ordeal trying to wrestle a shortlist of 'greatest BOSS pedals' to say the least. We've yelled, we've waved our arms, we've pointed accusingly and we've sat in huffs as the debate raged back and forth. Nobody wanted to back down, but in the end, when the dust cleared, there was some degree of consensus about which pedals clearly belonged here.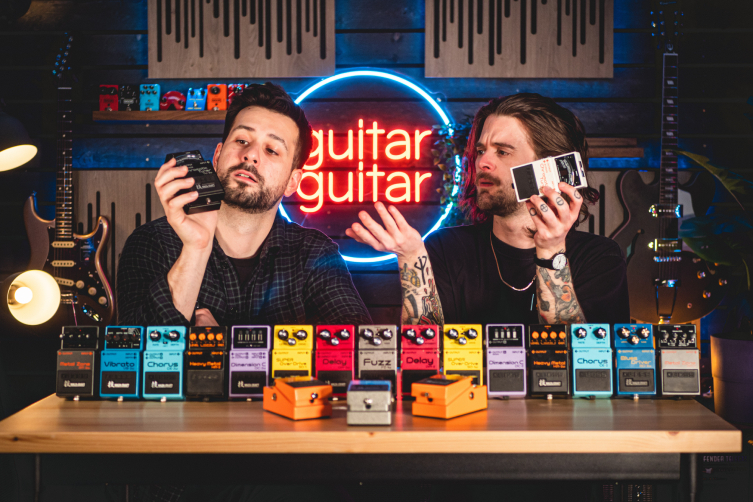 To quell the in-house mutiny, I'll occasionally feature additional alternatives alongside our top choices, because in reality, there are too many good pedals to choose from. Not a bad problem to have, indeed, but the aim here is to be decisive.
Contents
BOSS TU Tuner
Did you expect this as our first choice? Maybe you did! Either way, there's no denying that your audience will thank you for making this your first BOSS pedal choice. Nothing sucks worse than playing live on an out of tune guitar, so investing some fun money on a dependable tuner is essential.
The BOSS TU-3 is the current iteration of their famous white box, and it is able to deal with altered tunings, drop tunings and extended range instruments as well as bass. Tuning accuracy is within +/- one cent too, which is most impressive for any pedal-based tuner.
On top of that, the TU-3 earns its stripes by doubling up most gamely as a power supply for subsequent pedals. Yes, if you use a mains adapter to power the TU-3, you can then connect a daisy chain cable and use this to power another two or three other BOSS compact pedals. How cool? Even if you plan on using a dedicated power supply, this function is a very capable back-up, right where you need it. Tuners may not be the most exciting purchases in guitar land, but they are the ones you'll most regret not making!
BOSS DS-1
The orange distortion pedal is one of the most popular pedals in existence, from any brand. Why? Well, the BOSS DS-1 tends to give a lot of people what they want and the price has never been too high. With a lot of gain on tap (if you want it, it dials back nicely too) and a pretty wide-ranging tone knob, there's a ton of scope to be had.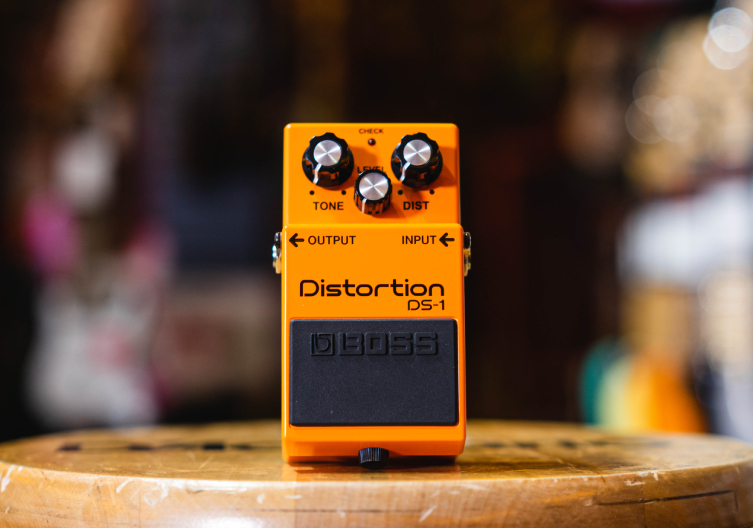 Set a certain way, the BOSS DS-1 can be a pretty harsh proposition, with an abrasive edge. Set another way, it can give you smooth, thick notes with lots of sustain. Kurt Cobain was a famous DS-1 user, as is Steve Vai, but it's likely that almost every guitarist you can name has owned one of these at some point. Don't overlook it because it's cheaper than some other pedals: pedals are all about the end result, so writing off such a perennially popular model would be a most lamentable mistake!
As an alternative, some players prefer the BOSS DS-2, known as the Turbo Distortion. Although cut from a somewhat similar cloth to the DS-1, the DS-2 offers more gain via a switchable Turbo mode. The DS-2 actually goes about its business of distorting in a different manner from the DS-1 (in fact, it has different chips inside and it clips differently altogether), so the tone and overall EQ of it is quite obviously separate from the DS-1.
The similar orange livery is actually a bit confusing: we'd say that the Turbo Distortion is its own beast, rather than a more extreme version of the same thing. Is it worth using both? We'd say 'why not?', plus if it's good enough for John Frusciante? Plus, any pedal with 'Turbo' in the title is getting a try, let's face it!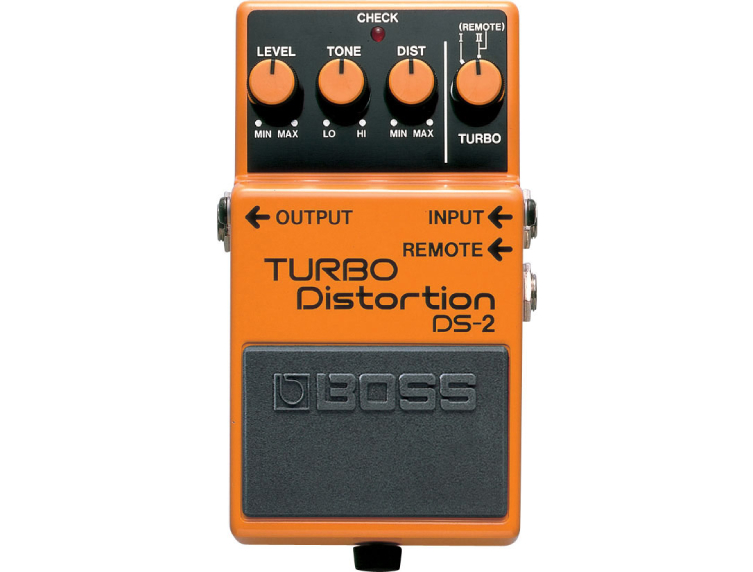 BOSS DD Series
The BOSS DD delay series has continually been an important tonal element to a great many guitarists. Ostensibly seen as a 'meat and potatoes' digital delay in today's crowded market, we say only to highlight the fact that there's nothing generic about the sound and 'feel' of the current BOSS DD unit. Even the 'standard' digital delay effect on it is lush and warm, unlike many digital units.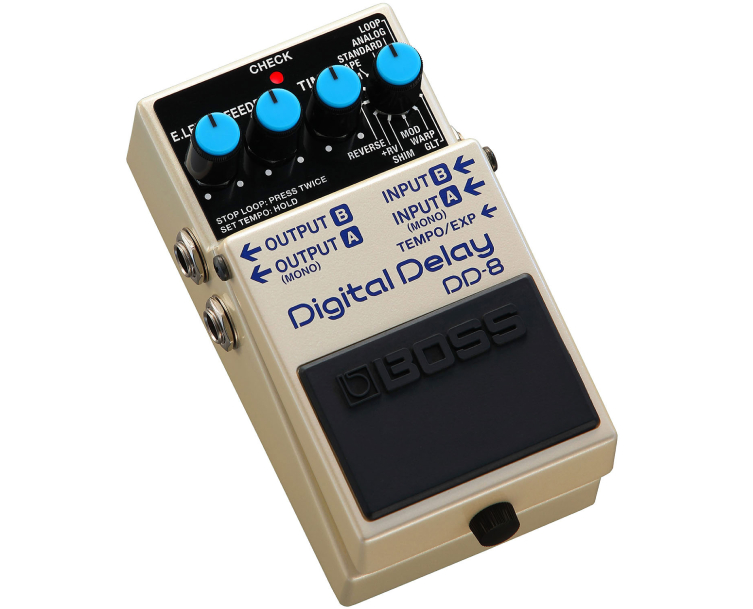 Each successive DD delay pedal has actually heaped on the features from the relatively generic options of the DD-3 to the point that today's BOSS DD-8 (we've also had DD-5 and DD-7 models along the way) sports no less than 11 different modes, all of which have genuine musical uses: you've got analog, warm, reverse and warm modes, for example, along with a 40 second looper! Meat and potatoes? Not any more!
Whilst we vouch for the DD-8, we'd be remiss for not mentioning its famous analog sibling, the BOSS DM-2w. This is a reissue, via BOSS's top end Waza imprint, of a classic analog delay that was discontinued in 1984. BOSS have kept that lovely, warm, 100% analog signal, and offered a mode that extends the delay time from a fine-but-compromised 300ms to a much handier 800ms. It's a gorgeous sound that complements all styles and adds beauty and atmosphere to your sound.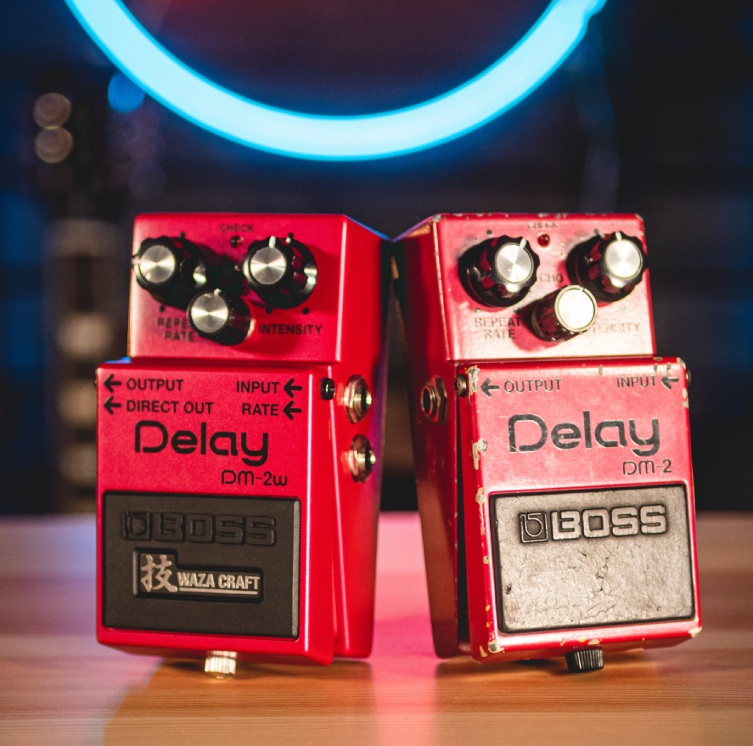 BOSS MT-2 Metal Zone
The BOSS MT-2 Metal Zone may just be the most marmite pedal in the company's catalogue. A hugely distorted high gain pedal with tons of onboard tone control, it brings the heavy like hardly any pedals before it. For metal, thrash, death metal, metal core and all the other myriad subgenres that we'll inevitably forget, the MT-2 is able to get your sound there with volume and filth to spare.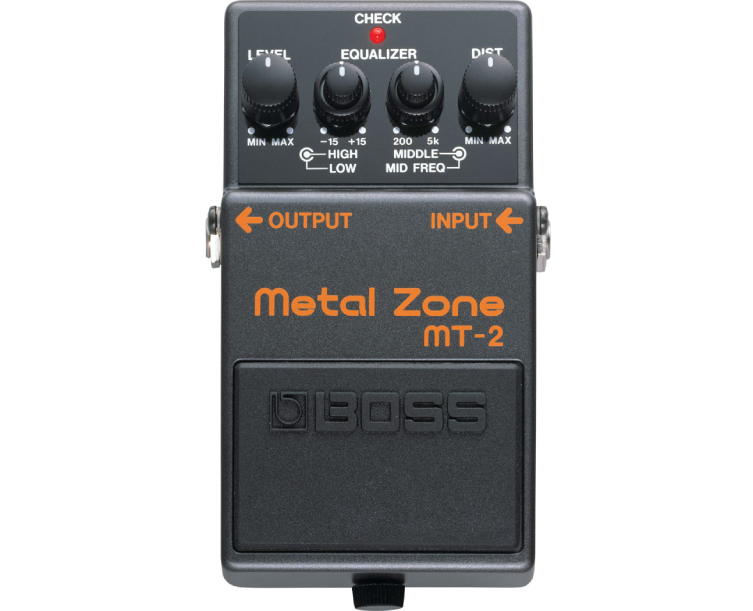 Why is it marmite, then? Well, we think it's a pretty epic pedal to be honest, but we'd concede that, in the wrong hands and set incorrectly, it can definitely be set to sound terrible. With great power comes great responsibility, said Spider-Man's grandpa, and we think it applies here. The gain levels are monstrous on this thing, but that's not where the real power of the MT-2 lies for us. Indeed, it's those dual-concentric tone controls, and particularly the Mid Frequency knob. There is a LOT of scope to chop and sculpt your tone here, and this is maybe where some users are missing the gold and landing on poor, fizzy, charmless metal tones. Ain't nobody got time for that!
Dial your tones in right (BOSS tip: begin with every knob at 12 o'clock and pepper to taste) and you'll have a buzzsaw 80s/90s metal tone like no other. You may well not require as much gain or bass as this pedal offers, so do exercise caution on the dials, and save your extreme taste for the riffs themselves. This pedal sounds like an earthquake, no matter what you do with it. Make it a good earthquake!
One other issue is using any high gain distortion pedal like this in front of a small practice amp, particularly a digital modelling amp. Those devices are great on their own terms, but they are in no way designed to cope with the huge blast of volume and noise that an MT-2 dishes out. A big amplifier with lots of headroom and a 12" speaker will allow the Metal Zone to shine in all its lurid, unholy light, so do remember that when the time comes to raise the armies of the dead with your monstrous guitar tone.
BOSS CE-2w Chorus
BOSS currently offer a few chorus pedals, and they are all great. Two in particular were fighting for dominance here though, so we've admitted defeat and opted to include both. We recommend trying the two of them and making your own mind up, but neither will disappoint!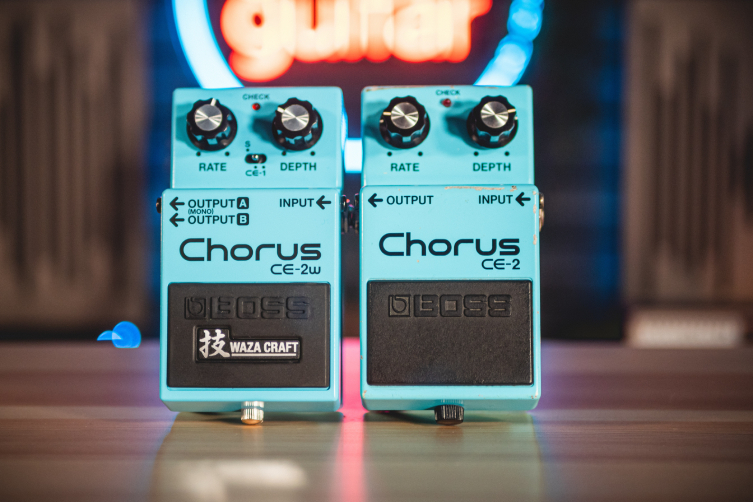 Okay, so the first is the BOSS CE-2w, which is another cool Waza Craft reissue/update. The original CE-2 was an 80s model and successor to the CE-1, which is, if anything, even more of a classic. Understanding this, BOSS have added a mini-toggle switch to select a special mono CE-1 mode, so this is almost like two pedals in one. Both are classics, offering lush modulated loveliness in abundance.
As mentioned, BOSS offer a fair number of chorus pedals, and the CH-1 Super Chorus and CE-5 Chorus Ensemble units are absolutely worthy of your attention too. That said, the other great choice in our collective opinion is the BOSS DC-2w Dimension C pedal. Another Waza model, this is a reissue of the classic 4-button Dimension C stomper from the 80s. Completely knob-free, the Dimension C instead offers you four buttons of increasingly thick chorus presets. Each setting is quite lovely, so it really depends on how much of an effect you want to hear, though nearly everyone we speak to agrees that preset 3 is the one!
This effect differs from BOSS's other chorus effects by splitting your sound into two slightly delayed wet signals along with the dry signal to make its characteristic sound. Most chorus units split the signal into one dry and one modulated, so this additional signal allows for more width and movement. The Dimension C is definitely an original and unique take on chorus, and we love it!
BOSS BD-2 Blues Driver
The BOSS BD-2 Blues Driver is one of those 'always on' pedals for many guitarists. A mid-gain overdrive, the Blues Driver works well with guitar volume controls and amp gain, allowing you to carefully blend in the amount of drive and dynamic you want from your sound. The clipping of the gain results in a tone that is sweet and reactive, so your guitar parts don't get washed out in walls of overdrive. If you like to hear lots of expression from your sound, we'd recommend spending some quality time with the BD-2.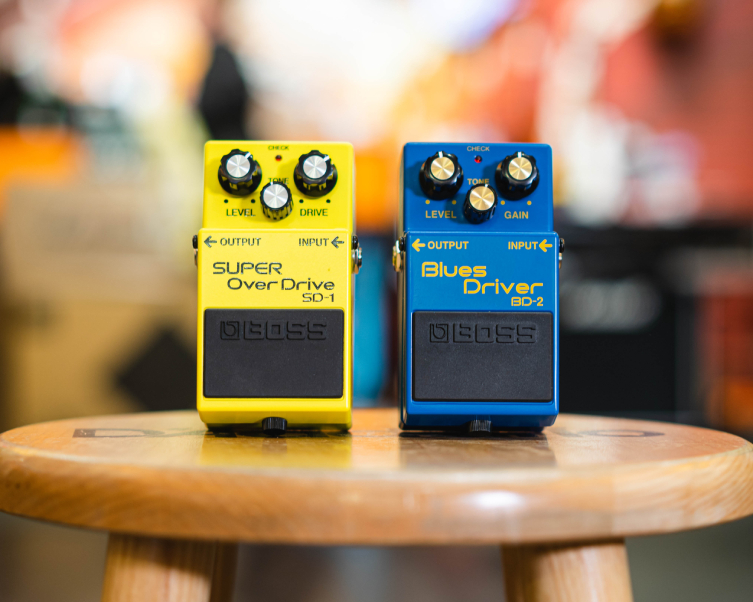 Another similar contender would be the BOSS SD-1 Super Overdrive. Despite the implications of each title, we'd say that the gain levels are relatively comparable from each pedal. Certainly, the Super Overdrive has markedly less gain on tap than the (pretty full-on, to be honest) drive you can get from the DS-1. Where the SD-1 excels, apart from being a lovely mid-gain overdrive like the BD-2, is when you use it like a Tube Screamer to add that extra special sauce to heavy tones. Metal players and shredders often stick a tube screamer in front of their highly distorted amp sound, with the pedal's gain at zero but the tone and levels dimed. This adds a subtle but audible texture and tightness to the tone that, for many, is the final touch to their perfect sound. The SD-1 is excellent at this too: just ask John 5!
BOSS BF-3 Flanger
Our last classic effect is the versatile and dramatic BOSS BF-3 Flanger. The flanger is one of those effects that many players assume to be only marginally useful, for those infrequent moments when a jet-engine noise is needed as a special effect. This is certainly true, but there's so much more to the flanger than just that!
Subtle settings can bring very chorus-like sounds (the two effects are actually very closely related in terms of how they operate), and solos can have more 'movement' added by deft use of some tasteful flanger. That said, a good flanger should absolutely make your guitar sound like a Boeing 747, just as it should get you elephant sounds (ask Adrian Belew) and an Aliens pulse rifle impression when matched to a severe tremolo effect.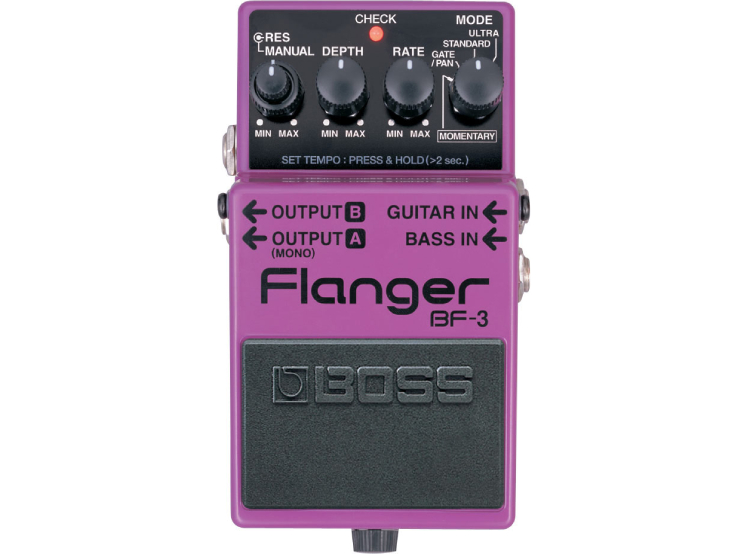 This BOSS BF-3 model updates the classic BF-2 flanger by adding a good handful of modes, including a Gate/Pan mode that brings instant Spacemen 3/Spiritualized vibes, and an Ultra mode for turning those jet-engine sweeps into colossal space ship turbines.
Like all great pedals, the BF-3 is as subtle or as OTT as you make it, and therefore everybody will use it in their own way. Go for Robert Smith ethereal or Smashing Pumpkins laser-zap (the song below uses a BF-2 throughout), it's up to you!
Classic Pedals Galore!
So, those were our final, hard-fought-for choices. Did you agree with what we went with? Are you raging that we missed out the HM-2 in favour of the MT-2? You're not the only one. The thing is, we all hold these BOSS pedals quite sacred in our hearts, and we all have our own idea of what's indispensable. In the end, we know you'll feel strongly about some of these pedals, and that's the important take away. What might you have included? The Distortion-Feedbacker? The Power Stack? What about the Tera Echo? There's a whole world of sound and fun to be explored within the subject of BOSS pedals, so take this blog as your springboard and dive deep!