Fender Vintera II: BRAND NEW! The Best of Every Fender Decade
Published on 19 September 2023
The classics are back! One of Fender's most popular ranges - Vintera - has been given a dramatic re-imagining, and you can read about it all right here! It's always exciting when Fender refreshes a brand, and this time they've added a few surprises in there for us! We're loving what we've seen so far, and can't wait to show you!
The Vintera II Range
So, what is the deal with the Vintera range anyway? So, the Vintera range is made in Mexico and sits roughly between the Player Series and the US-made American Performer range. The word 'Vintera' itself is a smoosh between 'vintage' and 'era', and the idea is that Fender have blended the vintage with the modern; they've taken the best features from the 50s, 60s and 70s and created a range of vintage-centric guitars and basses that pay homage to the company's golden era. Not strict vintage reissues, the Vintera II models instead serve as vintage-inspired creations that carry the full flavour of Fender's aesthetic.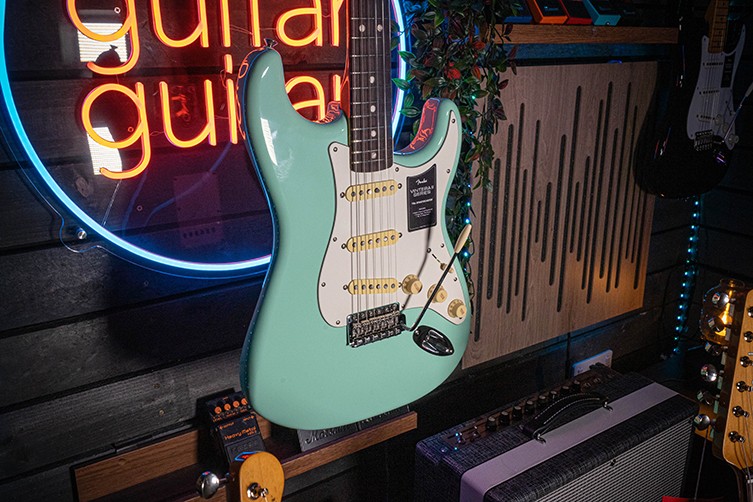 The range contains 16 models in total, including basses, and they are arranged by decade, so you get models that belong to 50s, 60s and 70s styles. As expected, there are multiple Stratocasters and Telecasters, but we'll also see some wonderful offsets.
Vintera 50s
Let's begin at the dawn of Fender: the 1950s. These instruments are all based on Fender's initial historic forays, and there are some real beauties here! The Telecaster, Leo's finest home run, is presented in its limbo-moment of 1951, when Gretsch objected to Fender's use of the term 'Broadcaster' (the Tele's original name and also the title of a Gretsch drum kit) and left the poor guitar nameless until the following year, when it was named 'Telecaster'.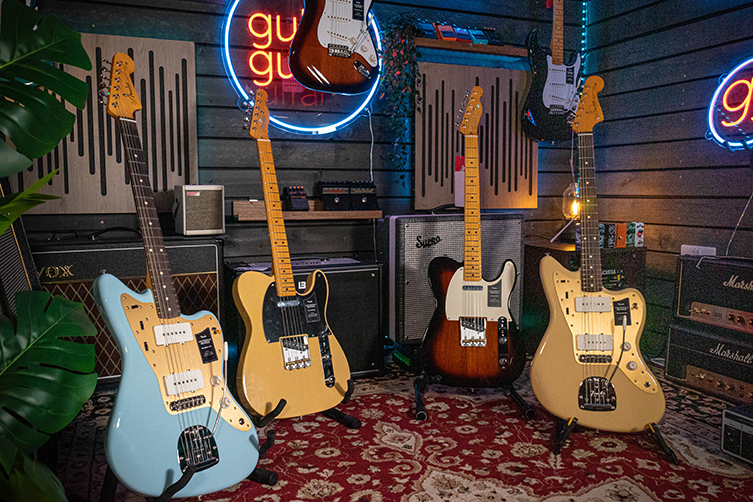 Fender fans will love the fact that this 1950s Vintera II Nocaster retains the famous 'baseball bat' neck profile of the original guitar! It's something that has to be experienced to truly appreciate, certainly alongside the custom wound Vintera pickups. Each Vintera model has specially made pickups: it's definitely not a case of one set being produced for the whole range!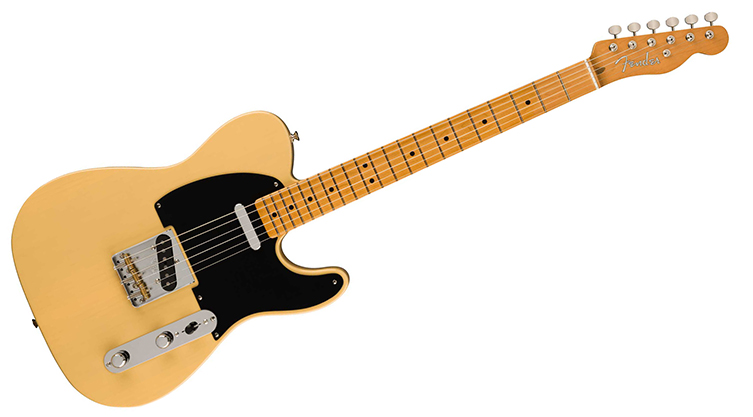 The Vintera 50s Strat follows, and this bears all the hallmarks of a classic Buddy Holly/Shadows-style guitar. A curved radius fingerboard allows for a particularly retro feel, whilst the neck profile is a soft-V, another wonderful, evocative choice. This Strat chimes with all the glassy romance you'd hope to hear in a 50s-style Fender. The halcyon, bright vibe is matched by the colour options, too: pure DuPont-referencing goodness like Ocean Turquoise rubs shoulders with classic 2-colour sunburst and black.

We've delighted to see a Jazzmaster included here too! Debuting in 1958, the JM was intended as a replacement for the Strat. That didn't quite come to pass, but the model has built its own strong fanbase over the years, from initial adoption from the alternative art-rockers of the 80s to its current prominence as a legit mainstream choice.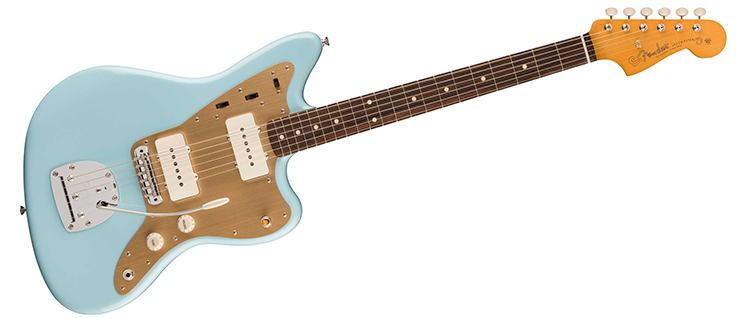 This fifties model Vintera Jazzmaster pays a lot of attention to the historic models, right down to the inclusion of a rosewood fingerboard and an excellent anodized pickguard! Again, we have a vintage 7.25" fingerboard radius and specially wound pickups to complete the package, and you can have Sonic Blue or Desert Sand as finishes. Perfect.

Finally for our 50s models, there is an excellent 50s Precision bass model. Easily Fender's most popular bass, this historic game-changer is one of the most significant instruments in existence. Fender have done right by the P-bass here: they've gone for the style just after the model gained its iconic split-coil pickup and Strat-style headstock. This is the sound - and the look - of which legends are made, and the Vintera model also includes a finger rest on the anodised gold pickguard for a classy look.
Vintera 60s Models
Moving on to the 1960s models, you'll find that all models have proper rosewood fingerboards, which is an excellent decision! Recent years have seen Fender adopt Pau Ferro as an alternative timber due to CITES regulations regarding the scarcity of rosewood. This is no longer a problem (presumably rosewood stocks worldwide are dependably plentiful) and so it has returned to the Vintera range for this update. Given that rosewood is the historically correct wood to use on instruments referencing the 1960s, this inclusion feels merited and appropriate.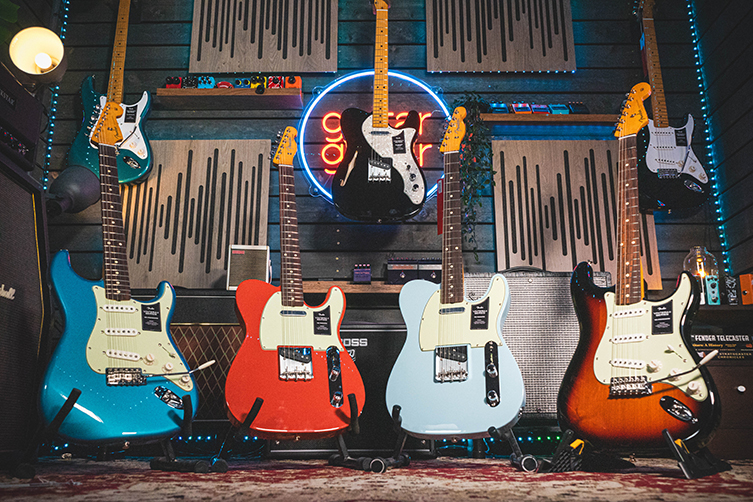 So, guitars in this bracket all have a c-profile neck (a very 60s thing) and retain the 7.25" fingerboard radius. 3-ply pickguards are fitted in place of the single-ply guards of 50s examples, and finishes adhere to historical examples too: Strats are available in Olympic White, 3-tone Sunburst and (our favourite) Lake Placid Blue, whilst the 60s Telecaster can be had in Sonic Blue or Fiesta Red.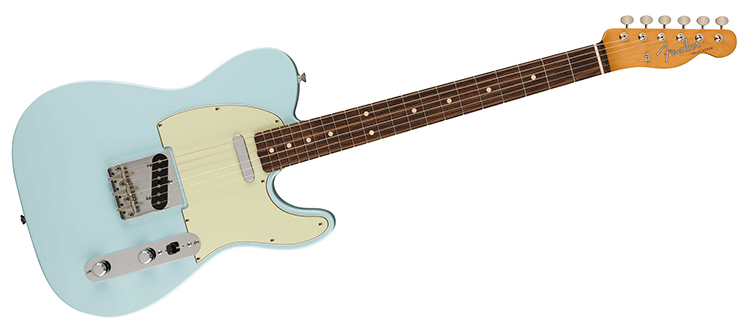 There are some new additions to the Vintera II this time, including an ash-bodied Vintera II 60s Thinline Telecaster, complete with f-hole and pearloid pickguard. The Thinline Tele has, like the Jazzmaster, enjoyed increased popularity in recent decades, and its inclusion here is as shrewd as it is welcome.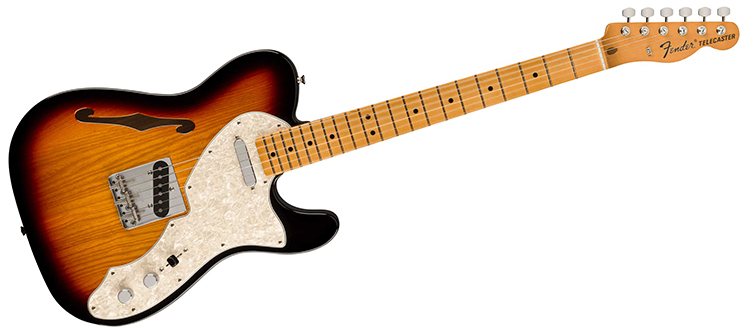 There's also - quite fabulously - the return of the Bass VI! Not quite a full-on bass and not the same as a guitar, the Bass VI is a wonderful hybrid. It's like a 6 string baritone guitar only tuned as low as a bass: it has an offset look with Jaguar pickups and Cure fans will be rejoicing at its inclusion here! This instrument certainly fills a gap in most people's guitar collections, and it sounds unreal, so make sure you give it some proper time when you come in to demo this range!

Fender's basses are well-served in this 60s bracket, because you get both a Precision and a Jazz bass! C-shaped necks and tortoiseshell-coloured pickguards are the name of the game here, with a range of appropriate, decade-specific finishes. All come, as we've noted, with specially sound pickups, so you'll hear a little more bite to these 60s models compared with comparable 50s basses.
70s Vintera II Models
Up until the last decade or so, instruments from the seventies were not held in as high regard as those from the fifties and sixties. This may be due to Fender changing things up during the 70s, in terms of style and features. Time, however, has been kind, and they are now considered as collectable and 'classic' as those other decades. This is the era where we see the bigger headstocks, the bullet truss rods and the Wide Range humbuckers. Let's dive in…

The Vintera 70s range is festooned with cool, idiosyncratic guitars and basses. Take the Vintera II Tele Deluxe, a popular model these days, but with a factory-fitted tremolo? Yes indeed, and it's something that Fender actually did in the 70s (though it was a rarity) so there is provenance behind the idea!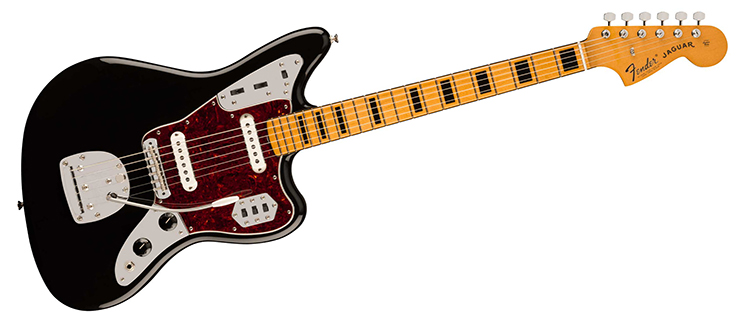 We finally see a Jaguar model here, and it has been given cool 70s decorations such as block inlays and fingerboard binding. It's as counter-culture a guitar as Fender do, and the legion of offset fans out there will no doubt have a tough time deciding what's cooler between this, the 50s Jazzmaster and… the 70s Mustang complete with competition stripe! Nice! Fender's beloved short-scale 'altervative' is looking in rare health here, and the guitar is accompanied by an equally excellent Vintera II Mustang bass model! Both are available in either Lake Placid Blue or Capri Orange. Rosewood 'boards, custom pickups (single coils for the guitars, split coils for the bass) and a healthy dose of indie attitude mark these out as winners.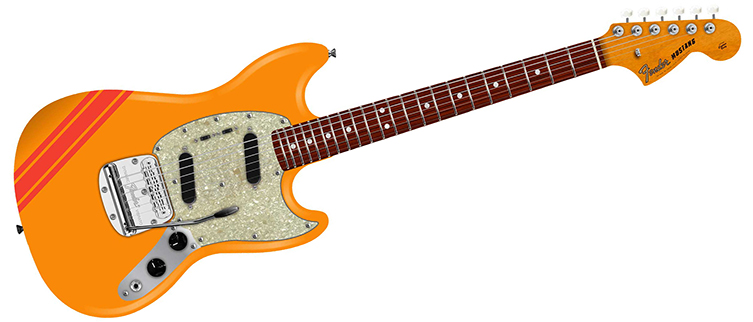 The other 70s models include a Strat of course (big headstock, bullet truss rod, Surf Green or a distinctly 'Yngwie' Vintage White), and a cool 70s Tele Bass, with its distinctive headstock and pickguard, not to mention single Wide Range humbucker!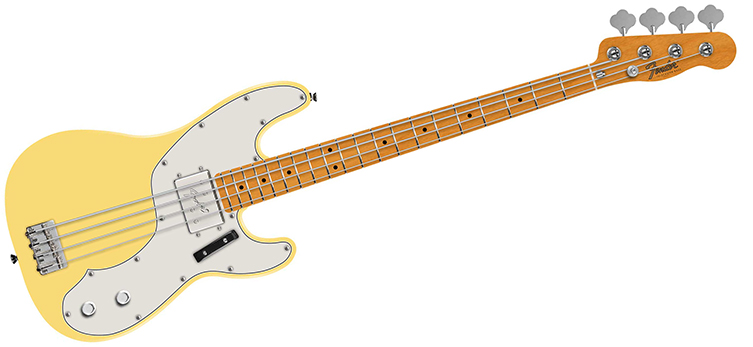 Fender Vintera II: Available Now
That's our whistle-stop tour of the new Fender Vintera II series complete! What a range! Sixteen different models with multiple finishes, distinct features and separate, specially wound pickups: we're super-excited! Fender have done it again, it seems. They've listened to what players have asked for, and they have totally delivered. This range is bound to be huge, so make sure you get in early and snap up your favourite models!